Digital transformation efforts in retail focus on customer satisfaction, enterprise agility and inventory management. Since more retailers adopt digital processes, competition is getting fierce and the value of digitization is increasing. Retailers are implementing new technologies such as analytics, omnichannel and RPA to improve their efficiency and effectiveness. We have answered all relevant digital transformation questions from retailers:
What does digital transformation mean for retailers?
We have defined digital transformation before:
Digital transformation is the process of integrating digital technologies into all aspects of a business to meet the market and changing business requirements. It aims to increase the effectiveness of business operations and customer relations. To achieve these goals, organizations need to update their systems, processes, organizations and culture.
Digital transformation in the retail industry focuses on three important aspects:
Customer experience: No retailer wants to deliver a bad customer experience. According to PwC's study, 32% of customers would stop interacting with a brand they loved after one bad experience.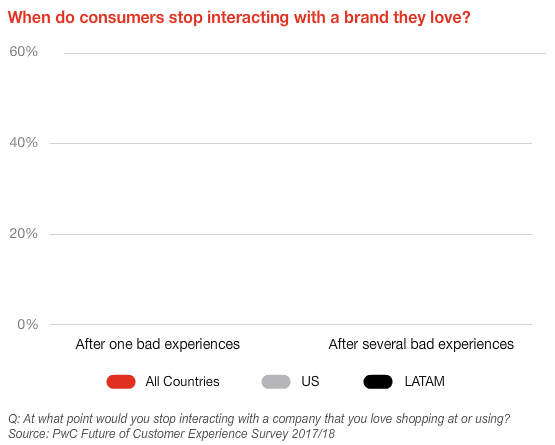 Enterprise agility: Enterprise agility is not just about quick decision-making, new systems, and resource allocation, it is also allowing access to real-time digital data and workflows enabled on digital assets.
Better supply chain: A digital supply chain provides collaboration and extensive visibility of processes, resulting in improved effectiveness.
Why is digital transformation important for retailers?
Retail landscape is more competitive than ever. Thanks to omnipresent brands like Google, Amazon and Apple, customers are used to personalized products and unique digital journeys. Retailers need to deliver the same level of experience as the tech giants to retain their mindshare among customers. Retail industry history is full of digital laggard companies that failed to adapt and digital pioneers that achieved success from nothing.
In 2017, the term "retail apocalypse" started being used following the news about major retail bankruptcies from 2010 to 2017. Abercrombie&Fitch, Blockbusters, GUESS?, Toy"R" Us, J.C. Penney are only a few of the retailers that have either announced their bankruptcy or shut down stores during this period. The shift in customer habits towards digital shopping is considered as one of the main factors that drove the retail apocalypse. Therefore digital transformation is not an option for retailers anymore, it is a requirement to survive. However, retailers should have a digital transformation strategy and framework to be able to succeed since ~70% of digital transformation projects fail due to various challenges.
What are the key technologies enabling retail digital transformation?
Operations
Enterprise automation
Automation of processes reduces the human effort in the organization so that retailers can reduce operational costs, process turnaround times and manual mistakes. Operations that can be automated in the retail industry are as follows:
ERP Activities that include billing, price changes, account payables, receivables
Inventory/supply chain management
Product categorization
Cashierless retail stores
Self-checkout systems have been the most interesting part of in-store retails from the customer perspective. It enables shorter lines and waiting times and reduces the labor cost for retailers. There is an emerging trend within self-checkout systems which is cashless/cardless retail stores. Amazon Go and Walmart are the pioneers in autonomous store technology and they are expanding their stores across the U.S.
Analytics
Machine learning powered retail analytics
With the increasing volume of data generated from organizations, performing analysis and uncovering insights become a necessity. Advanced technologies like machine learning fasten the process of data processing. Retailers gain actionable insights that may increase their revenue along with improving their business performance.
AI models can be embedded in operational systems suggesting dynamic changes to diverse areas such as logistics, pricing or layout. To learn more about retail analytics, feel free to check our article.
Process mining
Process mining is an analytical discipline to gain a deep understanding of a company's processes. Retailers can benefit from process mining solutions to get the most out of their digital transformation efforts. For example, a technology retailer from Turkey, Teknosa, uses QPR's process mining tools QPR Metrics and ProcessDesigner to model and improve their processes and formulate their retail strategy.
Sales & marketing
Omnichannel experience
Omnichannel is providing customers a centralized experience across all channels and touchpoints. Omnichannel retailing increases customer retention and improves customer experience by
providing a consistent experience across different channels
enabling users to continue their queries across different channels
using data from all channels to build a unified view of the customer and therefore improving marketing and customer service efforts
According to a study of Harvard Business Review, shoppers who use 4+ channels spend 9% more compare to ones who use only one channel.
Conversational AI
Customers seek fast, high quality customer services that are available 24/7. Chatbots are a typical solution for retailers who wish to answer customers' questions. If the chatbot can not adequately serve the customer, it can also pass on those customers to human agents. Chatbots in retail drive sales, reduce costs via personalized, fast messages.
Smart Beacons
Beacons are an emerging trend since they made their debut by Apple in 2013. Global market insights expect that the beacon technology market will exceed $25 billion by 2024. Beacons are small devices that are stuck to objects or walls in the store. Beacons connect to customers' mobile phones via Bluetooth signals so that retailers can monitor customers' locations. When a beacon detects a signal, it sends messages about their promotions and coupons to customers' phones.
What are the best practices?
We have identified three common best practices for digital transformation in the retail industry.
Faster digital experiences: Slow page load times lead to unsatisfied customers. Web pages, content, and images should be managed for both performance and experience.
Agile approach: Retailers need to experiment rapidly with new technologies and rapidly migrate their systems to established technologies to transform their businesses:

Shift to cloud: Most modern retailers shift their servers into the cloud to increase their focus on retail. Amazon does a lot more in this aspect. As a leader in cloud computing, Amazon powers other companies' cloud efforts. Cloud enables retailers to flexibly scale while decreasing the cost of ownership.
AI transformation: Digital transformation has been around since the 90s. When retailers focus on digital transformation, they should implement the latest advances which include the advances in AI. We've written extensively on advanced analytics use cases in retail and AI transformation.

Security focus: Enterprise and customer data are the most valuable assets of retailers. If hackers exploit any security vulnerability, customers lose their trust in the organization. Retailers must invest in cybersecurity solutions.
If you need consulting for your digital transformation plans, we've prepared a guide for you. Feel free to learn from it.
If you still have questions about digital transformation, don't hesitate to contact us:
How can we do better?
Your feedback is valuable. We will do our best to improve our work based on it.