AI transformation is the next phase of digital transformation. Businesses are willing to invest in AI technologies to stay ahead of competitors. According to Andrew Ng. AI Transformation is a process that may take 2-3 years, but organizations can start to see the returns within 6 to 12 months.
Digital transformation is required before companies can start their AI transformation because digital data is necessary for AI training and digital processes are necessary to roll-out AI solutions in most cases. Feel free to read about what digital transformation is and our extensive digital transformation guide if you believe that your company has not yet progressed on its digital transformation journey.
What is AI Transformation?
AI transformation is the next step after digital transformation. After a company adopts digital processes, next step is to improve the intelligence of those processes. This would increase the level of automation as well as the effectiveness of those processes.
AI transformation touches all aspects of the modern enterprise including both commercial and operational activities. Tech giants are integrating AI into their processes and products. For example, Google is calling itself an "AI-first" organization. Besides tech giants, IDC estimates that at least 90% of new organizations will insert AI technology into their processes and products by 2025.
Why now?
AI adoption is expected to be a major competitive advantage. Graph below reveals how performance gap between early-adopters and non-adopters can expand. According to Mckinsey estimates, companies that execute faster AI transformation are expected to double their cash flow while laggards go through a 20 percent decline in their cash flow from today's level.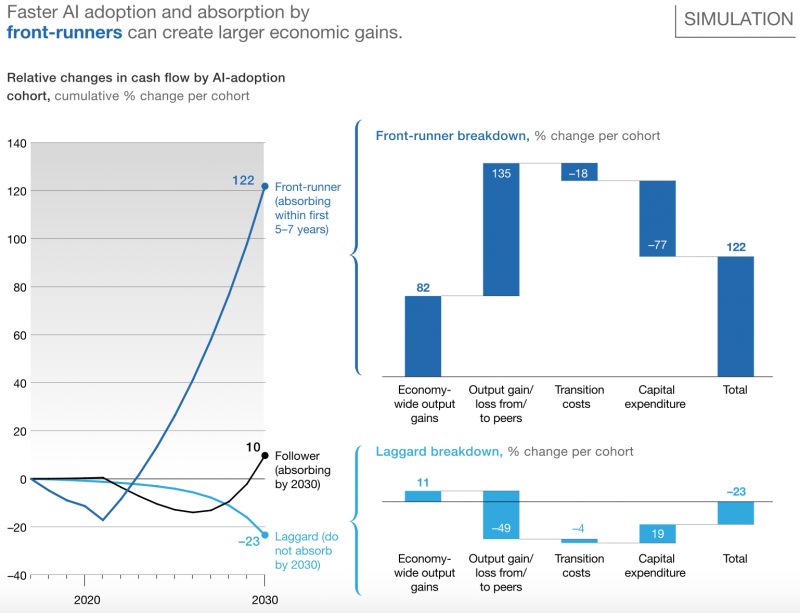 What are the steps to AI transformation?
We have listed below a set of steps for Fortune 500 firms. Smaller firms could skip having in-house teams and strive for less risky and less investment heavy approaches such as relying on consultants for targeted projects.
Outline your company's AI strategy
An AI strategy should include initiatives which will be uncovered as a result of these exercises:
Identify your company's most valuable unique data sources
Identify the most important processes which can benefit from automation
Identify internal resources to drive the AI transformation
Set ambitious, time-bound business targets
Execute pilot projects to gain momentum
First few projects should create measurable business value while being attainable. This is important for the transformation to gain trust across the organization with achieved projects and it creates momentum that will lead to AI projects with greater success.
These projects can rely on AI/ML powered tools in the marketplace or for more custom solutions, your company can run a data science competition and rely on the wisdom of hundreds of data scientists. These competitions use encrypted data and provide a low cost way to find high performing data science solutions. bitgrit is a company that helps companies identify AI use cases and run data science competitions.
Implementing process mining tools is one of those easy-to-achieve and impactful projects. For example, QPR's Process Analyzer tool has an extensive set of ready-to-use process mining analyses, including ready-to-use clustering analysis and process predictions, as well as a platform for machine learning based analyses. With a process mining tool, your business can identify existing inefficiencies and automate or improve those processes to achieve savings or customer experience improvement.
Another easy-to-deploy and impactful project is automating document based processes. While digital transformation projects in 2000s just dealt with removing paper from processes, a modern AI/digital transformation project would reduce manual labor and automate data extraction and processing of document data. Feel free to learn more from our document automation article.
Build an in-house AI transformation team
Outsourcing the AI work eases the start of AI transformation process but building an in-house AI transformation team can be more advantageous in the long run. If necessary, outsourced partners can help train your staff for upcoming projects.
Provide broad AI training
Organizations should not expect adequate knowledge about AI technologies from their staff. In order to have a successful AI transformation, training each employee in accordance with their role can be beneficial to achieve objectives.
Executives and seniors should have knowledge about what AI can do for enterprise, how to develop an AI strategy and make proper resource allocation decisions.
Leaders of AI project teams should learn how to set direction for AI projects, allocate resources, monitor and track progress.
AI engineers should learn how to gather data, train AI models, and deliver specific AI projects.
Develop internal and external communications
For the road to success in AI transformation, the organization should ensure alignment across the business by improving internal and external communication.
Update the company's AI strategy and continue with AI transformation
When the team gains momentum from the initial AI projects and forms a deeper understanding of AI, the organization will have a better understanding of improvement areas where AI can create the most value. An updated strategy that takes into account the company's track record can set a better direction for the company.
Thanks to Andrew Ng for outlining the step of AI transformation steps in his AI Transformation Playbook. We expanded his list with an initial target setting step.
Which industries are most available for AI transformation?
Artificial Intelligence is starting to have a major impact on markets. Industries such as automotive, high-tech, communication, energy and financial services have already covered a substantial amount of ground in the AI adoption process. Such differences are likely to persist as more digitized industries are likely to take better advantage of AI technologies.
The graph below depicts McKinsey&Company's survey on the current AI adoption and future AI demand trajectory of different sectors.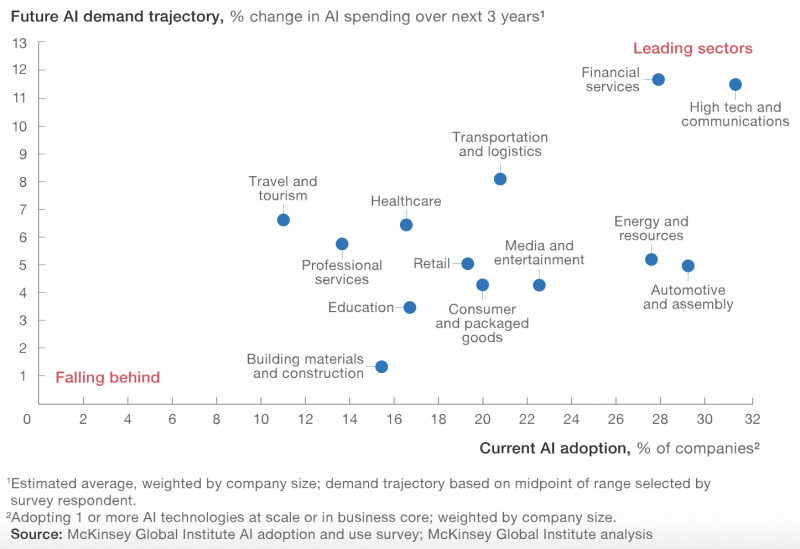 What are the obstacles to AI transformation?
According to Mckinsey study, executives of different companies agree on the top three challenges they face during AI transformation:
Insufficient AI talent and experience in the organization.
Limited maturity of AI solutions makes enterprise AI deployments risky.
AI Technology is not a strategic priory for executives of the business because top management is unclear about the value that AI will create for the firm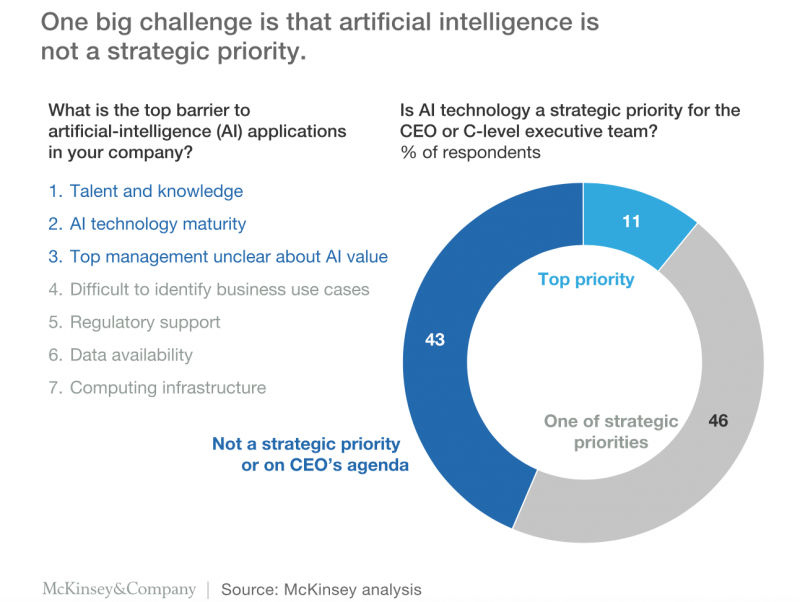 What are the best practices?
Based on our review of existing research and interviews:
AI initiatives should not be limited to investments in technology alone. Process and people aspects of transformation should not be underestimated.
Strategy cannot be sacrificed on the altars of AI deployment. AI investments should be in line with company's business goals to achieve business impact
Deploying Artificial Intelligence across business operations requires restructuring of the entire technology strategy and infrastructure in the organization
Professionals who are proficient in machine learning and artificial intelligence deployments should lead the AI functions.
What are recent case studies?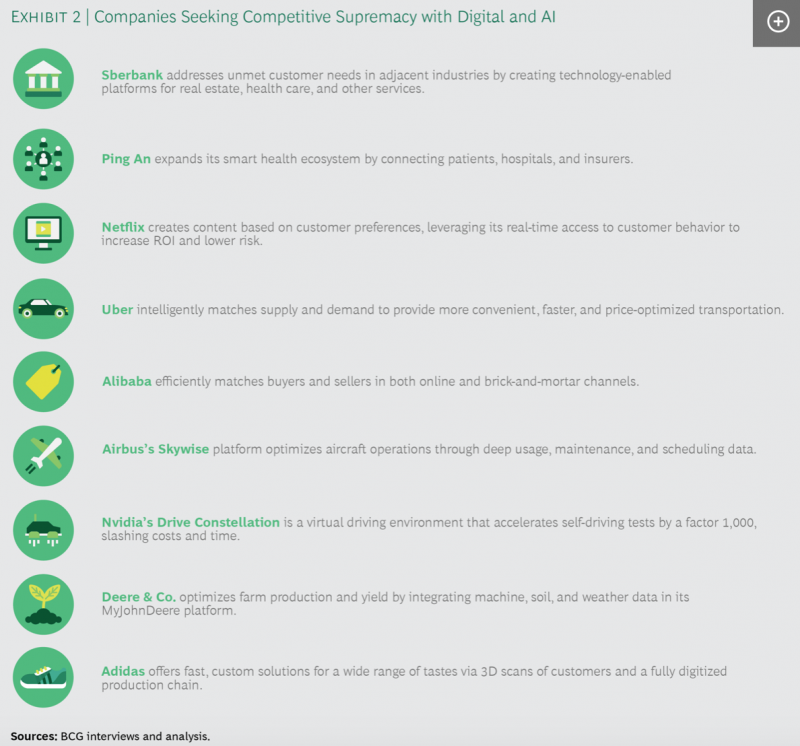 Feel free to check our other AI articles to learn more about how AI can transform your business:
If you have a data source which can be used to build a machine learning model and improve your business' performance, don't hesitate to contact us:
If you want to learn more about custom AI solutions, feel free to read our whitepaper on the topic:
We can also help if you have questions about how AI transformation can impact your business and how you can get started:
How can we do better?
Your feedback is valuable. We will do our best to improve our work based on it.