Digital transformation is one of those buzzwords every executive frequently encounters. Though digital transformation is mostly recognized as replacing existing technology stack of businesses with digital solutions, it is also about people in your business and how they adapt and work together to support organizational goals. The HR department has a role to support an organization's most valuable resource, people, to succeed in a digital world.
We always talk about technology but HR's role in digital transformation is two-fold. It both needs to digitally transform its processes and also support the overall digital transformation of the organization. Though these may seem like two different projects, they are intertwined. The faster HR transforms itself, the more it can serve as an example to the whole business.
What is digital transformation in HR?
In short, digital transformation is implementing digital technologies to business functions to improve organizations' productivity while enhancing customer experience. Digital transformation is changing the way HR offices work from the way they hire and develop talent, to productivity improvements that come with automation.
Why is digital transformation is important in HR processes?
According to PwC's Human Resources Technology Survey in 2019, top concerns of HR teams are
Digital HR addresses these concerns partially with digital HR solutions that have a total of  $148 billion market value. However, these tools need to be complemented with the right processes and initiatives by the HR team. Though we are excited about technology, it is only one of the ingredients of a company's culture.
After the COVID-19 pandemic, digital transformation became even more crucial for the HR office since pandemic made businesses shift toward remote working practices and building a collaborative remote working environment is the role of HR.
What are HR digital transformation use cases?
For recruitment processes
Applicant tracking systems (ATS)
Applicant tracking systems (ATS) are widely used to minimize the time spent on unqualified candidates. Software screens candidate resumes and eliminates unqualified candidates' resumes from the list automatically by using keyword filtering. However, advancement in machine learning and AI, these systems can be trained based on accepted candidates' success data. Along with resume screening, ATSs are capable of job posting, pre-interview testing, interview planning and interview evaluation features.
For more information on applicant tracking systems, you can check out our comprehensive article.
AI-powered job post writers
We've talked about automated content generation before. There are tools such as TapRecruit, Gender Decoder for Job Ads and Textio that HR professionals can use to write better job postings. Images below are an illustration of how these tools improve job postings.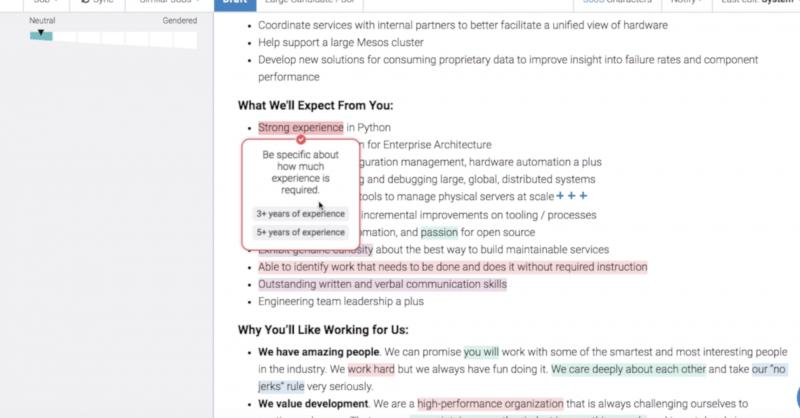 Onboarding software
From the moment the candidate signs an employment contract to the first day of the candidate, HR professional deals with multiple manual tasks such as introduction to tools used, virtual office tours for orientation and meeting the team. Onboarding tools such as Enboarder and Talmundo are capable of personalizing onboarding journeys of new hires while automating manual tasks HR specialists are responsible for.
Recruiter chatbots
Recruiter chatbots are another AI-enabled HR trend that helps recruiters save recruiting time by screening and staging candidates throughout the hiring process. XOR, Paradox and Mya are some example vendors that offer recruiter chatbot. These bots engage with candidates and enhance the candidate experience.
For more information on how AI changes recruitment, we have an in-depth guide for you.
For improved productivity
HR Analytics
Analytics projects have been great leverage for organizations to improve their processes and services. Businesses can use workforce analytics to better assess workforce performance. Workforce analytics uses employee and enterprise data to gain insights about employee and HR performance by using metrics such as time to fill, cost per hire, competency analytics, retention rate and replacement rate.
If you want to learn why your business needs HR analytics tools, here are 6 reasons to set up HR analytics.
One of the tasks HR team is responsible for is answering questions of employees. Employees mostly encounter with same challenges and ask the same questions to HR professionals. Deploying a chatbot that answers FAQs of employees can save recruiters time. For example, Leena AI is a chatbot that helps HR teams automate employee queries, enhance employee experience and ensure employee engagement. It provides automatic replies for all employee queries that are documented in the enterprise knowledge base.
Talent management systems
After a successful hire, HR teams focus on the orientation of the new employee. Similarly, after an executive leaves the company, the promoted employee needs to be trained on the new responsibilities. A talent management system is an integrated software that contains performance management, learning and development, compensation management and succession planning components.
Performance management
Anyone with some corporate experience has been in performance review meetings with unclear feedback or next steps. Many companies struggle to align compensation with performance beyond executive or sales roles.
Performance management tools aim to assist HR teams in collecting feedback and building performance management systems that reward results.
Learning management
Continuous growth is the most necessary ingredient to success however even large companies manage their learning via hard to manage spreadsheets. Learning management software helps companies keep track of candidate development, identify skills of employees and experiment with new learning approaches.
Compensation management
Effective compensation management is crucial to employee happiness. For example, it would be demotivating to see that your bonus is incorrectly calculated in the HR systems. Compensation management systems keep track of all aspects of compensation including stock options etc. and facilitate this important process.
Attrition prediction
Employees do similar things before they leave a company. They improve their Linkedin profile, make connections to colleagues and connect with interviewers. It is valuable to know that employees intend to leave before they do so companies can plan their replacement and handover. There are cultural approaches to this problem such as mindful transition which advocates ending 15 days notice and encouraging employees to be open about their future career plans without the risk of retaliation from the employer.
Another approach is to predict which employees are going to leave soon using machine learning. So as usual, when humans fail, machines fill the gaps. HiQ Labs, a company that provides such technology, got embroiled in a long legal fight with Linkedin over the right to use publicly available Linkedin data as an input to their model.
Other
This not a complete list. HR teams developing leading edge solutions may want to work with custom AI model development companies like bitgrit to build machine learning models to address their specific challenges.
To further understand digital transformation trends and use cases post-COVID, we have also started a survey. If you want to support our research efforts and join our survey about post-COVID digital transformation trends, we would appreciate your participation and you will be the first to know about results as soon as we publish them.
What are digital transformation consulting companies that are specialized in HR?
The big 4, top management consulting companies such as Mckinsey, BCG and Bain and system integrators such as Accenture capture most of the market. There are also consulting companies that solely focus on HR processes. Here are some example companies that provide HR digital transformation consulting services:
Flexso for People are combining their expertise in HR with digital technologies to help clients improve their HR processes. Their consulting services include building roadmaps and implementing digital tools.
TriNet is a full-service HR solution provider that has an HR-specialized team of experts to share recruiting and onboarding best practices with clients.
HR Path helps businesses evaluate the digital maturity of enterprise and creates an action plan for HR digital transformation based on the challenges your business encountered. They have expertise in digital HR tools so that they can help you select the best solution for your business' needs.
If you want to know why you need to hire a consulting company for your digital transformation efforts, feel free to read our article on the topic.
What should HR do to support the company's digital transformation?
What we have said so far was about digital transformation in the HR department. However, HR professionals are also an important enabler of organizational digital transformation. An innovative culture is essential for any digital transformation framework and its absence may cause digital transformation failures. Roles for HR in digital transformation are:
Hiring digital talent that has digital capabilities such as design thinking, agility and a data-oriented mindset
Creating an innovative and agile culture. Such a culture is required to pursue opportunities that arise due to changes in technology.
Digital transformation is a long-term, strategic project requiring collaboration. HR needs to support it with the right communication initiatives and ensure organizational alignment.
For more on digital transformation,
If you still have questions about digital transformation in HR, we would like to help:
How can we do better?
Your feedback is valuable. We will do our best to improve our work based on it.