Are you looking to use AI in your business and need to find the best AI consultants? Consultants can help to get your company started quickly with AI initiatives. We have compiled all that you need to know on AI consulting, to decide whether to use AI consultants and which ones to work with:
Why is AI consulting important now?
What are the typical AI consulting activities?
What is the structure of AI consulting landscape?
How to choose your AI consultant?
How do AI consultants price their services?
What is the future of AI consulting?
How will traditional consulting change in the post-AI world?
What is AI consulting?
AI consulting is the business of helping companies use AI technologies to improve their businesses.
AI is the next keyword that will used to death by people who know little about it. And consultants will be among those people and they will be justified to talk about it because AI indeed represents a big business opportunity. Different consulting companies have different estimates but companies like McKinsey, PwC all rightly claim that AI is a multi trillion dollar economic opportunity for the world which will be unlocked in the next decade.
However, as outlined in a report by BCG and MIT Sloan Management Review, enterprises state these as 3 factors that lead to their slow adoption of AI:
lack of an AI strategy
lack of awareness about AI capabilities
lack of AI talent in their organizations
Consultants can help with all of these problems.
Strategy is their bread&butter
They have smart&motivated personnel learning about AI that can identify AI use cases for businesses
Why is AI consulting becoming important?
Integration of artificial intelligence related products is becoming more important. Currently, there is demand for artificial intelligence related products, but supply side is limited. Either the technology isn't mature yet or the Companies don't know which firm to hire. Hence, artificial intelligence consulting will be a highly important industry in the near future.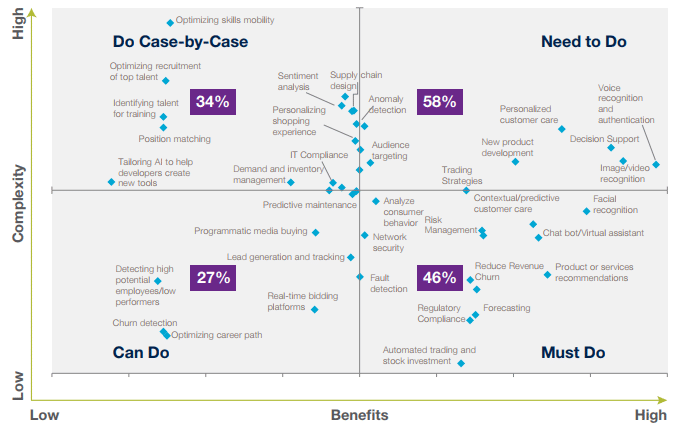 A recent report by Capgemini Consulting presents this problem. Many firms miss the chance to implement low complexity and high benefit artificial intelligence use cases. This is the "must do quadrant". 54% of the firms in this quadrant haven't implemented the suggested use case yet.
Another survey conducted by Boston Consulting Group and MIT Sloan Management Review shows the expectations of respondents. Many industries have the potential to adapt the technology and the rest expects to reach the same potential in five years.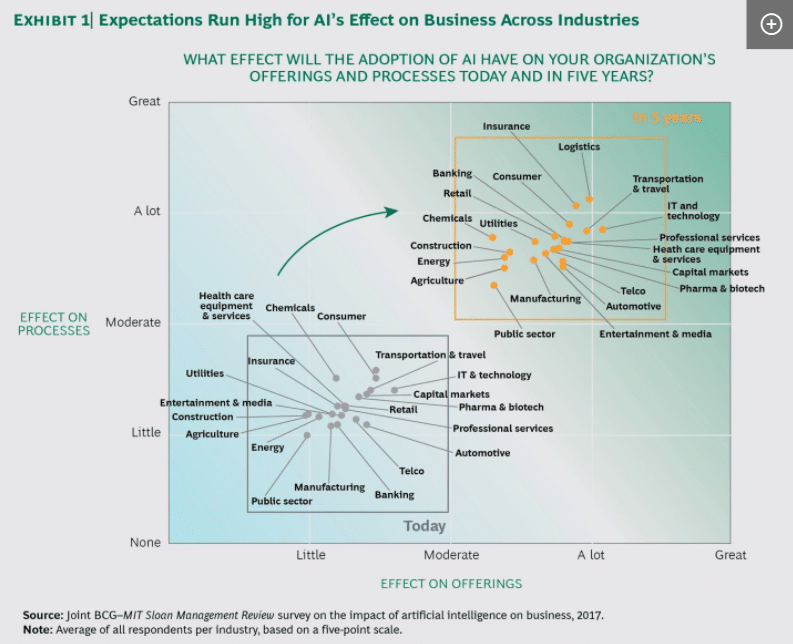 These two studies show that while businesses have high expectations from AI, they are currently not leveraging AI as much as they can. BCG – MIT Sloan Management Review shows the high expectations of companies. Capgemini Consulting's report shows that there are potential use cases that are not adopted yet.
What are the typical AI consulting activities?
Consulting can be divided into 3 major categories, AI consulting is not quite different:
1- Strategy formulation
How should the client use AI? It's necessary to understand the client's strategy, challenges, and opportunities faced by the company, client's data & analytics capabilities. Combining these with an understanding of state-of-the-art AI, a consultant can identify the most important AI initiatives for the company.
In light of these initiatives, companies overall strategy also needs to be revised. For example, a translation services company needs to make dramatic changes to its business to ensure that it survives in 5-10 years when Google translate reaches human level translation capabilities. It is helpful to have strategy sessions envisioning 5-10 years into the future, helping executives understand the future of AI so they can identify how their business needs to start changing today.
2- Commercial due diligence
Though a due diligence can be considered a strategy project, it is a special one. A good understanding of the AI market is necessary to conduct an effective due diligence because success factors in AI are different than those of other fields. Consulting firms with significant due diligence track record such as Solon are investing to establish themselves in this emerging market.
A due diligence require a consulting team to prepare the inputs to a valuation in a short amount of time, typically in 1 month. Based on the commercial and other due diligence inputs, the buyer (a private equity, corporate or another investor) makes a bid. This can be a 1 or 2 step process.
Evaluating the commercial success of an AI solution is different than other software mainly because:
Superiority of a deep-learning based AI solution requires having more or better labelled data than competitors. Any software improves as product owners learn from usage patterns. However, in case of AI, the accuracy of the models predictions improve with more data which is unique
Evaluating data science teams is different from evaluating engineering teams. For example, academic credentials can be more important for data science teams compared to typical software engineering teams
Therefore, companies are investing in AI specific due diligence capabilities. These include understanding and evaluating data sources relevant for AI models, formulating fast approaches to benchmarking different AI vendors' solutions and getting familiar with AI related academic and work credentials.
3- Implementation
Strategy will result in a number of initiatives. Implementation should also be considered as multiple activities such as planning, vendor selection if needed, project management, development, improvement of business processes impacted by the project, change management and so on.
As with any consulting service, some or all any services can be completed by consultants. Or implementation can be in-house and in most cases it is in-house. However, for example, if the client lacks the tech know-how to implement urgent initiatives, starting with consultants can help the client progress faster. However, please bear in mind that, in the long run relying on consultants completely for implementation will likely be more expensive than completing those activities in-house.
4- Training
Ideally, consulting projects should improve culture and skills of the client. This is especially relevant in the field of AI where talent is scarce. AI consulting projects need to ensure that client teams are capable and knowledgeable about the technologies they will be working on.
Artificial Intelligence Consulting Landscape
A major distinction between AI consultants is their area of focus. While some offer end-to-end consulting services, only AI focused consultants are also entering this industry.
Traditional Consultants with AI services
Tech consulting companies
IBM pushed AI into the spotlight with DeepBlue winning against the world champion in chess and Watson winning against Jeopardy! champions. IBM also invested in AI consulting. In 2018, it launched IBM Data Science Elite as a data science/AI consultancy division.
Accenture also has an advantage in the AI consulting space with its large, tech-focused consulting team. For most companies working already with them.
Top management consultants – MBB
Traditional consulting firms such as MBB (McKinsey, BCG, Bain) have been active in strategy side of things for a long time, but as the greater dependence on data continues, companies' focus will likely to shift towards artificial intelligence. So this raises the question of whether consulting will be able to survive without artificial intelligence implementation or not.  Those two industries will likely to become more interlinked because of the advantages of a possible partnership. There are numerous recent acquisitions and investments from consulting firms into AI companies such as McKinsey's investment in SparkBeyond and BCG Gamma's launch of source.ai.
Consulting firms are also trying to achieve thought leadership in how AI will transform the enterprise. They are focusing on AI applications, educating executives on AI and identifying limits of AI:
Big 4 accounting firms
Though launched as accounting companies in early 1900s, Big 4 (Deloitte, PwC, EY and KPMG) have been running consulting businesses for >50 years. However, their prices and in some countries scope of their consulting activities have been limited compared to other consulting companies.
The growth in AI gives them a chance to establish a strong practice in an emerging area. AI is a technology with implications to many business areas where talent is still scarce. Big 4 accounting firms are some of the largest employers in the world and they have deep enough pockets to make large investments in this space and they have the business development know-how and resources to make partnerships across the AI ecosystem to deliver end-to-end services.
Cloud service providers
These are the companies like Google and Amazon. They are the leading players in cloud computing & storing activities. Their expertise in these fields gives them a greater chance for transferring their technical knowledge into meaningful solutions. Their teams have gained substantial expertise in handling massive amounts of data through their specific cloud architecture, and for a data-intensive activity like artificial intelligence, they can provide the right advisory for their clients. Google through their Advanced Solutions Lab provides both training sessions for their clients and channels their engineers to design a custom project.
Emerging AI Consultants
Unicorns that can be classified as AI consultants
These companies have productized their solutions to some degree however, they still engage with their enterprise clients in labor intensive engagement which involves customizing and integrating their product into clients' systems
Element AI is one of the best funded AI startups with $257M funding and also boasts an impressive list of AI scientists as its founders. Yoshua Bengio, one of the co-founders, is a Turing award winner. Turing award is the highest level of recognition for computer scientists. Though they are not a unicorn yet, they are building customizable, machine learning solutions for corporations and they are an important company in this space.
Palantir can be considered to be on another league due to its scale: It aims for a valuation of $26 billion. Palantir initially started as a tool to augment government intelligence (e.g. CIA) analysts. Today, it is used by numerous private and public customers to surface critical data to human analysts.
AI strategy consultants
Most global consultancies can help companies formulate their AI strategy. They all recruited or trained a pool of experts both capabilities of AI and how this can be applied in specific business context.
AI implementation consultants
Other consultants focus on developing custom AI solutions. However, since strategy formulation is much less manpower intensive, most of these companies also offer AI strategy services. This is not a comprehensive list yet, please feel free to add other firms to comments
GoodAI Consulting is an AI-focused consulting firm using artificial intelligence solutions to maximize business success for companies and organizations across a range of industries. The company analyzes how AI can help a client's business, do the necessary research legwork on their behalf, and implement practical solutions. GoodAI Consulting started because of high demand for the know-how and experience of GoodAI researchers. Their R&D team focuses solely on AI research.
Tryolabs builds custom machine learning solutions in various industries. Their areas of focus include computer vision, NLP, and predictive analytics.
Companies like LeaderGPU also provide turnkey projects. They provide the consulting and implement the custom artificial solutions.
Addo AI is helping mostly non-profits and public institutions to leverage AI. They also run an incubator for AI startups.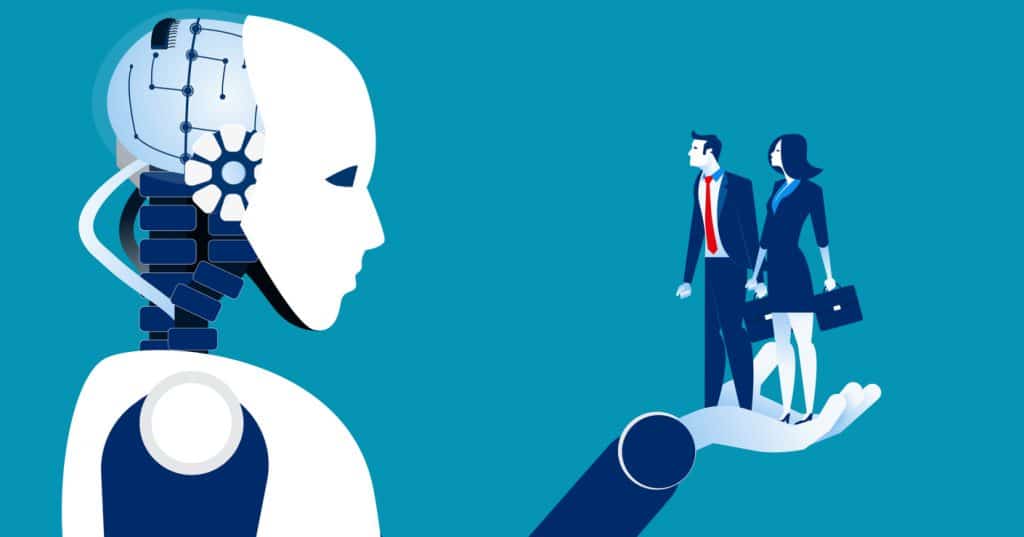 SME AI consultants
Artificial Intelligence is not only used by large companies. Increasingly small and medium enterprises try to integrate the technology into their structure. Even though artificial intelligence provides huge scalability advantages, integration into a differently sized organization requires a different type of focus points. Therefore, some artificial intelligence consulting firms choose to focus on small and medium enterprises and provide custom tailored solutions
WildFire is an example of these consulting firms. The firm provides AI, data science, and big data consulting services. Their specialty is data science, AI, machine learning, deep learning and big data. The company helps fortune 3000 and smaller companies with an end to end AI, big data strategy, and implementation.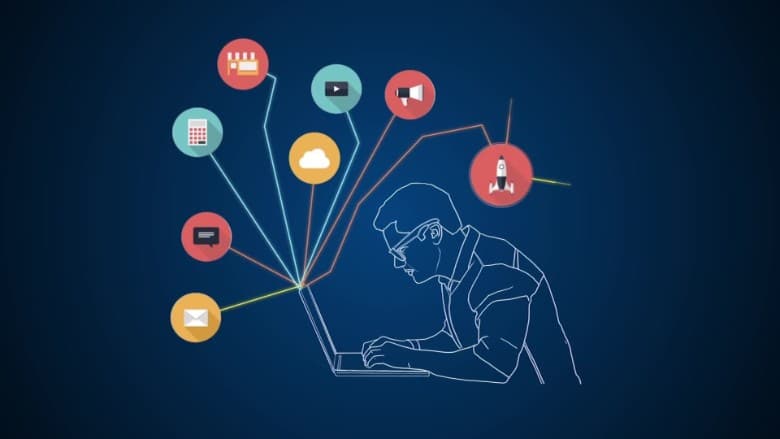 How to choose your AI consultant?
Of course, deciding on which firm to hire depends on many factors; but here three major questions you need ask;
Is it really necessary? That should be the question you need to start with. There are many publications indicating the potential gains from implementing the solution, but is it going to be a positive return in the short run? You should ask your consulting about her projections fort he short-run, medium-run and the long-run. Maybe it would be wiser to implement some other technology for the short-run if the firm is on early growth stage or there are much more important opportunities to invest in.
Do you have the necessary human capital? After the solution scheme is provided it would also be important to decide on doing the project in-house or outsource it. You should always make sure that the people with rights skills deal with the issue so that your employees would have a greater likelihood to learn something from the process and, can help you in later stages. Thus your team's skill level will make it easier or harder to evaluate the performance of the consultant. So that, there would be constant sharing of information to ensure that state of the art solution is implemented.
Does the consultant have the necessary experience? Right now, there are many small size artificial intelligence consulting firms. Depending on your industry you need to make sure you selected the right vendor. Different industries need different types of skill sets. Vendors past Project would be the greatest source of information. The profile of the team also matters. It is quite likely that people with advanced degrees have the capability to ensure the highest quality of work. The different consulting firm have different expertise, one can have the best team to do text classification and the other can be good at object detection
How do AI consultants price their services?
Some AI consulting companies that also have their own AI products provide AI consulting for free to boost sales. It is common for tech companies to add complimentary services on top of product sales or to provide free PoCs to gather new customers. This is a more structured extension of such approaches and is successfully implemented at IBM where it led to 130 engagements at 115 companies in a year.
However, most AI consulting projects, like most consulting projects, are priced based on the time and materials necessary for the project as estimated by the consultancy. This is negotiated at the beginning of the engagement.
Some consulting projects are success based and there have been efforts to implement this in AI consulting as well. Even though success (or milestone) based projects seem to align consultants' and clients' interests, they create uncertainty, are still imperfect measures are hard to measure resulting in inefficiencies.
Uncertainty is a big issue because no client wants to be in the dark about how much they need to pay for a consulting project. Though limits on minimum and maximum fees could be negotiated, uncertainty about payment amount will still remain.
Most metrics do not measure success accurately. For example, if a company runs a project to boost its sales and experiences no sales boost after the project, that may not mean that the project is unsuccessful. A myriad of factors such as seasonality, an unexpected recession, churn of a sizable portion of the workforce could all lead to flat or declining sales after a successful project to boost sales.

What is the future of AI consulting?

In their latest report, Gartner predicts that by 2020 startups will dominate the artificial intelligence scene. That is to say giant tech firm like Google and Facebook will have less presence unless some acquisitions take place. Therefore, AI vendors will become highly specialized and provide solutions in that specific industry. But it is relatively early to make accurate predictions, tech giants could easily dominate AI solutions by buying off AI startups and hiring researchers as they have been doing for the past year.

However, if startups dominate the AI scene with specific applications, there will continue to be integration and strategy work for consultants.

Traditional Consulting in a Post AI World

We discussed how AI consulting works. It is also worth considering what will happen to traditional consultants as AI becomes widely adopted.

Currently, AI has created a huge Revenue potential for sales and marketing related topics, but moreover, this disruption is expected to other jobs. A recent Harvard Business Review article claims that in near future even the elite consultants face the risk of getting replaced by artificial intelligence.

Many argue that traditional consultancies are doomed. The Economist in their latest special report analyzes the possible effects of AI in the near future. One of their articles is also in line with Harvard Business Reviews points. Their main argument is AI providers will increasingly compete with management consultancies. They argue that buying AI takes time. Currently, AI tools landscape is not dominated by the tech giants who are leading the markets such as hardware & cloud. Their argument is that AI consulting will be shaped by the cloud providers. One critical quote comes from Roy Bahat of Bloomberg Beta;

"Consultancies are built for two-by-two matrices. AI's matrices are a million by a million."

McKinsey's acquisition of QuantumBlack  and BCG setting up Gamma are viewed as an attempt to take their share out of the growing AI consulting market. Large companies are also acquiring some AI startups to create their in-house AI units. Still, since it is an emerging field, AI vendors can capture a significant market share by establishing their presence early in the market.

In case you are considering building your own AI solutions, we analyzed the costs and benefits of creating an in-house artificial intelligence solution. Are you looking for the right AI consultant for your company?