Due to changing conditions of the business world, innovation and adoption are the key drivers to stay ahead of competitors. Digital transformation is an emerging trend as seen in the featured image but some companies may not manage to succeed in the transformation. 
We'll provide you two different digital transformation frameworks from different consulting firms to guide you to success.
What is digital transformation?
Digital transformation is the use of the latest technologies to enhance existing processes and offer new and improved services and products to customers. It aims to create value by changing how businesses operate and how they deliver value to customers.
What is a digital transformation framework?
Digital transformation framework is a roadmap of what digital strategies guide your business in a competitive evolving business landscape. It is a reference point and root of digital transformation projects. It aims to improve business' digitization processes by identifying the goals of digitization.
Why is the digital transformation framework important?
According to Mckinsey research, 70 percent of large scale transformation programs fail. Common pitfalls are resistance to changing culture, lack of leadership, poor cross-functional collaboration. A framework can help organizations avoid these pitfalls by demonstrating a roadmap to success. It provides an agreed business-wide approach so that employees and executives don't stray away from goals during agile evolving business conditions.
Numerous consultancies have formulated digital transformation frameworks for their clients. We see these common patterns in most frameworks:
Digitized business model

Talent enhancement within the enterprise

Customer-centric products and services

Innovative culture

Collaborative leadership
Cognizant's framework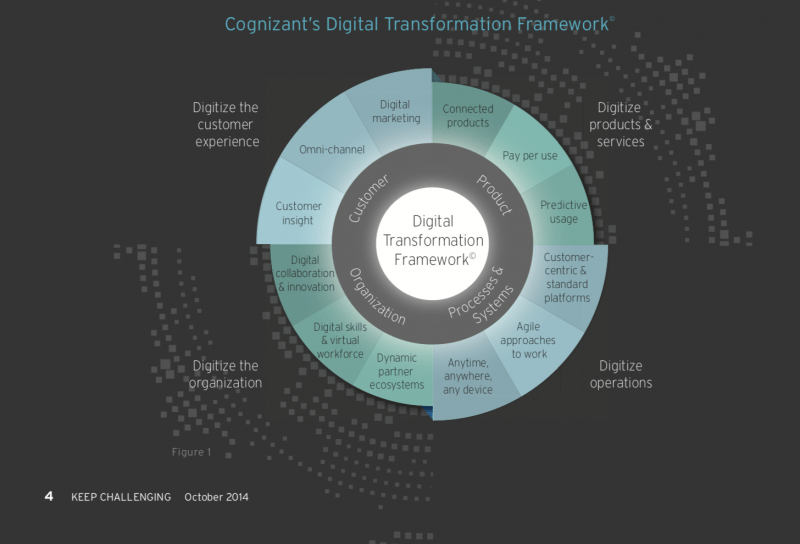 The digital transformation framework has four main components, which are customer relations, processes & systems, products & services, and organization.
Digitizing Customer Experience
In order to maximize customer satisfaction and life-time revenue from a customer, companies are collecting data of customers and providing personalized products to individuals. Customers expect to engage with the company 24/7 from all available channels; omnichannel interaction and services are the key for successful digital transformation. 
Digitizing Products & Services
Companies need to focus on selling to customers a journey rather than the product. This can only happen if companies insert a digital tag that enables them to analyze customer behavior and lets to interact with customers. 
Digitizing Operations
Automating operational processes make organizations cost-efficient and more agile. Agility is an essential characteristic for a firm because increasing competitiveness in the market obligates organizations to act quicker.
Digitizing Organization
Companies need to achieve a new organizational model which involves human and machine together. Labor force should transfer into processes that are about designing, auditing, and innovating rather than operating processes. A culture that is open to change and prioritize improvement is an essential driver to evolve through digital. Organizations should encourage innovations so that new technical capabilities can be implemented to help employees adopt the digital world and gain the skills and knowledge they require to transform.
BCG framework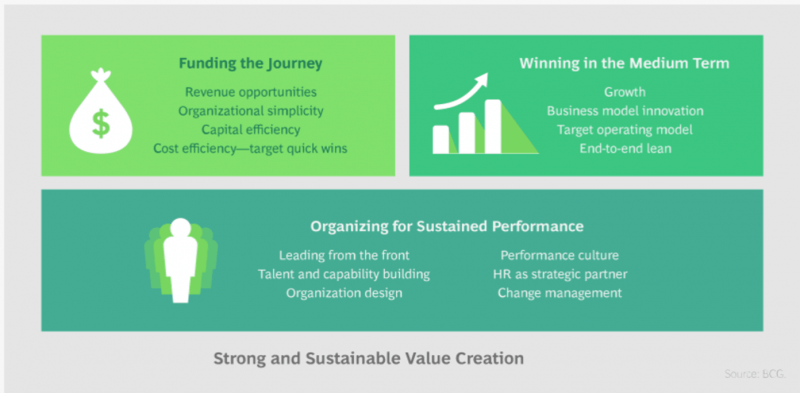 BCG divides the digital transformation process into three layers: short-term quick win, medium-term plans and long-term sustainability and transformation.
Funding the journey
Digital transformation is a time-sinking process and digital investments of an organization may fail to generate returns more than the cost of capital during this process. However, boards and shareholders always expect to see immediate results. Therefore businesses should come up with short-term initiatives that will provide quick cash to fund the upcoming long-term initiatives.
Wining in the medium term
This layer is where the realization of transform starts across the organization. Businesses focus on redesigning business and operating models. Digital initiatives are mostly about the way the company delivers products and services to its customers. Businesses identify customer segments and products and services they will offer to each segment. Results of these initiatives are expected to be seen in the medium term.
Organizing for sustained performance
Culture change among executives and employees is a key indicator of the success and sustainability of digitization. Without an innovative culture, digital transformation is destined to fail. Executives should enable the people working within them to contribute, grow, innovate, and be more productive. Organizations should design a culture that supports the high performance of people.
Other frameworks from different leading consulting companies
Gartner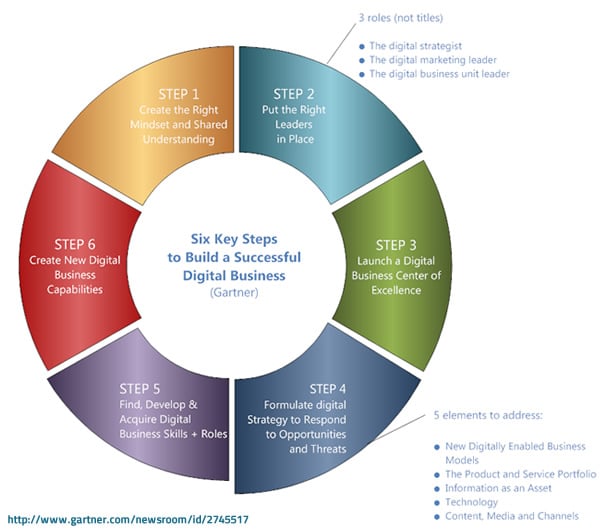 Accenture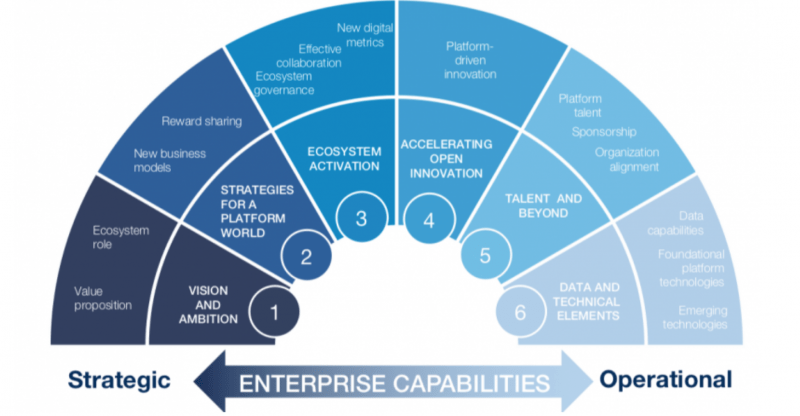 Mckinsey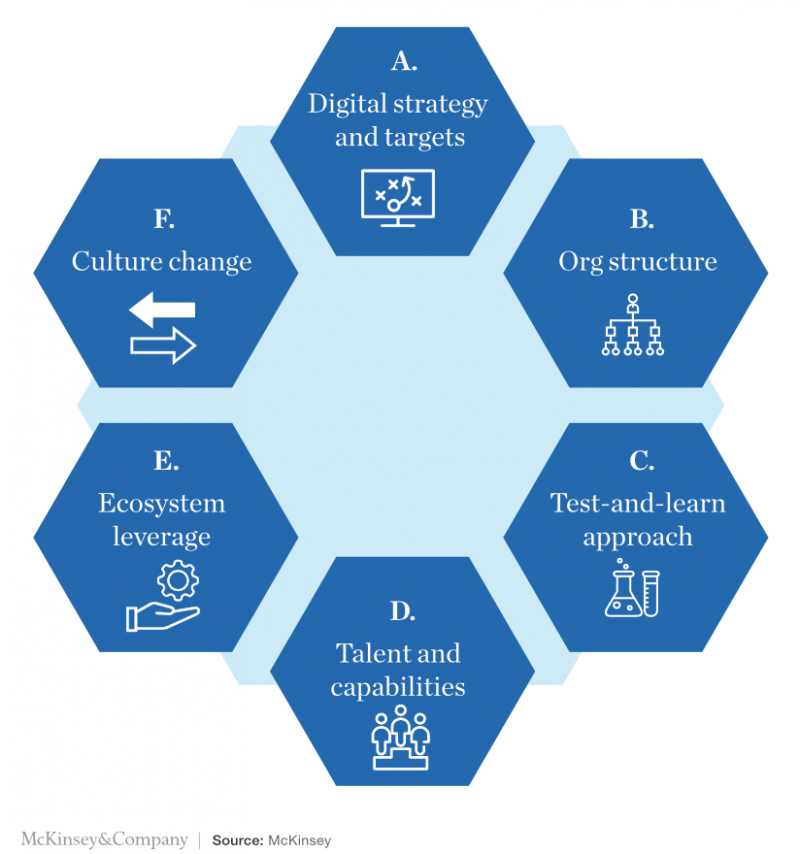 For more on digital transformation, feel free to read our articles on the topic:
Digital transformation for banking: In-depth guide
30 digital transformation cases to inspire your transformation
Digital transformation for retail: Evolve or disappear
Digital Transformation Consulting: In-Depth Guide
Digital Transformation: In-Depth Guide for Executives
If you still have questions about digital transformation, we would like to help: