It has been one of the challenging tasks for businesses to understand their actual situation. As they might think that their processes continue ideally, actual processes always differ from the desired ones. Companies might have "feelings" about these discrepancies, but it is hard to identify the problem without any factual evidence. Process mining technology allows businesses to have a full understanding of their as-is processes and enables them to identify bottlenecks for process improvement. With the increasing complexity of processes and the advances in technology, process mining becomes a more critical solution that has the potential to grow in the future.
What is process mining?
Process mining is an emerging technology that shows the actual processes rather than the ideal ones. It displays the current condition of actual processes by leveraging real-time data and incident records to recognize bottlenecks, reduce unnecessary steps, and present factual insights.
To learn more about what process mining is and how it works, feel free to read our related article.
Why is process mining important?
Even though most companies are not aware of this, business processes tend to have many exceptions and tend to be complex: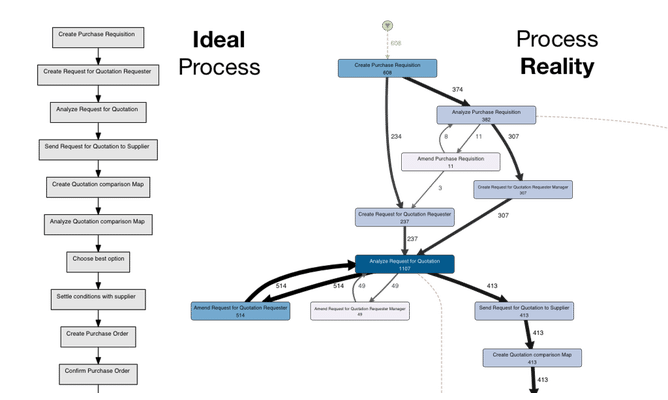 When there are bottlenecks, or when companies aim to find areas of automation, the companies need to have explicit knowledge. If not, they may take inaccurate actions which won't provide any improvements. Thus, process mining becomes a prominent solution for such cases. With its support, companies can understand the actual processes and give data-driven decisions.
Process mining allows us to visualize what the actual process based on the event logs. After observing the discrepancies with the assumed process, the companies can come up with three outcomes.
The company can identify the reasons for the discrepancies and take actions to fix them. As a result, the actual process will become more alike with the assumed process.
The company might have constituted the assumed process wrong. The discrepancies might have happened because the company doesn't follow its assumed process. In such a case, the company needs to revise the assumed process in the documentation.
The discrepancies are so minor that the company doesn't need to take action for those cases.
It will be useful to know about these discrepancies to have a complete picture. They may give insights to the company to identify process inefficiencies and areas for process automation. Without these insights, automation projects can focus on the wrong processes or operate inefficiently.
As a result, companies should mine their processes to perceive how they look like in real life. With the knowledge gained from the software, they can take proper actions for reducing inefficiencies.
What are the main benefits of process mining?
Companies have limited information about how their processes work. Most of the process data is stored in detailed log files that are difficult to analyze without process mining software.
Process mining helps companies to identify their processes that are essential to business performance. After mining their processes, many companies gain valuable insights that allow them to carry out a thorough review of their processes and to formulate action plans. Below you can find the main benefits of process mining tools.
Reduced Costs
By automating processes and eliminating unnecessary steps, companies can reduce their costs.
Improved Customer Experience
By identifying bottlenecks, discovering areas of improvement, and optimizing different processes, the total process time reduces. This situation enables faster delivery for customers and improves their experience with businesses. As a result, customer satisfaction increases, and this would positively impact revenues and customer loyalty.
Compliance Benefits
While auditing is a time-taking process, fast process analysis with process mining tools can shorten these processes. Besides, these tools can detect non-compliant processes and notify companies about such issues in real-time. As an example, using QPR ProcessAnalyzer, EY has been able to reduce its end-customer process analysis in less than a week.
For a more comprehensive list of process mining benefits, you can read our related process mining article.
What does the future of process mining hold?
Below are some of the insights we have collected about the future of process mining from different resources:
Process mining market continues to grow
According to a research by Markets and Markets, the process mining market size is expected to grow from $0.2 billion in 2018 to $1.4 billion by 2023, which corresponds to 7-8 times greater market size in the forecast period. Gartner also expects that the market size would triple or quadruple from 2018 to 2020.
The interest in process mining is increasing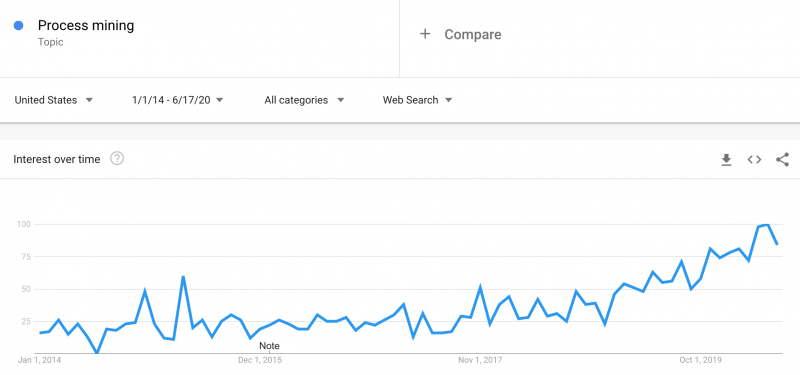 Google Trends shows that the popularity of process mining increases, especially for the last two years. We observe that the interest is approximately tripled in this period. As we consider the recent growth and investments in the process mining market, we believe that this interest will continue to grow, and it will become a more popular solution in the future.
Process conformance and enhancement will become more popular
When process mining solutions first emerged, businesses were using them for process discovery. However, process mining tools offer more capabilities than process discovery today. Thus, other process mining capabilities like process conformance and enhancement will be used more widely in the future.
According to Gartner's survey,
54% of their respondents used process mining to discover processes in 2017. Gartner estimates that this share should have decreased to 34% by 2020. This is difficult to verify without running the same survey but anecdotally, there is more interest in other process mining capabilities

Process mining for process conformance was expected to increase from 23% to 30% by 2020

Process enhancement was expected to increase from 24% to 36% during 2017-2020.
AI's impact on process mining will be greater
Process mining tools used to leverage past data to offer business insights in the past. Today, process mining vendors provide real-time monitoring of processes with real-time data. Thanks to advances in AI technology, process mining tools can classify events in real-time and provide insights and analyses instantly.
In the future, we expect this to improve even further. Process mining can predict future events and give recommendations for improving processes. As an example, QPR Software has already started to offer process prediction for open cases that are likely to lead to a deterioration in the KPIs.
Discovering automation opportunities and digital transformation will become more common use cases
The most typical process mining use cases is business process improvement today. However, Gartner shares that there is a decreasing trend for this use case. With the increasing popularity of RPA and digital transformation, it is increasingly valuable to support such initiatives with process mining. According to Gartner, discovering process automation opportunities and digital transformation have increasing trends and will become more popular use cases in the future.
Process mining will be integrated into other technology solutions
As process automation will become a typical use case, new process mining solutions that are directly integrated into other technologies like RPA or IoT can emerge soon. While Software AG, a process mining vendor, offers process mining solutions and IoT solutions to its customers, UiPath, an RPA vendor, had recently acquired ProcessGold in October 2019. These companies may provide their technologies under a single platform in the future.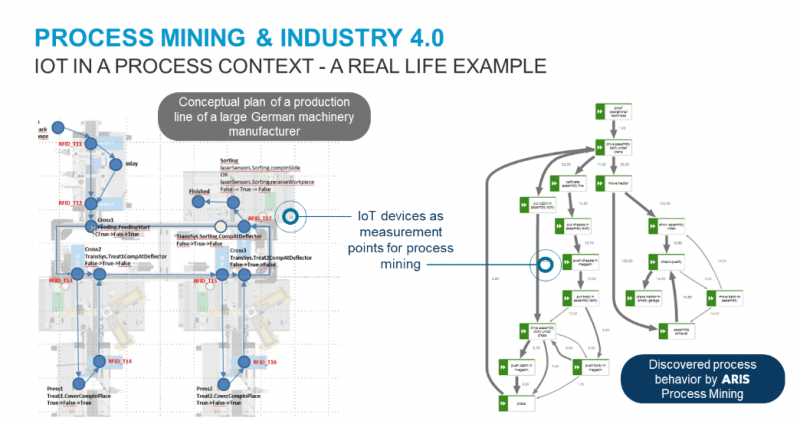 How does process mining support automation and RPA?
Process mining provides a visualized and data-based view of processes. This enables companies to
Prioritize automation and process improvement efforts
Automate processes faster as business logic of processes can be gleaned from process mining software
Calculate benefits of automation
Process mining is used to evaluate the current state of the business process performance, identify areas of improvement, and determine the effects of process improvement. It brings data-driven decision-making to process improvement.
RPA teams, as well as any automation initiative team, need to have an in-depth understanding of the process they are automating. Normally, this is acquired by observing how employees work and by conducting interviews. These are superficial and time consuming approaches. They consume time of both the automation team and the process team. They also fail to provide detailed insights in most cases since people's memories are quite error-prone. However, process mining software provides a detailed overview of which process steps are necessary for different output and guide automation efforts in a data-driven way.
After implementation of process automation, process mining tools can monitor bot performance to measure process improvement and to ensure that the automated process works as intended. QPR indicates that process mining can increase process automation rates by 50%.
For more on this, feel free to read our article on process mining for RPA.
What to pay attention to while choosing a process mining vendor?
Today, most process mining tools can integrate with different systems and are designed to fit into the existing IT infrastructure of businesses. These systems can involve ERP systems, CRM applications, and supply chain packages. While choosing your vendor, you should also consider the following capabilities:
Monitoring event logs to uncover actual business processes
Conducting compliance tests to detect anomalies and discrepancies
Providing organizational insights into which employees are deviating from the standard procedures
Integration with existing business software and IT infrastructure
Which are leading process mining vendors?
Below are the most popular process mining vendors in the market.
Celonis
Fujitsu
Kofax
LanaLabs
Minit
QPR Software
UiPath (formerly ProcessGold)
To see the full list, feel free to visit our list of process mining software vendors on our website.
You can also read our detailed process mining use cases article to read about +30 applications of process mining.
If you want to see relevant process mining case studies, you can also read our article about process mining case studies.
If you still have questions about process mining software, we would like to help:
Let us find the right vendor for your business
How can we do better?
Your feedback is valuable. We will do our best to improve our work based on it.