Process mining enables businesses to understand their processes which is critical to business success. Savvy business leaders focus on processes. Results depend on external factors so they have significant variation. However, over the long run, better processes yield better results.
Despite the importance of processes, companies have limited data about how their processes are run. Most process data is stored in detailed log files which are difficult to analyze without process mining tools.
General Business Benefits
Data-driven decision making
Prerequisites for data driven decision making are data availability, high quality of data and strong data visualization/analytics capabilities. Process mining tools increase data availability to enable data driven decision making.
Without process mining tools, process data is limited for most processes. Process mining tools use raw data or event logs to extract the actual process sequence and close this data gap. According to the research conducted by Jan Claes, 60.6% of respondents state that factual process data which can be used for  further diagnosis is the most prominent benefit of process mining. Feel free to read our article on data-driven decision making in the age of AI to learn more.
Once data is available, strong data visualization tools are needed to allow employees to easily visualize and analyze the data, enabling rapid data driven decision making and improvement. Most process mining tools include specialized modules for process data visualization. Here is an example of how Celonis visualizes an actual process.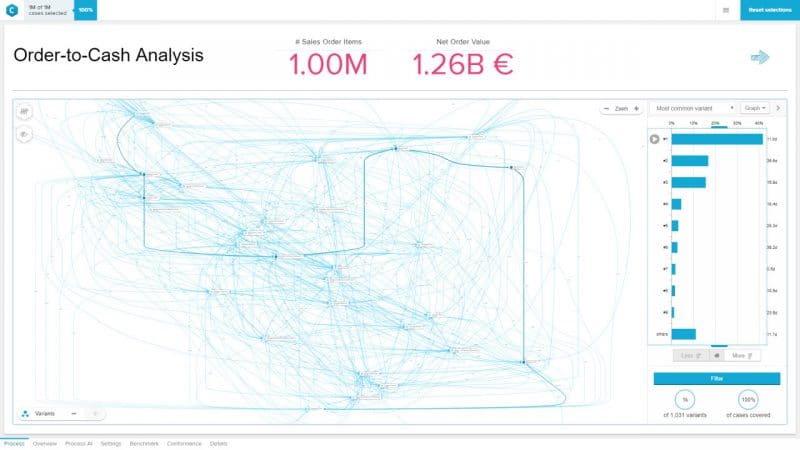 Process standardization
Consistent processes result in consistent outcomes which is critical for consistent business results. Process mining tools make data extraction from system logs easier, enabling processes that follow non-standard procedures to become visible. This brings the whole organization to the same level of understanding about processes and pave the way to process standardization.
A company may have predefined processes for their actions or services. However, actual processes tend to be more complex than these predefined processes. These differences are not visible if they are not recorded in anywhere other than system logs. System logs are time consuming to analyze manually, most employees have more important things to do. If these process differences are not visible, management can not understand that there are quality or urgency issues in the processes and they can not take steps to improve the process.
For example, the company may need to repeat a few steps if its output had quality issues. For another case, the company may decide to skip several steps to provide its services/goods faster.  The extracted process data can reveal these differences and allow process owners to understand the differences in process execution. For example, some processes at Alliander, a network company, were taking longer than expected. When the company mined the relevant data, it was discovered that employees unlearn their tasks if they don't practice them continuously. Therefore performance in less frequent processes suffered. To solve this discrepancy, the company decided to retrain their staff. As a result, the company expects to speed up its processes.
Another example is AkzoNobel, a chemical company, identified that 18% of its transactions in its Purchase-to-Pay process include manual changes. The company now uses process mining to stabilize its processes and improve efficiency.
Improved performance management
It is hard to accurately measure employee performance. Process mining tools automates process performance data collection. This enables KPIs like SLA, Time to Resolution, First Time Right to be continuously monitored which allows process owners to continuously improve processes. 
Reduced costs
Enabling process automation
Using event logs, process mining tools derive how distinct cases are handled and how operational decisions are made. This helps companies automate processes as they know exactly how current processes are run. For example, once they know how the process runs, programmers can build RPA bots to automate processes.
For more info on this, feel free to read our in-depth article on RPA.
Eliminating unnecessary steps
Processes constantly change and legacy process steps can lead to inefficiencies. By removing unnecessary steps, companies can avoid unnecessary costs. For example, a process vendor claims that Eneco, a Dutch energy engineering company, has saved more than 15 million euros after they started utilizing process mining for process optimization.
Improved Customer Experience thanks to faster delivery
Optimizing a single process can lead to
Shorter lead time
The company can find ways to optimize its processes by using process mining tools. For instance, a Dutch industrial engineering company, Veco, applies process mining to its Quality Management Department. By reconstructing their processes, they have shortened their lead time by up to 11 weeks, improving customer satisfaction in customer facing processes.
For another example, WoonFriesland, a housing association, ran a process optimization program with support from Zig Software. They were able to reduce average vacancy per property by 7 days for 583 properties.
Shorter reaction time
Constant process monitoring via process mining tools enables companies to react faster. Thus, if a problem occurs, the software can identify its cause faster and the company can react accordingly. Shorter reaction time will improve the company's performance and also increase customer satisfaction. For instance, Piraeus Bank, a Greek bank, states that they can identify any problematic steps in 5 minutes so that they can take necessary actions.
Identifying and resolving process bottlenecks
There tend to be invisible bottlenecks in the process which slows the company down. As the company analyzes time spent at each step of its process, it can identify bottlenecks and either simplify those steps, allocate more resources to them or automate them.
A process mining claims that BridgeLoan has used process mining to identify and resolve the bottlenecks in their loan application processes. This is claimed to result in 40% faster processes and that the company can now process 30,000 applications per month.
Optimizing/harmonizing inter-dependent processes
Process mining tools extract all process data and highlight inter-process conflicts. Companies can harmonize these processes to be more efficient and provide better customer service.
For example, process conflicts need to be resolved: Imagine that you and your friend will make Caffe Latte and Cappuccino respectively. You take different steps but, you both need milk. When you look for the milk, you observe your friend is using it, so you need to wait. When processes are harmonized, such conflicts are minimized and processes will be completed faster.
Similarly, different processes need different amounts of resources at different times. Process mining software help companies optimize resource allocation.
Compliance Benefits
Cheaper, faster auditing
Auditing is time and effort-intensive. Process mining software enables auditors to analyze data faster. EY is one of the auditing firms which uses process mining software as a digital solution. For example, using a process mining solution, EY has been able to complete its end-customer process analysis in less than a week.
Faster reactions to non-compliant processes
Before process mining software, companies would need to spend significant resources to build dashboard to track process compliance. With process mining software, such dashboards and alarms can be created with ease, identifying compliance issues real-time.
To learn more about process mining, feel free to read:
If you still have questions about process mining software, we would like to help:
Let us find the right vendor for your business
How can we do better?
Your feedback is valuable. We will do our best to improve our work based on it.