Robotic Process Automation (RPA) has become a hot topic for companies in the last few years. Today, many businesses have started to implement RPA solutions to reduce their costs and enable their employees to focus on higher value-adding tasks. However, their RPA initiatives might not always give the expected results if processes are actually different from what businesses think. 
A process mining vendor claims that businesses do not correctly estimate how 20% of their processes work. This leads to 80% of the costs and effort of process automation. These processes affect RPA performance by increasing development time and effort, reducing ROI and therefore limiting the overall impact of RPA in the organization.
As a solution to this problem, process mining plays a critical role in helping companies understand actual processes at a detailed level and maximize the benefits of RPA initiatives. This better process understanding enables companies to improve and automate processes with ease.
What is Robotic Process Automation (RPA)?
Robotic Process Automation (RPA) is a technology for handling repetitive and high-volume tasks with automation. While humans usually do these low-value tasks like form-filling, copy-pasting, and systems-integrating, RPA enables robots to manage these tasks and allows employees to focus on higher-value works. 
RPA is currently one of the most popular enterprise automation solutions as it allows companies with legacy systems to automate their workflows. Companies are excited about RPA solutions because
most large non-tech companies still rely on legacy systems

a large share of knowledge workers still complete automatable work using numerous systems including some legacy systems
To learn more, feel free to read our ultimate RPA guide for businesses.
What is process mining?
Process mining is an emerging technology that provides the "as-is" picture of processes in a business. Using real-time data and event logs, it shows the actual conditions of processes to identify bottlenecks, unnecessary steps, and present factual insights. By providing a visualized and data-based view of processes, process mining enables companies to 
Prioritize automation and process improvement efforts

Automate processes faster as business logic of processes can be gleaned from process mining software

Calculate the benefits of automation
The increasing amount of today's data contains beneficial information about how processes do perform in real-time and how they affect other processes. While most of the data remains unused, process mining tools have a greater potential to impact businesses now. 
You can read about process mining in our in-depth guide.
How to use process mining for successful RPA implementation?
Businesses can significantly improve their efficiency by automating their manual processes. However, RPA implementation can be costly and slow. Companies may incur substantial costs if they try to deploy RPA bots without analyzing their processes or choose the wrong areas of automation. Thus, they should first see the full picture or their processes and identify the most effective processes to automate for maximizing the impact of their RPA deployment. 
Process mining can play a critical role and helps businesses to deploy their RPA solutions rapidly. When implementing RPA solutions, process mining technology can:
Understand processes' strengths/weaknesses and identify automation opportunities before RPA implementation, 

Track bot performance to ensure correct performance during implementation,

Continue monitoring after implementation as processes change in time.
1- Understand processes
This step is critical for all companies that plan to implement an RPA solution. Without understanding processes, businesses might not deliver the expected results and identify the causes of their failure. This can also cause higher costs for companies. According to the recent surveys by Deloitte and EY, almost half of RPA projects fail, and the successful ones mostly do not achieve the expected ROI. 
With process mining tools, companies have fundamental insights into their actual processes by benefiting from real-time data and event logs. These tools provide information about process variations, duration, error rates, cause-and-effect relationships between events, and sub-tasks within the processes.
While these insights can help businesses make better decisions for process improvement, they can understand how their processes work in real life and identify the root causes of problems and deviations.
For example, Siemens has integrated process mining into many of its business processes from purchasing and ordering logistics through to production, order handling and customer delivery. As a result, the company could observe their actual processes in real-time and track down the manual procedures and inefficiencies. By understanding their processes, Siemens eliminated process deviations and identified automation opportunities in ordering channels.
2- Identify the best processes to automate
One of the main reasons why RPA initiatives fail is to choose the wrong processes for automation. PwC indicates that even an RPA proof of concept often takes 4-6 months instead of the expected 4-6 weeks. This mostly happens because the process chosen for automation is too complicated, and in no way in a suitable state for RPA implementation.
As an example, a process mining vendor claims that Piraeus Bank tried to automate their processes without analyzing them. As a result, the company started to receive complaints from both its customers and branches. They also couldn't identify the problematic part of their automation project because they didn't have full insights about the process. The company later implemented process mining software to identify bottlenecks, discrepancies, and their causes. In the end, it is claimed that the company accelerated its loan application process from 35 minutes to 5 minutes.
Thus, it is vital to identify the correct processes to automate so that businesses can avoid the time-consuming and costly restructuring of RPA. Considering that RPA is an expensive solution to deploy, and a misplaced investment may not pay itself back, businesses should be careful. Processes that can be easily automated with RPA are:
Rule-based

With few exceptions

Company-specific

Mature

Not on the roadmap for new systems
You can find a more detailed explanation of these in the related section of our RPA implementation guide.
With process mining, you can easily and accurately identify such processes and speed up your RPA implementation initiative. Below is a screenshot from a process mining tool for identifying automation opportunities.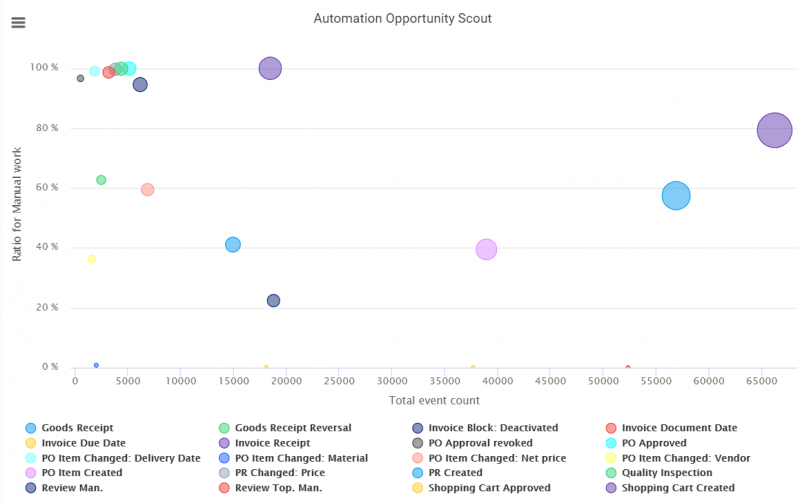 3- Monitor RPA implementations during the pilot phase
The implementation of RPA consists of generating the rules for bots and programming the workflow execution. What you can do with process mining is to check if your RPA initiative is being implemented correctly. If RPA performance doesn't give the expected results, the process mining tool can detect its root-causes. 
4- Follow up & improve
The results of automation projects can be challenging to measure. After implementing RPA successfully, businesses can use process mining tools to monitor their level of automation increase due to RPA and estimate ROI. This provides a factual assessment of RPA results, helping guide companies' future RPA investments.
Another part is that all processes are subject to change and be renewed in time. When changes occur, RPA solutions might require new updates, as well. Process mining can notify businesses if these changes affect RPA performance. As explained in the first step above, a better understanding of processes can provide faster RPA upgrades and reduce RPA maintenance costs.
If you still have questions about process mining, we would like to help:
Let us find the right vendor for your business
Sources:
How can we do better?
Your feedback is valuable. We will do our best to improve our work based on it.