RPA is an easy-to-use, business process automation technology with numerous use cases and various benefits for businesses. As with any popular software, there are efforts to create open source RPA (in case you have questions about RPA, check out the most comprehensive article on the topic). Though there are already some open source RPA providers, open source RPA ecosystem is currently relatively immature. We do not expect this to change in the near future because we do not see major for-profit entities supporting open source RPA yet. In all cases of strong open source adoption, for-profit companies heavily supported open source code development. For example, you can see share of contributions to Linux Kernel by for-profit companies in the featured image above.
However, RPA is getting commoditized with numerous players offering similar solutions. And enterprises prefer open source solutions for their transparency and lack of licensing fees. Therefore, open source RPA tools could play a larger role in the future of RPA.
Though the open source RPA ecosystem such as Automagica and TagUI is relatively weak now, paid RPA providers are offering either full versions of their software for free trial or limited versions of their software for free:
List of Open Source/Free trial/Community Edition RPA software
This list includes all open source, community edition (i.e. limited) and free trial RPA software.
RPA tools that offer a free trial:
Argos Labs
Argos Labs is a Low-code/RPA software provider. They offer 14 days free trial to users. They have multiple Fortune 500 clients such as Softbank, SK Telecom and Toyota. If you are interested in Argos Labs' software, we interviewed with Argos Labs' CEO Shige and he gave 5 reasons to choose Argos Labs software.
VisualCron
VisualCron is an automation, integration and task scheduling tool for Windows. Their trial version allows you to use the full functionality for 45 days.
Tools that offer a freemium version:
AssistEdge Community Edition
AssistEdge Community Edition offers a free-to-use automation platform for students and independent developers. The tool provides integration with Alexa, Google Home Mini, Microsoft Bot Framework, IFTTT and cognitive APIs from Google or Microsoft. Their community dashboard provides users an aggregated, unified view of their process executions details. Users can now view their automation execution details from anywhere on the web.
UiPath Community Edition
For individual RPA developers and small teams, UiPath offers a freemium product that has 3 robots of automation capacity.
Workfusion RPA Express
RPA Express Starter is a freemium edition of Workfusion's product for individual use only.
Open source RPA tools:
Robocorp
Robocorp offers a collection of open-source libraries and tools for Robotic Process Automation (RPA) to individuals and small businesses. Open source version of the tool includes unlimited run minutes.  It can be used with both Robot Framework and Python. Total number of contributors on Github is 9. If the number of users will be more than 5 people, the tools' pricing options are as follows:
Teams and organizations that are scaling up:

$200/ month with 1500 cloud run minutes.

Large operations with SLA support:

$800/ month with 8000 cloud run minutes.
Robocorp is available under Apache 2.0 license which makes it free for commercial and noncommercial use. Robocorp offers cloud usage credits and support to monetize its offering.
Robot Framework Foundation
Robot Framework is a generic open source automation framework with 113 contributors and 2500 users on Github. It can be used for test automation and robotic process automation (RPA). 
Robot Framework has easy syntax, utilizing human-readable keywords. It can be implemented by Python but it also runs on Jython (JVM) and IronPython (.NET)
TagUI- AI Singapore
TagUI is a command-line tool for RPA. It has 12 contributors on Github and enables R and Python integration for Windows, MacOS and Linux. TagUI is available under Apache 2.0 license which makes it free for commercial and noncommercial use.
taskt
taskt is an open-source process automation client built on the .NET Framework in C#. The tool has 8 contributors so far. It can perform automation on both web and desktop applications, simulating the actions a person would do. taskt can automate tasks from data entry to report generation. taskt's tool is free for commercial and noncommercial use.
An important note is that not all of these open source solutions are free to use for commercial purposes. For example, Automagica charges for commercial use.
This list includes open source RPA tools. To see the full list, feel free to visit our list of RPA software vendors on our website.
Previously available open source tools
Automagica
Automagica provided an open source Phyton RPA library on Github with 12 contributors. Though Automagica was a free open source tool for noncommercial purposes, you needed to pay for the software if you were going to use it for business. The company got acquired and software is no longer open source.
Open source does not yet have the momentum to shape RPA
When we look at several famous cases of open source success, we see that for-profit corporations leveraged open source software to their advantage. Either the open source project was launched by a for-profit corporation (Android, Chromium) or for-profit corporation(s) embraced the open source software as it allowed them a competitive advantage against competitors (Linux, WordPress). Neither of these are yet the case in RPA.
In the modern software world, all 4 major cases of open source success relied on for-profit corporations:
Successful open source software that benefited from for-profit companies making it part of their offering:
1- Linux: Without vendors like Redhat, acquired by IBM in 2018 for 34B, Linux ecosystem would have been much different today. Though Linux was not started by a for-profit company, its growth heavily relied enterprise software vendors. This was a win-win situation. These vendors could access a competent server operating system for free so they could reduce total cost of ownership for their enterprise customers and still make healthy profits offering support services. Linux ecosystem also benefited as these vendors contributed to the software.
Successful open source software started by for-profit companies:
3- Android: Google started Android to break Apple's hegemony over mobile operating systems and protect its mobile advertising business. The fastest way for Android to gain traction was to make it open source and freely available so device manufacturers would have all the incentive to use it. And that's what Google did and Android became one of the most successful recent open source projects, dominating majority of the mobile OS market.
4- Chromium (the code on which Google Chrome is based): Almost the same story for Android but this time Google's aim was to break Microsoft's hold on the browser market.
However, we do not see such open source projects embraced by major corporations in the RPA space yet. This could change if RPA implementation companies found an open source solution as strong as the existing closed source solutions. If such a strong open source RPA software existed, they could support it and offer it to their customers. This would reduce total cost of ownership for their customers and therefore increase their addressable market.
Free versions of closed source solutions allow RPA companies to increase their developer base
While we do not currently see open source to lead the way in RPA in the near future, we expect more RPA companies to offer free trial/freemium versions of their software as this allows them:
Exposure to more developers. Developers are more likely to learn products they can download and play with.
Exposure to more companies. Freemium versions are especially attractive to smaller companies that want to automate relatively simple tasks. And once they develop their process solutions with freemium RPA, the company providing freemium RPA will be in a good position to upgrade them to a paid package.
A potential example to this is the rise of UiPath. We can not break down every factor that lead to UiPath's leadership position in the market but they were the first vendor, out of the top 3, to offer a free edition. Dates of the release of free edition for top 3 RPA vendors are: UiPath Community Edition – 2016, Automation Anywhere Community Edition – 2019, Blue Prism Learning Edition – 2019. As seen below, UiPath rose to the top position in terms of its branded Google queries after releasing its community edition in April 2016, when it was the least known of the 3 companies: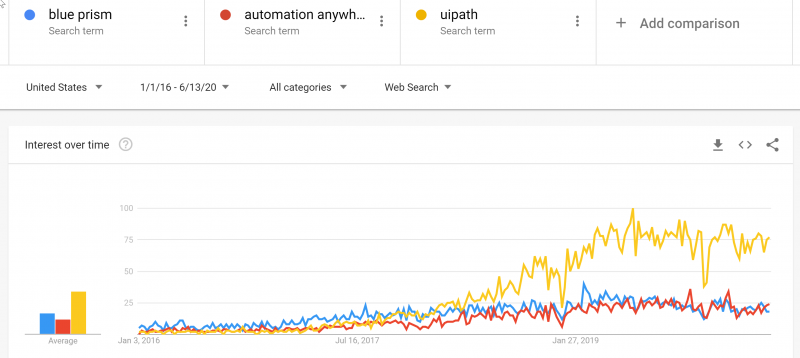 Future of RPA is likely to involve more open source
As technologies like operating systems matured, open source adoption increased. For example, the smartphone OS market which got kick started by Apple's proprietary iOS is now dominated by Android in terms of number of users.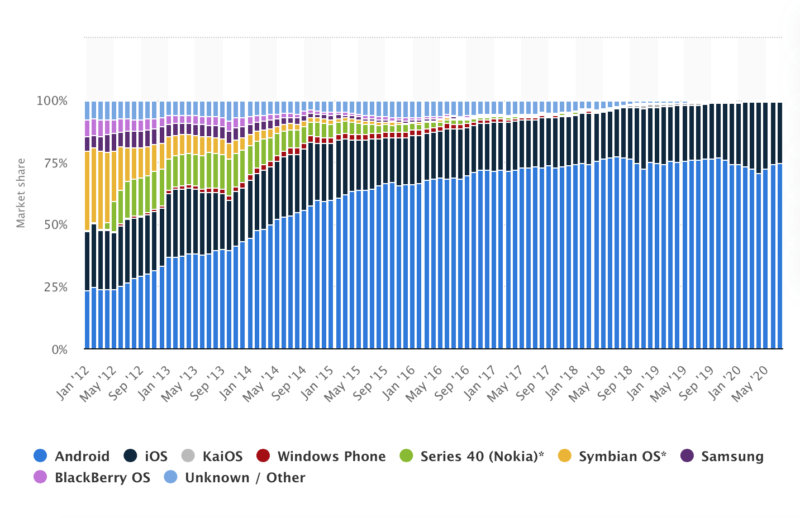 There are a few driving factors to increasing open source adoption as solutions mature. As solutions mature,
Core functionality becomes clear and in most cases, it becomes easier to replicate. As s a software component matures, it becomes easier to build it from scratch using modern tools
Solutions need to rely more on outside developers for components to cover the needs of specific customer segments. Both customers and component developers don't want to get locked into a proprietary system and support open source efforts as technologies mature.
We see this trend already happening in RPA as well. Shige Sato, co-founder of Argos Labs, a leading low-code RPA vendor, claims that the RPA industry is already getting commoditized with numerous vendors offering similar capabilities. He explains that is why Argos Labs is focusing on enabling easier integration with open source software such as Python packages as well as closed source machine learning based solutions developed by startups and tech giants.
Current RPA leaders face an innovators dilemma
As new solutions offer core functionality at a cheaper price and as open source solutions appear, current leaders will have a hard time adapting. They need to reduce their prices but this would hurt their revenues as any discounts to win new business also leads to discounts for the installed base. So over time, leaders will likely lose their dominant position as new companies capture new business.
Business history has numerous such examples:
Salesforce offered a simple, affordable CRM for SMEs. They even staged publicity stunts protesting against software complexity targeting dominant CRM brands like Siebel. At that time, Siebel, the dominant CRM of the 90s and early 2000s, focused on enterprise and kept its product complexity and pricing high aiming to keep the profitable enterprise market. However, over time Salesforce consolidated its hold on SMEs and built more functionality on its modern platform gradually taking enterprise customers, too.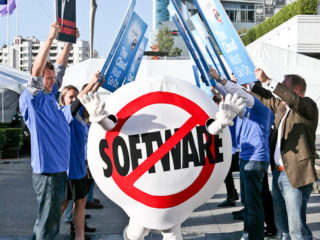 20 years down the line, Salesforce faces the same dilemma as CRM startups like PipeDrive offer a cheaper and simpler solution are raising significant (e.g. $60M in case of Pipedrive) funding.
Open source RPA will also benefit from the explosive growth in the RPA ecosystem
While RPA was a standalone solution until a few years ago, now there is a wide range of companies such as process mining and AI vendors that are crucial for RPA deployments. Process mining vendors enable companies to easily identify automation opportunities while vendors like Hypatos bring deep learning to RPA to enable automated document processing without coding.
RPA giants like UiPath and Automation Anywhere are facing a dilemma because they are investing in these adjacent areas while also investing in marketplaces to attract adjacent solutions on their software. This is difficult to sustain as it leads them to either:
Try to sell their adjacent solutions aggressively with users failing to take full advantage of the best solutions on the market for their specific situation
Try to boost the marketplace at the expense of their own adjacent solutions leading to lost revenue opportunities for their business
Open source RPA solutions will likely focus on providing RPA functionality and will be easy-to-integrate to other adjacent solutions in the market, avoiding this dilemma. Therefore we believe that future of RPA includes open source and improved integration capabilities.
For more info on RPA, feel free to read our research on:
And if you have RPA related questions, such as finding the right RPA vendor for your business, feel free to:
RPA is not the right solution for automating complex processes that do not follow simple rules. Machine learning expertise may be necessary in such cases. We can help you identify AI consultants to automate such processes:
If you want to learn more about custom AI solutions, feel free to read our whitepaper on the topic:
Sources
How can we do better?
Your feedback is valuable. We will do our best to improve our work based on it.