AI is changing every industry and business function, which results in increased interest in AI, its subdomains, and related fields such as machine learning and data science as seen below. However, we also note that since COVID-19 outbreak, interest in AI, as measured by Google queries about AI, has been stable / possibly declining. This may be due to increased interest in COVID-19 and its effects during this period. However, this depends on the specific industry and applications, we see increased interest in AI in manufacturing during the same period.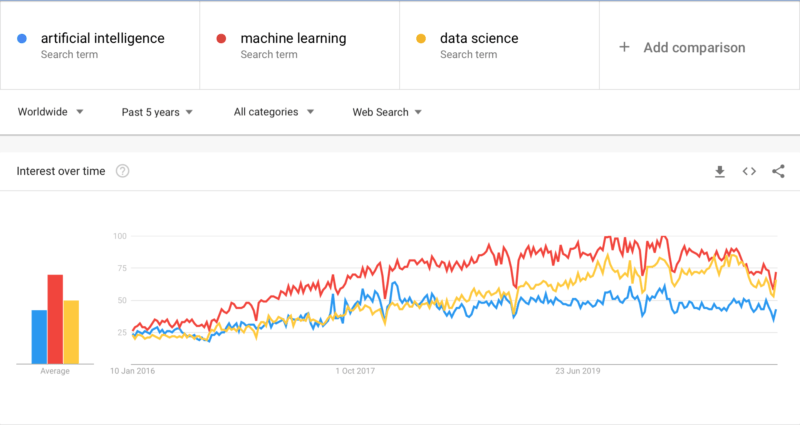 Source: Google TrendsAs of 2018, 37% of organizations were looking to define their AI strategies. There has been significant progress since then and according to a recent O'Reilly survey, 85% of organizations are using AI. To integrate AI into your own business, you need to identify how AI can serve your business, possible use cases of AI in your business. This article gathers the most common use cases covering marketing, sales, customer services, security, data, technology, and other processes:
Marketing
Marketing can be summarized as reaching the customer with the right offer, the right message, at the right time, through the right channel, while continually learning. To achieve success, companies can leverage AI-powered tools to get familiar with their customers better, create more compelling content, and perform personalized marketing campaigns. AI can provide accurate insights and suggest smart marketing solutions that would directly reflect on profits with customer data. You can find the top three AI use cases in marketing:
Marketing analytics: AI systems learn from, analyze, and measure marketing efforts. These solutions track media activity and provide insights into PR efforts to highlight what is driving engagement, traffic, and revenue. As a result, companies can provide better and more accurate marketing services to their customers.
Besides PR efforts, AI-powered marketing analytics can lead companies to identify their customer groups more accurately. By discovering their loyal customers, companies can develop accurate marketing strategies and also retarget customers who have expressed interest in products or services before. Feel free to read more about marketing analytics with AI from this article.
Personalized Marketing: The more companies understand their customers, the better they serve them. AI can assist companies in this task and support them in giving personalized experiences for customers.
As an example, suppose you visited an online store and looked at a product but didn't buy it. Afterward, you see that exact product in digital ads. More than that, companies can send personalized emails or special offers and recommend new products that go along with customers' tastes.
Context-Aware Marketing: You can leverage machine vision and Natural Language Processing to understand the context where your ads will be served. With context-aware advertising, you can protect your brand and increase marketing efficiency by ensuring your message fits its context, making static images on the web come alive with your messages. 
To learn more about AI use cases in marketing, you can check out our complete guide on the topic.
Sales
Pre-Sales
Sales Forecasting: AI allows automatic and accurate sales forecasts based on all customer contacts and previous sales outcomes. Automatically forecast sales accurately based on all customer contacts and previous sales outcomes. Give your sales personnel more sales time while increasing forecast accuracy. Hewlett Packard Enterprise indicates that it has experienced a 5x increase in forecast simplicity, speed, and accuracy with Clari's sales forecasting tools.
Lead generation: Use a comprehensive data profile of your visitors to identify which companies your sales reps need to connect. Generate leads for your sales reps leveraging databases and social networks
Sales
Sales Data Input Automation: Data from various sources will be effortlessly and intelligently copied into your CRM. Automatically sync calendar, address book, emails, phone calls, and messages of your salesforce to your CRM system. Enjoy better sales visibility and analytics while giving your sales personnel more sales time.
Predictive sales/lead scoring: Use Artificial Intelligence to enable predictive sales. Score leads to prioritize sales rep actions based on lead scores and contact factors. Sales forecasting is automated with increased accuracy thanks to systems' granular access to lead scores and sales rep performance. For scoring leads, these systems leverage anonymized transaction data from their customers, sales data of this specific customer. For assessing contact factors, these systems leverage anonymized data and analyze all customer contacts such as email and calls.
Sales Rep Chat/ Email Bot: Chatbots are ideal to answer first customer questions. If the chatbot decides that it can not adequately serve the customer, it can pass those customers to human agents. Let 24/7 functioning, intelligent, self-improving bots handle making initial contacts to leads. High value, responsive leads will be called by live agents, increasing sales effectiveness.
Sales Rep Response Suggestions: AI will suggest responses during live conversations or written messages with leads. Bots will listen in on agents' calls suggesting best practice answers to improve sales effectiveness
Sales Rep Next Action Suggestions: Your sales reps' actions and leads will be analyzed to suggest the next best action. This situation wise solution will help your representatives to find the right way to deal with the issue. Historical data and profile of the agent will help you to achieve higher results. All are leading to more customer satisfaction.
Sales Content Personalization and Analytics: Preferences and browsing behavior of high priority leads are analyzed to match them with the right content, aimed to answer their most important questions. Personalize your sales content and analyze its effectiveness allowing continuous improvement.
Retail Sales Bot: Use bots on your retail floor to answer customer's questions and promote products. Engage with the right customer by analyzing the profile. Computer vision will help you to provide the right action depending on the characteristics and mimics of the customer.
Meeting Setup Automation (Digital Assistant): Leave a digital assistant to set up meetings freeing your sales reps time. Decide on the targets to prioritize and keep your KPI's high.
Prescriptive Sales: Most sales processes exist in the mind of your sales reps. Sales reps interact with customers based on their different habits and observations. Prescriptive sales systems prescribe the content, interaction channel, frequency, price based on data on similar customers.
Analytics
As Gartner discusses, sales analytic systems provide functionality that supports discovery, diagnostic, and predictive exercises that enable the manipulation of parameters, measures, dimensions, or figures as part of an analytic or planning exercise. AI algorithms can automate the data collection process and present solutions to improve sales performance. To have more detailed information, you can read our article about sales analytics.
Customer Sales Contact Analytics: Analyze all customer contacts, including phone calls or emails, to understand what behaviors and actions drive sales. Advanced analytics on all sales call data to uncover insights to increase sales effectiveness
Sales Call Analytics: Advanced analytics on call data to uncover insights to increase sales effectiveness. See how well your conversation flow performs. Integrating data on calls will help you to identify the performance of each component in your sales funnels.
Sales attribution: Leverage big data to attribute sales to marketing and sales efforts accurately. See which step of your sales funnel performs better. Pinpoint the low performing part by the insights provided by analysis.
Sales Compensation: Determine the right compensation levels for your sales personnel. Decide on the right incentive mechanism for the sales representatives. By using the sales data, provide objective measures, and continuously increase your sales representatives' performance.
For more details on how AI is changing sales, you can check out our more comprehensive guide.
Analytics
Generalist solutions
Analytics Platform: Empower your employees with unified data and tools to run advanced analyses. Quickly identify problems and provide meaningful insights.
Analytics Services: Satisfy your custom analytics needs with these e2e solution providers. Vendors are there to help you with your business objectives by providing turnkey solutions.
Automated Machine Learning (autoML): Machines helping data scientists optimize machine learning models. With the rise of data and analytics capabilities, automation is needed in data science. AutoML automates time consuming machine learning tasks, enabling companies to deploy models and automate processes faster.
Specialized solutions
Geo-Analytics Platform: Enables analysis of granular satellite imagery for predictions. Leverage spatial data for your business goals. Capture the changes in any landscape on the fly.
Conversational Analytics: Use conversational interfaces to analyze your business data. Natural Language Processing is there to help you with voice data and more. Automated analysis of reviews and suggestions.
Real-Time Analytics: Real-Time Analytics for your time-sensitive decisions. Act timely and keep your KPI's intact. Use machine learning to explore unstructured data without any disruptions.
Image Recognition and Visual Analytics: Analyze visual data with advanced image and video recognition systems. Meaningful insights can be derived from the data piles of images and videos.
E-Commerce Analytics: Specialized analytics systems designed to deal with the explosion of e-commerce data. Optimize your funnel and customer traffic to maximize your profits.
Customer Service
Social Listening & Ticketing: Leverage Natural Language Processing and machine vision to identify customers to contact and respond to them automatically or assign them to relevant agents, increasing customer satisfaction. Use the data available in social networks to uncover whom to sell and what to sell.
Intelligent Call Routing: Route calls to most capable agents available. Intelligent routing systems incorporate data from all customer interactions optimizing customer satisfaction. Based on the customer profile and your agent's performance, make it possible to provide the right service with the right agent. Reach superior net promoter scores. Feel free to read our article about intelligent call routing if you want to learn more.
Call Classification: Leverage Natural Language Processing to understand what customer is trying to achieve enabling your agents to focus on higher value-added activities. Before channeling the call, detect the nature of your customers' needs and let the right department handle the problem. Enhance efficiency with higher satisfaction rates.
Voice Authentication: Authenticate customers without passwords leveraging biometry to improve customer satisfaction and reduce issues related to forgotten passwords. Their unique voice id will be their most secure key for accessing confidential information. Instead of the last four digits of SSN, customers will gain access by using their voice.
Call Intent Discovery: Leverage Natural Language Processing and machine learning to estimate and manage customer's intent (e.g., churn) to improve customer satisfaction and business metrics. Sentiment analysis through the customer's voice level and pitch. Detect the micro-emotions that drive the decision-making process.
Customer Service Response Suggestions: Bots will listen in on agents' calls suggesting best practice answers to improve customer satisfaction and standardize customer experience. Increase upsells and cross-sells by giving the right suggestion. Responses will be standardized, and the best possible approach will serve the benefit of the customer.
Chatbot: Chatbots can understand more complicated queries as AI algorithms improve. Thus, businesses understand their customers better since chatbots collect information from customers while interacting with them and spot their weaknesses. There are other benefits like 24/7 availability and reduced costs, as bots can handle more tasks as they learn more. All these benefits significantly improve the customer satisfaction of businesses.
The automotive industry is one of the areas that use chatbots. While a significant portion of leads to car dealers come from online channels, high conversion rates are vital for these companies. For example, Kia observes three times more conversions through its chatbot Kian, compared to its website. Kian's availability to answer complex questions is a dominant factor for achieving high conversion rates.
If you want to have more insights on chatbots, you can find more in our article on the topic.
Customer Service Chatbot (Self – Service Solution): Build your own 24/7 functioning, intelligent, self-improving chatbots to handle most queries and transfer customers to live agents when needed. Reduce customer service costs and increase customer satisfaction. Reduce the traffic on your existing customer representatives and make them focus on the more specific needs of your customers.
Call Analytics: Advanced analytics on call data to uncover insights to improve customer satisfaction and increase efficiency. Find patterns and optimize your results. Analyze customer reviews through voice data and pinpoint, where there is room for improvement. Sestek indicates that ING Bank observed a 15% increase in sales quality score and a 3% decrease in overall silence rates after they integrated AI into their call systems.
Survey & Review Analytics: Leverage Natural Language Processing to analyze text fields in surveys and reviews to uncover insights to improve customer satisfaction and increase efficiency. Automate the process by mapping the right keywords with the right scores. Make it possible to lower the time for generating reports.
Protobrand states that they used to do review analytics manually through the hand-coding of the data, but now it automates much of the analytical work with Gavagai. This helps the company to collect larger quantitative volumes of qualitative data and still complete the analytical work in a timely and efficient manner. You can read more about survey analytics from our related article.
Customer Contact Analytics: Advanced analytics on all customer contact data to uncover insights to improve customer satisfaction and increase efficiency. Utilize Natural Language Processing for higher customer satisfaction rates.
Chatbot Analytics: Analyze how customers are interacting with your chatbot. See the overall performance of your chatbot. Pinpoint its shortcomings and improve your chatbot. Detect the overall satisfaction rate of your customer with the chatbot.
Chatbot Testing: Semi-automated and automated testing frameworks facilitate bot testing. See the performance of your chatbot before deploying. Save your business from catastrophic chatbot failures. Detect the shortcomings of your conversational flow.
Data
Data Visualization: Visualize your data for better analytics and decision making. Let the dashboards speak. Convey your message more easily and more esthetically. Our website has more information about data visualization if you are interested.
Data Management & Monitoring: Keep your data high quality for advanced analytics. Adjust the quality by filtering the incoming data. Save time by automating manual and repetitive tasks.
Data Integration: Combine your data from different sources into meaningful and valuable information. Data traffic depends on multiple platforms. Therefore, managing this huge traffic and structuring the data into a meaningful format will be important. Keep your data lake available for further analysis. You can also take a look at our in-depth guide about data integration if you are interested.
Data Preparation Platform: Prepare your data from raw formats with data quality problems to a clean, ready to analyze format. Use extract, transform, and load (ETL) platforms to fine-tune your data before placing it into a data warehouse.
Data Cleaning & Validation Platform: Avoid garbage in, garbage out by ensuring the quality of your data with appropriate data cleaning processes and tools. Automate the validation process by using external data sources. Regular maintenance cleaning can be scheduled, and the quality of the data can be increased. Feel free to read our in-depth guide about data cleaning if you want to have more information.
Data Transformation: Transform your data to prepare it for advanced analytics. If it is unstructured, adjust it for the required format.
AppDev: App development platforms for your custom projects. Your in-house development team can create original projects for your specific business needs. These platforms will help your team with the necessary tools.
Data Labeling: Unless you use unsupervised learning systems, you need high quality labeled data. Label your data to train your supervised learning systems. Human-in-the-loop systems auto label your data and crowdsource labeling data points that cannot be auto-labeled with confidence.
Synthetic Data: Computers can artificially create synthetic data to perform certain operations. The synthetic data is usually used to test new products and tools, validate models, and satisfy AI needs. Companies can simulate not yet encountered conditions and take precautions accordingly with the help of synthetic data. They also overcome the privacy limitations as it doesn't expose any real data. Thus, synthetic data is a smart AI solution for companies to simulate future events and consider future possibilities. You can have more information on synthetic data from our related article.
Finance & FinTech 
Fraud Detection: Leverage machine learning to detect fraudulent and abnormal financial behavior, and/or use AI to improve general regulatory compliance matters and workflows. Lower your operational costs by limiting your exposure to fraudulent documents.
Insurance & InsurTech: Leverage machine learning to quote optimal prices, manage claims effectively, and improve customer satisfaction while reducing costs. Detect your customer's risk profile and provide the right plan.
Financial Analytics Platform: Leverage machine learning, Natural Language Processing, and other AI techniques for financial analysis, algorithmic trading, and other investment strategies or tools.
Travel & expense management: Use deep learning to improve data extraction from receipts of all types including hotel, gas station, taxi, grocery receipts. Use anomaly detection and other approaches to identify fraud, non-compliant spending. Reduce approval workflows and processing costs per unit.
Credit Lending & Scoring: Use AI for robust credit lending applications. Use predictive models to uncover potentially non-performing loans and act. See the potential credit scores of your customers before they apply for a loan and provide custom-tailored plans.
Billing: Leverage accessible billing services that remind your customers to pay. Increase your loan recovery ratios. Use automated invoice systems for your business.
Robo-Advisory: Use AI chatbot and mobile app assistant applications to monitor personal finances. Set your target savings or spending rates for your own goals. Your finance assistant will handle the rest and provide you with insights to reach financial targets.
Regulatory Compliance: Use Natural Language Processing to quickly scan legal and regulatory text for compliance issues, and do so at scale. Handle thousands of paperwork without any human interaction.
Data Gathering: Use AI to efficiently gather external data such as sentiment and other market-related data. Wrangle data for your financial models and trading approaches.
Debt Collection: Leverage AI to ensure a compliant and efficient debt collection process. Effectively handle any dispute and see your success right in debt collection.
HealthTech
Patient Data Analytics: Analyze patient and/or 3rd party data to discover insights and suggest actions. Greater accuracy by assisted diagnostics. Lower the mortality rates and increase patient satisfaction by using all the diagnostic data available to detect the underlying reasons for the symptoms.
Personalized Medications and Care: Find the best treatment plans according to patient data. Provide custom-tailored solutions for your patients. By using their medical history, genetic profile, you can create a custom medication or care plan.
Drug Discovery: Find new drugs based on previous data and medical intelligence. Lower your R&D cost and increase the output — all leading to greater efficiency. Integrate FDA data, and you can transform your drug discovery by locating market mismatches and FDA approval or rejection rates.
Real-Time Prioritization and Triage: Prescriptive analytics on patient data enabling accurate real-time case prioritization and triage. Manage your patient flow by automatization. Integrate your call center and use language processing tools to extract the information, priorate patients that need urgent care, and lower your error rates. Eliminate error-prone decisions by optimizing patient care.
Early Diagnosis: Analyze chronic conditions leveraging lab data and other medical data to enable early diagnosis. Provide a detailed report on the likelihood of the development of certain diseases with genetic data. Integrate the right care plan for eliminating or reducing the risk factors.
Assisted or Automated Diagnosis & Prescription: Suggest the best treatment based on the patient complaint and other data. Put in place control mechanisms that detect and prevent possible diagnosis errors. Find out which active compound is most effective against that specific patient. Get the right statistics for superior care management.
Pregnancy Management: Monitor mother and fetus health to reduce mothers' worries and enable early diagnosis. Use machine learning to uncover potential risks and complications quickly. Lower the rates of miscarriage and pregnancy-related diseases.
Medical Imaging Insights: Advanced medical imaging to analyze and transform images and model possible situations. Use diagnostic platforms equipped with high image processing capabilities to detect possible diseases.
Healthcare Market Research: Prepare hospital competitive intelligence by tracking market prices. See the available insurance plans, drug prices, and many more public data to optimize your services. Leverage NLP tools to analyze the vast size of unstructured data.
Healthcare Brand Management and Marketing: Create an optimal marketing strategy for the brand based on market perception and target segment. Tools that offer high granularity will allow you to reach the specific target and increase your sales.
Gene Analytics and Editing: Understand gene and its component. Predict the impact of gene edits. Before using gene therapy, use models the uncover what are the possible outcomes and find are the other solutions.
Device and Drug Comparative Effectiveness: Analyze drug and medical device effectiveness. Rather than just using simulations, test on other patient's data to see the effectiveness of the new drug, compare your results with benchmark drugs to make an impact with the drug.
HR
Hiring: Hiring is a prediction game: Which candidate, starting at a specific position, will contribute more to the company? Machine's better data processing capabilities augment HR employees in various parts of hiring such as finding qualified candidates, interviewing them with bots to understand their fit or evaluating their assessment results to decide if they should receive an offer
Performance Management: Manage your employees' performance effectively and fairly without hurting their motivation. Follow their KPI's on your dashboard and provide real-time feedback. This would increase employee satisfaction and lower your organization's employee turnover. Actualize your employee's maximum professional potential with the right tools.
HR Retention Management: Predict which employees are likely to churn and improve their job satisfaction to retain them. Detect the underlying reasons for their motive for seeking new opportunities. By keeping them at your organization, lower your human capital loss.
HR Analytics: HR analytics services are like the voice of employee analysis. See your people analytics and make better people decisions. Gain actionable insights and impactful suggestions for higher employee satisfaction.
Digital Assistant: Digital assistants are mature enough to replace real assistants in email communication. Include them in your emails to schedule meetings. They have already scheduled hundreds of thousands of meetings. Use the power of artificial intelligence in your day to day activities. Your own on-demand powerful AI-backed assistant is helping you 24/7.
Employee Monitoring: Monitor your employees for better productivity measurement. Provide objective metrics to see how well they function. Forecast their overall performance with the availability of massive amounts of data.
Building Management: Sensors and advanced analytics improve building management. Integrate IoT systems in your building for lower energy consumption and many more. Increase the available data by implementing the right data collection tools for effective building management.
Tech
Analytics & Predictive Intelligence for Security: In 2014, Kaspersky Lab said it had detected 325,000 new malware files every day. Analyze data feeds about the broad cyber activity as well as behavioral data inside an organization's network to come up with actionable insights to help analysts predict and thwart impending attacks. Integrate external data sources the watch out for global cyber threats and act timely. Keep your tech infrastructure intact or minimize losses. 
Knowledge Management: Enterprise knowledge management enables effective and effortless storage and retrieval of enterprise data, ensuring organizational memory. Increased collaborative work by ensuring the right individuals works with the right data. Seamless organizational integration through knowledge management platforms.
Natural Language Processing Library/ SDK/ API: Leverage Natural Language Processing libraries/SDKs/APIs to quickly and cost-effectively build your custom NLP powered systems or to add NLP capabilities to your existing systems. An in-house team will gain experience and knowledge regarding the tools. Increased development and deployment capabilities for your enterprise.
Image Recognition Library/ SDK/ API: Leverage image recognition libraries/SDKs/APIs to quickly and cost-effectively build your custom image processing systems or to add image processing capabilities to your existing systems.
Secure Communications: Protect employee communications like emails or phone conversations with advanced multilayered cryptography & ephemerality. Keep your industry secrets safe from corporate espionage.
Deception Security: Deploy decoy-assets in a network as bait for attackers to identify, track, and disrupt security threats such as advanced automated malware attacks before they inflict damage. Keep your data and traffic safe by keeping them engaged in decoys. Enhance your cybersecurity capabilities against various forms of cyber attacks
Autonomous Cybersecurity Systems: Utilize learning systems to efficiently and instantaneously respond to security threats, often augmenting the work of security analysts. Lower your risk of human errors by providing greater autonomy for your cybersecurity. AI-backed systems can check compliance with standards.
Smart Security Systems: AI-powered autonomous security systems. Functioning 24/7 for achieving maximum protection. Computer vision for detecting even the tiniest anomalies in your environment. Automate emergency response procedures by instant notification capabilities.
Machine Learning Library/ SDK/ API: Leverage machine learning libraries/SDKs/APIs to quickly and cost-effectively build your custom learning systems or to add learning capabilities to your existing systems.
AI Developer: Develop your custom AI solutions with companies experienced in AI development. Create turnkey projects and deploy them to the specific business function. Best for companies with limited in-house capabilities for artificial intelligence.
Deep Learning Library/ SDK/ API: Leverage deep learning libraries/SDKs/APIs to quickly and cost-effectively build your custom learning systems or to add learning capabilities to your existing systems.
Developer Assistance: Assist your developers using AI to help them intelligently access the coding knowledge on the web and learn from suggested code samples. See the best practices for specific development tasks and formulate your custom solution. Real-time feedback provided by the huge history of developer mistakes and best practices.
AI Consultancy: Provides consultancy services to support your in-house AI development, including machine learning and data science projects. See which units can benefit most from AI deployment. Optimize your artificial intelligence spending for the best results from the insight provided by a consultant.
Operations
Robotic Process Automation (RPA): Digitize your processes in weeks without replacing legacy systems, which can take years. Bots can operate on legacy systems learning from your personnel's instructions and actions. Increase your efficiency and profitability ratios. Increase speed and precision, and many more.
In a McKinsey report, RPA becomes a promising new development in business automation that offers a potential ROI of 30–200 percent—in the first year. To learn more, feel free to read our article about RPA.
Robotic Process Automation (RPA) Implementation: Implementing RPA solutions requires effort. Suitable processes need to be identified. If a rules-based robot will be used, the robot needs to be programmed. Employees' questions need to be answered. That is why most companies get some level of external help. Generally, outsourcing companies, consultants, and IT integrators are happy to provide temporary labor to undertake this effort. Today, companies like Argos Labs offer low-code RPA solutions to provide easy RPA implementation.
Process Mining: Leverage AI algorithms to mine your processes and understand your actual processes in detail. Process mining can provide fastest time to insights about your as-is processes as demonstrated in case studies.
Predictive Maintenance: Predictively maintain your robots and other machinery to minimize disruptions to operations. Implement big data analytics to estimate the factors that are likely to impact your future cash flow. Optimize PP&E spending by gaining insight regarding the possible factors.
Manufacturing Analytics: Also called industrial analytics systems, these systems allow you to analyze your manufacturing process from production to logistics to save time, reduce cost, and increase efficiency. Keep your industry effectiveness at optimal levels.
Inventory & Supply Chain Optimization: Leverage machine learning to take your inventory& supply chain optimization to the next level. See the possible scenarios in different customer demands. Reduce your stock, keeping spending, and maximize your inventory turnover ratios. Increase your impact factor in the value chain.
Robotics: Factory floors are changing with programmable collaborative bots that can work next to employees to take over more repetitive tasks. Automate physical processes such as manufacturing or logistics with the help of advanced robotics. Increased your connected systems by centralizing the whole manufacturing process. Lower your exposures to human errors.
Collaborative Robot: Cobots provide a flexible method for automation. Cobots are flexible robots that learn by mimicking human workers' behavior. Smart engineering systems for solutions still requiring human oversight.
Cashierless Checkout: Self-checkout systems have many names. They are called cashierless, cashier-free, or automated checkout systems. They allow retail companies to serve customers in their physical stores without the need for cashiers. Technologies that allowed users to scan and pay for their products have been used for almost a decade now, and those systems did not require great advances in AI. However, these days we are witnessing systems powered by advanced sensors and AI to identify purchased merchandise and charge customers automatically.
Invoicing: Invoicing is a highly repetitive process that many companies perform manually. This causes human errors in invoicing and high costs in terms of time, especially when a high volume of documents needs to be processed. Thus, companies can handle these repetitive tasks with AI, automate invoicing procedures, and save significant time while reducing invoicing errors. The company avoids re-invoicing costs with AI tools, as well. For example, Hypatos also indicates that automated invoice capture can lead up to 90% cost saving in your invoice-related processes.
Elekta has reduced its costs and increased its number of processed invoices from 50,000 to 120,000 with the same number of staff by automating its invoicing procedure with MediusFlow. You can also read our article about invoice automation.
Autonomous things including cars and drones are impacting every business function from operations to logistics.
Self-Driving Cars: From mining to manufacturing, self-driving cars/vehicles are increasing the efficiency and effectiveness of operations. Integrate them into your business for greater efficiency. Leverage the power of artificial intelligence for complex tasks.
Vehicle Cybersecurity: Secure connected and autonomous cars and other vehicles with intelligent cybersecurity solutions. Guarantee your safety by hack-proof mechanisms. Protect your intelligent systems from attacks.
Vision Systems: Vision systems for self-driving cars. Integrate vision sensing and processing in your vehicle. Achieve your goals with the help of computer vision.
Driving Assistant: Required components and intelligent solutions to improve rider's experience in the car. Implement AI-Powered vehicle perception solutions for the ultimate driving experience.
Other
This was a list of areas by business function where out-of-the-box solutions are available. However, AI, like software, has too many applications to list here. Companies can build custom AI solutions either in-house or with support of partners. In addition, companies can run data science competitions to build custom AI models for their specific business problems with help from partners like bitgrit.
You can also take a look at our AI in business article to read about AI applications by industry.
These articles about AI may also interest you:
And if you have a specific business challenge, we can help you find the right vendor to overcome that challenge.
Problems specific to your industry and business may not have off-the-shelf solutions. We can help you find the right partners to build custom AI solutions:
If you want to learn more about custom AI solutions, feel free to read our whitepaper on the topic:
Sources: Though most use cases have been categorized based on our experience, we also took a look at some sources before finalizing the list:
How can we do better?
Your feedback is valuable. We will do our best to improve our work based on it.