While we were writing about major chatbot failures and top chatbots, we started noticing and documenting the areas where chatbots add value to businesses. Now we are ready to explain how businesses in different industries can use chatbots. For example, on the chatbot use cases diagram above you can see how they add value in the healthcare industry. We will continue with enterprise use cases and examples from other industries and business functions.
And even though we mention numerous business application areas from sales chatbot examples to HR recruitment bots, do not imagine this as a company having 20 chatbots. Consider 2 chatbots for your company, one that is serving all requests from customers and partners and another serving all your employee's requests. So if an employee needs to create an IT request or if she needs to put in her timesheet, she will use the same system and the same interface.
Chatbot solutions for any industry that serves specific business functions
Customer service
1- Answering frequently asked questions: In most businesses, 80% of customer service queries are made up of just a few issues. Some of these issues are simple enough so bots can handle them in most cases.
2- Resolving customer queries: Answering questions is helpful but a chatbot is not that useful if it can not complete transactions. For example, if customers frequently call to check the delivery time of their package, it makes sense to let the chatbot handle those questions. 

Below image is an example of LiveChat's chatbot that is used by a travel agency website.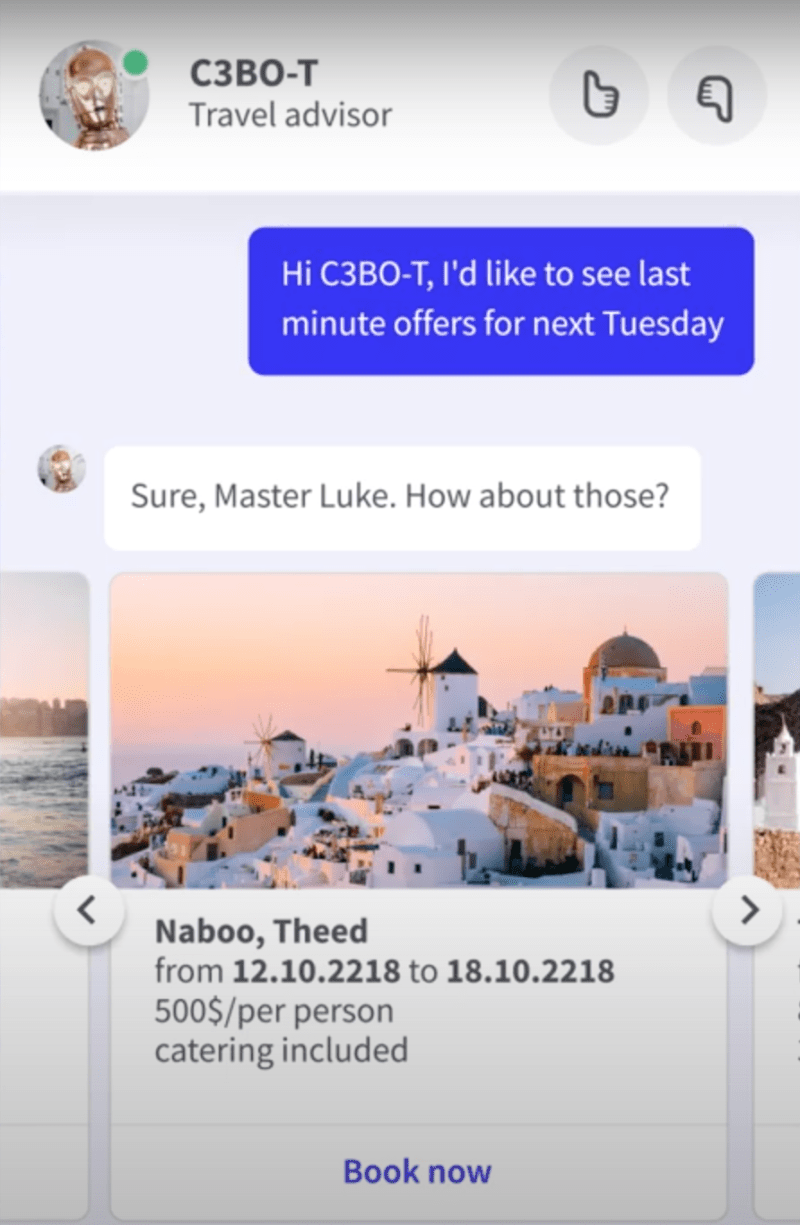 3- Assigning customers to support team: If customer queries are to complex to solve, chatbots can assign the customer to a human agent that can help resolve customer queries.  This application is also widely accepted by customers. According to Aspect Customer Experience Index, 86% of users expect chatbots should always have an option to transfer to a live agent.
Marketing
4- Recommending new offers: Recommending the right products to the customer based on her verbal feedback
5- Understanding your customers: Asking the right questions at the right times on your application or website
6-Collecting customer feedback: Chatbots eases the process of collecting data from customers to improve service/ product quality and conversion rates. Businesses can also store conversations and identify insights about customers such as their complaints or praises by performing chatbot analytics. 
Sales
7- Sales assistant (assistant to sales reps): Integrated to your CRM system, your chatbot can act as an assistant to sales personnel, by notifying them when they are assigned opportunities, simplifying lead creation and updates.

For example, CarLabs has changed the automotive sales process with chatbots, we interviewed with their CEO, Martin Schmitt, about their product.

You can read the interview and gain insights about sales chatbots from this link.

8- Selling/marketing the product in text-only channels: Deploying chatbots to official social media accounts (including WhatsApp) can help organizations attract customers. For example, Dominos launched its Facebook Messenger chatbot (so-called "pizza bot") to ease the process of pizza ordering by being where customers are. Customers can reply with a pizza emoji or word so that bot understands and delivers the pizza.
9- Customer outreach is better when bots write the first reply. For example, while reaching out to SMEs, you can send automated emails and chatbots can respond immediately to leads. Reduction in response times is one of the biggest boosts to conversion as demonstrated by this study
10- Lead nurturing: Communicating with customers at every stage of the sales funnel, helping them get more informed about your services and products. Bots listen to the needs of customers and provide the information and answers they need.

If you are wondering how to build a lead generation funnel with chatbots,

Natasha Takahashi

, CMO of School of Bots, is explaining the framework on the below video:
HR
11- Keeping the pulse of your employees has never been easier. Integrate chatbots like Polly into your collaboration environment like Slack to monitor their satisfaction and productivity.
12- Answering common HR-related questions is time consuming and boring for employees but an ideal job for chatbots. 

Below image is an example of an HR chatbot demo where an employee is asking his available leave days to the bot.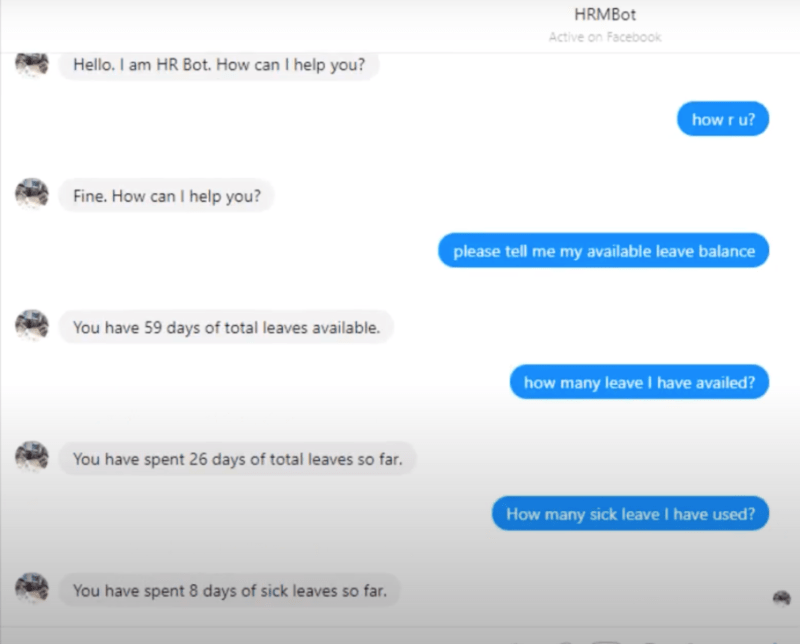 13- Completing transactional HR services: Most employees have a hard time remembering where they need to fill in their absences and vacations. Especially new joiners are clueless about such things. A cool solution is to stop recording absences altogether. A slightly less cool solution is to roll out an HR chatbot on the common chat platforms for such questions
14- Streamline expense reports: A virtual assistant can help in users creating expense reports, adding line items, adding transactions and approving expense reports.
15- Onboarding & Training: Chatbots like Botbot.AI can help organizations enhance the enterprise onboarding process by revealing insights from candidates' conversational data. Chatbot facilitates the training of new employees when they are fed with orientation materials such as videos, photos, graphs & charts.
IT
16- IT helpdesk: Helpdesk functionality can be easily embedded in a bot that can create/assign cases, notify users of updates and answer users' questions.
Facilities and other support services
17- Helpdesk: All facilities related requests can be collected by a chatbot that will also notify users as their requests are completed.
Supply Chain
18- Inventory management: Chatbots can enable organizations to check inventory levels. For example, bot can return the most current inventory numbers for a SKU. Customers and suppliers can also track the present status of the shipment by typing the delivery number. LiveTiles has a retail inventory management chatbot that brings inventory tracking, supply chain tracking, and staff management systems to form a retail store management system on demand.
Industry-specific chatbot solutions
e-Commerce
19- Shop with conversational commerce
20- Set price alerts
21- Choose gifts
22- Reserve products
23- Track orders
24- Process return and exchange requests
Travel
25- Book travel
26- Book accommodation
27- Get advice on topics like where to visit, what to see
Finance
28- Investment management
29- Credit applications
30- Money transfer
Healthcare
31- Therapy
32- Handling insurance coverage inquiries
33- Tracking prescription use
Real-Estate
34- Provide advice to customers on choosing a neighborhood or street for their real estate investments
If you still want to see more chatbot applications, We also have a guide for chatbot use cases categorized according to industries and modes of communication with the customer. If you are ready to implement your chatbot, we have a comprehensive, up-to-date list of all chatbot platforms and voice bot platforms so your company can build its own conversation AI system. While some platforms require technical skills, others can be tackled by non-coders.
Hope we could help you identify how you could use bots in your business. You can also check out AI applications in marketing, sales, customer service, IT, data or analytics. And If you have a business problem that is not addressed here:
How can we do better?
Your feedback is valuable. We will do our best to improve our work based on it.