It's been 60 years since the first industrial robot, Unimate, was invented. The robotics industry grew and products are improved through years, however, industrial robots' inability to coexist with humans in the same work environment made them surround by guardrails, away from people, for safety purposes.
A robot that can operate directly alongside and interact with its co-workers opens up a huge number of new possibilities for task automation. In this article, we'll explain cobots, their application areas & case studies.
What are collaborative robots?
Collaborative robots also referred to as cobots or co-robots, are robots or robot-like equipment that designed to safely work directly alongside human workers to complete a task that cannot be fully automated.
Why are collaborative robots are important?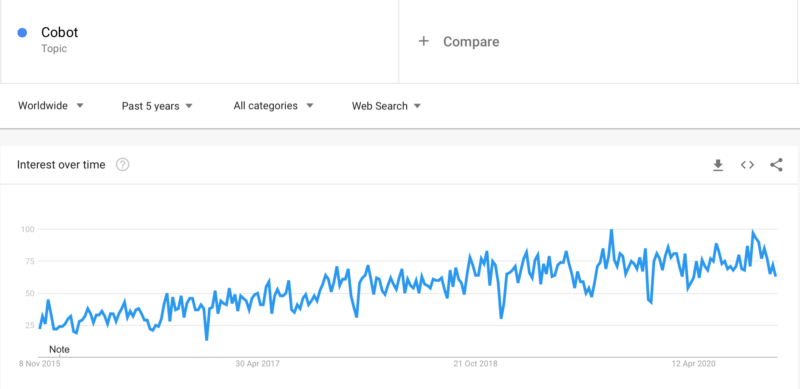 Though interest in cobots is increasing, cobots are still a small percentage of entire robotics industry. According to Loup Ventures, global robotics spending will reach $13 billion in 2025. Though collaborative robots only make up about 3% of all robot sales, this number is expected to jump to 34% in 2025. Reasons for this are:
Most complex processes involve repetitive, object-oriented tasks that are suitable for cobots. Unlike humans, cobots don't get tired and can work 24/7 without making careless errors. This improves business productivity.

Cobots are cheaper than industrial robots. Cobots rely on a smaller number of cheap hardware components and embedded sensors. They also  do not need enclosures, reducing the need for manufacturing space.

The flexibility and re-programmability of cobots make them more investment-worthy since they have various applications.
Differences between cobots vs industrial robots
Critical difference is that cobots can safely collaborate with humans. Industrial robots lack the intelligence to work alongside humans. They work fast in pre-defined patterns and lack awareness about humans. Therefore, they are kept in cages in industrial environments to protect human workers.
Collaborative robot examples/ use cases/ applications
Cobots can perform many roles across various industries. Collaborative robots can handle many tasks in production process such as packing of commodities, assembly, machine tending, palletizing. Comprehensive cobot application list is:
Pick & Place

involves tasks where an object needs to be displaced or re-oriented

Machine tending is

loading and/or unloading of a given machine with parts or material. A cobot can help load machines such as computer numerical control (CNC), injection molding, press brakes, metal stamping presses.

Process tasks: When cobots are equipped with end-effector tools, they are able to perform tasks such as gluing, drilling, welding.
Finishing tasks like polishing, grinding and deburring requires a force across the product's surface to remove a certain amount of material. With cobots' internal force sensing capabilities or a wrist-mounted external force torque sensor, companies eliminate the risk of applying too much force that will defect the product.
Quality inspection: When cobots are equipped with machine vision, they are able to capture, analyze and interpret images that doesn't comply with company's quality requirements.
Packaging & Palletizing:

Packaging process involves three steps. These processes are time-intensive and repetitive, therefore suitable for cobots so that humans can shift their time to more value added tasks. These three processes are: 

Picking and placing the product into a shrink-wrapping machine

Waiting for the product to be packaged

Placing packaged goods onto a pallet that will be shipped to the customer.

Medical/lab cobots: This is an healthcare and research specific use case where cobots help professionals with pick up & place tasks.
Collaborative Robot Case Studies
Company
Country
Vendor
Industry
Application
Results
BWIndustrie
France
Universal Robots
Metal and machining
-Machine Tending
-Material Removal
-Quality Inspection
-Material Handling
-ROI of the installations is less than 12 months
-The company has increased its turnover by 70% to reach 5.6 million euros annually.
AGH University of Science and Technology
Poland
Universal Robots
Scientific & Research
-Quality Inspection
ALPHA Corporation
Japan
Universal Robots
Automotive
-Material Handling
-Machine Tending
Productivity of the automobile key molding process has improved by 20%
ASSA ABLOY
New Zealand
Universal Robots
Furniture and Equipment
-Material Handling
-Assembly
Improvement in product quality and consistency in assembly process
The University Hospital in Aalborg
Denmark
KUKA
Healthcare
-Quality Inspection

- Lab technicians now have more time to analyze the blood samples and also to spend with patients.
-Cobots reduced the potential sources of error
BMW
Germany
KUKA
Automotive/ Manufacturing
-Assembly of the front axle drive
-Front axle transmission assembly is now completed in less than half a minute
Fitzpatrick Manufacturing Co
United States
Rethink Robotics
Manufacturing
-Pick & Place
-Quality Inspection
-Co-Packing & End-of-Line Packaging
-Improved productivity
Strausak
Switzerland
STÄUBLI
Manufacturing
-Machine Tending
-Performance and autonomy gains
-Time savings with high-speed robot arm and fast load/unload times
-Greater flexibility with wide range of motion
-Easy operator access/no additional floor space with integration into U-Grind machine enclosure
List of top collaborative robot companies
Company
Solution Name
Founded
City, Country
Company Size (# of employees)
Total Funding
ABB
IRB 14000 YuMi
1988
Zürich, Switzerland
10.001+
$2.7M
AUBO Robotics
i5
2014
Knoxville, United States
11-50
$9M
Bosch
APAS
1886
Gerlingen, Germany
10.001+
$42M
Comau
Aura
1973
Grugliasco, Italy
5.001-10.000
-
Denso Wave
Cobotta
1976
Kariya, Japan
10.001+
-
Doosan
M0609
M1509
M1013
M0617
1896
Seoul, South Korea
5.001-10.000
-
Fanuc
CR 4iA
CR 7iA
CR 7iA/L
CR 35iA
1972
Oshino, Yamanashi, Japan
1.001-5.000
-
Franka
Emika
2016
Munich, Germany
51-200
-
Hanwha
HCR-3
HCR-5
HCR-12
1952
Seoul, South Korea
v
-
Kassow robots
KR810 - KR1205
2014
Copenhagen, Denmark
11-50
-
Kawasaki
DuAro1
1989
Michigan, USA
10.001+
-
Kinova
Gen 3
2006
Boisbriand, Canada
51-200
$25M
Kuka
LBR iiwa 7 R800 - 14 R820
1898
Augsburg, Germany
1.001-5.000
-
MRK Systeme
KR 5 SI
2004
Augsburg, Germany
1-10
-
Omron
TM12
TM14
TM5-700
TM5-900
1933
Kyoto, Japan
1.001-5.000
-
Precise Automation
PAVP6
PF400
PP100
2004
CA 94538, United States
11-50
-
Productive Robotics
OB7
2010
Santa Barbara, United States
11-50
-
Rethink Robotics
Sawyer
2008
Bochum, Germany
11-50
$149M
Siasun Robot & Automation
SCR5
2000
Shenyang, China
501-1.000
-
STÄUBLI
TX2-40
TX2-60 - 60L
TX2-90 - 90L - 90XL
TX2touch-60 - 60L
TX2touch-90 - 90L - 90XL
1892
Horgen, Switzerland
501-1.000
-
Techman Robot
TM5-700
TM5-900
TM12
TM14
2012
Taoyuan, Taiwan
51-200
-
Universal Robots
UR3 - UR5 - UR10
e-Series UR3 - UR5 - UR10
e-Series UR16
2005
Odense, Denmark
501-1.000
-
Yaskawa Motoman
HC10
1989
Ohio, United States
501-1.000
-
If you still have questions, feel free to write us:
How can we do better?
Your feedback is valuable. We will do our best to improve our work based on it.