Process mining is growing in popularity however there are numerous vendors in the space and it may be challenging to pick the right one for your business as they have different price points and feature sets. We dug into all available sources to help you create a shortlist of top process mining vendors.
The 4 vendors below are mentioned below by all industry analysts and they also come up at the top when we rank process mining companies using objective, transparent criteria. Based on our research and customer interviews, we see the specific process mining use case as one of the most important criteria in the procurement decision. Celonis gives more weight on digital transformation, Software AG and UiPath focus more on auditing, and QPR Software concentrates on discovering automation opportunities. For more details on these vendors, please read on:
Vendor Analysis
Celonis
The German company Celonis, founded in 2011, has more than 120 consulting and implementation partners and more than 600 clients from more than 30 countries. The company launched its Intelligent Business Cloud in 2018 as a more scalable process mining solution. According to Gartner, the company handles a data size larger than 25 TB in one client. According to Forrester, with more than $100M annual category revenue, Celonis takes the largest share of process mining revenues.
Strengths
Revenue leader:

 According to the Everest Group's assessment, Celonis is currently 

holding over

 60% share of the process mining market with almost 400% year-over-year growth in its client base.

Easy to use:

According to most of the online reviews, users can easily build any reports they want and track critical KPIs with minimum effort.

Works fast:

According to most reviews, owing to its fast algorithm, Celonis can collect event logs, extract relevant data, and connect events rapidly to provide actual process maps.
Drawbacks
Expensive solution:

According to most reviews, Celonis offers a more expensive process mining solution compared to others. Most reviews indicate that the high licensing cost was a significant drawback while choosing the product.
Who should choose Celonis?
Gartner indicates that Celonis focuses more on digital transformation and IT operational resource optimization. Thus, Celonis would be a better option for companies that aim to achieve these results. However, if we disregard budgetary considerations, companies can also choose Celonis for different use cases, since it is the revenue leader and most of the reviews are positive.
Software AG
Software AG, the second-largest software company from Germany, has been building process related solutions since 1969. The company's process mining product is ARIS Enterprise. The company has more than 300 clients in 70 countries across different continents. For automation-related solutions, Software AG has a partnership with RPA company Kryon to support RPA initiatives with process mining.
Strengths
Second in terms of reveunes:

 Software AG is one of the two companies (the other one is Celonis) with more than $100 million annual category revenue, according to Forrester. The company is the second leading vendor in the process mining market.

Extensive experience:

Software AG provides one of the oldest process mining solutions along with QPR Software.
Drawbacks
Customer service could be improved:

 According to some of the reviews we read, the company needs to improve its customer service processes to deliver the necessary support when needed.
Who should choose Software AG?
If you value the company experience and expect not to require support, Software AG's ARIS might be the right option for you. In terms of use cases, the company focuses more on the business process improvement and audit & compliance use cases.
UiPath (formerly ProcessGold)
ProcessGold is based in the Netherlands. According to the company, it was founded by people who were involved in the first commercial process mining offering in 2010. In October 2019, UiPath, the RPA company that raised the most funds from investors, has acquired ProcessGold and entered the process mining market. As a result, UiPath has become the first vendor to bring both process mining and RPA capabilities together. After its acquisition, the company has had a significant improvement in terms of the client base according to the industry analyst Everest.
Strengths
Reliable company due to its position in the RPA market:

UiPath receives many positive reviews about how well their RPA solutions work and how easy it is to use them. Thus, businesses that are familiar with the RPA market already know that UiPath provides the necessary support when needed. Eventually, they expect a similar performance in the process mining market.

A single solution from process discovery to automation:

 After its acquisition, UiPath can offer all the services to its customers from process discovery to RPA implementation without the need of a second vendor.
Drawbacks
Some programming required:

Some reviews share that a certain level of programming skills is required to use this solution effectively. This situation also makes the configuration process harder and the backend of the software more challenging to understand.

High implementation cost:

Reviewers share that the implementation cost is high and should be reduced.
Who should choose UiPath?
According to Gartner, UiPath focuses more on business process improvement and audit and compliance use cases, just like Software AG. If your company doesn't lack technical employees and views budget as a minor aspect in process mining software procurement, UiPath could be a suitable option for you.
QPR Software
QPR Software, based in Finland, was founded in 1991. As one of the earliest vendors in the market, most of QPR Software's customers are from Europe. Today, the solution supports more than 70+ business processes, including order-to-cash, purchase-to-pay, invoicing, marketing, and sales processes. Its advanced root cause analysis and AI-based clustering analysis, combined with a clear user interface and enterprise compatibility, makes it one of the most popular solutions in the process mining market.
Strengths
Broad set of functionalities:

QPR is one of the few vendors that offers a wide range enterprise functionalities like clustering analysis, conformance analytics, process predictions, and automated root-cause identification.

Cost Advantage:

According to some customer interviews, QPR Software has a cost advantage against other leading solutions in the market.

Easy to use:

QPR also offers a user-friendly interface to its customers for managing their tasks. Their reference customers

indicate that they could achieve quick results owing to the user-friendly interface.

Extensive Experience:

 With Software AG, QPR Software is one of the oldest solutions in the process mining market with extensive experience from business process management and operational development. The company has almost 30 years of experience in this field and more than ten years of experience, specifically in process mining.
Drawbacks
Less known in the market:

Although most reviews are positive, QPR Software is less known in the market than the other leading vendors.
Who should choose QPR Software?
Compared to other solutions, its users claim that QPR Software has a cost advantage and it is one of the most experienced vendors in the market, along with Software AG. Plus, it offers a broader set of functionalities with a user-friendly interface. Gartner shares that the company focuses more on discovering and validating automation opportunities, and the business process improvement use cases. Thus, QPR Software would be a good option to uncover automation opportunities and business process improvement opportunities.
The sources we relied on
Gartner's Market Guide for Process Mining
Gartner's report shares Gartner's process mining market estimate for new product license and maintenance revenue was approaching $160 million in 2018. This number is expected triple or quadruple in two years since the interest in process mining is rapidly increasing.
The report also includes trend analysis of the process mining types and use cases. In 2017, process mining was mostly used as a tool of process discovery rather than process conformance or enhancement. However, we see a decreasing trend in process discovery while increasing the other two types. While process discovery is still the most common type of process mining, process enhancement is expected to exceed process discovery by 2020.
As process improvement is the most popular use case of process mining in 2018, we observe that its share is lower by 2020. While it remains the most typical use case, using process mining for process automation and digital transformation is becoming more popular. Auditing is also a widespread use case, but we don't see any increase/decrease in its trend.
Forrester
Forrester's 2020 report of Process Mining Market Overview provides information about vendors in terms of revenue, geographic presence, focused industries, and sample customers. We have collected our insights from the Forrester report in the below table:
Vendor
Annual Revenue
Most Popular Geographic Presence (Compared to other regions)
Top Industries
Notable Customers
Celonis
Greater than $100M
EMEA, North America
- Financial Services
- Life Sciences
- Manufacturing
Citi, Siemens, Uber, Vodafone
QPR Software
Greater than $5M & less than $100M
EMEA
- Banking
- Insurance
- Manufacturing
- Public Sector
Ericsson, KBC, Metsa Group, Nokia
Software AG
Greater than $100M
EMEA, North America, Latin America
- Financial Services
- Government
- IT Services
ING, Equinor, Fraport
UiPath (ProcessGold)
Less than $5M
EMEA
- Auditing and Consultancy
- Manufacturing
EY, Philips
The Everest Group
Below is the Everest Group's Peak Matrix Assessment for Process Mining Products in 2020. In the assessment, Celonis, Software AG, and UiPath are identified as the market leaders. On the other hand, QPR Software ranked in the top 3 for vision & capability that measures the ability to deliver products successfully in the 2020 Everest Group Report.
According to the same report, Celonis holds over 60% share with almost 400% year-over-year growth in its client base. While its client base improved significantly after its acquisition, UiPath currently holds less than 5% market share in terms of the number of clients and revenue.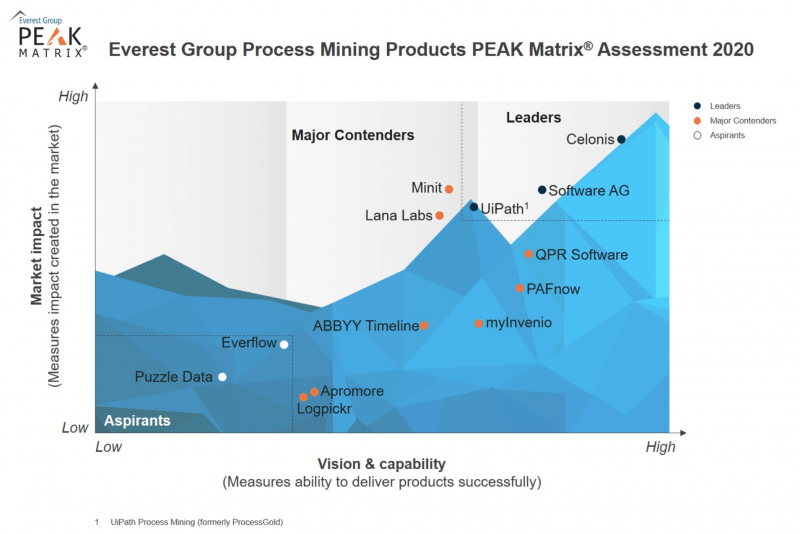 Final thoughts
QPR Software and Software AG are two of the early process mining vendors in the market. While Software AG comes forward with its annual revenue along with Celonis, QPR Software offers a broader range of functionalities like automated root-cause identification and conformance analytics. We also observe that Celonis comes forward as the market leader, but we also expect significant growth in UiPath's revenue share after its acquisition. 
As all solutions focus on business process improvement, Celonis gives more weight on digital transformation, Software AG and UiPath focus more on auditing, and QPR Software concentrates on discovering automation opportunities. At the end, which vendor to choose will depend on your company's needs and goals.
If you are interested, you can also read our articles about process mining below:
If you have questions about which process mining vendor to choose for your business, don't hesitate to contact us:
Let us find the right vendor for your business
How can we do better?
Your feedback is valuable. We will do our best to improve our work based on it.