We can learn better about new technology by observing its real-life applications. That's why we have compiled process mining case studies from different resources. As we review them, we understand how the insights from process mining can improve different businesses. This article aims to reveal typical results and usage areas of process mining, including a summary of these case studies.
What are the typical results of process mining projects?
After mining their processes, many companies gained vital insights into their businesses. These insights helped them to execute better process analysis and prepare action plans. In conclusion, companies have achieved various results for process improvement. Top 3 typical results are as the following:
1- Data-driven decision making: An essential benefit of process mining is to be data-driven. While extracting processes, the software always uses real data. This enables insights from the process mining tool to be factual. As a result, companies can diagnose their processes confidently. They move forward with real data; not personal opinions or guesses.
2- Reduced costs: One thing companies usually try to aim is to reduce their costs and generate higher profits. By analyzing event logs, process mining can show a company the duration of each stage in its process, its costs, and ways to improve it. The company can get rid of unnecessary costs and make relevant moves to reduce them.
Here is an example:
By using process mining, Vodafone discovered that they have low automated transactions, and decided to focus on this area. As it started to use robotic process automation (RPA) to improve its order process, Vodafone has decreased its unit process order costs from $3.22 to $2.85.
3- Identification of the bottlenecks: At some point, the processes may have several stages which take too much time and cause processes to slow down. This reduces efficiency because it affects other stages for not working properly. The companies can identify those stages and take action to reduce them.
For example, BridgeLoan has integrated QPR's process mining tool into its ERP system to identify the bottlenecks in their loan application processes. After recreating their processes, the process started to progress 40% faster and the company can now process 30,000 applications in a month.
Below is another example of how process mining can detect the bottlenecks: the step indicated in red slows down the entire process.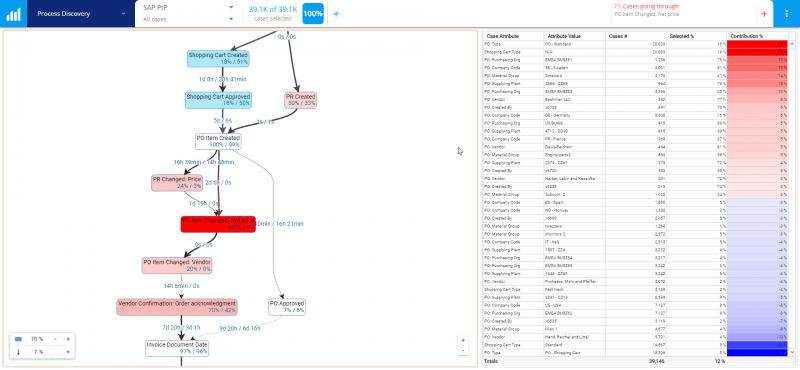 To have more details, you can read our article about process mining benefits.
What are typical processes to be mined?
The companies mine various processes to understand what their actual processes look like and find ways to improve them. These processes are usually the ones which the company can increase its level of automation.
The typical processes we have observed from the case studies are:
Purchase-to-Pay
Order-to-Cash
Logistics
Quality Management
Finance
To read about process mining use cases, feel free to read our guide.
Below, you can find the extended list of case studies which we have collected from different resources. You can filter the list by the service provider, industry, or process and investigate the achieved results.
Company
Country
Process Mining Tool
Industry
Process
Results
AB InBev
Belgium
QPR
Food & Drink
Supply chain
▪ Reduced operational costs
▪ Better visibility of actual performance
Afrisam
South Africa
QPR
Construction & Materials
Risk management
▪ Improved overall process efficiency
▪ Identification and better visualization of risks
▪ Real-time performance montioring
Akzonobel
Netherlands
Celonis
Chemicals
Purchase-to-Pay, Accounts Payable, and Order-to-Cash
▪ Identified that 18% of process have manual changes
▪ Improved SRM efficiency from 40% to 70% in one year
▪ Reduced costs
Alliander
Netherlands
Lexmark
Utilities
Purchasing
▪ Gained insights into the complexity of the process
▪ Elimination of unnecessary steps
▪ Standardization of the process
▪ Discovery of the need of staff re-training
Amag
Switzerland
QPR
Automative
Finance & Controlling
▪ Improved KPI measures
▪ Improved operating efficiency by focusing on underperforming targets
Ana Aeroports de Portugal
Portugal
Process Sphere
Travel & Leisure
Service Process
▪ Identification of unoptimized steps
▪ Elimination of non-value-add tasks which speeds up the process
▪ Quick identification of problems and improvement opportunities
APG
Netherlands
Celonis
Pension Funding
Finance
▪ Identification of dramatic deviations of throughput time
▪ Increased first-time response rate
▪ Improved customer satisfaction
Barona
Finland
QPR
Support Services
Invoicing
▪ Identification of the bottlenecks
▪ Discovery of improvement opportunities
Basware
Finland
QPR
Technology
Invoice Management
▪ Identification of bottlenecks
▪ Increased customer satisfaction
BridgeLoan
South Africa
QPR
Insurance
Loan Processes
▪ 40% faster process
▪ Reduction in manual work
▪ Quick reaction to possible problems in process
Caverion
Finland
QPR
Construction & Materials
Ad Hoc Service Process
Management
▪ Improved cash flow
▪ Removal of bottlenecks
▪ Faster invoicing
EDEKA
Germany
Celonis
Retail
IT Service
Management
▪ Simplified process
▪ Reduced cost
▪ Increased process quality
Eissmann Automative
Germany
Celonis
Automative & Parts
Purchase-to-Pay, Master Data Management and Manufacturing
▪ Shortened throughput time by 30%
▪ Visualization of real-time production cycle
▪ Elimination of problematic process steps
EY
UK
ProcessGold
Consulting
External Audit Processes
▪ Ability to more complete audit assesment
▪ Automation of insights into audit risks
▪ Reduced audit preparation time by 50%
Fennovoima
Finland
QPR
Utilities
Document Handling
▪ Creation of a centralized portal which contains documentation and information about business processes
▪ Identification of root causes of process delays
Kemira
Finland
QPR
Chemicals
Order-to-Cash and Process-to-Pay
▪ Increased customer satisfaction
▪ Improved lead times
▪ Increased responsiveness to possible problems
Komerční Banka
Czech Republic
QPR
Banking
Finance
▪ Identification of the bottlenecks
▪ Improved lead times
Lassila & Tikanoja
Finland
QPR
Support Services
Order-to-Cash
▪ Improved customer satisfaction
▪ Reduced ERP implementation costs
▪ Improved KPI measures
▪ Reduced risk of ERP deployment and vendor dependency
▪ Increased data quality
LOEN Entertainment
South Korea
Fluxicon
Media
Customer Journeys
▪ Simplified process
▪ Achieved user segmentation
Metsä Board
Finland
QPR
Forestry & Paper
Supply Chain
▪ Identification of the bottlenecks
▪ 60% increase in order lines & volume
▪ Conformant order lines from 40% to 80 %
Neste
Finland
Celonis
Utilities
Logistics, Quality Management and Finance
▪ Identification of the bottlenecks
▪ Improved customer satisfaction
▪ Secured on-time payments
Nokia
Finland
QPR
Telecomunications
Order-to-Cash and Process-to-Pay
▪ Harmonization of different processes
▪ Identification of improvement opportunities
▪ Improved lead times
Patria
Finland
QPR
Aerospace & Defense
Order-to-Cash
▪ Increased customer satisfaction
▪ Elimination of newly discovered unnecessary tasks
▪ Minimization of resources spent on rework
PGGM
Netherlands
Fluxicon
Insurance
Process Improvement
▪ 66% time savings expected
▪ Improvement verification when an improvement is implemented
Piraeus Bank
Greece
QPR
Banking
Consumer Loan
▪ Identification of the bottlenecks
▪ Improved KPI measures
▪ Diagnosis of variations in the process
▪ Shortened application process from 35 minutes to 5 minutes on average
Ruukki
Finland
QPR
Construction & Materials
Process Management
▪ Reduced value of raw material stock
▪ Identification of the bottlenecks
Siemens AG
Germany
Celonis
Personal & Household Goods
Service Process
Management
▪ Automation of ordering channels
▪ Standardization of the process
▪ Quick identification of inefficiencies
Stark
Denmark
QPR
Retail
Order-to-Cash
▪ Identification of the bottlenecks
▪ Improved communication with employees
▪ Improved operating efficiency by rescheduling good replacement tasks
Suncorp
Australia
Queensland University of Technology
Insurance
Home Insurance Claim
▪ Identification of two major bottlenecks
▪ Reduced processing time from 30-60 days to 5 days
Telefonica
Spain
Fluxicon
Telecomunications
IT Service Management
▪ Major incidents decreased from 124 to 13 in two years
▪ Halved restoration time in one year
▪ Improved customer relations
Terberg
Netherlands
Celonis
Industrial Transportation
Purchase-to-Pay and Accounts Payable
▪ Identified root causes of delayed deliveries
▪ Immediate time savings
▪ Reduced costs
Vaisala
Finland
QPR
Industrial Engineering
Process Management
▪ Improved process by around 59% depending on product
▪ Reduced operational costs
▪ Improved customer satisfaction
▪ Quick identification of process deviations
Veco
Netherlands
Fluxicon
Industrial Engineering
Quality Management and Logistics
▪ Reallocation of workstations to reduce delays
▪ Same amount of work done by fewer people
▪ Shorter lead time
Vodafone
UK
Celonis
Telecomunications
Source-to-Pay
▪ Increased perfect purchase orders from 73% to 85%
▪ Reduced cost from $3.22/PO to $2.85/PO
▪ Improved time to market by 20%
VTB
Russia
Celonis
Banking
Loan Process
▪ Shortened throughput time by 30%
▪ Increased percentage of timely-handled accounts from 68% to 98%
▪ Decreased application processing time by fourfold
▪ Discovery of the need for employee training
▪ Improved customer satisfaction
World Vision
South Africa
QPR
NGO
Performance Management
▪ Shortened performance evaluation process
▪ Improved data management
Zacatecas State
Mexico
QPR
Government
Quality Management
▪ Identification of process deviations
▪ Better and more timely evaluation of KPIs
▪ Improved decision-making
Zig Websoftware
Netherlands
Fluxicon
Technology
Housing Allocation Process
▪ Identification of three major bottlenecks
▪ Recreation of the process by automating its digital offering system
▪ Reduced waiting period from 16.4 hours to 64 minutes
▪ Shortened turnaround by 4000 days for the first six months
If you still have questions about process mining software, we would like to help:
Let us find the right vendor for your business
Sources: