Days of squinting at X-ray results are about to be over. As the New Yorker explains: In some trials, "deep learning" systems have already outperformed human experts. Medical imaging solutions allow companies to bring accurate and accessible disease screenings to doctors to proactively treat cancer and other diseases at their most manageable stages and improve patient outcomes.
What are AI-powered medical imaging applications? 
Aim of medical imaging is to capture abnormalities using image processing and machine learning techniques. Application areas can be divided into sub-branches such as the diagnosis of various diseases and medical operation planning. The top applications of AI-powered medical imaging are:
Revealing cardiovascular abnormalities: According to an article published by Frontiers in Cardiovascular Medicine Journal in 2019, the integration of AI into cardiac imaging will accelerate the process of the image analysis which is a repetitive task that can be automated, therefore healthcare professionals engaged in this work can focus on more important tasks.
Prediction of Alzheimer's disease: The Radiologic Society of America suggests that advances in AI can lead to predicting Alzheimer's disease years before it occurs by the identification of metabolic brain changes.
Cancer detection: In early 2020, the Google health team announced that they developed an AI-based imaging system that outperformed medical professionals in detecting breast cancer.
Surgical Planning: Medical imaging also allows for the segmentation of the image related to the surgical area so that the algorithm can do the planning for healthcare professionals automatically. Surgical planning with the help of medical imaging can saves time in surgeries.
How mature are medical imaging applications?
AI medical imaging applications give great results in research projects and pilots like this one for breast cancer or pancreatic cancer. However, its use in the field is not common yet. This is because the FDA approval process can take years and the applications that were previously approved did not provide significant benefits. A computer-aided cancer detection software, approved by the FDA in 1998, was reported to cost more than $ 400M and did not show any significant improvement in a study.
How can AI-powered medical imaging technologies be used during COVID-19 outbreak? 
Medical imaging is one of the AI-powered solutions that is on an uptrend with the COVID-19 pandemic. Due to the rapid increase in the number of patients, the analysis and interpretation of patients' chest scan results became a problem. A Chinese company, Huiying Medical has developed an AI-powered imaging diagnostic solution to detect the virus in the early stage with 96% accuracy.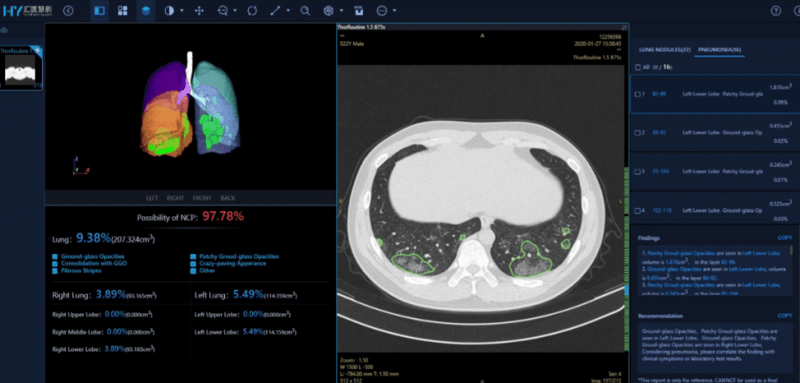 Pneumonia is a serious complication of the COVID-19 and results in patients requiring ventilator support. In collaborative research by the University of California San Diego health department and AWS, a model was built to analyze chest images of patients at risk of pneumonia. The model was trained to identify patients infected with Covid-19 by using AI-powered medical imaging. The algorithm was trained on 22,000 notations by human radiologists. The algorithm performs color-coded maps that indicate the probability of pneumonia.
Leading vendors
We prepared a sortable list of all AI-powered medical imaging companies and their product with an indication of whether they have a free trial/community edition.
IBM Watson

is one of the pioneers in healthcare applications powered by Artificial Intelligence. As a Fortune 100 company, IBM has a significant capability to deliver successful solutions in a number of AI use cases. IBM Watson Health one of the pioneers in healthcare applications powered by Artificial Intelligence. IBM aims a fast processing of medical images and to interpret the data efficiently with information from various databases.

Butterfly Network:

Butterfly aims to bring a different perspective on medical imaging with both hardware and software solutions. Butterfly IQ is a portable mobile device that uses ultrasound-on-chip technology which makes it the world's first handheld entire body ultrasound framework. The device also has the capability of detecting diseases in real-time while scanning. Dr. Jonathan Rothberg, chairman of Butterfly Network, is a recipient of National Medal of Technology and Innovation from the White House.
Arterys

built the first tech product to visualize & quantify blood flow in the body using any MRI. Arterys also received the first FDA approval for clinical cloud-based deep learning in healthcare. Furthermore, Arterys, a pioneer in four-dimensional (4D) cloud-based imaging, has been awarded "Best New Radiology Vendor" and "Best New Software" in the 2016 Minnies Awards. Arterys has ranked as

one of the World's 50 Most Innovative Companies

by FastCompany in 2019. Arterys' Lung-AI platform helps to reduce missed detections by

42 to 70%.
Gauss Surgical Inc

. received CE (Conformité Européenne) Mark for its Triton System for iPad, the world's first and only mobile platform for real-time monitoring of surgical blood loss.
Zebra Medical Vision

was one of Fortune's "50 Companies Leading the AI Revolution" in 2015. Moreover, Zebra Medical Vision was selected as one of "The Most Innovative Companies of 2017" by AI/Machine Learning Sector. In 2019, Receives FDA Approval for the world's first AI chest x-ray triage product.
Sigtuple

's innovative solutions aim to solve the problems caused by the chronic shortage of trained medical practitioners in India.

Freenome

raised 70.6M within only two years of its launch. Freenome detects cancer by imaging blood cells. The company raised $237.6M by July 2019. 

MIT Technology Review chooses

Enlitic

one of the 50 Smartest Companies in 2016. Enlitic uses deep learning techniques to analyze the data extracted from radiology images. A study suggests that radiologists can read cases 21% faster with the help of Enlitic. 
If you have a facing unique problem in medical imaging that lacks an out-of-the-box solution and if you have related data, we can help you identify custom AI solution providers:
If you want to learn more about custom AI solutions, feel free to read our whitepaper on the topic:
If you have questions about AI-powered medical imaging, feel free to ask us: 
Let us find the right vendor for your business
How can we do better?
Your feedback is valuable. We will do our best to improve our work based on it.