There are numerous platforms for supporting a software purchase decision, including
Industry analysts that historically relied on their own product assessments. These days, they combine their reviews with reviews from vendors in their assessment or review.
Review platforms where users review software. Most of the time, they do this for $10-15 Amazon vouchers.
There are numerous examples of both in the market. However, which one is the right one for the solution that you are seeking? Whether you are a tech buyer looking for solutions or a vendor looking for the right platform to feature your product, it is better to focus, rather than spend your time on multiple platforms.
We provide a quantitative way to measure the influence of industry analysts and review aggregators in a specific category. And the answers are:
For AI solutions: AIMultiple (We provide our analysis below for RPA, chatbots and synthetic data)
Solutions for SMEs: Capterra, G2 or Trustradius (We have not examined this in detail so left this at a higher level but can do if we get comments about this)
Solutions for enterprises that do not include AI: This is a broad area and we have not examined it in detail. If we are right about "AI eating software", this category will shrink over time anyway.
This is how we ran our analysis:
Define what constitutes best
To identify the best of anything, we first need to define what it is. We need to focus on measurable metrics since we want to have an objective, data-driven assessment. Popularity is an important measure for the quality of any non-artistic content. It is measurable so it can be a good proxy for the best advice on software decisions.
For both industry analysts and review aggregators, most of their traffic is from search engines. According to similarWeb, these are the shares of traffic these websites receive from search engines (excluding any paid search engine traffic):
For other companies, it is not possible to get detailed data on their web traffic since their web traffic is not significant which also implies that their influence in the market is also limited. We couldn't find web visitors stats for these companies: Everest Group, HfS group.
Identify how people search for your solution
Google is the most common tool for people to ask questions and to be able to assess the popularity of any solution. Google still commands >75% market share in the search engine market for most countries excluding China and Russia.
Therefore, looking at where Google users go to after their Google search would show us the relative popularity of different websites.
Measure each platform's traffic
SEMrush and Ahrefs provide detailed estimates on how many visitors each webpage (i.e. url) receives from Google. They use the interest in search queries as well as the rank of individual webpages in search queries for these estimates.
For our assessments below, we used SEMrush's domain analytics feature.  We measured traffic that is generated by queries that contain the target keyword or its synonyms. For instance, in data labeling, we filter queries that contains either data labeling or data annotation so that we don't miss out any valuable traffic.
This analysis needs to be done in country level since Google ranks of individual webpages change from country to country. We decided to look at top 5 global economies and excluded China since
We are not familiar with how to get estimates on the Chinese web traffic since we don't target that market yet
Most review platforms and industry analysts prioritize non-Chinese markets and content
Success in China depends heavily on Chinese content production and we did not want to evaluate these companies on that metric
So we looked at the data from United States, Japan, Germany, India, UK which are the top 5 countries by GDP if we exclude China.
Identify the top platforms
Once the traffic numbers are ready, you would see the most popular platform for your area of focus. We have done it for a few emerging AI related solution areas below in October/12/2020 using the last months' traffic. For clarity and transparency, we are also sharing our analysis. Feel free to use it for your own analysis.
Robotic Process Automation
RPA is has been an emerging technology for a few years; in fact, it was claimed to be the fastest-growing segment of the global enterprise software market in 2018 by Gartner.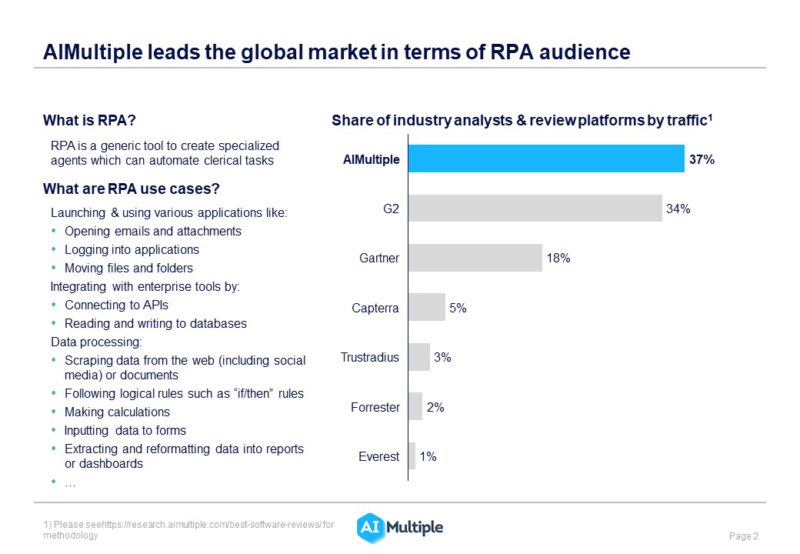 Chatbots
Chatbots are one of the most common uses of artificial intelligence. According to surveys, 37% of AI start-up founders report chatbots and virtual agents would be the top consumer application for AI over the next five years. Intrerest in chatbots are not limited to AI executives, in fact, more than ~10k people search for the query "chatbot" only per month based on Google Ads data. Results about chatbot queries are: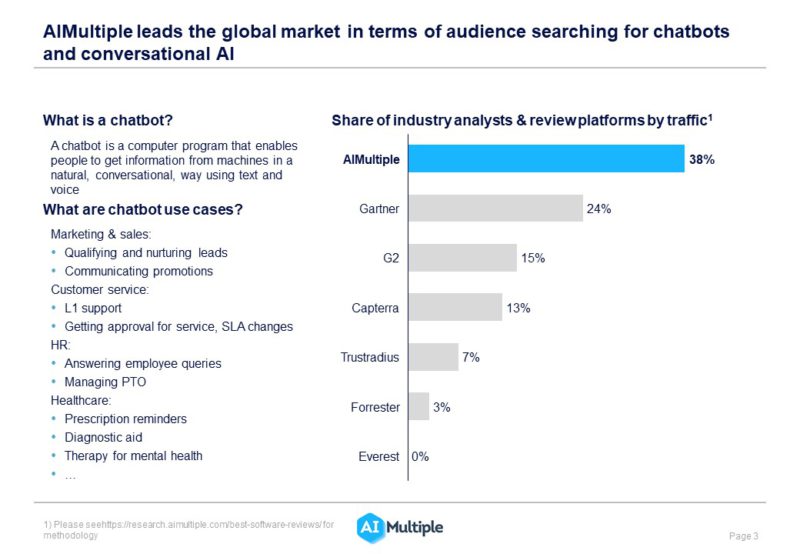 Synthetic Data
Synthetic data has numeros applications such as training AI systems for cases where training data is missing or authorization of third-party access to data may not be preferred. Synthetic data is an emerging topic, therefore, we don't see many software review and industry analysts active in the market. Our share of voice in the market is >90%: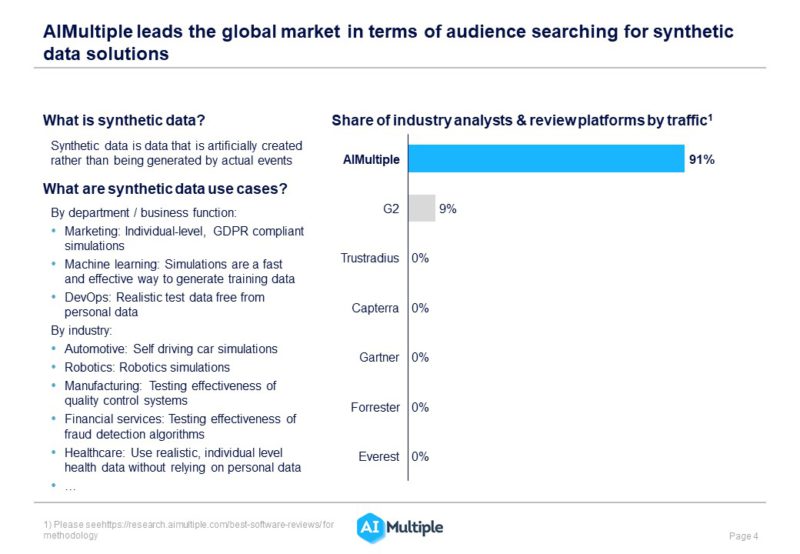 Limitations
This analysis is quick to complete however it has a few shortcomings:
As a tech buyer or vendor from China, you would need to look at the Chinese market and follow a different methodology
We only focused on the key words that describe a solution. For example, for the RPA market we looked at the traffic for keywords that include either "rpa" or "robotic process automation". Other keywords such as "UiPath" also include traffic relevant to this market. However, most of that traffic is captured by vendors and it is harder to analyze since we would need to do the same analysis for hundreds of vendor names. Therefore, we have chosen to accept this limitation.
Feel free to read our research on these areas (RPA, chatbots, synthetic data) or check out the top vendors in these areas:
Or reach out to us if you are looking for vendors in a different area:
How can we do better?
Your feedback is valuable. We will do our best to improve our work based on it.