After the recent news from Cambridge Analytica, Facebook is no longer allowing new chatbots. This issue will be solved in a few weeks, after handling all the privacy-related issues. In the meantime let's review why chatbots are important and what are the current trends.
Humans are good at talking and listening. They are one of the first things we learn and it is hypothesized that the sophistication of our language which allows us to coordinate using imaginary entities sets us apart from other animals. Therefore it is no surprise that people are excited about chatbots as they offer a language interface to the digital world.
If you are want to know more, we have written extensively regarding chatbot testing. See our blog for frameworks and techniques, testing, and key metrics.
Let's start with basics;
What is a ChatBot?
A chatbot is a computer program that enables people to get information from machines in a natural, conversational, way using text and voice
There are two major channels in which chatbots are implemented. One of them is text-based channels like Messenger, Slack, and Telegram. The other channel is voice-based virtual assistant such as Alexa, Siri, and Cortana.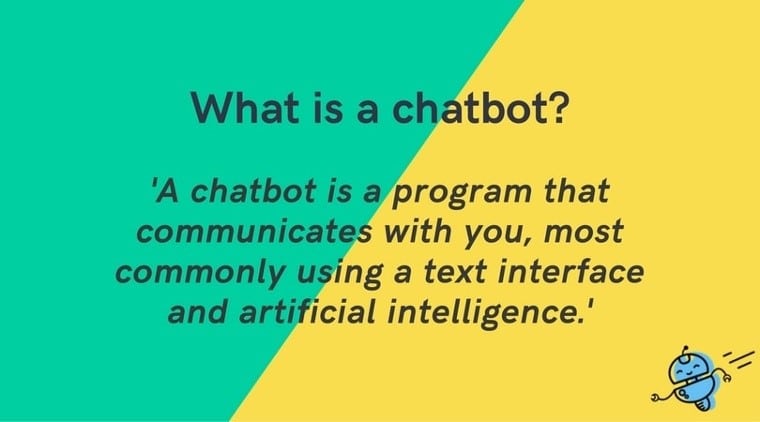 Chatbots make it possible to automate information communicated to the people. There are many niches areas the chatbots are implemented. Currently, they are in separated environments mostly, rather than using one integrated app, the majority of chatbots exist on different platforms.
Spending on Enterprise Intelligent Assistants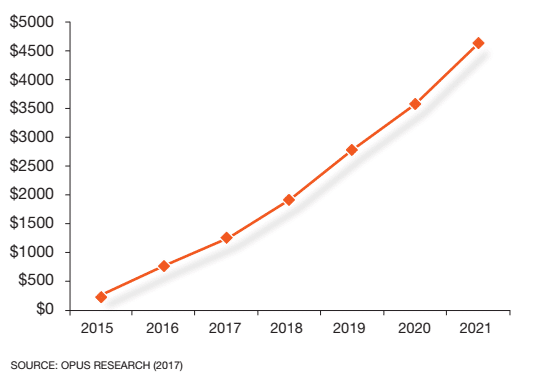 Opus Research findings are in line with the trend. Enterprises are also becoming increasingly aware of the potential in Intelligence Assistants. We compiled a list of top 20 use areas of chatbots.
Their research finds that the investments are expected to quadruple by 2021. This is an inevitable result of competition. Enterprises are increasingly challenged by finding and developing an omnichannel strategy and chatbots made it possible to effectively and efficiently communicate with the consumer. Customer Relations, marketing, sales all the departments of a traditional enterprise can achieve greater efficiency by implementing chatbots.
The solutions can be broadly categorized into two. Conversational technologies and intelligent assistant technologies. Conversational technologies encompass speech recognition, text recognition, and emoji recognition. Whereas Intelligent assistant technologies provide an amalgam of neuro-linguistic programming and machine learning.
Chatbots will bring more savings and efficiency
The right method can significantly lower the costs. Making it possible to reach higher profitability rates. Chatbots would make it possible to maintain the same service quality, no matter what the circumstances are. Lowering the possibility of a mistake by a salesperson or any other department. It would make the marketing activities a lot easier since the chatbot can now engage in one-to-one dialogue with the consumer. Providing suggestions, powered by greater analytical capabilities. It would have access to greater detail of products and a greater detail of the consumer preferences and that increases the likelihood of a sale. This generates a greater revenue than the traditional methods.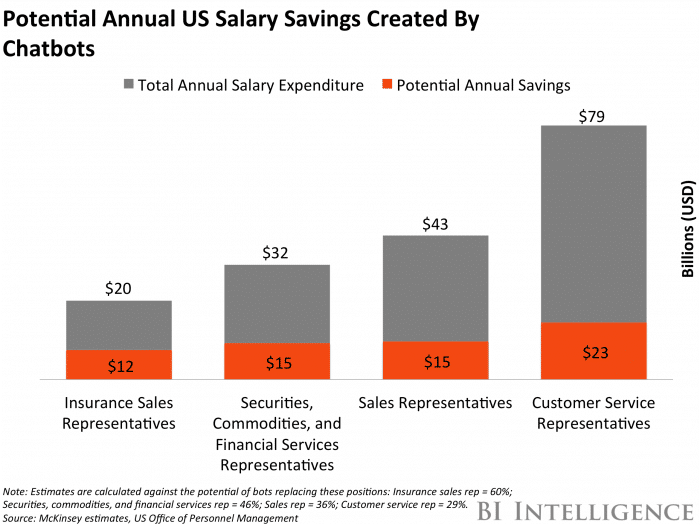 A recent survey by Oracle shows that 80% of business wants chatbots. Above graph shows the salary savings by implementing chatbots. In some industries, it reaches up to 60% saving to implement a chatbot.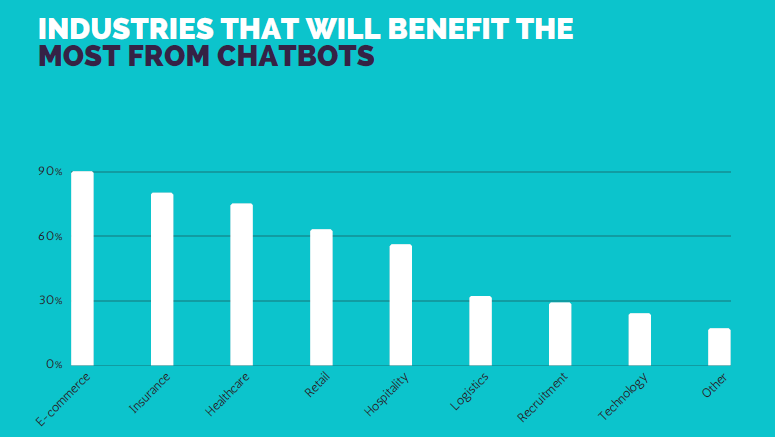 Ubisend presents its chatbot survey with the headline of "We now live in an on-demand society, time to get prepared." Their report emphasizes the not-so-social sides of social networks. According to their study, people's choices shifted to personal messaging rather than social broadcasting.
Startups such as Landbot.io makes it possible to land in a welcoming page entirely based on messaging. They transform websites into conversational experiences.
Typeform is another example. Typeform is the first form ever, that adapts to the usability of any device. Typeform allows users to express their answers in more engaging ways. By creating new ways to ask questions online.
Chatbots solve important customer problems
According to ubisend's survey, consumers no longer want to communicate through telephone or email, the majority prefer social media to communicate their wishes and desires. For the respondents, the most crucial factors for customer engagement are reaching the desired outcome, speed, and ease of experience. The pace of improvement and potentials in chatbots makes it easier for firms to reach customer's expectations. Recently Ubisend's Alex Debecker shared his predictions regarding the chatbots. He expects more to come.
Other surveys also validate this point as chatbots can solve many of customers' problems with traditional online experiences such as getting immediate answers to simple questions: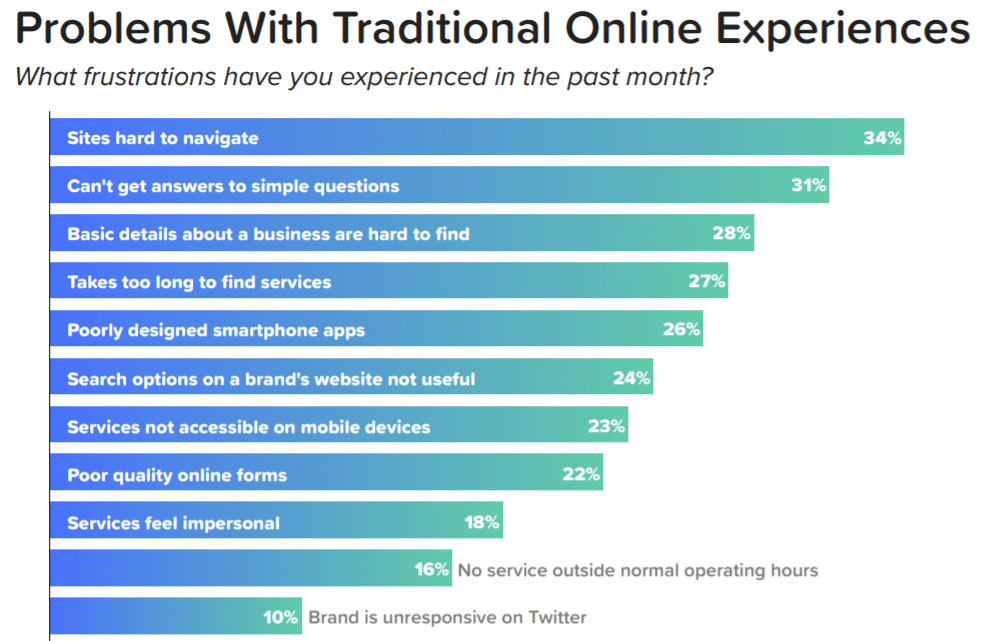 Chatbots help customers by providing 24-hour available, instant & consistent answers. Companies benefit from chatbots through improved customer satisfaction, increased customer engagement and understanding of their customers' needs and desires.
For more, check out our article on chatbot benefits.
Consumers are demanding chatbots
Demand for chatbots is also increasing. Although there is still a somewhat lower percentage of Artificial Intelligence awareness with 37%, they present a serious interest in chatbots and other artificial intelligence integrated systems. Increasing availability of voice-search systems such as Alexa, Siri, and Cortona are available on almost any devices. 3.9 billion voice-search equipped devices are available globally.
This universal availability makes many of the consumers a regular user of voice search. 74% of the respondents used voice search in the past month. Showing a low attrition rate and a stable demand for voice-search capable services.
One other major area of chatbot implementation is eCommerce field. Consumers view positively the chatbot experience with 47% stating that they would buy something by using a chatbot. Increasing natural language processing capabilities made it a seamless experience for the consumer. Chatbots can processes the consumer's messages more easily. In the past, the words or the sentences that are allowed to be used in a chatbot were limited, now that frontier is increasingly expanding.
Messaging apps are the right medium to implement chatbots
The widespread availability of messaging apps makes it a great target for potential expansion. Latest figures for monthly active users of messaging apps are over 5 billion. Platforms like  Facebook Messenger, WeChat, and Telegram have already made it possible to implement chatbots. That way it is possible to reach the consumer, and communicate with her in the ubiquitous platforms. Thinking about salespersons, they can only communicate with one-person at a time. Chatbots provide a huge scalability with a potential of communicating with millions of people at the same time all through messaging apps.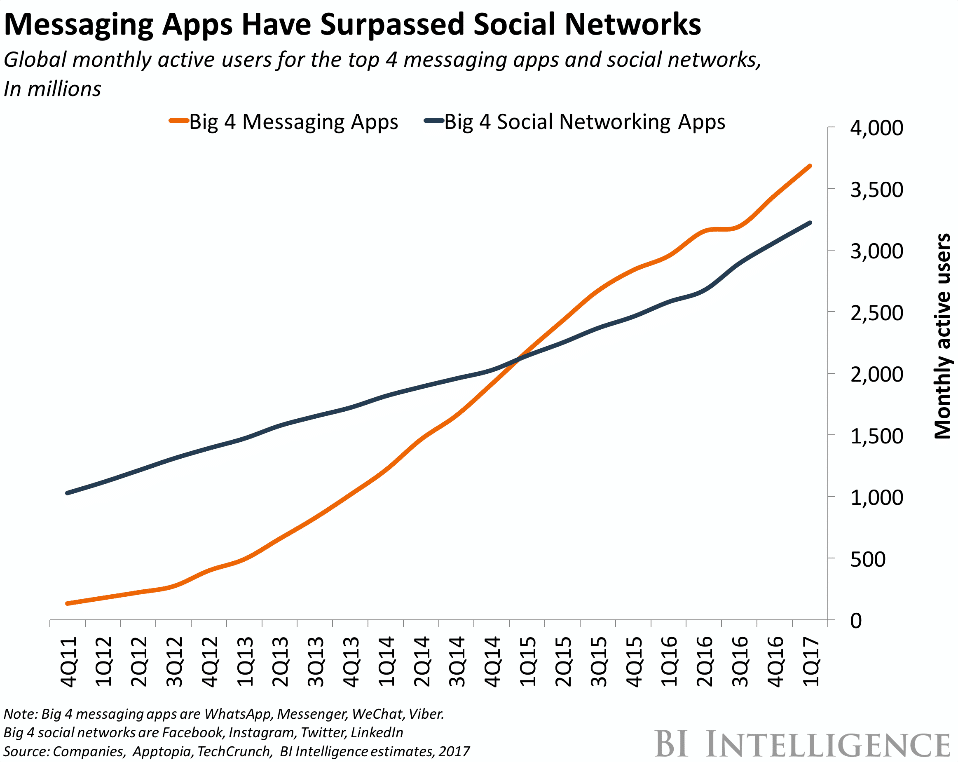 This increase in usage of messaging apps is likely to continue. Even though social networks are still a popular medium, their growth rates are experiencing a decline. Consumers started to evolve into a less-social network oriented consumer. They prefer virtual agent chat. Seeking greater intimacy with less intrusion from the acquaintances. The chatbots implemented into messaging apps are likely to capture that demand. Their conversational design is the key factor for their success.
One such startup is Octane AI. They make it possible to create a bot and engage your audience via messaging. Their service can be considered as an on-demand concierge bot that automatically sends welcome messages, receipts, shipping notifications, abandoned cart campaigns, and much more.
One other startup is Ambit. They provide the next generation of conversational artificial intelligence. Via blending customer-centered interactions with natural language processing, human intervention capability, and structured data capture.  Ambit's analytics empowers enterprises to make data-led decisions. Chatbots deployed across messaging platforms are the most frictionless method of serving customers.
Facebook is increasingly becoming the number one platform for such implementations. The obvious reason is that it is one of the largest social networks in terms of monthly active users and has massive amounts of data on its users. The combination of data availability and an engaged audience makes Facebook an attractive platform for digital marketing activities. Conversational interfaces can support marketing activities on Facebook and improve user engagement and retention.
Facebook Messenger is the most obvious candidate. Some of the use cases include" offering the discount codes and coupons to consumers. Real-time notifications make the consumer aware of the campaign at that moment. By providing coupons and discount codes, greater conversion rates can be achieved. Facebook makes it possible to see the likes of the consumer and you have access to browsing history and past purchases, this increases the likelihood of up-selling or cross-selling.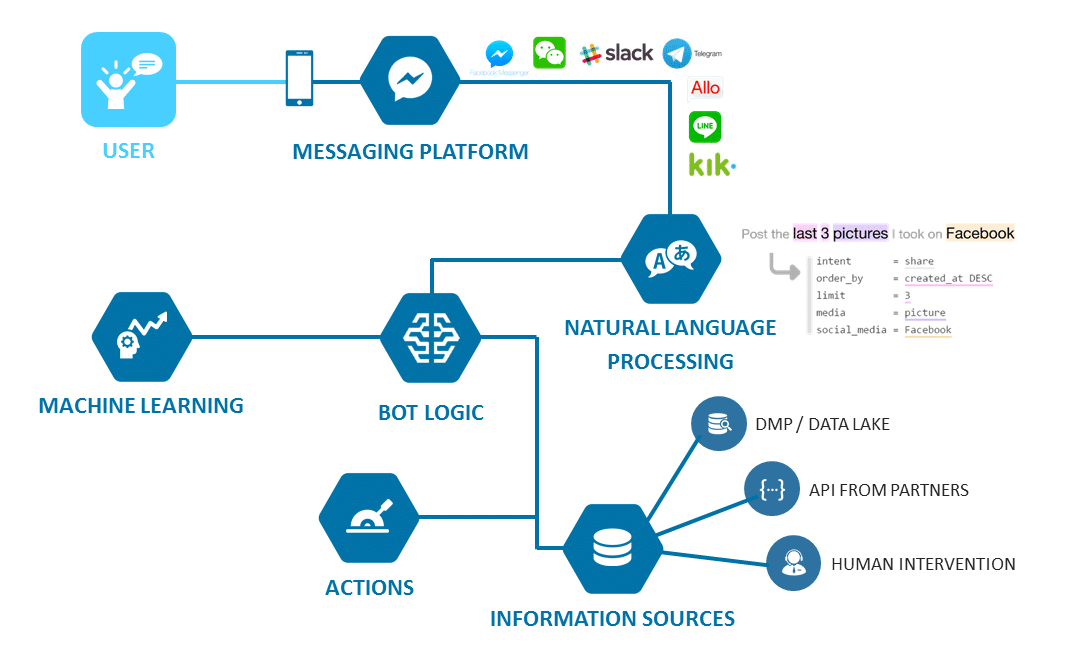 Chatbot use cases for your business
Chatbots have numerous possible benefits in diverse areas:
Risks of launching your business' chatbot
Chatbots have significant potential but that does not make them easy to implement. We explained in our detailed blog post on chatbot failure how discoverability, customer expectations and technological limitations have limited traction for numerous bots. And even those who achieved traction experienced a number of issues:
Your users can take screenshots exposing weaknesses of your bot to everyone
Your chatbots can engage in unwanted behavior decreasing your customers' satisfaction
Unfortunately, customers are quite sensitive to chatbot failures. A failing chatbots is listed as one of the leading reasons to stop using a chatbot in Drift's 2018 State of Chatbot's report. And unfortunately, chatbots fail so frequently that we already have a section on chatbot failures.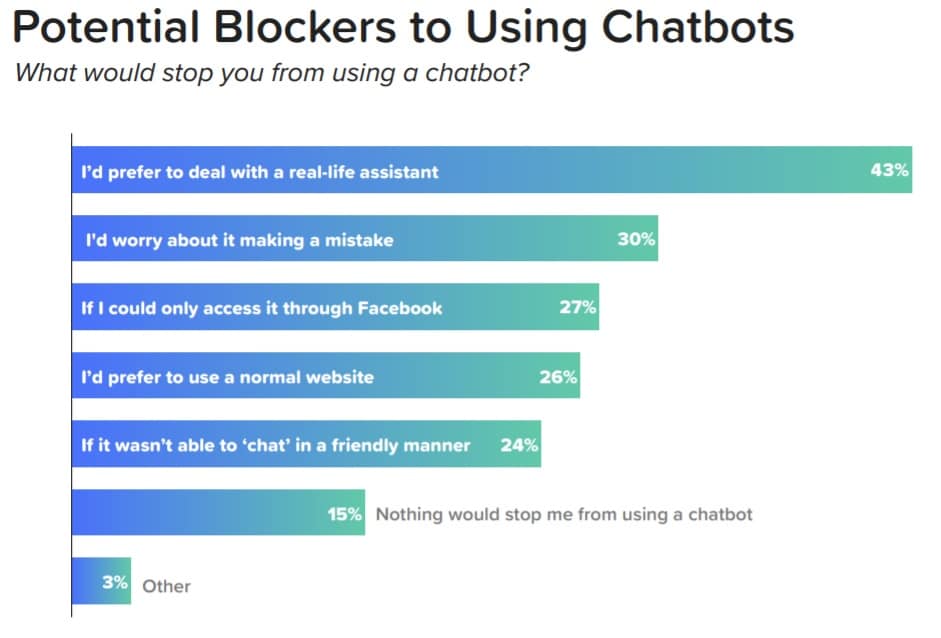 Mitigate your chatbot's risks in 3 simple steps
For most large businesses benefits of launching your bot outweighs risks, especially if best practices regarding chatbot development and testing are followed.
For example, embarrassing screenshots are easy to avoid by following these 3 steps:
Extensive testing: There are so many bot testing tools that we have a dedicated article on chatbot testing frameworks and another on chatbot A/B testing.
A private beta release: Your team needs to eat its own dog food before the public has access to it.
Using a custom language matrix: Chatbot developers build a language corpus along with PR and marketing to ensure that bot's messages are consistent with company's messages. This ensures that the bot has a consistent personality and shares consistent messages. While restricting bots' conversational capabilities, this limitation provides peace of mind to executives in major corporations that are releasing their bots into the wild.
Turn your chatbot into a success with 3 tips
Make your chatbot easy to discover. You know the channels where your customers are reaching out to you. Your bot needs to be on the most popular channels: your website, Facebook page and so on.
Lower your customer's expectations as much as possible. Your chatbot won't be flawless from day one and happiness equals expectations minus reality.
If your chatbot is designed to function like a menu, don't shy from adding buttons. No one likes to write 10 lines to trigger a simple transactions.
For more, discover how to build great chatbots in our detailed blog post.
Should you implement a chatbot?
After analyzing the enhancements and advantages of Chatbots, it comes to decide on whether you really need to implement a chatbot or not. There are three major components when it comes to making that decision
Decide on the value you are expected to gain by implementing a chatbot. The value proposition is a major factor in deciding on any project. So before this decision, performance metrics need to be defined and the cost of implementing the project and the benefit expected from the project should be included also.
The medium the chatbot implemented is another factor. Will it be voice-based or text-based? What would be the connection between the consumer and the bot? Those are some of the basic questions. Chatbot is expected to reflect the brand's personality, but will it be possible to construct that so as to continue seamless brand experience
What are the available data? The decision will ultimately come down to deciding which resources to use and once the decision is made, it takes some time to train the chatbot. If there exist some data of the desired characteristics, initial stages may be completed more easily otherwise the process requires a brand new collection method, making the initial steps to last longer
What does the future hold?
Forrester research provides us a timeline of Chatbot technology. Currently, we are still experiencing the initial stages. Therefore, any investment in chatbot will likely to generate a greater return and greater technological advantage. Compounding is still the keyword for early adaptation.  The potential to fully personalize the experience still requires some time, but we are likely to reach that point in 5 years.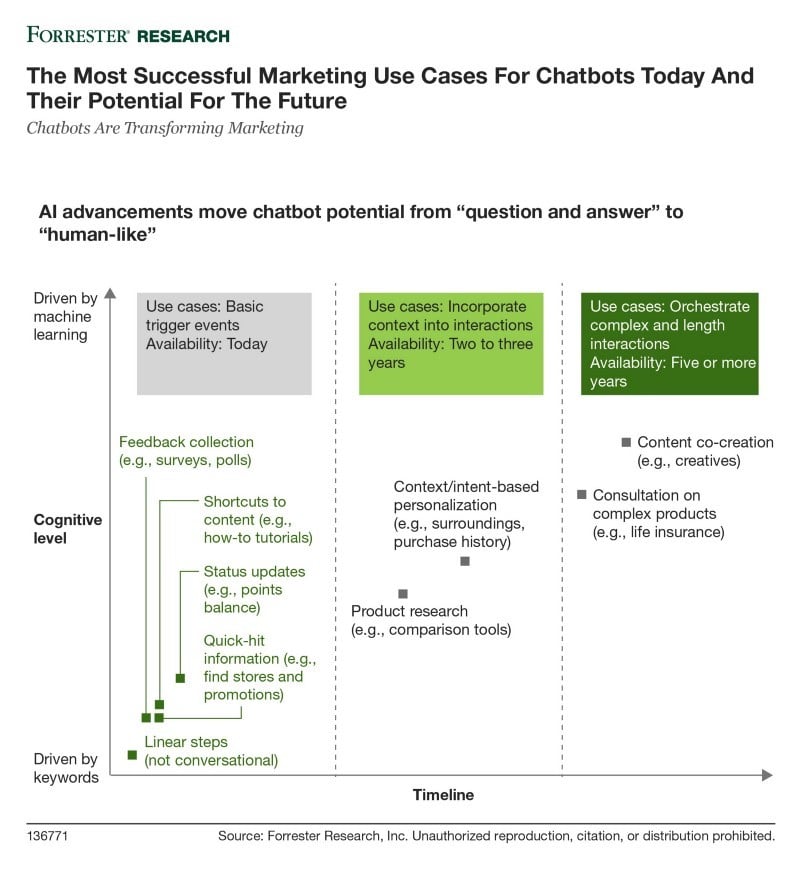 Another future development that holds promise is chatbots interacting with one another. Like APIs, chatbots can request services from one another and communicate seamlessly, without even needing to expose formal APIs. Such fluid exchange between bots can enable a wide range of services.
For example a Google for chatbots with advanced natural language understanding skills can not only answer any question, it can also complete any transaction given that you have the means to complete it. While a pure web based meta service like Google can return information, it can not do anything on your behalf on other websites unless they have an API integration. However, a chatbot programmer only needs to make his bot better understand natural language and that bot will be able to serve both humans and bots effectively.
How to learn more?
Hope you are more clear about what chatbots are and their promise. You can choose your area of interest to learn more:
Conferences are another means to learn about the latest developments in conversational AI. Feel free to check out our prioritized, sortable, filterable list of conversational AI events for business users.
Are you looking for a conversational AI vendor? Let us know:
How can we do better?
Your feedback is valuable. We will do our best to improve our work based on it.