If you want to do some prereading you can follow our blog posts. Benefits of chatbots and top 20 use cases will show you have to turn this technology into meaningful solutions. Conversational Interfaces and Chatbot posts will be your guide for understanding the concepts. For a detailed list of chatbot companies please see our guide.
There are numerous API providers in the chatbot landscape, the majority of them are focusing on Natural Language Programming (NLP) and Natural Language Understanding (NLU). It is the crucial step to decide since it will be handling the most important step in a conversational interface. But let's start with definitions;
Natural Language Processing (NLP): In the artificial intelligence(AI) context, NLP is the overarching umbrella that encompasses several disciplines that tackle the interaction between computer systems and human natural languages. From that perspective, NLP includes several sub-disciplines such as discourse analysis, relationship extraction, natural language understanding and a few others language analysis areas.
Natural Language Understanding (NLU): NLU is a subset of NLP that focuses on reading comprehension and semantic analysis. The combination of NLP and NLU technologies is becoming increasingly relevant on different software areas today including bot technologies. While there are many vendors and platforms focused on NLP-NLU technologies, the following technologies are becoming extremely popular within the bot developer community.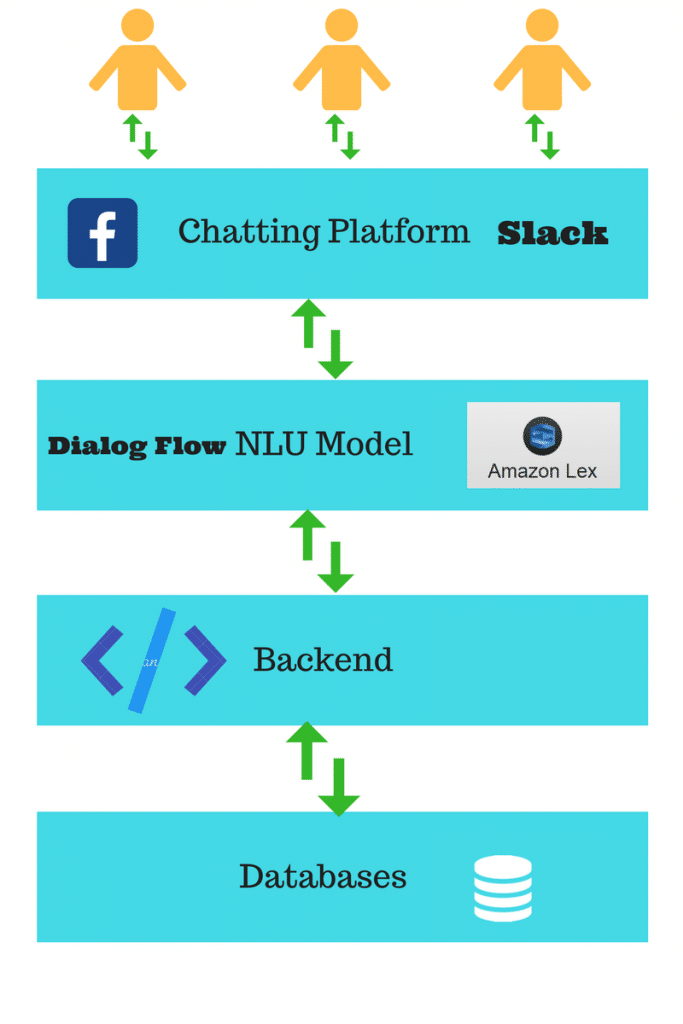 Wit.ai
DialogFlow
Lex
LUIS
Watson Assistant
Provider
Facebook
Google
Amazon
Microsoft
IBM
Training Module
Yes
Yes
Yes
Yes
Yes
Allow Import/Export Model
Yes
Yes
No
Yes
Yes
Recognize User Intent
Yes
Yes
Yes
Yes
Yes
Pre-built Entries
Basic parameters
More than Basic Parameters
Huge List
Basic Parameters
Basic Parameters
Pre-built Intents (Domain of Knowledge)
No
Around 35 Domains
No
Around 170 intents
No
Save Progress through Session
Yes
Yes
Yes
Yes
Yes
Speech Recognition
Yes
Yes, through Google Speech
Yes
Yes, through Bing Speech
Yes, through IBM Speech to Text
Third-party Integration
No
Yes
Yes
Yes
No
Supported Languages
50
15
1
10
1
Limits for API calls
Unlimited
Unlimited
TRIAL:
10k text queries
5k speech queries

PAID:
Unlimited
FREE:
10k queries/month
5 queries/second

PAID:
10 queries/second
$0.75 per 1k queries
Free:
1k API queries/month

PAID:
Unlimited API queries/month
Up to 20 work spaces
Up to 2k intents

Premium:
Unlimited

Pricing
Free
Free
TRIAL:
1 year

PAID:
$0.004 per speech query
$0.00075 per text query
FREE:
10k API queries/month

PAID:
$0.75 per 1k querries
FREE:
1k API queries/month

STANDARD:
$0.0025 per API call

PREMIUM:
Available Upon Request
Good For
Simple B2C chatbots, MVPs
Middle Level B2C chatbots, virtual assistants, MVPs
Preview Mode, too early to judge
Cortana functionality, IoT applications, Virtual Assistants, and Chatbots
Virtual Assistants and chatbots that require IBM integration
Courtesy of (Digiteum)
If you want to understand how to measure and test your chatbot and some of the metrics see our blog. Although, with these tools it can be quite easy to build a chatbot, but it it really hard to process natural languages and public data sometimes provide suboptimal results.
We have only scratched the surface here. To see all use cases, feel free to:
And if you have a specific business challenge,