Here comes the confessions of an industry analyst. Industry analysts make billions per year mostly providing opinion on B2B software tools that they never use. They get paid by both the vendors that they rate and the enterprises that read their research and ask them questions. They do not use the solutions they provide advice about, do not do benchmark them except in rare cases. They rely on vendor speak and what other companies are buying to provide advice. This added value in 1970s when B2B tech was becoming complicated and data was scarce. It is an expensive service with limited value today when there is a wealth of data on every tech solution.
We are the data-driven industry analyst. We rely on data to rate tech solutions. We share where the data is coming from and how we weight it. And we provide our research freely. Like the industry analysts of the old, we get paid by vendors and by the corporates that are looking for custom/specific solutions. So you can scrap that expensive industry analyst subscription and rely on free information and make better B2B procurement decisions. In critical areas where you need expertise, you can rely on us to research the solution area and provide data driven insights to help your decision making.
Who am I to talk about industry analysts?
I used industry analysis to advise companies and to make B2B procurement choices for about a decade. Since 2017, I have been working with AI companies that work with industry analysts and also building AIMultiple, a new take on the industry analyst with focus on data.
I learnt about industry analysts when someone told me about a magic quadrant when I was a McKinsey analyst. Like all things called magic, it failed to impress me. As I advised enterprises on technology, I saw quite a few of those quadrants for a decade.
Then, I led the tech integration of 3 separate companies forming a multi-billion telecom company, designing the target technology and process architecture. I was working with an ex investment banker CEO who wouldn't be impressed by hearing that some tech is a leader according to somebody's opinion. We relied on public data, insights shared by vendors and PoCs to drive fast, data driven tech decision making.
Finally, I have spent the past 3 years helping AI startups and corporates looking into AI solutions. I talked to quite a few industry analysts, some of our customers got to be cool vendors.
What is an industry analyst company?
An industry analyst publishes research about an industry helping end users of technology make decisions regarding their tech procurement. The most popular research of industry analysts is their vendor list visualizations. The most popular one is Gartner's Magic Quadrant.
Who is an industry analyst?
Industry analyst companies rely on industry analysts. An industry analyst relies on vendor briefings, discussions with corporates, surveys and online reviews to understand solution categories. They help tech buyers make procurement decisions.
Most industry analysts tend to spend 5-10 years in a corporate, reaching mid management levels. It can be particularly attractive for those who have exhausted all chances of progress to upper management. Industry analysts work from home with a relatively relaxed schedule.
What is a Magic Quadrant?
It is arguably the most discussed product of industry analysts. It is an X-Y scatter graph that ranks different vendors in an industry. It was first started by Gartner which is still the largest industry analyst by revenue. Others followed suit. Everest has an image that vaguely resembles a mountain and calls its magic quandrant as Peak Matrix. So different analysts differentiate their MQ mostly by naming them differently and adding pretty images in the background.
How can the most popular product of a multi billion industry be a two dimensional X-Y scatter with dimensions (e.g. ability to execute) that are neither based on anything transparent nor are possible to measure in any objective or accurate way? Supposedly, there are spreadsheets behind these graphs but no one outside the company sees them so they must be embarrassingly simple or wrong. And when sued about why certain vendors are not included in Magic Quadrants Gartner publicly asserted that they are pure opinion.
How did industry analyst gain so much influence?
No procurement professional likes to talk to sales people. They are as biased as it gets and are purely focused on getting the deal signed.
Growing complexity of enterprise software and lack of objectivity from sales professionals led tech procurement professionals to seek more objective sources of information about vendors. The global revenue leader of this industry, Gartner, was founded in 1979. Its founder, Gideon Gartner, was a well known equity analyst focusing on the tech industry. He brought two especially important new approaches to the industry allowing Gartner to gain leadership:
Selling to all stakeholders including vendors, end users, investors and consultants
Raising funding from top tier VCs including Bessemer and Warburg Pincus
VC funding and broad appeal turned Gartner into a multi billion enterprise with considerable influence. Gartner's success attracted other industry analysts to be launched and contributed to the growth of the overall industry.
How is the industry analyst market structured now?
Gartner and Forrester are the established players in the space but it is a concentrated market with Gartner as the revenue leader. Forrester's revenues in 2019 were $0.4 billion vs Gartner's $4.2 billion.
Gartner's revenue grew with 14% Compounded Annual Growth Rate (CAGR) since 2010 indicating that it continues to grow strongly while holding the leadership position: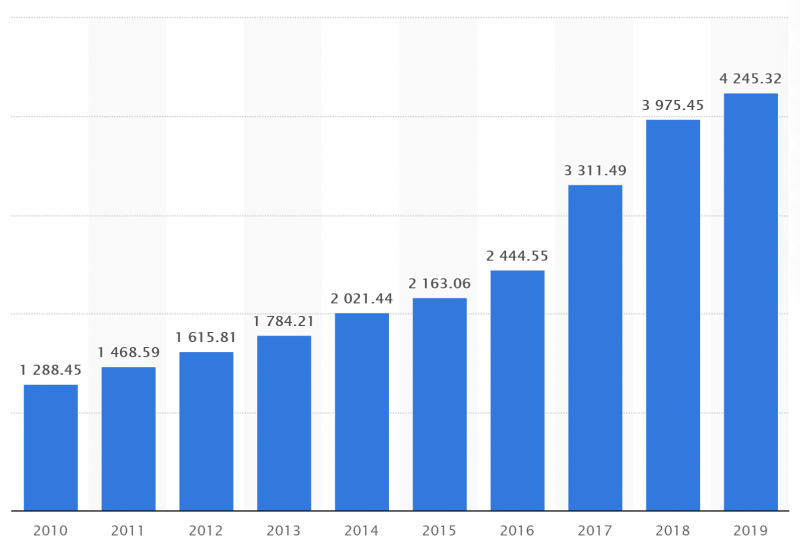 Though industry analysts, at least Gartner, is becoming better at monetizing, industry analysts' overall influence in the market is falling: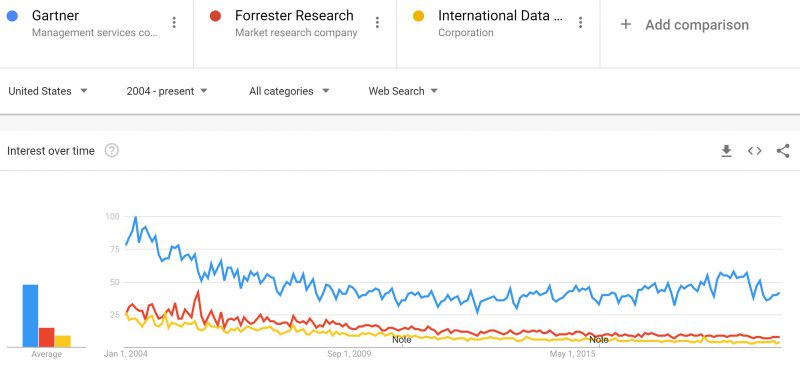 How do review aggregators impact industry analysts?
Review aggregators are websites like G2, Capterra, Trustradius that collect reviews about B2B or B2C software products. Their review collection of B2B products is in a way a competing service to Gartner's and other traditional industry analysts' product since it also informs B2B buyers about software products.
Lists of vendors ranked by how well they are reviewed may seem innovative as these review lists are free and customizable. However, this is not so novel. Gartner's magic quadrants are also available freely when you google a solution area. Vendors pay to offer downloads of Gartner reports if they are ranked as a leader. So this is a service already offered by Gartner. However, review aggregators gained significant attention which is attention away from industry analysts' services.
Review aggregators taught Gartner that reviews are important and that they drive organic traffic to review aggregators. To fight back, Gartner acquired Software Advice in 2014 and in 2015 it acquired Capterra and Getapp and launched Gartner Peer Insights to get most top results on search engines. However, search engines are not so dumb and Gartner putting pretty much the same set of reviews under 3 brands (Gartner Peer Insights is another set of reviews, more targeted at software targeting enterprises) does not fool them. G2 which was launched in 2012, took advantage of this starting and has reached more traffic than any of Gartner's brands. We don't have separate traffic data on Peer Insights which is on Gartner domain so its traffic is not possible to observe separately using public sources.
Online monthly traffic by website as of 08/2020 according to SimilarWeb:
G2.com: 3.8m
Trustradius.com: 1.0m
Gartner sites in total: 7.2m

Gartner.com: 2.2m
Capterra.com: 4.3m
Getapp.com: 1.6m
SoftwareAdvice.com: 1.3m
As with any innovation, business model disruption is a big part of G2's value proposition. Instead of selling subscriptions to tech users and vendors like traditional industry analysts, they sell the data of their visitors' companies to solution providers. This enables solution providers to send targeted unsolicited emails to them. As we mention in our B2B marketing article, sadly*, unsolicited emails work.
So what happens next? Will G2 completely change how companies buy tech solutions? We look into the impact of review aggregators and other factors below.
What is the future of industry analysts?
Below you can see the major business units of Gartner and companies with innovative business models aiming to disrupt them: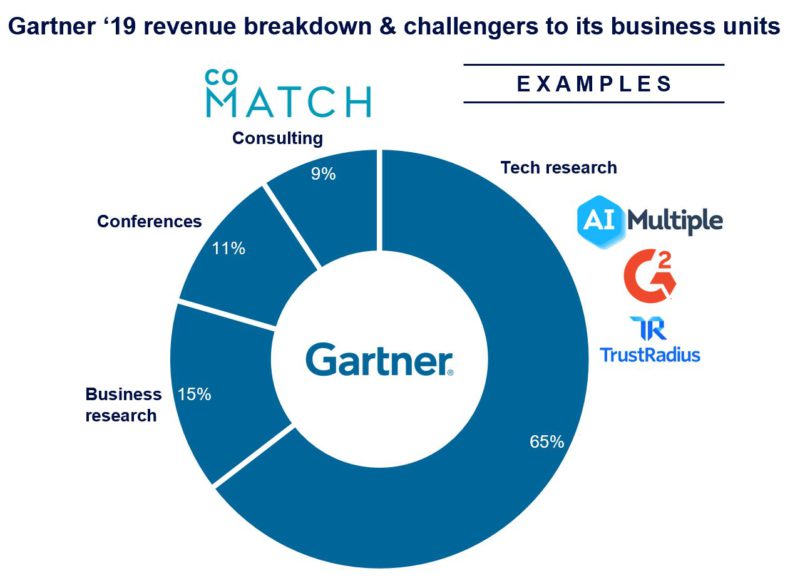 There are various forces disrupting industry analysts. Established players are responding successfully to some while not so well to others:
Challenges to research business
Rise of B2B reviews
Companies like Capterra, and G2 used reviews instead of analyst opinions to rank vendors. However, they cheap to buy for Gartner. Gartner made $355m in profit in 2019 while G2's latest valuation was $450m. Spending about a year's profit on an acquisition is not a hard decision. Gartner already bought 3 B2B review aggregators, there is no reason why it won't buy 2 more if they cause enough damage.
Rise of data-driven decision making
Both individuals and corporations are embracing data driven decision making. They have less patience for lack of transparency and unsubstantiated opinion and both are weak points of industry analysts. This could result in less interest from corporates leading to less interest from vendors and creating a downward spiral in demand for their services. And this is a fundamental change to how they do business. They would need to switch half of their industry analysts with data scientists and build the infrastructure to support their clients' data driven decision making.
Since we are building a data driven analyst from the ground up, we do not need to deal with internal inertia which is a big advantage. However, Gartner could still buy its way out of this problem as well by buying a data-driven industry analyst and growing this business as a challenger to their original business as they have done with review aggregators.
Another advantage that industry analysts is that one of their important value propositions is answering custom questions from corporates about their tech procurement. Vendors are willing to pay to influence those answers. Answering individual customers is a service business which is slow to scale for new entrants unless they find more innovative ways of delivering customized insights.
Challenges to consulting
Companies like CoMatch allow enterprises to hire ex-consultants rather than rely on expensive consulting services. However, I expect their reach in such tech/digital transformation projects to be limited given that CoMatch founders are from McKinsey. I would expect them to first focus on disrupting McKinsey.
What are the alternatives to working with an industry analyst?
We are. So is Google. Given the volume of available data on vendors, we find it a waste to pay analysts who never even use the solutions they talk about. Analysts may have used it in their pre-industry-analyst job but once they became an industry analyst, they stop being users. They spend their time talking to vendors and users without actually using the software themselves.
How can you identify the right vendors without industry analysts?
In short, rely on free resources to research a solution area and identify relevant vendors for your business. Then, evaluate the vendors in your short list using clear, measurable criteria. You will have a faster and leaner process and you will save tens of thousands paid to industry analysts.
In the past, data on vendor performance, market shares and customer satisfaction was scarce. This is no longer the case. We combine all relevant information on vendors to help enterprises easily create a shortlist of vendors. And we are just scratching the service now. We are primarily using data from search engines, social media, company's number of employees. There are many more data points that we will be covering to create a more complete profile on vendors. You can go to any of our vendor lists on aimultiple.com like our list of RPA vendors to identify the top vendors at a glance relying on transparent data.
What if you have specific questions to ask about vendors?
You can reach out to us or work with the industry analysts as you do right now. However, your specific questions may be at a much lower volume than you expect meaning you can save a lot on that industry analyst subscription.
And if you have strong reasons for relying on industry analysts, let us know in the comments. I believe that inertia is the primary reason that these companies are still able to sell such expensive subscriptions to end users. It is hard to cancel a contract once it is in place. But I would love to be proven wrong, let us know what you think.
* If you are a B2B marketer you may see no reason to be sad but unsolicited emails have a massive cost borne by all recipients that is not covered by the B2B marketers. It costs them almost nothing to send one more email but that is lost time for 99% of recipients who do not respond to unsolicited emails. Only if we could have a pledge to not respond to unsolicited email senders, the practice would end but it is hard to coordinate the actions of all of us unfortunately.
How can we do better?
Your feedback is valuable. We will do our best to improve our work based on it.