Almost every business has manual processes. They are inefficient, prone to errors and lead to employee satisfactions. RPA is one of the leading automation solutions of today.
Depending on your experience with RPA vendors, you may have different questions about choosing RPA vendors, we have all the answers. The most common request we get is the list of all RPA tools & vendors.
Other common questions are about:
Understanding RPA:
Preparing an RPA vendor shortlist:
Implementing RPA:
Learning more about RPA:
Understand and compare RPA tools to identify the tool you need
Essentially RPA bots are software robots that complete specific automatable activities. There are 4 types of robotic process automation tools on the market.
Even before RPA software, enterprises were using automation tools. Employees were automating simple processes with excel automation, macros and simple hacks. These solutions were not scalable or sustainable but they increased productivity of individual employees.
First generation RPA tools were programmable bots that required specific inputs.
Cognitive or intelligent automation bots augment programmable bots with advanced functionality like Natural Language Processing, image recognition or machine learning. These bots have augmented capabilities in interacting with unstructured data and can be effective in decision making. To achieve this functionality, solution providers generally bring together services from several companies such as NLP API providers and RPA providers. Read our article on cognitive RPA for more info.
Self-learning tools are being developed. These tools watch employees in action, understand processes, take over processes when they reach confidence and ask for human input if they get completely new input. However, they are mostly confined to PoCs and are not commonplace yet.

Check out our article on RPA tools for more information on RPA tools.
Understand RPA vendor landscape in 2 minutes
RPA is an emerging technology and no RPA tool is the best one for every industry or process. This view is also shared by RPA consultants during our interviews.
Therefore, to choose an RPA software vendor, you need to understand  the RPA vendor landscape and compare vendors to choose the most suitable vendor for your business. Evaluating vendors and making the right vendor assessment can be a time-consuming effort but our content is here to help. Additionally, feel free to ask us for a shortlist based on your use case and geography:
These are the main types of RPA vendors:
Established technology providers
Companies like Pegasystems or Kofax were launched in 1980s and 1990s to provide solutions that support various digitization needs of companies.
For example, Kofax initially established itself as a  digital transformation vendor offering services like document digitization, e-signatures. Using their relationships with companies, process knowledge and understanding of change management in companies, they launched RPA products.
1st wave RPA focused vendors
Founded in 2000s, these vendors are focused on providing RPA solutions and already reached significant scale. Initially they provided and later perfected programmable bot solutions. Currently, they are focused on improving advanced capabilities of their bots, offering cognitive automation capabilities. Some examples in this group are:
Blue Prism already went public and works with numerous Fortune 500 customers
UiPath, founded in 2005, works for 6 of Fortune 10, 8 of world's top 20 financial services organizations
2nd wave RPA focused vendors
Founded in 2010s, these vendors are focused on providing latest generation RPA solutions like cognitive or intelligent automation. They are scaling up as enterprises realize the value of cognitive automation.
They were founded at a time when rule based, programmable RPA solutions were gaining popularity. Their focus has been on solving more complex problems. Such problems would require an immense programming effort for rule-based bots to solve. So their solutions incorporate cognitive or learning bots that learn from employees' actions. As an example, Hypatos, a deep learning company, provides cognitive automation for document processing, as it is one of the most tiring and repetitive tasks in businesses.
Some vendors are adding new capabilities to their offering beyond RPA. For example WorkFusion is offering chatbots integrated to its RPA bots. These companies are willing to take risks for market disruption. For example, WorkFusion's offering of free-as-in-beer RPA solution was one of the free first free offers on markets and will definitely attract attention.
These companies also tend to have a strong background in science: For example, Max Yankelevich, CEO of WorkFusion, worked as a researcher in MIT and used some his research in building cognitive bots that learn by watching employees.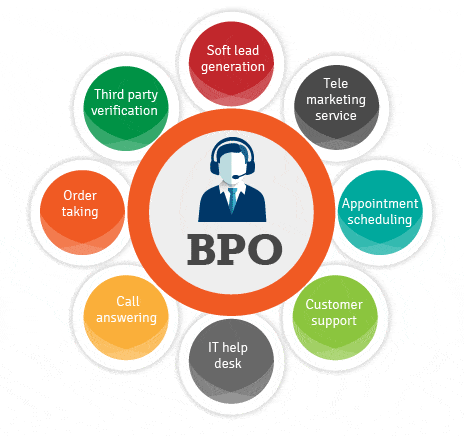 Upcoming RPA vendors specialized in innovative RPA solutions
Recently, scope of RPA has grown significantly as we covered in our section on different types of RPA. As a result, specialized RPA companies are on the rise. As we covered in our future of RPA article, we see these as the areas of focus for new RPA companies:
No code RPA: Companies develop RPA solutions that do not require coding. This facilitates and speeds up RPA development. An example is Argos Labs. For more, you can read our article on no code RPA.
Self-learning RPA: Companies work to develop RPA solutions that learn processes based on screen capture videos and other system log data. An example is FortressIQ
Cognitive RPA: Though this is an exciting area of development for RPA solutions, RPA vendors tend to outsource this to the developers in their marketplaces, rather than tackle it on their own.
Business Process Outsourcing (BPO) providers
Companies like Infosys from India already run numerous processes for large companies. It is only logical that these companies are striving to automate the processes they took over from other companies. As a result, they have accumulated significant expertise in RPA.
Most of these companies do not have their own RPA solutions however, they formed partnerships with RPA solution providers and offer turn-key solutions to companies. This model allows companies to focus on business while BPO provider automates the process so it is an interesting alternative for companies that have issues managing day-to-day business with their current headcount.
BPOs can also use RPA solutions in-house to offer cheap process outsourcing solutions for automatable processes. They understand the process and automate it while outsourcing it. In this model, their personnel also handles edge cases that can interrupt bot operations. This is a rather hassle-free and effective model for business process outsourcing for companies that don't want to deal with the complexities of automation.
Now that you know the industry landscape, it is time to prepare your short list of vendors.
Choose the process to be automated so you can be specific in your requirements
To identify the important RPA selection criteria for your business, it would be good to understand what are good candidate processes for RPA automation at your company. We have a comprehensive guide on popular processes for RPA automation and an RPA guide that includes steps to determine which processes in your company are good candidates for RPA automation.
Process mining is an emerging technology that can help businesses identify the best processes to automate. By using real-time data like event logs, process mining reflects the business processes' actual performance and detects bottlenecks. For example, in a process mining case study, Caverion, a building and industrial systems company, leveraged process mining to enhance their processes and accelerated their invoicing processes by 50%.
If you do not have the bandwith to pick the right processes, there are numerous companies including system integrators and Big 4 offering RPA consulting services. You can read more about this in our RPA consulting guide.
Now that you know the processes to be automated, you can understand which attributes of RPA vendors are more relevant for your business. For example, you should consider automating part of your candidate processes with RPA to see how easy-to-use the RPA tool is. 
Get the list of all RPA tools to prepare your short list within minutes
First, I would prioritize vendors that your company is buying from. If you are working for a Fortune 500, your company is probably already purchasing from established technology providers or BPO providers that provide RPA services. Established procurement relations can help you quickly make purchases. Additionally, by buying multiple services from a vendor, you provide more leverage to the procurement team which can help them negotiate good prices.
If you are feeling lazy, just query the the list below against your procurement database. You could also use the list of vendors below but that list is not may not be as up-to-date as the one on our platform. Now you have the beginning of a short list of vendors.
You can finalize your shortlist after adding leading vendors with whom your company has no relationship yet. Our list above and database allows you to make those additions. Instead of trying to compare vendors by looking at a marketing employee's fancy adjectives, we offer you the real and up-to-date data.
You can compare established companies and startups on objective metrics using this list. By ranking the most suitable vendors based on your own insights, you will never be fooled with subjective rankings and choose what is best for your company. Below, you can find a slightly outdated list. We have the latest and greatest version of this list with a much better interface under aimultiple.com. The updated list allows you to sort/filter the results and learn more about the products, hope you enjoy it.
The most comprehensive, objective and transparent comparison of RPA vendors. We could not provide detailed data on especially new companies, feel free to comment here so we can enrich the list.
Vendor
Free version?
Pricing
Selected partners
Geo coverage
Minimum system requirements
Support for OS beyond Windows
Marketplace
Another Monday
KPMG
PwC
Europe
AntWorks ANTstein
Arago's Hiro
Argos Labs
14 day free trial
per bot
Global
Low
Supported
Python integration
Atos Syntel SyntBots
Automai RPA
Automation Anywhere
per process
Accenture
Capgemini
Cognizant
Deloitte
EY
IBM
KPMG
PwC
Global
High
No support
Automation Anywhere
AutomationEdge
be informed
Global
Blueprism
per bot
Accenture
Capgemini
Cognizant
Deloitte
EY
IBM
KPMG
PwC
Global
High
No support
BluePrism
Celaton inSTREAM
Cicero Automation
ClearSoftware ClearProcess
CloudStorm
Deloitte
Global
Contextor
Accenture
Capgemini
EY
IBM
EMEA & North America
Cortex Intelligent Automation
Datamatics RPA
Global
EnableSoft Foxtrot
Global
No Support
N/A
Epiance Epigenie RPA
Exilant Fusion
G1ant
G1ant Developer license
GIBots
GridOne AutomateOne
South Korea
Help Systems Automate
30 day free trial
Global
TBD - not tested yet
Ikarus
Infosys EdgeVerve Systems Assistedge
Assistedge Community Edition
IntelliBot
Jacada
Accenture
Cognizant
Jidoka
Based in Spain & Colombia
Kofax Kapow
Accenture
IBM
Global
Kryon Systems Leo
Microsoft Power Automate
Free trial
per user
All major system integrators and consultants
Global
No support
NICE Systems RPA
Accenture
Cognizant
IBM
Global
Nissho Electronics Bizrobo! Basic
Japan
Medium
Supported
Nividous RPA
NTT-AT WinActor
NTT Data
Japan
Low
No support
Olive AI
OnviSource ia.Enterprise
OpenConnect AutoiQ
OpenRPA
Open Source
Free
Option3 JiffyRPA
Global
Pega Robotic Automation
Accenture
Capgemini
Cognizant
EY
Global
Perpetuuiti
Cognizant
IBM
Redwood Software
Accenture
Capgemini
Deloitte
IBM
KPMG
Global
Rimilia
Softomotive ProcessRobot
Softomotive WinAutomation
30 day free trial
lifetime license
Global
TBD - not tested yet
Symphony Ventures
TagUI - AI Singapore
Open Source
Free
N/A
Supported
Thoughtonomy
UiPath
UiPath Community Edition
per bot
Accenture
Capgemini
Cognizant
Deloitte
EY
IBM
PwC
Global
High
No support
UiPath
Verint
Accenture
Capgemini
IBM
VisualCron
45 day free trial
per server
WINWAI
WorkFusion
WorkFusion RPA Express
per process
Capgemini
Cognizant
Deloitte
PwC
Global
High
No support
We get the question "What's the best rpa software?" from companies after they go through the list. It is unfortunately impossible to say that without understanding your company's automation need in detail and this guide helps you do that. However, if you insist, you can check out our attempt to rank different RPA software with objective and transparent metrics.
Unlike other analysts' rankings using opaque methodologies, our ranking is quite straightforward.
Check if vendors in your shortlist are operating in your area
RPA vendors are expanding their geographic coverage rapidly. It's easy to find testimonials from Japan to Africa on leading vendors' websites. And even if they do not have an office in your country, they are probably serving it from a regional office or serving it via their partners like Big 4.
However, if you are considering a large RPA roll-out, it is still good to check if the vendors you selected are offering their services in your country. Having access to their experts can reduce implementation time and improve the success of your RPA project.
Reduce the number of vendors in your shortlist
Now that you have your short list of vendors and your partially filled list of criteria, it is time to start communicating with vendors. Before talking to vendors, we recommend going to their profile on our website to understand a bit more about who they work with and how they describe their services.
After meeting with vendors and evaluating them across these criteria, you will be ready to choose your vendor. After choosing your vendor, you can use our guide on RPA application areas to explore processes ripe for automation.
To begin the process of selecting an RPA vendor, you can use our free service and get a shortlist quickly:
Use this checklist to prepare your criteria for objective RPA vendor assessment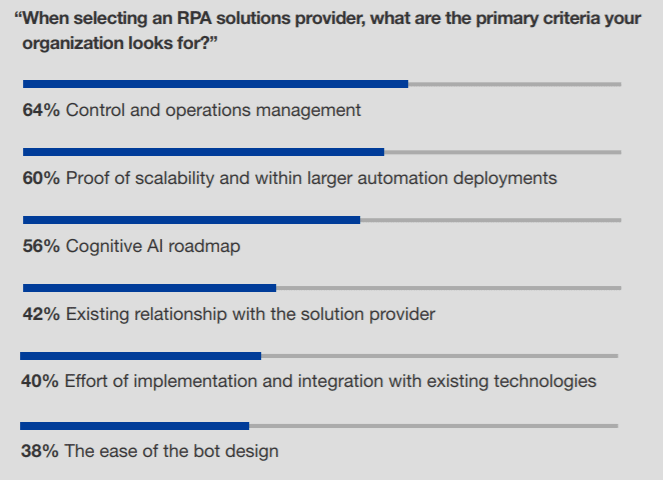 There are plenty of sources on criteria for choosing RPA providers. For example, the list above from Forrester which is based on 105 answers by managers listing their primary criteria for selecting an RPA solutions provider. We created the full list of criteria and categorized them to make the list more manageable.
Total cost of ownership which includes initial setup cost of RPA system, ongoing vendor license fees and maintenance cost.

Initial setup cost: Initial setup costs can also be negligible if in-house process experts can train bots. However, if in-house resources are better utilized elsewhere, business consulting companies like Accenture and Infosys can augment your workforce and speed up implementation.
Ongoing vendor license fees: Workfusion recently rolled out a limited selection of free-to-use bots to disrupt the market. UiPath also offers a free community edition. However, these vendors only offer their rule-based bots for free. Cognitive bots that learn by watching employees are a premium product and can be priced per bot or per process. Since different vendors use different pricing models, you need to estimate the total vendor license fee you will pay.
Maintenance cost: As inputs and systems change, your bots will require maintenance. When you roll-out bots, your teams will need to set up the alerts needed to identify bot issues. As those alerts arise, your teams will be fixing bot configurations to maintain bots. This is not a directly measurable financial cost however it will distract your employees. An easy-to-maintain solution will make your employees happier and more productive.

Ease of programming and control:

Ease of automation: A user friendly solution easy enough to be used by your team can help them implement RPA in new areas and increase both efficiency and employee satisfaction. Easier to use solutions will also require less training and allow your new hires get up to speed faster. Ease of use depends on bot development options, such as availability of Graphical User Interface (GUI) for drag&drop bot building and macro recording. Additionally, new vendors are pushing for completely code free RPA solutions that are simpler/easier to implement. Finally, you can't know ease of use without using the product. Once you reduce your shortlist to 2 or 3 vendors, pick the simplest use case that you really need to automate, sit down with vendor personnel for an hour and automate that process on a demo environment. Automating a process will help you understand how easy to use each RPA solution is.
In-person or virtual training options: Quality of available training is also an important factor here. Great text or video tutorials and availability of hands-on training can help employees become quickly proficient in RPA solutions. Some leading RPA solutions providers offer community versions of their products. To support RPA development by their community, they offer free courses, training material and community forums helps users support one another.
Ease of control: Once your process is automated, you will need to make adjustments to how it is running. For example, you may need to stop bots during systems maintenance and add bots when process volume increases. Different providers offer different levels of automation and granularity of control. That's why it is good to use the bot orchestrator before the purchase.

Ease of use (from an end-user perspective):  Attended RPA or RDA (Robotic Desktop Automation) bots are triggered by end-users such as call center agents. Therefore, ease of use of bots from an end user perspective is important for these bots. The most important feature we noticed in this case is concurrency which enables an end-user to work at the same time as a bot. Without this feature, bots that need to take long periods of processing time do not become feasible to use in attended RPA.
Technical criteria needs to be evaluated by the company's technology team. RPA software needs to comply with the technology guidelines of the company in terms of:

Minimum system requirements in terms of software and hardware
Security

Integrations

Screen scraping capabilities
Cognitive or intelligent automation capabilities
Compliance to company's product roadmap

Vendor experience: Ideally, it is best to work with a vendor that served a company similar to yours both in terms of size and industry. This may not be easy to find but it would be easier to work with a vendor that understands the needs and processes of your business. Such experience can drastically improve speed of implementation by reducing the work required to implement RPA software. For example, Redwood Software highlights how their pre-built plug&play robots can deployed quickly with little or no customization.
Vendor support: While some companies will require quite some hand-holding, others have technically competent, eager-to-learn staff who can program RPA bots themselves. Based on the needs of your company you need to consider the level of support you will require from your RPA vendor. For a company that requires a lot of support, working with a BPO provider may be a good solution.
Existing vendor relationship: It is faster to get started with a provider that is already familiar with your company
We have prepared this procurement checklist in Google sheets with recommended weights per criteria so your can have a transparent methodology to assess different vendors. Feel free to get it on your business email:
Deciding whether to turn to RPA consultants
RPA consultants or RPA implementation partners help companies implement RPA solutions. If you believe that your company personnel does not have the expertise or time to deploy RPA automation, you can consider working with RPA consultants. My discussions with RPA vendors indicate that experience in rolling out RPA projects can significantly reduce deployment time so even if your team is suited for the job, it may make sense to work with RPA consultants if you are in a hurry.
Read our RPA consulting article to learn more and to compare 150+ RPA consultants.
Tips to turn your next automation project into a success story
Always bear in mind that there are alternatives to RPA such as system upgrades. If RPA costs are approaching system upgrade costs, you could upgrade your underlying systems and automate the tasks rather than using RPA bots. With either an upgrade of your legacy systems or a flexible RPA solution you will end up with an optimized, automatized operation that can carry your business forward.
If you embark on an automation project, focus on the end-to-end process. Automation provides a change to rethink the whole process from the customer to the service delivery. Unnecessary steps can be eliminated, non-compliant or legacy activities can be improved. For example, removing fields from forms filled out by customers can improve the user experience and reduce the work to be automated. And definitely check out RPA implementation guide before starting any RPA program.
RPA is just one of the areas where AI can add value to your business. You can check out AI applications in marketing, sales, customer service, IT, data or analytics.
And we are aware that though we are constantly improving our content, you probably still have unanswered questions. Please take the time to ask those questions as comments. We regularly talk to leaders of RPA companies. If you can be specific, we can get even your hardest questions answered and email you the answers after adding them here.
How can we do better?
Your feedback is valuable. We will do our best to improve our work based on it.