Our users want to explore different topics about RPA tools, feel free to jump to the topic that interests you the most:
What are RPA tools?
Robotic Process Automation (RPA) tools help developers or non-technical personnel develop RPA bots. RPA bots can automate clerical tasks mainly via manipulation of user interfaces.
For more, feel free to read the definition of RPA.
Complete list of RPA tools by all RPA companies/vendors
Below, you can find a list of 55 RPA tools. We have the latest and greatest version of this list with a much better interface under aimultiple.com. The updated list allows you to sort/filter the results and learn more about the products, hope you enjoy it.
The most comprehensive, objective and transparent comparison of RPA vendors. We could not provide detailed data on especially new companies, feel free to comment here so we can enrich the list.
Vendor
Free version?
Pricing
Selected partners
Geo coverage
Minimum system requirements
Support for OS beyond Windows
Marketplace
Another Monday
KPMG
PwC
Europe
AntWorks ANTstein
Arago's Hiro
Argos Labs
14 day free trial
per bot
Global
Low
Supported
Python integration
Atos Syntel SyntBots
Automai RPA
Automation Anywhere
per process
Accenture
Capgemini
Cognizant
Deloitte
EY
IBM
KPMG
PwC
Global
High
No support
Automation Anywhere
AutomationEdge
be informed
Global
Blueprism
per bot
Accenture
Capgemini
Cognizant
Deloitte
EY
IBM
KPMG
PwC
Global
High
No support
BluePrism
Celaton inSTREAM
Cicero Automation
ClearSoftware ClearProcess
CloudStorm
Deloitte
Global
Contextor
Accenture
Capgemini
EY
IBM
EMEA & North America
Cortex Intelligent Automation
Datamatics RPA
Global
EnableSoft Foxtrot
Global
No Support
N/A
Epiance Epigenie RPA
Exilant Fusion
G1ant
G1ant Developer license
GIBots
GridOne AutomateOne
South Korea
Help Systems Automate
30 day free trial
Global
TBD - not tested yet
Ikarus
Infosys EdgeVerve Systems Assistedge
Assistedge Community Edition
IntelliBot
Jacada
Accenture
Cognizant
Jidoka
Based in Spain & Colombia
Kofax Kapow
Accenture
IBM
Global
Kryon Systems Leo
Microsoft Power Automate
Free trial
per user
All major system integrators and consultants
Global
No support
NICE Systems RPA
Accenture
Cognizant
IBM
Global
Nissho Electronics Bizrobo! Basic
Japan
Medium
Supported
Nividous RPA
NTT-AT WinActor
NTT Data
Japan
Low
No support
Olive AI
OnviSource ia.Enterprise
OpenConnect AutoiQ
OpenRPA
Open Source
Free
Option3 JiffyRPA
Global
Pega Robotic Automation
Accenture
Capgemini
Cognizant
EY
Global
Perpetuuiti
Cognizant
IBM
Redwood Software
Accenture
Capgemini
Deloitte
IBM
KPMG
Global
Rimilia
Softomotive ProcessRobot
Softomotive WinAutomation
30 day free trial
lifetime license
Global
TBD - not tested yet
Symphony Ventures
TagUI - AI Singapore
Open Source
Free
N/A
Supported
Thoughtonomy
UiPath
UiPath Community Edition
per bot
Accenture
Capgemini
Cognizant
Deloitte
EY
IBM
PwC
Global
High
No support
UiPath
Verint
Accenture
Capgemini
IBM
VisualCron
45 day free trial
per server
WINWAI
WorkFusion
WorkFusion RPA Express
per process
Capgemini
Cognizant
Deloitte
PwC
Global
High
No support
Key features of RPA tools
The right RPA tool for a specific process in a specific industry depends on the capabilities of the tool. RPA bots from all RPA companies can be categorized by the functionality they provide in these 3 dimensions:
Programming options: RPA bots need to be programmed and there are 5 ways to program bots: Coding, low code (UX supported), recording, no code tools, self-learning tools
Cognitive capabilities: Programmed bots need to have cognitive capabilities to determine their actions based on inputs they gather from other systems. RPA tools provide a range of cognitive capabilities: No capabilities, built-in cognitive capabilities, marketplace supported capabilities
Usage: Bots serve specific functions. Though most RPA tools can be used to build bots that serve all these functions, some tools are more optimized for attended or unattended automation: Attended, unattended or hybrid
Programming options
RPA programming is relatively simple compared to other types of programming and there are code-free ways to program RPA bots. There are 5 ways to program RPA bots:
1- Coding
As expected, the most powerful interfaces for programming bots is coding the program with a programming language. Need to explicitly code the tool to perform the necessary actions to replicate a process or functionality. However, coding requires training and patience so this method is relevant for technically inclined personnel. Programming instructions essentially tell the bot which programs to use and how to interact with those programs.
Limitations
Though these tools can be programmed in extremely flexible ways and can automate up to 40-50% of the activities in an enterprise, they have some limitations:
non-Windows environments: Most RPA vendors do not offer solutions for non-Windows operating systems such as Mac OS or Linux. This is not a major problem most of the time because a majority of human dependent company processes are conducted on Windows machines.
Reliance on programming effort: From a purely theoretical perspective, any process can be fully automated. However, as process complexity increases, programming time and cost make automation financially infeasible.
Reliance on programmers: While bots are relatively easy to program, they still need to be programmed by tech-savy personnel. Enterprises solve this problem with several measures:

Enterprises are founding centers of excellence (CoE) where they gather RPA talent who help departments with their automation efforts and guide them in their RPA journey
Enterprises outsource programming to RPA implementations specialists or other consultants

Edge cases: These are problematic for all automation solutions. When bots encounter cases that programmers had not anticipated, results can be unexpected. This requires auditing bots during first roll-out to ensure that such cases are encountered and fixed. However, not all edge cases can be identified during the first week of operations. For example changing market conditions can generate new cases months after bots are rolled out. This requires building a warning system and carrying out regular audits in light of changing market, regulatory or technology conditions.
2- Low code solutions: Graphical User Interfaces (GUI)
Most modern RPA vendors offer solutions to program simple RPA bots with drag&drop interfaces. Technically proficient personnel (those that can code excel macros) should be capable of setting up simple bots. For more technical users, these tools also offer code based bot programming interfaces.
Limitations
As these tools also rely on coding for more complex bots, they share most of the limitations of tools that require coding.
3- Recording
Just like macros in excel, bots can complete recorded actions. Recording a complex set actions and having them automatically translated into a bot program facilitates programming. Most vendors offer such macro recorders. Recorded actions can involve numerous enterprise software such as taking data from Salesforce, merging it with a report from mailchimp in excel to identify which customers to target during the company's routine customer activation SMS campaign.
Recorder function is an important advantage in an RPA tool because it enables rapid bot programming. However, recorders have some limitations as well:
Recording a complex set of functionality can be difficult and error prone
Maintaining recorded bots is difficult as their code is machine produced and may not be easy to read. Re-recording actions after each small change in the process can also be time consuming
4- No code solutions
Some vendors are also developing no code RPA solutions. These solutions provide a powerful GUI and recorder function to enable programming even relatively complex bots without coding.
5- Self-learning bots
These bots watch recorded employee activity to learn automatable tasks. They are the easiest to deploy bots but they are currently a relatively emerging field of RPA.
Programmable RPA solutions interact with other systems but programming them is a significant undertaking and is the primary job to be automated to enable faster RPA roll-out. Self-learning solutions program themselves.
There are various approaches to learning for RPA tools:
Using historical (when available) and current data, these tools can monitor hours of employee activity to understand the tasks completed and to start completing them after they have reached enough confidence to complete the process.
Employees can use the tool as they complete tasks in the manual manner as they used to. As tasks are completed, tools learn the necessary activities and start automating them. Employees provide feedback to the tool as it increases its automation levels. WorkFusion demonstrates this below: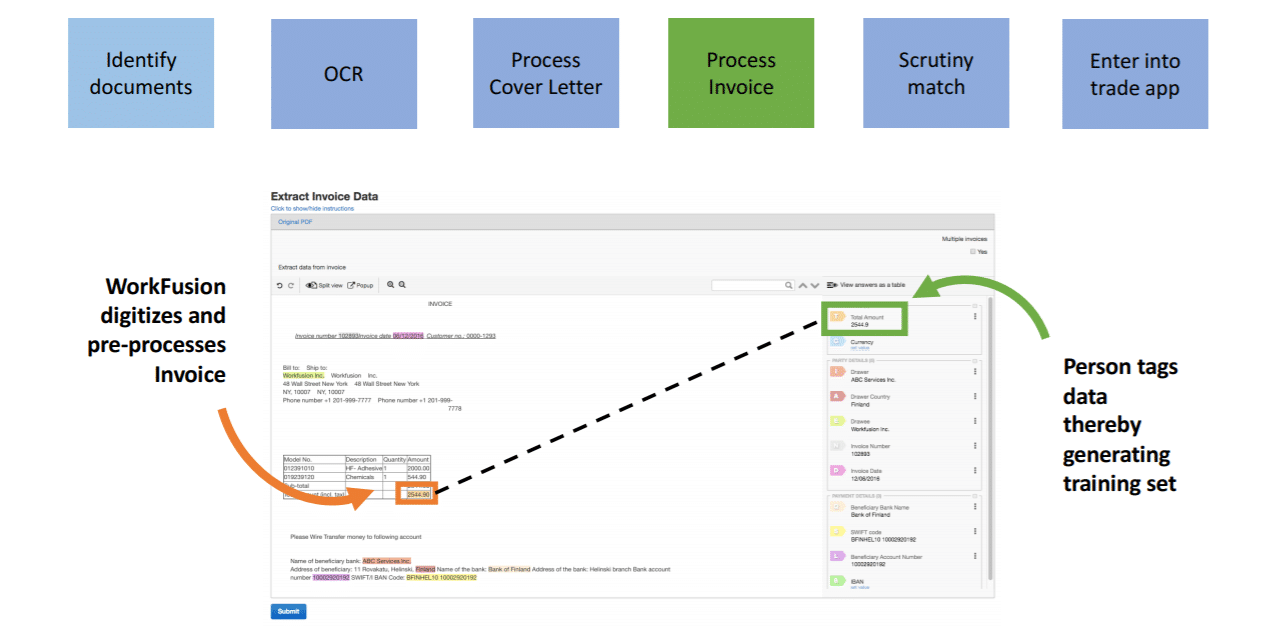 Over time, the level of automation provided by such tools improve as demonstrated by WorkFusion: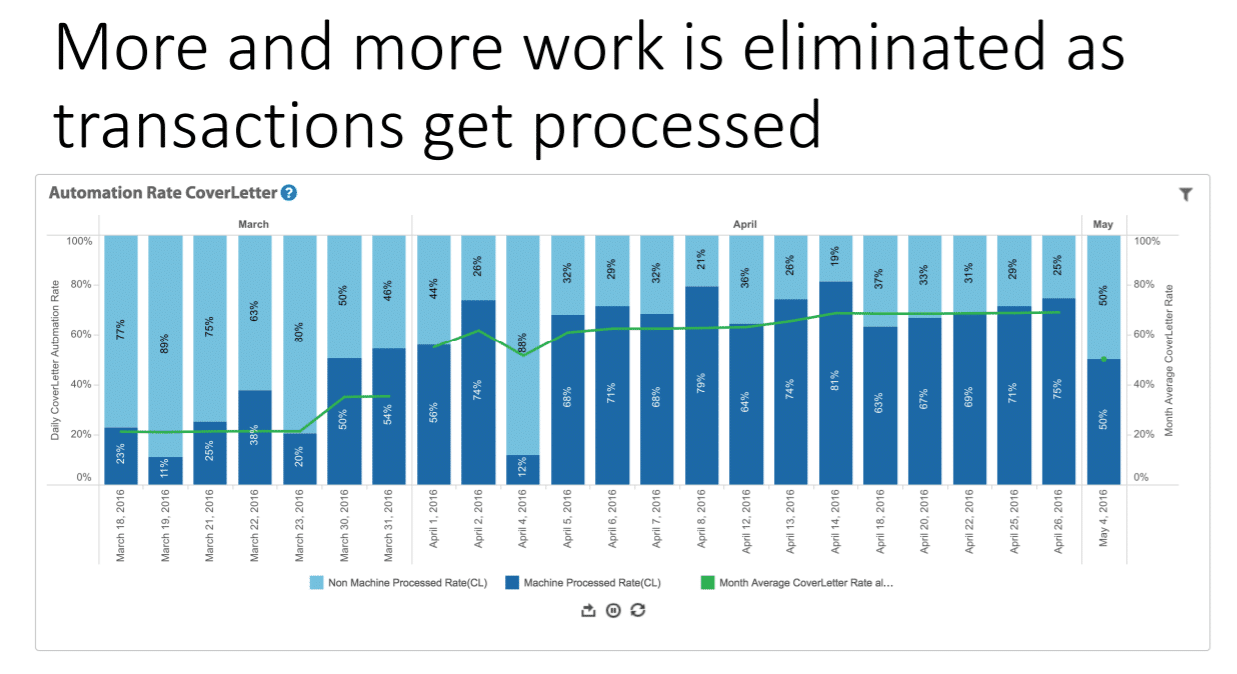 Most of these tools are in beta stage. During our podcast with WorkFusion leadership, they mentioned that they had been using such solutions for years but we have not yet spoken to one of their customers on the effectiveness of these solutions.
Limitations
There are 3 major limitations to self learning:
1- Time requirement: As we all know, learning takes time and machines are no different in this situation. You may have heard about how DeepMind's AlphaZero learnt chess in 4 hours and defeated the best chess playing computer program. So why does learning in RPA take longer?
Unfortunately, while you can play chess against yourself, you can't run a business process by yourself. There's just too many possible inputs in a process. The key ingredient in machine learning is data and you need to feed a bot months of data for it to be an effective learner. If such data is available, that's great. However, most of the time enterprises have access to the outcomes of a process, the structured data but the unstructured inputs are not stored for more than a month.  If that's the case, then data collection will need to start ASAP and can take a few months depending on the specific process to be automated
2- Lack of maturity of the solution: This is more of an area of research now. There are a few vendors that claim this capability but we have not been able to verify their effectiveness from their customers yet.
3- Learning errors: Learning from screenshots is not always perfect since learning relies on identifying images in scraped screenshots. Especially during initial deployment, these bots could be making mistakes and their activity needs to be audited. Most of the time mistakes are avoided as bots understand when they see cases they don't know how to complete. In such cases, they contact employees for guidance.
Cognitive capabilities
Intelligent/cognitive automation tools allow RPA tools to handle unstructured information and make decisions based on complex, unstructured input. Cognitive automation (also called smart or intelligent automation) is an emerging field that augments RPA tools with artificial intelligence (AI) capabilities like optical character recognition (OCR) or natural language processing (NLP). Cognitive automation is the future of RPA. It deals with both structured and unstructured data including text heavy reports.
These are the solutions that get consultants and executives most excited. Vendors claim that 70-80% of corporate knowledge tasks can be automated with increased cognitive capabilities. To deal with unstructured data, cognitive bots need to be capable of machine learning and natural language processing. See our cognitive automation guide for more info. Cognitive automation is the current focus for most RPA companies' product teams.
There are 4 types of RPA tools in terms of the cognitive capabilities they provide:
No cognitive capabilities
RPA tools without cognitive capabilities are relatively dumb and simple; should be used for simple, repetitive business processes.
While this seems like a big disadvantage, there is a mitigation. Even if the RPA tool does not have built-in cognitive automation capabilities, most tools are flexible enough to allow cognitive software vendors to build extensions. Therefore, required cognitive functionality can be added on these tools.
However, it is likely to take longer to implement these solutions as your company would need to find a capable cognitive solution provider on top of the RPA provider. Only the simplest tools, initially built in 2000s before the explosion of interest in RPA are in this bucket.
Built-in cognitive capabilities
Most RPA tools are in this bucket. Most RPA companies have been investing in various ways to build cognitive capabilities but cognitive capabilities of different tools vary of course. The ideal way would be to test the RPA tool to be procured against the cognitive capabilities required by the process you will automate in your company.
Marketplace supported cognitive capabilities
Realising that they can not build every cognitive solution, top RPA companies are investing in encouraging developers to contribute to their marketplaces where a variety of cognitive solutions from different vendors can be purchased.
RPA tools by usage
There are 3 types of RPA automation that serves different needs:
Attended automation (also called Robotic Desktop Automation)
These bots reside on the user's machine and are invoked by the user. They are appropriate for tasks that are triggered at programmatically hard-to-detect points. For example, a customer service rep will understand the customer's inquiry and need to complete a transaction in the system. Let's assume that due to system limitations, customer service rep would normally need to work with 3 screens and complete 5 manual steps to complete this transaction. Instead of doing those, rep launches the attended automation code. RPA bot works like the rep, performs the necessary operations and asks for guidance from the rep if needed. RPA bot can actually work a lot better than the rep, perform regulatory and compliance checks and would never do manual mistakes due to fatigue or boredom.
Attended automation is a good way to augment your employees that face customers but still need to complete manual work. Read our in-depth article on attended automation for more info.
Unattended automation
Unattended bots are like batch processes on the cloud. They complete a data processing task in the background. They are ideal for reducing work of back-office employees.
There are a few options for launching unattended automation:
Data input in a specified location: Most unattended bots are triggered when data is input in the system. Whether it is new transactions or employees, additional data processing is generally required to serve regulatory or marketing-related needs.
Bot initiated: A bot can also launch another bot. This can be useful when a bot operation has various different outcomes. For example, a KYC inquiry may either require manual investigation or automated processing to complete the customer's registration. Based on the outcome, bot can notify the investigation team or launch another bot to complete registration.
Orchestrator initiated: RPA administrators can use orchestrator software to stop or launch bots.
Specified intervals: Bots can be launched at specific times to batch process data.
Hybrid RPA
Attended and unattended RPA bots are combined to provide automation for both front office and back office activities, allowing end-to-end automation of a process.
Best RPA software
With more than 50 players in the market, it is hard to identify the best RPA solution. The best solution for your company depends on your specific requirements and our article on RPA vendor selection provides a lot more detail on how to choose RPA software.
You can also check out our article on best RPA software where we used vanity metrics like funding and online traffic to rank RPA tools by popularity.
We also provide more RPA information with our whitepaper and help companies find AI solutions:
How can we do better?
Your feedback is valuable. We will do our best to improve our work based on it.