Like all companies, yours probably relies on certain tasks and activities that don't require a specialist's attention. This means you can usually outsource or even automate them.
And now there is a new automation tool on the market: Robotic Process Automation (RPA)
If you have access to personnel who have experience working with RPA tools, that's great. You probably set up a Center of Excellence and are running most of your RPA projects. However if you are not yet at that stage or if you need additional manpower to help program automations in the process, RPA consulting can help you take full advantage of this powerful solution.
We answered all your questions about RPA consulting:
RPA consulting firms offer end-to-end RPA solutions
RPA consulting, also called RPA implementation services, are services necessary to roll-out end-to-end automation in your company's processes. RPA consultants offer all these services:
Services that come before RPA programming are labor intensive and require process knowledge

Identifying candidate processes for automation
Convincing the organization and process owners
Optimizing the process
Documenting the optimized process

RPA programming services are labor intensive and require RPA know-how

Programming RPA bots to partially or completely run the new process
Running the pilot
Auditing pilot results
You can take all or some of the services of RPA consultants. The services you need will depend on a few factors:
If you answer "Yes" to the questions below, you should definitely work with an RPA consultant in the steps before RPA programming

Is your team too overloaded to work on RPA roll-out?
Do you want your RPA implementation to be completed in a few weeks?
Why Is RPA Consulting Relevant Now?
First question is "Why is RPA relevant now?" which we explained in detail. Getting help from consultants has also its reasons for becoming so relevant.
1. RPA Has Become a Commonplace Solution
RPA has grown to become a realistic solution for companies of all sizes with repetable processes. Interest in RPA has grown exponentially in the last 5 years.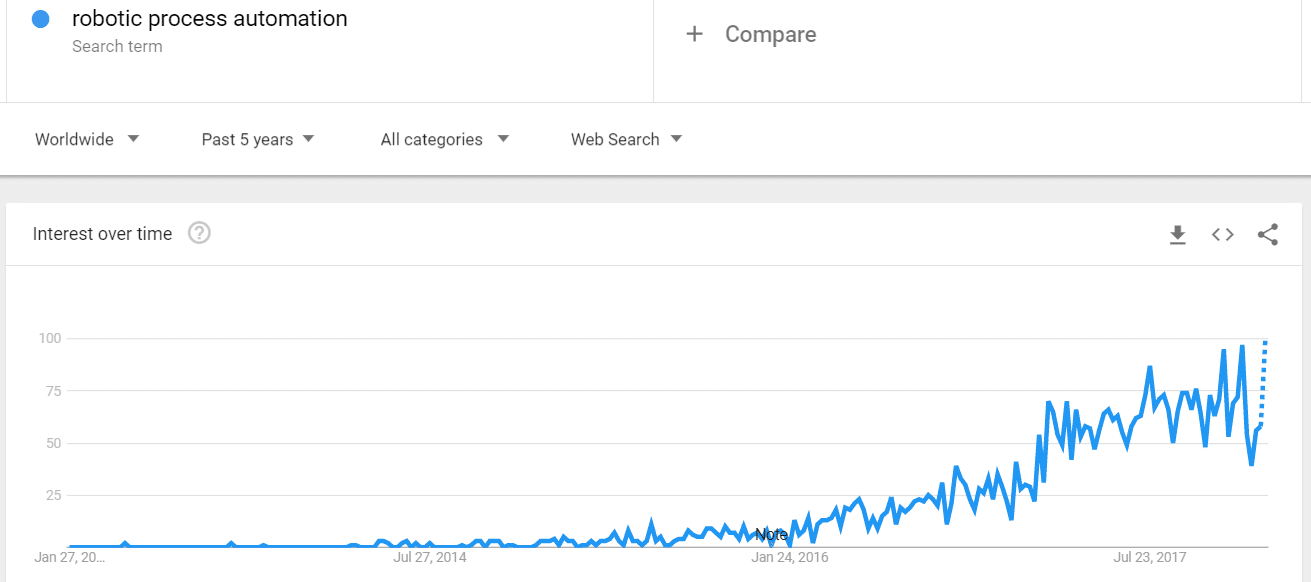 2. Numerous RPA consultants have emerged to help organizations
Any commonplace solution triggers services as companies try to adopt the solution but experience issues such as lack of workforce with RPA experience. While organizations had to build in-house capabilities in the beginning, now RPA is part of the standard toolkit of most consultants and system integrators such as Big 4 professional services companies, Big 3 management consultancies and system integrators such as Accenture.
3. Companies are embracing consultants to proceed faster
RPA essentially provides companies speed in automation. They could also achieve automation with slower methods like IT transformation but they choose RPA to proceed faster. And consultancies increase that speed because they come with experience automating processes at numerous companies. They know the tools, the processes and potential automation issues they will face so they proceed faster.
4 Reasons You Need an RPA Consultant
Now that you have a better understanding of why RPA consulting has recently become such a relevant service to so many companies, let's talk about your business.
Here are four reasons you should consider hiring an RPA consultant.
1. The most valuable processes to automate may not be obvious
The first is a simple but important point. Given how popular RPA has become in such a short period of time, there's a good chance you and/or your CTO won't have a strong grasp on how to successfully implement that.
You're far from alone.
The fact that the demand for RPA consulting has grown so quickly speaks to how many people aren't sure where to begin.
An RPA consultant will begin by first assessing the processes within your company that would benefit most from automation. They may even find some options that you otherwise wouldn't have known about.
Next, they'll explain the solutions they recommend for overhauling those processes with RPA.
Once you have decided which ones you wish to begin benefiting from, they'll walk you through the implementation process.
Finally, they'll execute said process and then ensure you have ample time to ask any questions about them once they're "live."
2. Choosing the RPA tool requires careful consideration
Similarly, if you try to move forward without an expert, it will be easy to stumble upon RPA tools that appear to be good fits.
Unfortunately, it takes a lot of consideration to pick the best RPA tools. The right ones will depend on the industry you're in and unique aspects of your business.
In fact, a direct competitor may be better off picking a certain solution that wouldn't work as well for your company.
A consultant will take the time to learn about the unique aspects of your organization so they can help you choose the right tools for it.
3. RPA Consulting increases your company's speed without boosting headcount
It would be a bit ridiculous to be increasing your company's headcount due to RPA initiatives. RPA is supposed to create a leaner and faster organization.
We touched on this earlier, but RPA consulting is far more affordable than hiring experts to join your company and oversee your robotic automation.
Unless you have an ongoing need to continuously build enterprise-level RPA deployments, hiring one or more people in a support capacity is going to be a waste of money. Your existing team members who work with consultants will acquire the necessary skills and act as your RPA Center of Excellence in upcoming projects in a part-time capacity.
4. You Want Results Now.
It's hard not to get excited about the benefits of RPA which we compiled using various sources.
Here are just a handful of common examples:
Better ROI on Your Staff
Detailed Data Capture
Flexibility
Improved Accuracy
Improved Throughput
Reduced Cycle Times
Scalability
The sooner you begin enjoying these advantages, the sooner they'll begin paying off – and the sooner you'll start putting distance between your company and the competition.
RPA deployments can be complex as other sources also confirm. An RPA consultant will help you successfully navigate it so you begin enjoying the results sooner.
Alternatives to RPA Consulting
There are a few major alternatives to RPA consulting:
Establishing an internal RPA Center of Excellence (CoE). If you can afford to have internal, trained RPA staff, CoE can enable your company to inhouse RPA deployment. Additionally, your CoE team could audit and help improve existing RPA deployments as well. RPA consultants can still help with initially setting up the CoE, too.
A goal for any successful corporation should be to democratize use of automation tools so their workforce can automate repetitive processes on their own. No code RPA software reduces RPA programming complexity, enabling democratization of RPA. Still, do not aim for every employee to be an automation expert. Having a single automation expert per team could significantly increase the speed at which your company progresses. It's better if these automation experts can share best practices and be informed of tech best practices/norms of your company.
If you are considering other alternatives, alternatives to RPA are also worth considering.
RPA consulting ecosystem
Consultants
RPA requires both understanding of technology and processes. Consultants have been working on processes for decades and some consultants are quite experienced in RPA as well.
MBB
McKinsey, BCG, Bain and other major consultancies like Oliver Wyman have been working with enterprises to streamline and automate their processes for a long time. RPA is simply the next wave of automation and they will inevitably be working on RPA implementations. However, since they are the most expensive solution providers when it comes to RPA consulting, their involvement is likely going to be focused on identifying processes and managing implementation rather than actual RPA development.
This is mostly based on what I hear from RPA vendors. However, I also know numerous cases where large companies relied on cheaper service providers, got dissatisfied and started working with MBB. So in the future, MBB could be providing end-to-end RPA services more regularly.
Big 4
It is difficult to look into a services business without mentioning Big 4 accounting companies; EY, PwC, KPMG, Deloitte. They diversified well beyond accounting to become major service providers for most companies.
Most RPA vendors say that Big 4 and system integrators are their most important partners. Big 4 are attractive partners with their global coverage, competitive prices and extensive experience.
Smaller consultancies
Service businesses depend on relationships and people so it is natural to find numerous niche consulting companies in any country. After all, it is not difficult to start a consulting business if you have good connections and are respected in your industry. In case of RPA, process focused consulting companies are especially interesting as their process expertise is quite valuable in RPA implementations.
System Integrators
Global/regional players
Companies like Accenture, Cognizant, WiPro can resolve any technology problem of an enterprise with a relatively modest budget for a consulting company. RPA is no different.
Local players
Most countries have local IT services giants. They are agressively expanding into RPA and starting partnerships with leading RPA endors.
RPA specialists
Riding the huge enthusiasm for RPA, these are startups focused on automation solutions.
How to Choose your RPA Consultant
If you're sold on the value of RPA consulting services, the next step is actually hiring a qualified consultant. Make the right decision now and the entire process will be much simpler and – more importantly – successful.
Here are the top criteria to find the right RPA consultant for your business:
Geographic coverage: RPA consultants including RPA developers need to work with your team. Despite modern tele-presence solutions, it is hard to completely replace face-to-face interactions. It is ineffective to leave people messages when you can just go to the location where the team is seated and have a quick discussion.
RPA Experience: As we've already covered, RPA consulting is a burgeoning field, so you'll have no lack of options. Look for consultants who have ample experience working with RPA, not the ones who are jumping on the bandwagon. You need more than just a developer or someone with programming experience (though that kind of background certainly doesn't hurt).
Industry-Specific Experience: At the same time, just because someone has RPA experience doesn't mean they'll know how to best serve your company. While any RPA consultant will need to begin by assessing your unique business, it will help if they understand your industry. Otherwise, they'll need to spend a lot of time getting caught up or risk making costly assumptions. This kind of expertise will also help if the processes you wish to automate need to be further optimized first.
Domain-Specific Experience: Where does your company need RPA? Will it be for the back office? For a call center? Ideally, you want a consultant who has already completed projects that helped with these specific areas.
Existing relationship: It is easier to work with partners you already know. While this should not stop you from working with experienced RPA consultants, it could play a role in your final decision.
Finally, while case studies could also fall under any of the below categories, look for a consultant who can show examples of how they overcame past challenges. Creating RPA solutions and applying them can be difficult, even for the most talented professionals. Make sure you work with someone who is ready to overcome initial roadblocks.
Sortable/Filterable List of RPA consultants
This list only includes RPA companies that build other RPA vendors' tools to deploy RPA solutions. Companies can also work directly with RPA vendors but in most cases, RPA companies prefer to leave implementation to partners. When RPA vendors implement RPA solutions, they tend to take on sizable clients like Fortune 500.
Company
Geographic coverage
Automation Anywhere Partnership*
Blue Prism Partnership*
UiPath Partnership*
Thoughtonomy
Partnership*
WorkFusion Partnership*
Accelirate
Partner
Accenture
Global
Partner
Certified Partner (Gold Delivery Provider, Silver Capability Provider)
Strategic Partner
Acronotics
Partner
actimai
Partner
Aglify
North America
Certified Partner (Silver Delivery Provider, Silver Capability Provider)
Alamato
Partner
Argos Service Japan
Japan
Arrow Digital
Partner
Asterion
Partner
ataway
Partner
Atos
Global
Strategic Partner
Partner
Auro
North America
Partner
Avanade
Certified Partner (Gold Delivery Provider, Silver Capability Provider)
Strategic Partner
Avasant
Partner
AVO Consulting
Partner
Ayesa
Partner
BCG
Global
Bitcorp
Japan
Partner
Bits In Glass
Partner
Bonitasoft
Partner
Bosch
Partner
BPM-D
Global
Strategic
Capgemini
Global
Partner
Certified Partner
Silver Delivery Provider
Strategic Partner
Global Strategic
CGI
Partner
CH&Co
Global
Global Strategic
Chazey Partners
Partner
Cigen
Partner
Cognizant
Global
Partner
Partner
Strategic Partner
Global Strategic
Comparex
Partner
DCX.technology
Partner
Deloitte
Global
Partner
Certified Partner
(Silver Delivery Provider, Silver Capability Provider)
Strategic Partner
Strategic
devoteam
Partner
Differ
Scandinavia (Northern EU)
Partner
DigiBlu
South Africa
Partner
Digital Workforce
Scandinavia (Northern EU)
Certified Partner (Silver Delivery Provider)
DiRWA
Certified Partner (Silver Delivery Provider)
Disys
Partner
DXC Technology
Partner
eClerx
Partner
EPAM Systems
Global
Global Strategic
EPI-USE
Partner
Everis
Partner
Evry
Partner
EXL
Global
Partner
Partner
Extra technology
Partner
EY
Global
Partner
Certified Partner (Platinium Delivery Provider, Gold Capability Provider)
Strategic Partner
firstsource
Partner
FIS
Global
Strategic
Fujitsu
Partner
Genfour
Partner
Genpact
Partner
Certified Partner (Silver Delivery Provider)
Strategic
HCL Technologies
Global
Partner
Partner
Global Strategic
Hexaware
Global
Partner
Partner
Strategic
HGS Hinduja Global Solutions
Partner
Hitachi
Partner
Partner
HPE Hewlett Packard Enterprise
Partner
IBA Group
Europe (EU), Asia
Strategic
IBM
Global
Partner
Certified Partner (Silver Delivery Provider, Silver Capability Provider)
Strategic Partner
Implement Consulting Group
Scandinavia (Northern EU)
Partner
IN-RGY
Partner
Incedo
North America
India
Strategic
Infogain
Partner
Infosys
Global
Partner
Innova
EMEA
InnoWise
Partner
Intersoft
Partner
ISG (Information Services Group)
Global
Partner
Certified Partner (Silver Delivery Provider, Silver Capability Provider)
ITC Infotech
Partner
JKT
Partner
KDDI Hong Kong
Partner
KDDI Shanghai
Partner
KGISL
Partner
Koç Sistem
EMEA
Partner
Korea Scoring
Partner
KPMG
Global
Partner
Partner
LarcAI
Africa
Partner
Lateetud
Partner
LTI
Global
Partner
Strategic
McKinsey
Global
Mercer
Partner
MindFields
Partner
Mindtree
Partner
Mphasis
Partner
Navigant
Partner
nBotix
Partner
NCS
Partner
NEOOPS
Certified Partner (Silver Delivery Provider, Silver Capability Provider)
Neuralify
Partner
NEW Information Management
Partner
NIIT
Partner
NNIT
Partner
Norian
Partner
Novatio
Partner
NSEIT
Partner
NTT
Partner
NTT DATA
Partner
OT Consulting
Partner
Persistent Systems
Partner
Premier Logic
Partner
Prodapt
Partner
Prodapt
Partner
Protiviti
Partner
PureSoftware
Partner
PwC
Global
Partner
Certified Partner (Silver Delivery Provider)
Strategic Partner
Strategic
qBotica
Partner
Quanton
Certified Partner (Silver Delivery Provider)
R Sytems
Partner
Radiance
Partner
Reveal Group
Certified Partner (Silver Delivery Provider, Silver Capability Provider)
RGP
Partner
RMR Technology Solutions
Partner
Robiquity
Certified Partner (Silver Delivery Provider)
RobonomicsAI
Australia
Roboyo
Partner
RPAi
Certified Partner (Silver Delivery Provider, Silver Capability Provider)
rrd
Partner
Samlink
Partner
Sapient Consulting
Partner
SE2
Partner
Selir
Partner
Servion
Partner
SOFIGATE
Partner
Solai & Cameron Technologies
Partner
Sopra Asteria
Partner
Sopra Steria
Partner
Square One Technologies
Partner
SV/SG Silicon Valley Software Group
Partner
Symphony Ventures
Certified Partner (Gold Delivery Provider, Silver Capability Provider)
Partner
Symprio
Tata Communications
Partner
Tata Consultancy Services
Global
Partner
Partner
Strategic Partner
Global Strategic
TeBS Total eBiz Solutions
Partner
Tech Mahindra
Global
Partner
Partner
The Burnie Group
Partner
Thirdware
Partner
Ultima
United Kingdom (UK)
Partner
UniteBT
Turkey
Partner
Valcon
Partner
VANAD Group
Partner
Vector ITC Group
Partner
Vector ITC Group
Partner
Virtual Operations
Partner
Virtual Operations
Partner
VirtualAI
Virtusa
Global
Partner
Partner
Global Strategic
Visagio
Partner
Vivans
South Korea
Voyager Solutions
Partner
Winformatics Solutions
Partner
WiPro
Global
Partner
Partner
Strategic
WNS
Partner
WonderBotz LLP
Certified Partner (Silver Delivery Provider)
Yash technologies
Partner
Yates
Partner
Zensar
Partner
* These are publicly announced partnerships. We have seen service providers use RPA vendors' solutions in their client engagements without having a public partnership agreement. Most common way to do this is to work with a subcontractor who is the official partner of the RPA vendor.
It is impossible to list every consulting company that is active in RPA space but we will try. Please leave comments if you find RPA consultants or RPA implementation companies that we are missing.
Certification Levels of RPA consultants
Some RPA vendors categorize their partners according to their volume of work or their capacity to provide advanced automation solutions.
UiPath has two levels of partners. Their strategic partners are generally larger companies that complete more RPA projects than regular partners
BluePrism has the partnership model with the most levels. They have regular partners and certified partners:

Partners are certified in 2 categories: Delivery Provider and Capability Provider. According to EY's press release about their Blue Prism certifications:

Capability provider certification is based on that company's experience rolling out RPA deployments
Delivery provider certification is based on number of certified developers of the partner

In both categories, there are 3 levels: platinum, gold, silver
RPA Marketplaces: Another platform for RPA consultants
Though they do not rely on this channel yet, RPA consultants could use RPA marketplaces to build their reputation in the RPA community and monetize their solutions.
Today mostly provide services to end users of automation, building customized solutions. A more scalable way for them to monetize their services and establish their credibility is RPA marketplaces. They can build reusable RPA plugins to be used by companies that can make RPA bots more capable and reduce bot development time. Having a popular plugin in an RPA marketplace could also support their sales and marketing efforts as it provides a public data point supporting their mastery of RPA tools.
However, currently we have not come accross many plugins built by RPA consultants in UiPath Go which is one of the most popular RPA marketplaces. We have only come across 2 plugins, one built by Wipro and another built by Capgemini. We searched for Accenture and  Tata Consulting Services but could not find plugins built by them. This may be due to multiple factors:
RPA marketplaces are a new area, they may become a bigger focus area of consulting firms in the future.
consulting companies typically work on client engagements and deprioritize building tools, even if those tools could have marketing value as client work is higher priority (has a fixed deadline) and more profitable.
We will continue looking at this space. In the meanwhile, feel free to read our articles on reusable RPA plugins/bots and marketplaces to learn more.
Need Help Choosing an RPA Consultant?
Don't make such an important decision unless you're 100% confident moving forward.
If you want, we'd be more than happy to help. Our free short list of RPA vendors is a great place to start, but you can also get more customized support from us:
How can we do better?
Your feedback is valuable. We will do our best to improve our work based on it.