Have you ever wondered how search engines such as Google and Bing collect all the data they present in their search results? It is because search engines index all the pages in their archives so that they can return the most relevant results based on queries. Web crawlers enable search engines to handle this process.
This article highlights important aspects of what crawling is, why it matters, how it works, applications & examples.
What is web crawling?
Web crawling is the process of indexing data on web pages by using a program or automated script. These automated scripts or programs are known by multiple names, including web crawler, spider, spider bot, and often shortened to crawler.
Web crawlers copy pages for processing by a search engine, which indexes the downloaded pages so that users can search more efficiently. The goal of a crawler is to learn what webpages are about. This enables users to retrieve any information on one or more pages when it's needed.
Why is web crawling important?
Thanks to digital revolution, the total amount of data on the web has increased. In 2013, IBM stated that 90% of the world's data had been created in the previous 2 years alone, and we continue to double the rate of data production every 2 years. Yet, almost 90% of data is unstructured, and web crawling is crucial to index all these unstructured data for search engines to provide relevant results.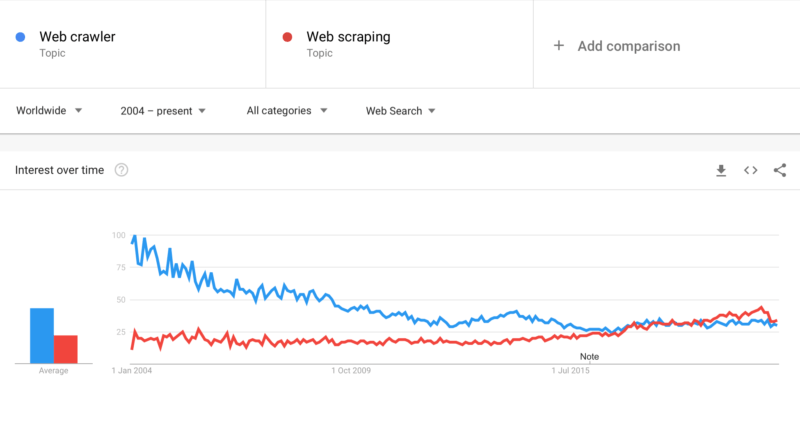 According to Google data, interest in the web crawler topic has decreased since 2004. Yet, at the same time period, interest in web scraping has outpaced the interest in web crawling. Various interpretations can be made,some are: 
Increasing interest in

analytics

and

data-driven decision making

are the main drivers for companies to invest in scraping.

Crawling done by search engines is no longer a topic of increasing interest since they have done this since the early 2000s 

Search engine industry is a mature industry dominated by Google and Baidu, so few companies need to build crawlers.
How does a web crawler work?
Web crawlers start their crawling process by downloading the website's robot.txt file. The file includes sitemaps that list the URLs that the search engine can crawl.  Once web crawlers start crawling a page, they discover new pages via links. These crawlers add newly discovered URLs to the crawl queue so that they can be crawled later. Thanks to these techniques, web crawlers can index every single page that is connected to others.
Since pages change regularly, it is also important to identify how frequently search engines should crawl them. Search engine crawlers use several algorithms to decide factors such as how often an existing page should be re-crawled and how many pages on a site should be indexed.
What are web crawling applications?
Web crawling is commonly used to index pages for search engines. This enables search engines to provide relevant results for queries. Web crawling is also used to describe web scraping, pulling structured data from web pages, and web scraping has numerous applications.
What are the examples of web crawling?
All search engines need to have crawlers, some examples are:
Amazonbot is an Amazon web crawler for web content identification and backlink discovery.

Baiduspider for

Baidu

Bingbot for Bing search engine by Microsoft

DuckDuckBot for

DuckDuckGo

Exabot for

French search engine Exalead

Googlebot for Google

Yahoo! Slurp for Yahoo

Yandex Bot for Yandex
In addition, companies like Luminati enable companies to set up and scale web crawling operations rapidly in a SaaS model.
If you have questions about web crawling vendors, feel free to check out our sortable, updated, and transparent vendor list or contact us:
Let us find the right vendor for your business
How can we do better?
Your feedback is valuable. We will do our best to improve our work based on it.