One of the biggest challenges that HR professionals are facing is finding the right talent. Recruitment teams spend time on partially automatable tasks such as resume screening, interview scheduling and interviewing. By using the latest advances in artificial intelligence, businesses can reduce the load of HR professionals and increase hiring effectiveness.
What is AI recruiting?
AI recruiting is applying machine learning on the recruiting-related big data to improve the recruiting process of the organization. AI in recruitment is designed to reduce the time spent on repetitive, high volume tasks through automation.
What are its benefits?
Hires that better match the role requirements: AI tools can enable this by:

Enabling HR teams to process more applications: Automation of high volume tasks such as screening resumes and scheduling interview time saves time of HR teams. As a result, they can have time to process more applicants which can lead to an increase in the quality of hires

Increased effectiveness in filtering applicants: Manual processes have an error rate of 3-4% because people get bored and lose their focus while completing repetitive work. AI tools can filter out candidates that are definitely not a good fit for the role, enabling teams to focus on candidates that are more likely to be successful in the job

A higher acceptance rate: Faster responses from the HR team lead to a higher acceptance rate because the company will be less likely to lose candidates to their competitors during the process of hiring.
Lower hiring costs: Automation can help companies focus their HR teams on higher value activities rather than repetitive recruitment related tasks.
A study by a recruitment technology company indicates that early AI recruitment adopters provide
75% less cost per resume screen

4% increase in revenue per employee

35% less employee turnover rate
Why is it important now?
Talent is always a scarce resource. Especially in fields like AI, companies are engaged in fierce competition to attract talent. Now with the rise of deep learning in 2010s, machines can support humans in repetitive tasks that involve decision making. Therefore, it is not surprising that AI-powered approaches are becoming more common in recruiting.
How does it work?
Ideal, a recruitment AI vendor, summarized the recruitment process and identified areas where AI can help in the below image.
In cases where companies are aiming to hire for positions that require experience such as a CTO or head of data science, companies need to proactively reach candidates. This adds two more steps to the process outlined in the image:
Candidate identification
Recruiters should search both internal databases as well as professional networks like Linkedin and XING (in German speaking companies) for candidates that can fill the open position. Machine learning algorithms can make the search among thousands of profiles easier however we have not yet come across vendors that offer such services. Alternatives include keyword searches and filters such as experience but these rules based approaches require fine-tuning for each new candidate search.
Candidate outreach
Personalized messages are necessary for outreaching to interesting candidates. A machine learning model can fine tune the messages based on the candidate and candidate's online profile.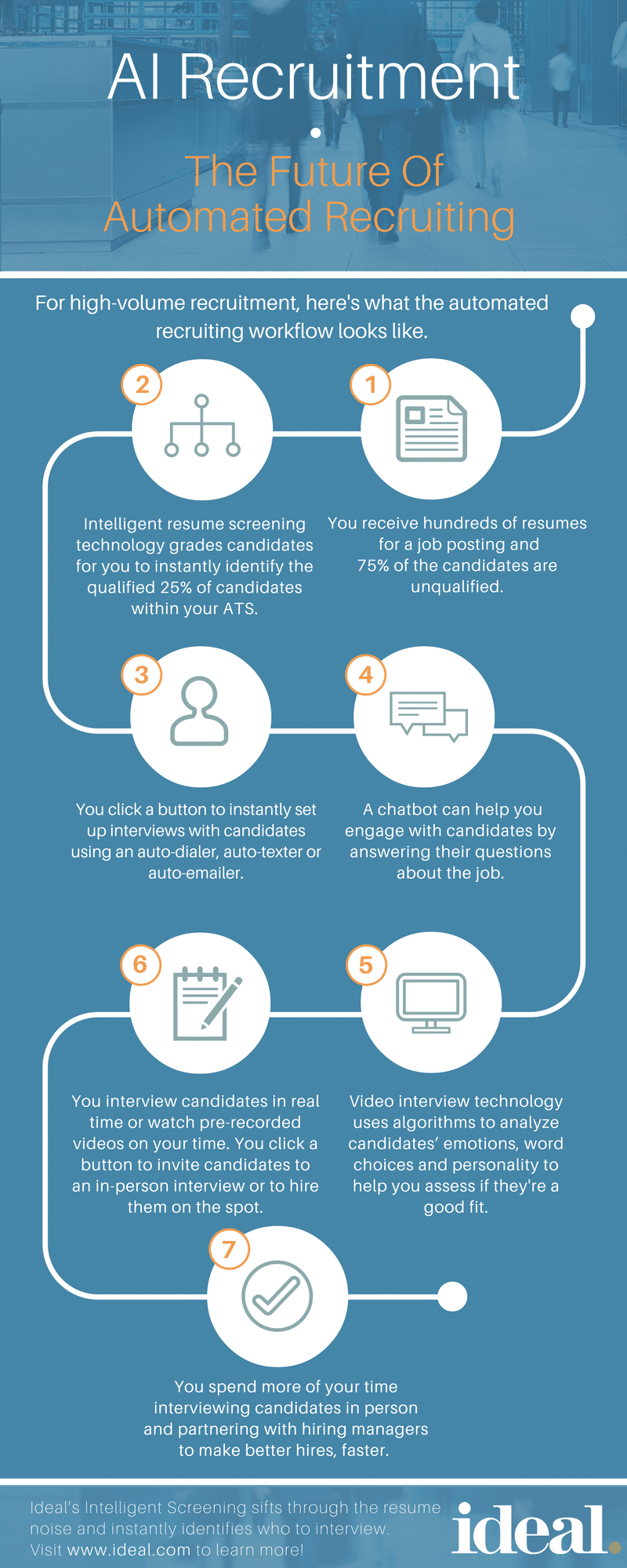 2) Intelligent Screening&Matching
Though HR departments can track data of candidates from various recruiting websites and social media, it is time consuming. AI-powered recruitment solutions enable recruiters to automate screening candidates' resumes and matching the most suitable candidates to the job.
4) Recruiter Chatbot
Recruiter chatbots interact with candidates via personalized messages, write quick responses to their questions and ask relevant questions to collect more data about them. It is important to clarify that the candidate is interacting with a chatbot since chatbots can fail to answer questions which should not be misunderstood as a deficiency of the company's HR team.
6) Online Interview Analysis
AI-powered solutions can analyze online interviews focusing on a candidate's facial expressions during the interview. These solutions capture mood, and other characteristics of the employee. Unilever uses this technology and claims that it has increased ethnic and socioeconomic diversity within the company. We are relatively skeptical about this application and will be looking for more proof before we see this as an area to invest in.
What are its challenges?
Modern AI systems are data hungry. HR teams need to make sure that their AI powered recruiting system need is able to access various recruiting websites (LinkedIn, Google for Jobs, etc.) along with social media platforms (Facebook, Instagram, etc.) and company's historical data on candidate data and job performance. 
Machine learning algorithms are trained on historical, potentially biased data. Companies need to be aware of areas where human intelligence tends to be

biased

and overcome such biases in their machine learning models. 
What are the leading AI recruitment tools?

Recruiter Chatbots
Gloat
Paradox
Restless Bandit
TextRecruit
Wade & Wendy
Xor
Intelligent Screening&Matching Platforms
Arya
Entelo
Fetcher
Hiretual
Ideal
Mya Systems
Phenom People
Pymetrics
RAI by HiringSolved
RampUp
Textio
Woo
Workey
Online Interview&Analysis Platforms
HireVue
Audiolytics by HireIQ
If you want to learn about, feel free to read our articles on
If you still have questions about ai recruiting or any other AI solution, we would like to help:
How can we do better?
Your feedback is valuable. We will do our best to improve our work based on it.