There has been sustained excitement about IOT and the data capabilities it will bring to industry. In 2013, McKinsey&Company had predicted that IOT would bring $3-6T economic impact in 2025.
With margins getting smaller and competition getting more intense, manufacturing companies are getting smarter about how they can become more productive in order to become more profitable. Manufacturing analytics is one of the most effective ways to do so.
Sometimes called the 4th industrial revolution, manufacturing analytics analyze the historical performance data of machines in order to forecast their future; and their failure. And with technology and the environment to support it evolving rapidly, there has never been a better time to get started.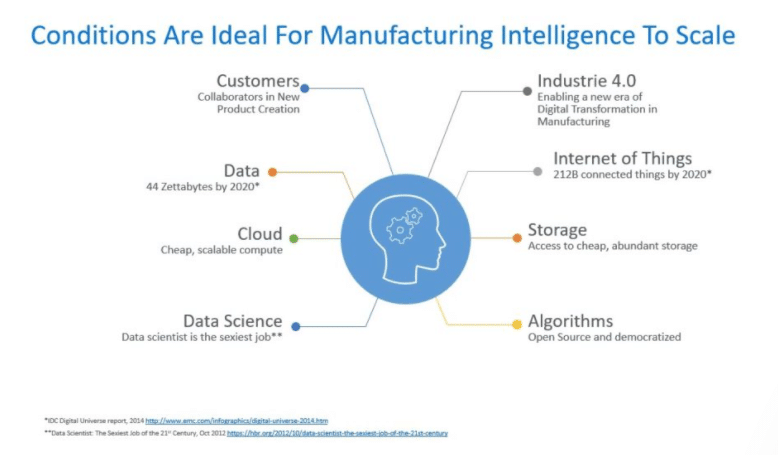 Benefits of Manufacturing Analytics
The old cliché is true – knowledge is power. And with manufacturing analytics, organizations can get an unparalleled look into their business to help find ways to make it work better.
In a 2016 survey by the Digital Analytics Association of Germany, respondents reported that the following were the biggest benefits that they enjoyed with better analytics: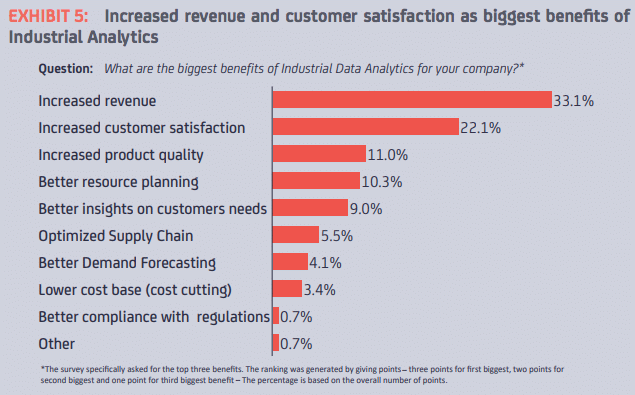 We see benefits of industrial analytics benefits falling under 3 categories:
Reduced costs:

Process optimization: pinpointing daily inefficiencies and eliminating them

Process automation: removing the need for human intervention

Product optimization: adjusting products to become more appealing; indirectly lowering the investment lost in unsold products

Increased revenue:

If demand exceeds current production capacity, insights provided by industrial analytics described above can be used to change processes and configurations to increase production

Miscellaneous benefits:

Increased quality leading to increased customer satisfaction

Improved compliance as such issues are detected by sensors, with industrial analytics software identifying ways to rectify them before they become problematic 

A better environment in terms of health and safety for plan workers
Manufacturing Analytics Applications
Though there are a wide range of practical application for manufacturing analytics, a few are worth highlighting: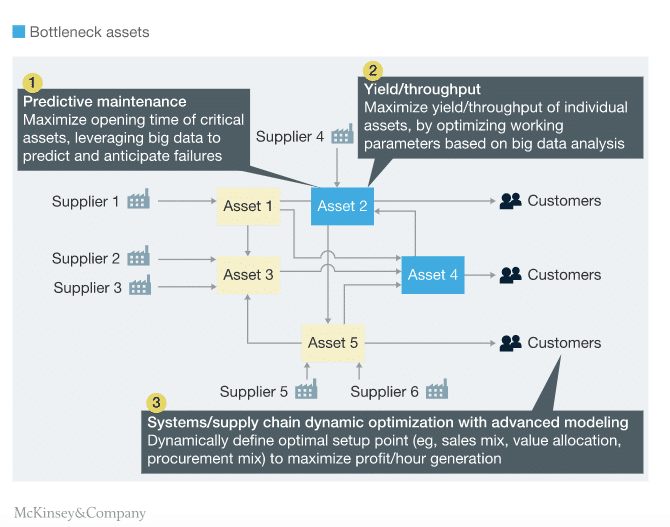 Predictive maintenance works by analyzing performance data to determine when a component is likely to fail

.

For example, the analysis of time series data from IoT sensors (such as those for vibration or temperature) can be used to predict equipment failure.

This helps to limit downtime and identify the cause of the problem so that the appropriate adjustments can be made to avoid it being repeated.

Yield-energy throughput (YET) analytics: Ensures that components and machines are utilized as efficiently as possible, help to increase yields and reduce energy use

. This works by real-time monitoring and optimization of the parameters that the machines operate with.

Profit-per-hour (PPH) maximization analytics: It can be used to define optimal setup

by looking deeply at the many factors that can impact the final profitability of a good. These include conditions such as those found throughout the supply chain and also in the sales mix. 

Demand forecasting: By having IoT sensors, many of the silos that often arise between production and supply chain can be eliminated by having real time data made available to all relevant parties. This in turn enables employees across departments to adjust quickly through the comparison of primary and secondary data that highlights any gaps or trends that may be occurring.
Other applications include better asset tracking, supply chain visibility, and inventory management. This can also reduce supply chain forecasting errors through better understanding of transport and warehousing costs.
These are just a few of the ways industrial and manufacturing analytics can be supported by AI technologies. Over time these factors will only stand to improve and evolve to become even more effective in their tasks.
Challenges Associated with Manufacturing Analytics
As a first step, ensuring data ownership, data quality and keeping an up-to-date metadata repository are crucial to get started with manufacturing analytics. Fero Labs CEO Dr. Berk Birand states that data issues hinder analytics efforts. That is why initial roll-out of their platform in a company starts with ensuring real-time data collection, processing as well as expert interviews to understand the data sources and industrial processes.
Though manufacturing analytics has a wealth of benefits for businesses, it is not without its own limitations. One of the biggest ones can be seen in the 'people' requirement; where finding those with the right expertise to make sense of the data and turn it into actionable changes can be difficult. This is particularly true because manufacturing analytics are only really effective when the processes they are applied to are changed substantially enough to have an impact.
There's also the question of time and 'buy in' from the top management. If the right stakeholders within an organization don't believe in the importance or effectiveness  of manufacturing analytics, the changes may not be implemented quickly or deeply enough to make a difference. These barriers to usage, such as not having the right technology/talent and a decentralized approach can mean that despite the capacity for improvement associated with manufacturing analytics, they are ultimately ineffective.
A Comparison of Several Vendors
When it comes to choosing a vendor, there are a wide range of options that cover many different tasks and processes. Though there are a number of deeply established corporations that lead the way in the creation of new technologies, every day more startups are born that aim to tackle a different challenge associated with the industry.
| | | | |
| --- | --- | --- | --- |
| Vendor | Year Founded | Number of Employees | Overview |
| Falkonry | 2012 | 10-50 | Falkonry focuses on machine learning to help detect early signs of problems in production operations. A major benefit associated with this vendor is that their AI applications can be used without tons of input for programmers or machine learning experts. |
| Arimo | 2012 | 10-50 | Focusing heavily on data science to create predictive insights for commercial IoT applications, this brand creates deep learning applications that can help businesses achieve a competitive advantage derived from an understanding of machines, devices, and customers. |
| SAS | 1976 | 10,000-50,000 | This brand is a leading supplier of predictive maintenance and other manufacturing analytics tools. It works by giving organizations a consolidated view of what's happening across the business through data mining, predictive analytics, and big data integration. These applications can help to detect problems and safety issues, minimize unplanned downtime, and identify design and product defects. |
| Flutura Business Solutions | 2012 | 50-200 | With a focus on remote monitoring, Flutura helps businesses to find new revenue streams within their existing operations. Their monitoring tools also help organizations to extend the useful life of their components - saving time and money. |
| Eigen Innovations | 2012 | 10-50 | By developing quality inspection and process control solutions for industrial manufacturers through the Internet of Things, this brand helps organizations to calculate optimal machine settings. |
| Majik Systems | 2013 | 1-5 | This brand helps manufacturers to monitor, analyze and optimize their operations through a direct connection to capital equipment in plants. |
| 5Analytics | 2016 | 10-50 | 5Analytics is a rapidly growing business that focuses on Artificial Intelligence and how it can enable automation solutions. It does so by ensuring that AI code can be used with enterprise requirements, empowering data scientists with more power and efficiency. |
Ready to implement manufacturing analytics at your organization?
How can we do better?
Your feedback is valuable. We will do our best to improve our work based on it.