Auditing can be transformed with machine learning leading to increased productivity and accuracy. Historically, auditing relied on sampling to identify risks. This approach does not take into account most available information and relies on manual processing. Thanks to machine learning, auditing companies can automatically process large volumes of data to identify anomalies and high risk transactions which can be further analyzed by humans.
What are the different types of audit?
External Audit
External audit, also known as financial audit, is the investigation of the correctness of the financial statements of an entity by an external auditor such as an accountant, the IRS, or a tax agency. These third-party auditors follow generally accepted auditing standards (GAAS). External audit aims to ensure the accuracy of accounting records. The areas where external auditors must concentrate are segregation of duties, authorizations and approvals, reviews and reconciliations.
Internal Audit
Internal audit is also referred to as operational audit. Internal auditors evaluate risks and internal controls of operational systems for departments, units, and business functions. The goal of an internal audit is broader than an external audit.  It can contain any elements which can affect the achievement of organizational objectives and determines ways to improve those operations.
Compliance Audit
A compliance audit is an independent evaluation to determine if an organization is in compliance with internal or regulatory standards such as corporate bylaws, controls, and policies and procedures.
How does AI impact the audit procedures?
Auditors can use machine learning to
automate manual tasks of auditors such as documentation
analyze the complete volume of structured and unstructured data that come from financial records by parsing data
identify anomalies such as unusual payments or activities that would not be caught by manual auditing,
make predictions about future risks and events by reviewing and analyzing historical transaction data
Auditors face the challenge of evaluating thousands of documents and contracts, reviewing the implementation of regulatory changes, and undertaking investigations on ambiguous transactions.  Due to the large volume of data and expensive nature of manual work, auditors rely on sampling to achieve this goal. Machine learning can be harnessed to go beyond sampling, reviewing all available information automatically to bring high risk documents to human attention.
While auditors spend considerable time flipping pages and opening individual digital files to review them, auditors mostly have a checklist or follow the same procedures. Some of these checks can be automated allowing auditors to focus on tasks that are more suited to human cognition.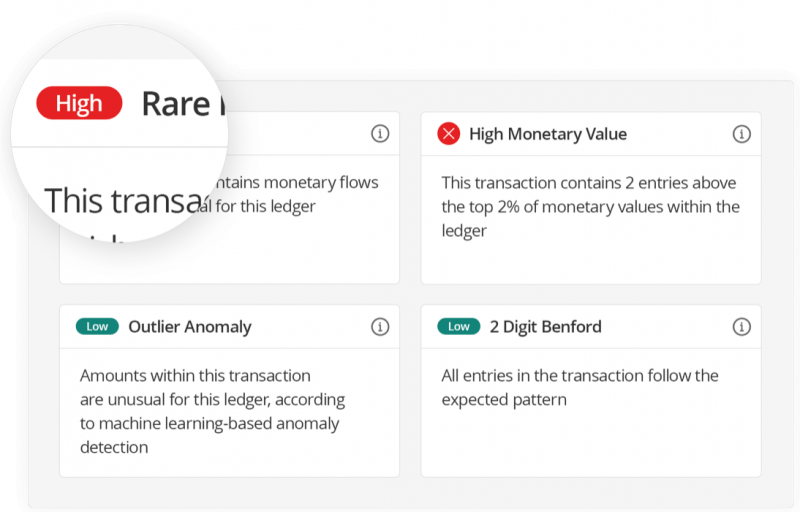 With these AI and machine learning capabilities, auditors do more advisory type of work such as understanding the entirety of ledgers and reporting on risk to executives and clients while enhancing their audit service.
Though AI may not be the right choice for some of the complex analysis of financial data, it can be suitable for counting items, spotting patterns, and flagging anomalies to a level that meets and exceeds the requirements of an organization.
Why is it important now?
Businesses are growing and getting more complex while they are trying to cut audit budgets which incentivize companies to automate more.
Using machine learning in audit also improves the quality of the audit process. This is important because auditing scandals can spell the end of auditing companies or seriously harm their reputation, Thanks to machine learning, auditors can focus on high risk issues and prevent such scandals.
What are common use cases?
Contract Reviews
The most common use case of AI in audit procedures is contract reviews such as leases. With AI, organizations can continuously analyze a larger number of contracts in real-time. Using AI, auditors can automatically extract data from contracts with NLP tools and identify relevant clauses for accounting treatment such as lease commencement date, payment amount, renewal and termination options and so on. Thanks to these findings, auditors can evaluate and assess risks in the contract more effectively.
Identification of material misstatements in the general ledger
Due to factors such as the large volume of data, insufficient time and inherent limits of internal control systems and accounting, auditors have been working with "reasonable assurance" motto. Auditors examine a small set of data rather than the entire data set that's why the risk of material misstatement increases. Use of machine learning improves the testing of ledger data by analyzing the entire dataset in a short time frame to identify material misstatements based on risk analysis rather than traditional audit rules. This means AI-based tools can flag transactional data based on how far they differ from the standard set.
Automating expense audits
Another use case where AI automates an audit process is expenses. AI-powered tools can help businesses to detect duplicates, out-of-policy spendings, incorrect amounts, suspicious merchants or attendees, and excessive spendings. We have interviewed Anant Kale, co-founder and CEO of AppZen which is one of the pioneers in the commercial applications of artificial intelligence in fraud and compliance. Feel free to learn how Appzen's platform helps businesses automate expense audits.
What are the benefits?
The workload of auditors is reduced since there is no need to go-back-forth for asking questions to the client.
Cost reduction: Use of AI reduces the cost involved in manual hours of research and analysis.
Audit Quality: AI systems continuously learn and adapt to datasets so that they can improve anomaly detection accuracy as more data is processed. Therefore, use of AI/machine learning increases the audit quality.
What are the leading companies?
AI XPRT
Auditmap
MindBridge
OSP
PwC GL.ai
While we have discussed audit specific automation solutions, RPA is a cost-efficient way to automate tasks that do not require human judgment across all business processes. Feel free to explore more about RPA by reading our article on the topic. And we have also written about other finance automation topics.
As the number of cyberattacks increases each year, the security of data that auditors store about their organization and clients is more important than ever. Feel free to read our article on implementing AI into cybersecurity efforts to learn more.
If you still want to learn about other AI solutions and vendors, we would like to help:
How can we do better?
Your feedback is valuable. We will do our best to improve our work based on it.