The insurance industry includes numerous manual tasks that can be automated with AI and machine learning. With the advances in AI, insurance companies can provide faster services, ensuring customer satisfaction. As a result, the interest in AI insurance has tripled since 2012, according to Google Trends.
Insurance providers can leverage a wide range of AI technologies like document processing, chatbots, and affective computing. They can implement these technologies in tasks, including claims and appeals processing, personalized insurance pricing, and fraud detection to achieve reduced costs, improved customer experience.
What is the interest in AI continue in the insurance industry?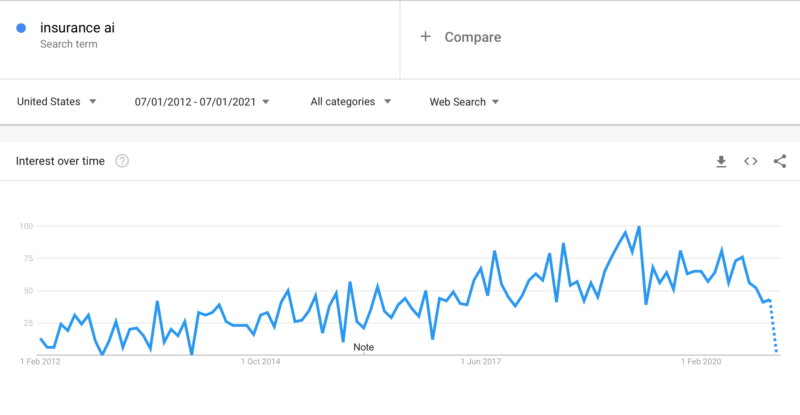 Source: Google TrendsThere have been an increasing interest in AI-powered insurance applications in 2012-2019. However, in 2020 it seems that COVID-19 attracted significant general interest and diminished interest in most topics which we also see for insurance AI. However, it is worthy to note that other industries or businesses functions such as healthcare, sales, and marketing. have seen increased interest during COVID-19,
Why is AI important now in insurance?
Potential for automation is high: The insurance industry includes a wide range of manual tasks to be automated. AI technology can offer faster services with fewer errors. Mckinsey estimates that 25% of the insurance industry will be automated in 2025 thanks to AI and machine learning techniques.
More data can drive better pricing increasing profitability: McKinsey

shares

that we will see an increase in the number of connected consumer devices like cars, fitness trackers, home assistants, smartphones, and smartwatches. As these devices become more popular, the amount of consumer data rapidly increases. This growing volume of data enables insurance companies to evaluate their customers' risk profile more accurately. This will result in less risky customers enjoying cheaper services and riskier customers required to pay more, increasing profitability and potentially expanding the market.

These will result in improved insurance businesses: Juniper Research

shares

that car, property, life, and health insurers will increase their annual savings by more than 4 times in 2023 compared to 2019 by investing into these emerging technologies. Additional benefits will include reducing the time to settle claims and improving customer loyalty.
What are the benefits of AI in insurance?
The benefits of implementing AI into insurance processes are:
Time and cost-saving

Improved customer experience

Increasing profitability due to more a

ccurate customer pricing and r

educed fraudulent claims
What are the primary use cases of AI in insurance?
Claims processing
Claims processing includes multiple tasks, including review, investigation, adjustment, remittance, or denial. While performing these tasks, numerous issues might occur:
Manual/inconsistent processing: Many claims processing tasks require human interaction that is prone to errors.
Varying data formats: Customers send data in different formats to make claims.
Changing regulation: Businesses need to accord in changing regulations promptly. Thus, constant staff training and process update are required for these companies.
Claims document processing
As customers make claims when they are in an uncomfortable position, customer experience and speed are critical in these processes. Thanks to document capture technologies, businesses can rapidly handle large volumes of documents required for claims processing tasks, detect fraudulent claims, and check if claims fit regulations.
Automated repair cost estimation
For example, Tractable has introduced an AI system that can recognize accident images and estimate repair costs in real-time. As a result, it claims that insurance companies can accelerate claims processing by ten times.
Appeals processing
After claims are processed, some claims can result in appeals that can be automated with the combination of AI and automation technologies. WorkFusion claims that they can automate 89% of appeals processing with a 99% accuracy rate, as seen in the below image. Of course, these ratios need to be taken with a grain of salt as they would change based on the complexity of appeals and vendors tend to be selective in picking their case study figures.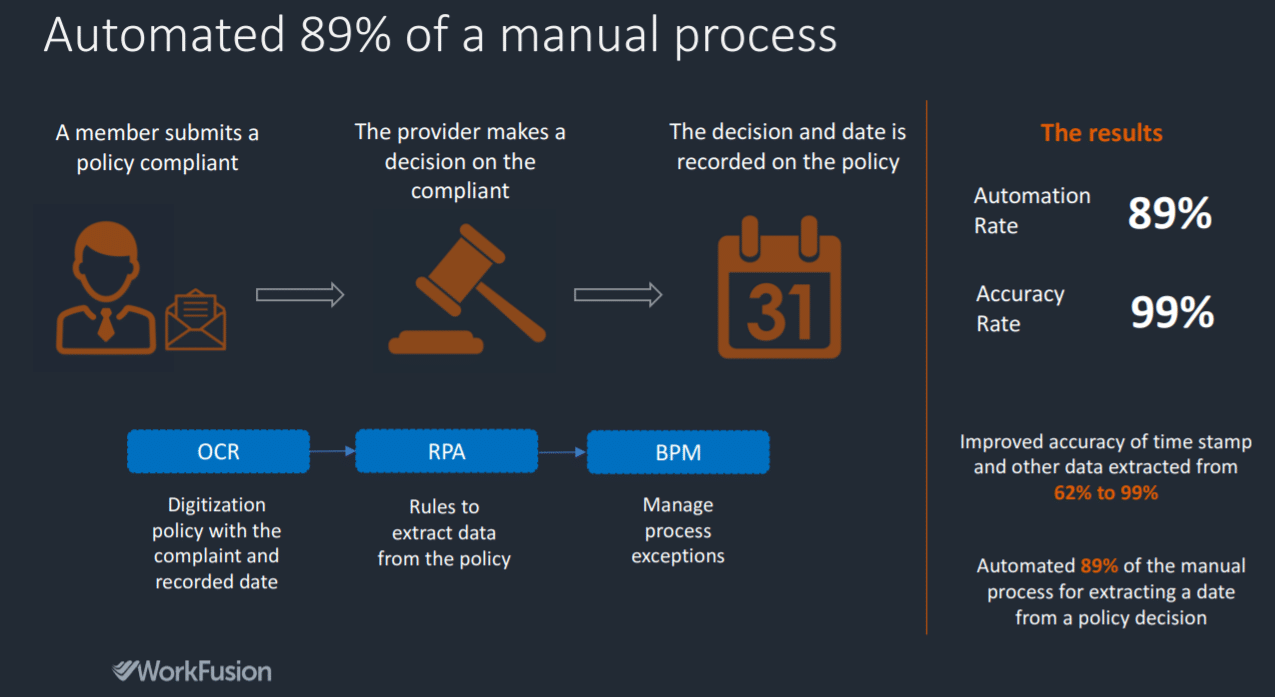 Hyperautomation is a trending buzzword for recent automation technologies that aim to automate end-to-end processes such as claims processing, appeal processing or redaction. If you want to learn more on hyperautomation in insurance, feel free to check our articles on hyperautomation and hyperautomation applications.
Application processing
Application processing requires extracting information from a high volume of documents. While performing this task manually can take too long and prone to errors, document capture technologies enable insurance companies to automatically extract relevant data from application documents and accelerate insurance application processes with fewer errors and improved customer satisfaction.
Insurance pricing
AI can assess customers' risk profiles based on lab testing, biometric data, claims data, patient-generated health data, and identify the optimal prices to quote with the right insurance plan. This would decrease the workflow in business operations and reduce costs while improving customer satisfaction.
Document creation
Insurance companies need to generate high volumes of documents, including specific information about the insurer. While creating these documents manually consume time and prone to errors, using AI and automation technologies can generate policy statements without mistakes. You can read more about this in our in-depth document automation guide.
Responding to customer queries
Conversational AI technologies can support insurance companies for faster replies to customer queries. For example, a South African insurance company, Hollard, has achieved 98% automation and reduced cost per transaction by 91%, according to its solution providers, LarcAI and UiPath.
Claim fraud detection
29% of insurers have admitted to lying to their car insurance company to gain coverage in the US. AI-powered predictive analytics and text analysis tools might detect fraudulent claims based on business rules with data captured from the claimant's story. Feel free to read more about fraud detection in our in-depth guide.
Personalized services
An Accenture study shares that 80% of insurance customers are looking for more personalized experiences. With AI, insurance companies can better understand their customers and offer customized products that enables individuals to only pay for the coverage they need. This increases the appeal of insurance to a wider range of customers, considering that 9.2% of people in the USA have no health insurance, some of them may then purchase insurance for the first time.
Which AI technologies can be used for the insurance industry?
Deep Learning
With the increasing amount of customer data, insurance companies can build machine learning models to evaluate customer risk profiles more accurately and provide optimal insurance prices. This will reduce costs significantly and provide a better understanding of customer profiles. Deep learning algorithms are also used in other technologies, which we will mention below.
Document Processing
Insurance companies need to process high volumes of documents to extract relevant information in their claims processing operations. While this is a low-skill, repetitive task that is prone to errors, AI can automate these processes and help companies process documents rapidly and save time and costs. For example, Hypatos shares that they can save up to 90% of document-related expenses, thanks to their AI-powered document processing technology. To learn more, you can read our detailed document automation guide.
Chatbots
Chatbots can play a critical role while interacting with customers. As responding to customer queries can be a tiresome task, simple queries can be handled by chatbots and enable employees to focus on higher value-adding activities. Chatbots can also be used for intelligent call routing to forward customers to specific agents based on their needs. You can read our chatbot guide to learn more about this technology.
Affective Computing
Affective computing, also known as emotion AI, can be used for understanding customers better and take action according to their mental states. Here is how insurance companies can use this technology:
Intelligent call routing:

Angry customers can be directed to more experienced call agents to ensure their satisfaction. You can learn more about intelligent call routing in our related article.

Fraud detection:

 Insurance companies can benefit from voice analytics to understand if a customer is lying while submitting a claim.
Feel free to read our in-depth affective computing guide for further information.
Integration with IoT and smart devices
With the increasing popularity of IoT devices in their daily lives, there will be more data to process for insurance companies to assess customer risk profiles better. For example, Parsyl, an IoT startup, helps shippers, retailers, and insurers understand the quality conditions of sensitive and perishable products as they move through the supply chain.
How is the insurance AI ecosystem structured?
Automation/RPA companies
RPA companies aim to integrate AI into their operations and are serving numerous insurers:
Automation Anywhere
Kryon
SmartRPA
UiPath
WorkFusion
Insurance focused AI companies
Acko General Insurance
Attivio
Lemonade
Oscar Health
Parsyl
Tractable
ZhongAn
The above is just a few examples of insurance companies using AI, there are numerous insurtech companies and many of them also use AI/machine learning technologies. Below, you can see them grouped under different insurance products: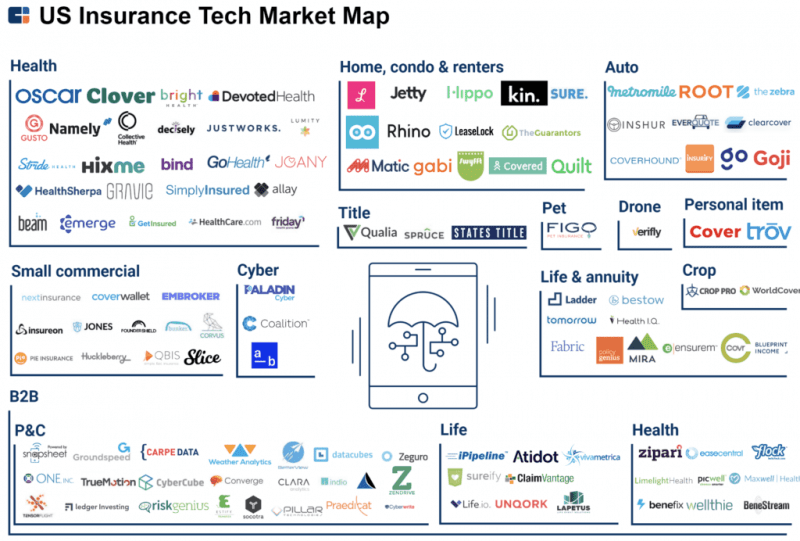 Now that you have checked out AI applications in the insurance industry, please check out other AI applications in marketing, sales, customer service, healthcare, or analytics. You can also read our other articles about AI and insurance:
If you have more questions, do not hesitate to contact us:
Let us find the right vendor for your business
Sources for example use cases:
How can we do better?
Your feedback is valuable. We will do our best to improve our work based on it.