AI, computer vision and machine learning systems proved that machines are better and faster than humans analyzing big data. Today, organizations have large datasets of patient data and insights about diseases through techniques like Genome Wide Association Studies (GWAS).
Using AI, healthcare providers can analyze and interpret the available patient data more precisely for early diagnosis and better treatment. Today, it is possible to say whether a person has the chance to get cancer from a selfie using computer vision and machine learning to detect increased bilirubin levels in a person's sclera, the white part of the eye.
As the interest in AI in the healthcare industry continues to grow, there are numerous current AI applications, and more use cases will emerge in the future. However, we still encounter several healthcare specific challenges like data privacy and regulations that need to be addressed while improving AI technology for the healthcare industry.
Will the interest in AI continue to grow in the healthcare industry?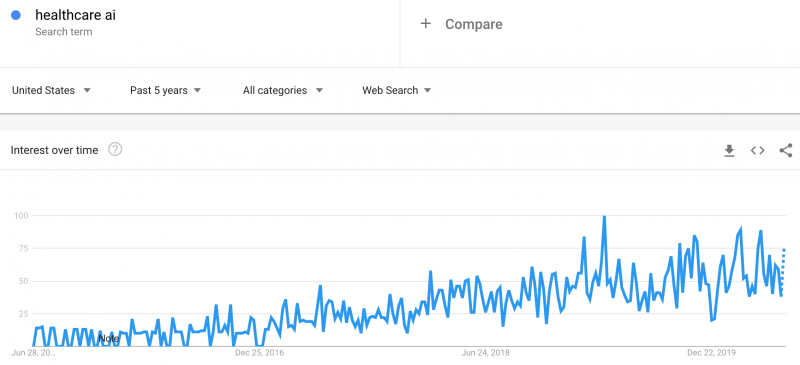 Healthcare is one of the foremost industries that will use AI according to various resources like G2 and Business Insider. The rapid growth in the AI healthcare market also supports this idea. We believe that this growth is necessary for the healthcare industry, considering the demand and supply for healthcare workers in the future. AI can play a critical role in narrowing the supply & demand gap.
AI Healthcare Market is growing rapidly
In 2016, Frost & Sullivan estimated that the AI healthcare market would grow from $0.66 billion in 2014 to $6.7 billion by 2021. This implied a growth of more than ten times and the industry indeed experienced significant growth. 
Another study from 2019 estimates a 41.7% compound annual growth rate, from $1.3 billion in 2018 to $13 billion in 2025 for the AI healthcare market. 
Investment in AI healthcare has increased dramatically and is expected to keep increasing
McKinsey shares that the venture capital funding for the top 50 firms in healthcare-related AI has already reached $8.5 billion by January 2020.
Rock Health, a digital health technology venture fund, shares that nearly $2 billion was invested in AI healthcare companies in 2019. In the first quarter of 2020, the total investment reached $635 million, which was four times the level of investment in 2019 Q1. Most industry experts expect that the recent corona outbreak will accelerate this growing trend rapidly.
Successful healthcare AI acquisitions & IPOs drive interest
According to MobiHealthNews, there have been 53 new acquisitions of AI healthcare companies in 2019. The number is expected to increase in the following years. Below are some of the AI acquisitions & IPOs of 2019 in the healthcare industry:
French 3-D and product lifecycle management specialist Dassault Systèmes has acquired

Medidata Solutions

, a provider of SaaS-based clinical development software, for $5.8 billion.

Google acquires

Fitbit

, a wearable activity company that focuses on healthcare, for $2.1 billion.

The acquisition will close in 2020.

Best Buy has acquired

Critical Signal Technologies

which help monitor senior citizens for $125 million.
Demand for Healthcare Workers
The World Health Organization indicates that the demand for healthcare workers will be 18 million in Europe by 2030. As they also share that the current supply number is 9 million healthcare workers, they expect that the demand in Europe won't be satisfied in the future. According to McKinsey, AI and automation technologies will free up nursing activities by 10% by 2030 to support this demand. On the other hand, Accenture estimates that AI can handle 20% of unmet demand by 2026 with the advances in AI technology.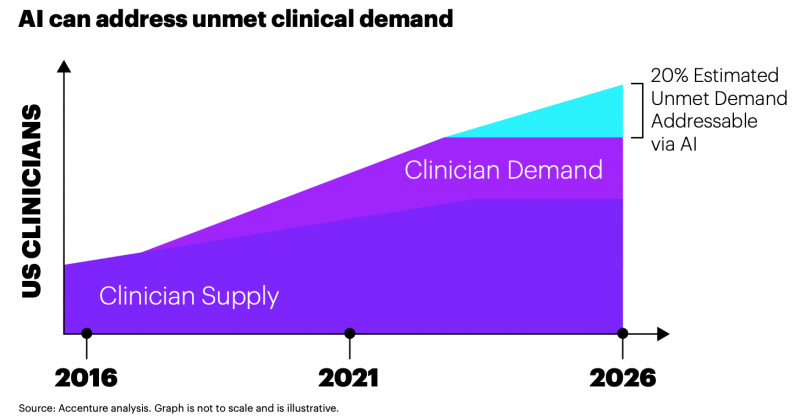 What are AI use cases in the healthcare industry?
We have identified about a dozen artificial intelligence use cases in the healthcare industry and structured these use cases around typical processes that are used in the healthcare industry. Our framework is not yet comprehensive but it can still give you insights about the activities and use cases. Also, it is ever improving so please let us know if you have any comments and suggestions.
Patient Care
1- Assisted or automated diagnosis & prescription: Chatbots can help patients self diagnose or assist doctors in diagnosis.

Babylon health provides relevant health and triage information based on the symptoms explained by the patient. However, they explicitly state that they do not provide diagnosis. This is to minimize their legal liabilities but in the future we will be seeing chatbots providing diagnosis as their accuracy rates improve.

2- Prescription auditing: AI audit systems can help minimize prescription errors.
3- Pregnancy Management: Monitor mother and fetus to reduce mother's worries and enable early diagnosis
4- Real-time prioritization and triage: Prescriptive analytics on patient data to enable accurate real-time case prioritization and triage.

Jvion: The Cognitive Clinical Success Machine precisely and comprehensively foresees risk delivering the recommended actions that improve outcomes.
Wellframe: Wellframe flips the script by delivering interactive care programs directly to patients on a mobile device. Its portfolio of clinical modules, developed based on the evidence-based care, enables the Care Team to provide a personalized experience for any patient.
Enlitic: Patient triaging solutions scan the incoming cases for multiple clinical findings, determine their priority, and route them to the most appropriate doctor in the network.

5- Personalized medications and care: Find the best treatment plans according to patient data reducing cost and increasing effectiveness of care

GNS Healthcare: The company uses machine learning to match the patients with the treatments that prove the most effective for them.
Oncora Medicals: The software structure, analyze and learn from the data that health systems have to enable them to provide personalized treatment.

6- Patient Data Analytics: Analyze patient and/or 3rd party data to discover insights and suggest actions.  AI allows the institution (hospital, etc…) analyze clinical data and generate deep insights into patient health. It provides an opportunity to reduce cost of care, use resources efficiently, and manage population health easily.
7-Surgical robots: Robot-assisted surgeries combines AI and collaborative robots. These robots are well-suited for procedures that require the same, repetitive movements as they are able to work without fatigue. AI can identify patterns within surgical procedures to improve best practices and to improve a surgical robots' control accuracy to sub-millimeter precision.
Medical Imaging and Diagnostic
8- Early diagnosis: Analyze chronic conditions leveraging lab data and other medical data to enable early diagnosis

Ezra: Ezra leverages AI while analyzing full-body MRI scans to support clinicians in the early detection of cancer.

9- Medical imaging insights: Advanced medical imaging to analyze and transform images and model possible situations.

SkinVision: SkinVision enables you to find skin cancer early by taking photos of your skin with your phone and get to a doctor at the right time.

AI-powered medical imaging is also widely used in diagnosing COVID-19 cases and identifying patients who require ventilator support. For example, a Chinese company,

Huiying Medical

, has developed an AI-powered medical imaging solution with 96% accuracy.
R&D
10- Drug discovery: Find new drugs based on previous data and medical intelligence.

NuMedii: Biopharma company, NuMedii has built a technology, AIDD (Artificial Intelligence for Drug Discovery) that harnesses Big Data and AI to rapidly discover connections between drugs and diseases at a systems level.

11- Gene analysis and editing: Understand genes and their components. Predict the impact of gene edits.
12- Device and drug comparative effectiveness

4Quant: The company utilizes the latest Big Data and Deep Learning technology to extract meaningful, actionable information from images and videos for experiment design to help pick and choose which components make the most sense for the needs.
Healthcare Management
13- Brand management and marketing: Create an optimal marketing strategy for the brand based on market perception and target segment.

Healint: Company's product Migraine Buddy has recorded terabytes of data that helps patients, doctors and researchers better understand the real-world causes and effects of neurological disorders.

14- Pricing and risk: Determine the optimal price for treatment and other service according to competition and other market conditions.
15- Market research: Prepare hospital competitive intelligence.

MD Analytics: MD analytics is a global provider of health and pharmaceutical marketing research solutions.

16- Operations: Process automation technologies such as intelligent automation and RPA help hospitals automate routine front office and back office operations such as reporting.
17- Customer service chatbots: Customer service chatbots allow patients to ask questions regarding bill payment, appointments, or medication refills.
18- Fraud detection: Patients may make false claims. Leveraging AI-powered fraud detection tools can help hospital managers to identify fraudsters.
Other
There are too many possible AI use cases in healthcare to be listed here and they can be identified by the practitioners. A machine learning based solution can be built in areas where significant training data is available and the problem statement can be formulated in a clear way. We help companies identify partners for building such custom machine learning / AI solutions:
How can developing countries leverage AI healthcare?
Developing countries might have a hard time to build AI healthcare solutions due to lack of AI expertise, high resource costs and nonavailability of necessary tools. However, they also have the following advantages to leverage AI healthcare solutions:
Wide and emerging talent pool:

Developing countries have a huge potential of future data scientists and developers. They can benefit from them to introduce new AI-powered solutions to their healthcare system.

Availability of healthcare data:

Data is a must for AI-powered systems. In developing countries, there are large amounts of data which AI healthcare tools can use. Considering that

90% of the world population

is in the developing countries and 95% of the patients need some form of medical imaging in their treatment, they have a big advantage in training AI-based healthcare technologies.
What are the benefits of AI in healthcare?
The main benefits include:
Better patient care:

AI can provide better patient care by detecting diseases earlier and offering more efficient treatment methods. According to

Frost & Sullivan's research

, AI has the potential to improve healthcare outcomes by 30 – 40%.

Data-driven decision-making:

With machine learning algorithms, AI can document and offer more insights about a patient's status and help doctors make better data-driven decisions by providing a better picture.

Time & cost saving for administrative tasks:

AI can handle administrative tasks like patient registration, patient data entry, and doctor scheduling for appointment requests.
What are the current limitations?
We observe that AI has numerous applications in the healthcare industry, and it continues to overgrow with the technology advancements. However, this field also has some limitations that hold AI back from being integrated into the current healthcare systems.
Data Security
When it comes to the healthcare industry, privacy is a prominent issue, and companies need to work carefully to keep patient information confidential. Companies' concerns about the possibility of data leakages reduce adoption of healthcare technologies. For example, the University of Washington has accidentally shared almost 1 million people's personal health information due to a database configuration error.
Thus, AI advancements in cybersecurity also play a role in the healthcare industry. It is one of the main fields that healthcare companies invest in because they can provide data privacy more securely and reduce data breaches.
Data privacy
In healthcare systems, AI systems must comply with the patient data laws of governing organizations and obey specific rules and regulations. For example, sharing data among a range of companies is not allowed in numerous jurisdictions, unless the patient requests it. These rules might slow down AI adoption in the healthcare industry. For example, there had been a controversy over the amount of patient data shared with Google DeepMind in 2016, since this data sharing broke the UK data privacy law.
Unexplainable AI Models
Most AI models become more complicated to deliver better outcomes. This complexity causes AI to work in a "black-box," where it becomes harder to understand how the model works. Healthcare workers need to understand how and why AI comes up with specific results to act accordingly. The lack of reasoning raises reliability issues for both healthcare companies and patients.
Explainable AI (XAI) solutions can solve this issue and build confidence between humans and computers by justifying how they reach particular solutions. You can read our in-depth explainable AI (XAI) guide to learn more about this field.
Strict testing procedures to prevent diagnostic errors
Diagnostic errors account for 60% of all medical errors and an estimated 40,000 to 80,000 deaths each year. As AI can offer more accurate diagnostics, there is always a chance that it can also make mistakes, which causes companies to hesitate about adopting AI in diagnosis.
AI healthcare tools aren't still widely used today as they also need to have FDA approval. However, this is a long-standing and expensive process that might take years. Besides, some of the previous applications that received FDA approval haven't shown any significant benefits. For example, in 1998, a computer-aided cancer detection software was reported to cost more than $400 million but couldn't provide any significant benefits.
Now that you have checked out AI applications in healthcare, feel free to check out other AI applications in marketing, sales, customer service, or analytics. You can also read our other articles about AI and healthcare:
AI focused:
Healthcare focused:
If you have more questions, do not hesitate to contact us:
Sources:
How can we do better?
Your feedback is valuable. We will do our best to improve our work based on it.