Communicating with hundreds of candidates one by one in the recruitment processes is costly, slow and leads to inconsistent responses. There are many AI applications that can help solve bottlenecks in recruiting process and recruiting chatbots are one them. Recruiting chatbots aim to speed up the first round of filtering candidates by automating scheduling for interviews and asking basic questions. Although chatbot examples for recruiting are not used frequently today, they will likely be an important part of the recruiting process in the future.
What is a recruiting chatbot?
Recruiting chatbots, also known as hiring assistants, are used to automate the communication between recruiters and candidates. After candidates apply for jobs from the career pages recruiting chatbots can obtain candidates' contact information, arrange interviews, and ask basic questions about their experience and background. Recruiting chatbots are the first touchpoint with candidates and can gather comprehensive information about a candidate.
In order to learn more about chatbots don't hesitate to visit our research.
Why are recruiting chatbots important now?
Traditional recruiting process is a time-consuming task for recruiters and contains multiple bottlenecks that harm candidate experience during recruiting process. For instance, according to the Candidate Experience survey, 60% of job seekers report having received a poor candidate experience and 72% of those respondents shared that bad experience was online or with someone directly. For B2C companies, candidates are also potential customers and customer experience is critical for most businesses.
With the advancements in natural language processing(NLP) techniques and chatbots, conversational AI applications can be a part of the process of recruitment and talent acquisitions. 
According to a Gartner research, by 2022, 35% of organizations will turn the job application process into a simple conversation by utilizing conversational user experience and natural language processing in their recruiting process. 
Recruiting chatbots can be used to engage with each candidate in organizations with a high number of applicants. HR teams can get help from chatbots that ask similar questions for all candidates. Chatbots can also answer frequently asked questions effectively.
Mya, recruiting chatbot vendor, provides a savings calculator. You can check out to see specific value of a recruiting chatbot project for your company.
What are the benefits of recruiting chatbots?
Although the benefits of chatbots vary depending on the area of ​​use, better user engagement thanks to fast, consistent responses is the main benefit of all chatbots. Benefits of recruitment chatbots include increasing engagement with candidates, speeding up the recruitment process, increased automation, reaching more candidates and quick responses to candidates' questions.
Increasing candidate engagement
Increasing transparency with structured candidate communication: Recruiting chatbots can be the first touchpoint after the application process. Chatbots can undertake the task of contacting candidates, for example explaining the overall recruitment process to them. 
Providing fast and consistent answers to candidates' questions: Recruiting chatbots are not only used for asking questions of HR teams to candidates, but they can also provide answers to frequently asked questions by applicants about the job or the process. This continuous support can increase candidate engagement and help establish a more positive impression about the company.
Better HR outcomes
Faster hiring: Chatbots can effectively answer basic questions and collect candidate details especially in the early stages of the recruitment process. This enables faster screening and a rapid transition to other stages of the process. For example, it may take multiple weeks for the first evaluation process by HR teams. However, it can be reduced to one day or even shorter when this process is taken over by chatbots.
Scalable hiring: Unlike HR teams, chatbots are also easy to scale and can keep the process progressing fast even with a high number of candidates.
Accessing a wider candidate pool: Candidates can provide the necessary information through a chatbot that communicates with them on the application process and clarify open questions. The job application process can be simplified instead of filling out long forms that take a lot of time. This provides a better user experience and therefore applications from a wider range of candidates can be received.
Spend more time on best candidates: Most recruiting chatbot vendors in the space offer candidate scoring capabilities. Capability to rank candidates enable recruiters to filter out candidates that are not suitable for the specific position. Therefore recruiting team doesn't spend time for disqualified prospects and focus on candidates that are more likely to be the future employees of the firm.
Increased automation
Instead of reaching each candidate via email or mobile phone and setting the appropriate interview date, the chatbots can automatically perform this task. AI-powered recruiting chatbots can access the calendar of recruiters to check for their availability and schedule a meeting automatically.  This will provide HR teams to reduce workload and focus on more important tasks.
Feel free to visit our in-depth research on top benefits of chatbots. 
What are the challenges of recruiting chatbots?
Although there seem to be many advantages to using chatbots, there are a number of reasons why HR teams have not yet adopted chatbots in recruitment. These factors can be summarized as, recruiting chatbots require better decision-making capabilities, chatbots may lack empathy while communicating with candidates and chatbots have a hard time distinguishing the difference between formal and informal languages. 
Decision-making capabilities
For example, in pre-screening candidates, if the company can not build a pre-screening model based on the data collected with the help of the chatbot, then the automation level will be limited. Companies need to pay attention to building smart pre-screening models to automate at least the initial screen to achieve significant savings for the HR team.
Empathy
HR teams are specialized in understanding the emotions such as excitement and stress of the candidates and showing the appropriate behavior. However, chatbots fail to understand basic cognitive behaviors like humor. It can negatively affect the user experience.
Language capabilities
The differences between the candidates' distinctive speaking style make it difficult for chatbots to give accurate results. Chatbots are expected to have reliable language perception skills to better understand applicants and treat everyone equally.
Limitations of chatbot as a UI
Text is not the best interface for all applications. For example, long questions may be more appropriate to answer over email. As we have seen in successful conversational UI, chatbots could provide multi choice answers to facilitate user input.
Human biases in algorithms
AI algorithms contains biases of individuals who build the algorithm and the training data used to train the algorithm. For example, Amazon started an AI project that screens candidates' resumes and make data driven decision about who to hire. The tool was using historical recruitment data where 60% of employees are male and as a result the recruiting tool was showing bias against against women. Amazon shut down the project due to the bias in the historical data. Though there are techniques and tools that can reduce AI bias, it is almost impossible to eliminate bias from AI algorithms completely with existing technologies.
What are the examples of recruiting chatbots?
JobAI
JobAI is a German recruiting chatbot startup from Berlin. JobAI claims that the platform's easy-to-use interface enable recruiters create a recruting chatbot in few minutes. Their platform offer jobseekers the opportunity to contact companies, inform themselves and apply via familiar messenger apps such as WhatsApp and Telegram to get instant feedback. JobAI can support two languages (German and English) and users can connect to bot via messaging channels like Facebook Messenger, Telegram, WhatsApp or a website widget.
Unique.ai
With unique.ai chatbot platform, recruiting teams can use no-code tools to design recruiting chatbots that boosts recruiter productivity by pre-qualifying candidates. The recruiting bot enable HR personnel to
collect and summarize required information about candidate profiles
rate candidates (also called experience score) based on candidate responses
be more productive since bot handles the comparison of prospects
match candidate availabilities to shifts of the businesses
schedule interviews with candidates.
Below video shows how unique.ai recruiting bot works, its features and footage of reviews from customers:
XOR
XOR is a HR specific chatbot platform that offers
Candidate Screening: Recruiters configure questions and weight the answers. The bot analyzes candidate data and minimum requirements recruiters set for specific position and provides the candidate list for best match.
Interview Scheduling: The platform can be integrated with your organization's applicant tracking system (ATS) so that bot will be aware of recruiters' schedule and candidates can choose an available time for the interview.
Engagement with candidates from talent pool: To engage with talent pool, the platform automates campaigns that nurture talent with company updates, provide job seeker resources, and announces new jobs openings to passive candidates.
Onboarding automation: Newly hired employees are full of questions. With XOR recruiting chatbot, businesses can provide virtual training by answering FAQ and giving an overview of the job with video guides.
XOR claims that their chatbot solution allows businesses recruit 33% faster and screen 85% more resumes with the same budget while spending 50% less per hire.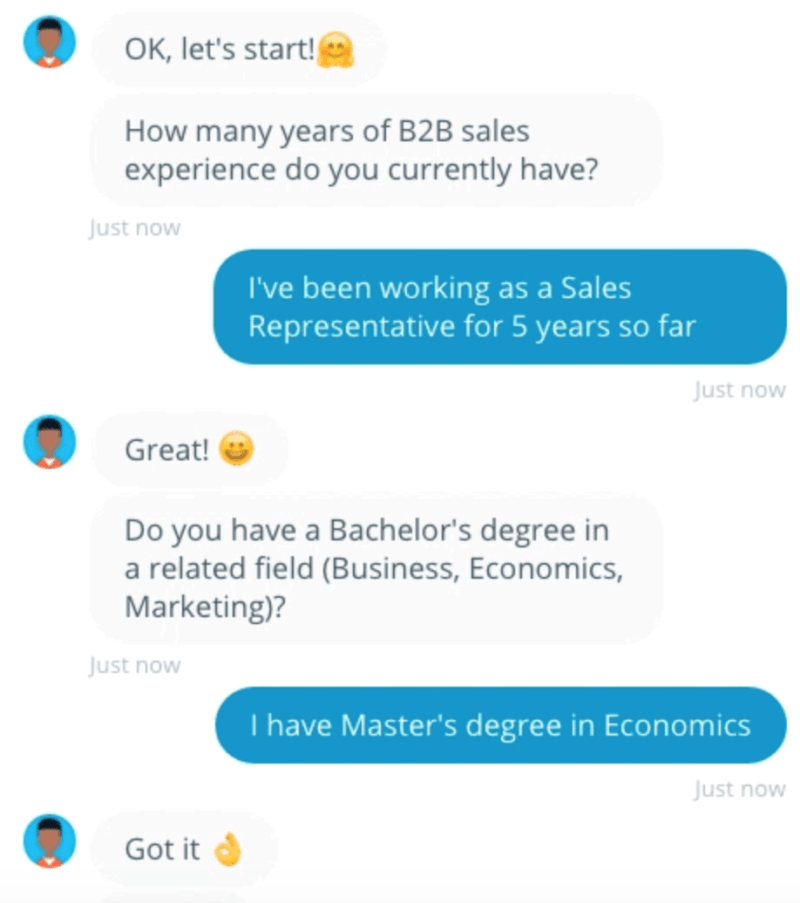 What are the top recruiting chatbot vendors?
If you would like to learn more on chatbots or HR technologies, here are our article recommendations:
Chatbots:
HR:
And if you still have questions about recruting chatbots, don't hesitate to ask us. We would like to help:
Let us find the right vendor for your business
How can we do better?
Your feedback is valuable. We will do our best to improve our work based on it.