Artificial intelligence adoption is increasing. IDC expects that 75% of commercial enterprise apps will use AI by 2021. Customers who are delighted with the personalized experiences they get from brands, thanks to AI, start to expect the same experience from every brand and institute they engage with. According to Accenture, 92% of US citizens report that improved digital services would positively impact their view of government. Therefore, governments are willing to invest in AI. For example, recently, Danish architecture firm BIG and Chinese tech company Terminus revealed their plans to build an "AI City" project named Cloud Valley in the south-western Chinese city of Chongqing.
In this article, we focus on AI applications in government. We will answer all important questions regarding artificial intelligence deployment in government, from challenges and best practices to real-world public sector case studies.
What does artificial intelligence offer to governments?
What AI offers to governments is similar to what AI offers to the private sector. These offerings can be classified into three categories:
Savings due to operational efficiency: According to Governing magazine, 53% of state and local officials surveyed had excessive paperwork burdens that impacted their ability to get work done. According to Deloitte, automation of federal government employee tasks could save between 96.7 million and 1.2 billion hours annually. Same Deloitte study also reports that automation and AI have the potential to save between $3.3 billion and $41.1 billion.
New/improved services: Citizen-facing applications like self-driving shuttles and personalized education improves the quality of services governments deliver to citizens.
More data driven decision making: Governments are collecting an abundant amount of data every day. Yet, without an accurate analysis, data is not adequate for actionable insights. Better decision making has the potential to both improve services and save costs.
What is the level of government's interest in AI?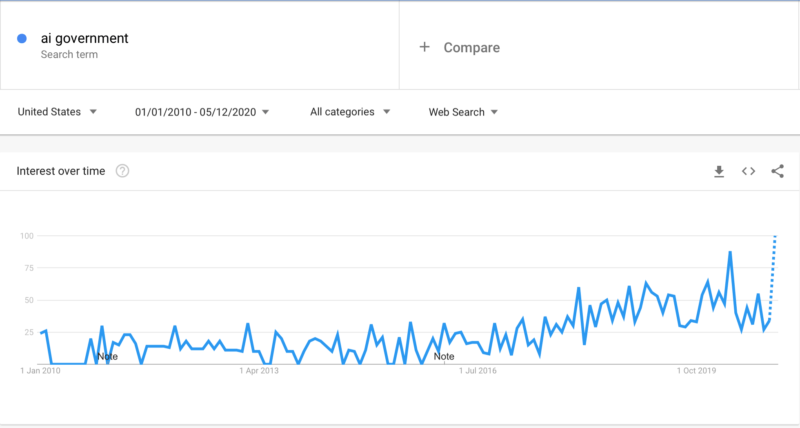 Even though there was interest in AI in government since 2000s, the interest, at least according to Google's data, was focused on just specific days. After 2010, there has been continuous and increasing interest in AI.
What are AI applications/ use cases in government?
Government services
Social Welfare
Identifying fraudulent benefits claims: Fraudulent claims cost governments billions. For instance, it is expected that £1.5bn may have been lost in fraudulent claims for Universal Credit in the UK after the coronavirus pandemic. AI-powered fraud detection can enable governments to track down large-scale corruption of the benefit and welfare programs by

identifying patterns in claims such as the same phone number or applications written in the same style
processing social media profiles to check if there are any conflicting information compared to the applications. However, this may be perceived as an infringement of personal data in many countries.
Healthcare
Tracking disease spreads: AI can be used for preventing disease spread. To do this, there are two types of AI applications, which are

Building a machine learning algorithm that cross-checks patients with similar symptoms from different locations, detects patterns, and warns when an outbreak might occur.
Using graph analytics, as in the case of China during COVID-19, to identify contacts with a known carrier of the virus

Triaging patients: Though triaging patients have been used in hospitals' emergency services, triaging became necessary after coronavirus spread. AI-powered tools can analyze patient data to predict patients' risk scores so that doctors can prioritize.
Domestic security 
Predicting a crime and recommending optimal police presence: Artificial intelligence can be used to identify patterns in policing heat maps to forecast where and when next crimes are likely to occur as in the graph below. Though AI algorithms' fairness in predictive policing is still questionable and it doesn't favor minority groups, AI-based recommendations can be used to identify optimal police patrol presence.  Solutions like Palantir enable to conduct geo-searches around locations of interest and view relevant arrest data for law enforcement.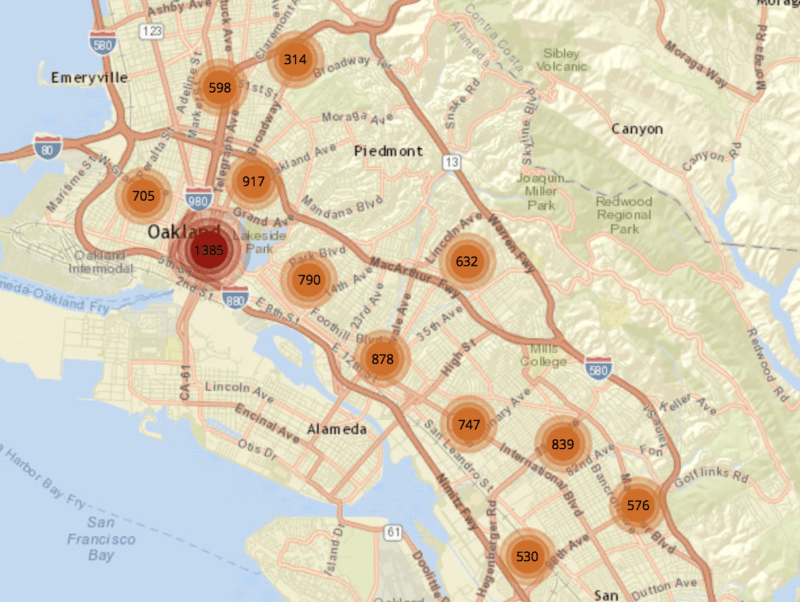 Surveillance: AI surveillance describes the process of ML and DL-based algorithms analyzing images, videos, and data recorded from CCTV cameras. Though techniques like facial recognition enable governments to identify people from video records, the ethical side of AI-powered surveillance is still controversial. For instance, IBM stopped offering, developing, or researching facial recognition technology for mass surveillance due to racial profiling and violations of basic human rights and freedoms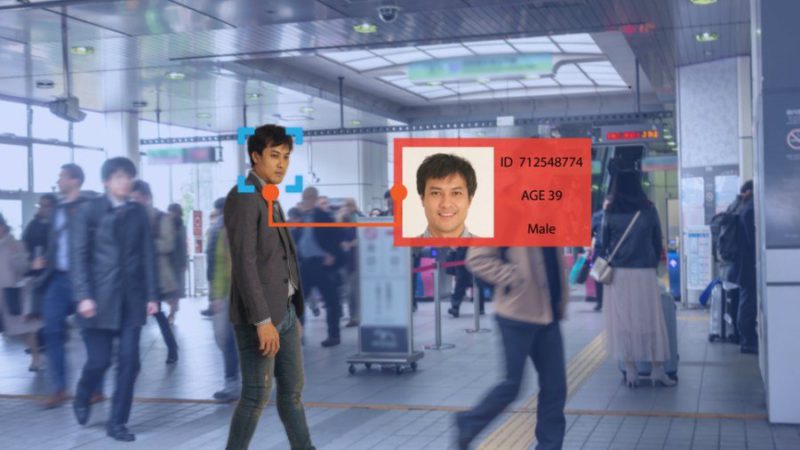 Military
Autonomous drones: Autonomous military drones are also referred to as Unmanned combat aerial vehicles (UCAV), are military weapons that carry combat payloads like missiles are usually under real-time human control, with varying levels of autonomy. One of the latest examples of military drones, though they were mostly piloted by humans, were used by Azerbaijan at Nagorno-Karabakh in the combat against Armenia.
Transportation
Self-driving shuttles: Autonomous shuttles are a flexible solution to move people at sub-50km/h speeds along predetermined, learned paths like industrial campuses, city centers, or suburban neighborhoods. Self-driving shuttle trial deployments are expected to accelerate quickly because

the shuttle segment is less regulated than the automotive market.
consumers' trust in autonomous shuttles is higher than other autonomous vehicles. According to a survey conducted by the University of Michigan, 86% of riders said they trusted shuttles after riding in it, as did 66% of nonriders surveyed. On the contrary, another survey highlights that 70% of Americans would not trust an autonomous vehicle.
Monitoring social media to identify incidents: Traffic congestions are an issue for citizens, so do for governments. Congestions happen mostly due to incidents on roads, and it negatively impacts travel times, fuel consumption, and carbon emissions. Artificial intelligence can be used to monitor social media to identify tweets about recent accidents. Here is a research paper from the University of Wolverhampton on incident detection using NLP techniques.


Education
Personalized education: Machine learning algorithms can help provide personalized education irrespective of the number of students. AI can analyze students' progress and find inconsistencies between what is taught and what is not yet understood.
Marking exam papers: At the University of Michigan, students receive immediate feedback on their writing, even in large classes, thanks to AI. Automated text analysis reviews students' work to identify strengths and recommend revisions.
Emergency
Classifying emergency calls based on their urgency: Voice recognition technologies & ML algorithms can help governments automate emergency call lines by understanding and categorizing queries.
Fire prediction: ML & DL algorithms map the dryness of forests to predict wildfire better.
Public relations
Customer service chatbots: Chatbots are the most common use case of AI in government. Chatbots enable governments to perform a variety of tasks, including:

Scheduling meetings
Answering FAQs
Directing requests to the appropriate area within government
Filling out forms
Assisting with searching documents
Helping out recruitment (e.g., United States Army )

Checking on social media posts for citizen feedback purposes: Every minute, Twitter users tweet 347,222 times. By processing a vast amount of data with AI, the public sector can gain feedback from citizens to improve their services.
Others
Document automation includes extraction and inputting of invoices, architectural drawings, certificates, charts, drawings,  forms, legal documents, and letters.
Drafting documents & announcements: Automated content can be generated with Natural Language Generation (NLG), which is already being used in some newsrooms.
Translation: AI enables a more efficient translation of government information. For example, the PyeongChang Winter Olympics in Korea will be using AI-based real-time translation services.
What are the challenges of AI in the public sector?
Employment
Unemployment is the scariest part of artificial intelligence if we disregard the hypothetical scenario of an AI takeover. Governments, as public service providers, should be concerned about the impact of AI on human jobs in government. To mitigate the impact of potential unemployment due to automation, governments need to ensure that humans focus on higher value added tasks or move on to the private sector if their current tasks are going to be automated.
According to the European Commission's Eurobarometer survey that presents European citizens' thoughts on the influence of digitalization and automation on daily life
74% of respondents expect that more jobs will disappear than new jobs will be created due to the use of robots and artificial intelligence.
72% of respondents believe robots steal peoples' jobs.
44% of respondents who are currently working think their current job could at least partly be done by a robot or artificial intelligence.
AI biases
AI algorithms may contain biases due to prejudices of the algorithm development team or misleading data. Though building an unbiased AI algorithm is technically possible, AI can be as good as data, and people are the ones who create data. Therefore the best thing governments can do for AI bias is minimizing it by applying best practices.
Explainability
It is not easy to explain how all AI algorithms arrive at their predictions (i.e., inferences) however there are technical approaches being developed to overcome this shortcoming.
This is problematic for the public sector, where providing a rationale for decisions is more important than the private sector since the public sector is accountable to the public. In contrast, the private sector is foremost accountable to shareholders.
Accountability
Accountability of AI systems is an issue of AI ethics. Governments are like the US and the UK are introducing new laws about companies' AI algorithms' accountability. It will be hypocrisy if governments and companies are not held accountable for accidents & false predictions their AI algorithms make.
Difficulty of transformation
AI transformation in government is difficult because
Age of public servants: The workforce at the government is older than the private sector, making it potentially harder to implement to the culture change. According to U.S. Census Bureau research, about 24% of public-sector workers are millennials, compared with 34% in the private sector.
More ambiguous/complex KPIs: Compared to the private sector's drive for profit, governments have more complex, harder to measure goals. As a result, government KPIs tend to be more activity-oriented rather than result-oriented making it harder to measure improvements.
Number of stakeholders: Government watchdogs, labor unions, opposition parties are all stakeholders whose view of AI will shape how the public will perceive AI in government. This makes communication about transformation projects ever more important.
What are the best practices of AI for governments?
Some best practices of AI transformation are:
Involve people more: Investments alone are not enough for AI projects. Human and processes aspects also help achieve success from AI projects.
Enhance technology infrastructure: AI deployment may require the restructuring of the technology infrastructure for faster system integration.
Improve data quality & collection: AI is data hungry. Collecting high quality data is a prerequisite for numerous AI implementations.
Involve the experts: Recruit professionals who are proficient in ML and AI deployments. AI consulting and custom AI development firms can provide the necessary experience and talent for governments.
Reduce bias in AI: Follow best practices to reduce AI bias can also guide governments during their AI projects
Feel free to check our related article for more information.
Case studies
Country
Instituite
Application
Results
Australia
Taxation Office
Chatbot/Virtual assistant
-Had more than 3 million conversations
-Resolved 88% of queries on first contact.
Australia
Department of Human Services
Chatbot/Virtual assistant
can answer general questions about family, job seeker and student payments and related information.
Canada
Surrey Municipial
Chatbot/Virtual assistant
helps the residents of the city get answers to questions related to municipal infrastructure
United States
Atlanta Fire Rescue Department (AFRD)
Predictive Analytics
accurately predicted 73% of fire incidents in the building.
United States
Department of Energy
Solar Forecasting
machine learning based forecasts are as much as 30% more accurate than ones created using conventional approaches.
United States
New York City Department of Social Services (DSS)
Machine Vision
Digitization of documents is achieved
United States
City of Pittsburgh
Automated traffic optimization
Scalable Urban Traffic Control (SURTrAC) is connected to a network of nine traffic signals in three significant roads in Pittsburgh (Penn Circle, Penn Avenue, and Highland Avenue)
To learn more
Leave us a comment if you know of other applications of AI in government. Here is a list of more AI-related articles you might be interested in:
And if you still have questions about AI applications in government, don't hesitate to contact us:
Let us find the right vendor for your business
How can we do better?
Your feedback is valuable. We will do our best to improve our work based on it.