Sales reps spend most of their time in non-sales activities. Generating leads can take up a significant share of a sales rep's time.

Automating lead generating leveraging the latest technology including AI, you can enable your sales reps to devote more time to sales.
What's lead generation?
A lead is a person that has the potential to purchase what you are selling. For businesses to generate leads, they need to identify, attract, and screen these qualified leads. This entire process is called lead generation.
B2B vs B2C lead generation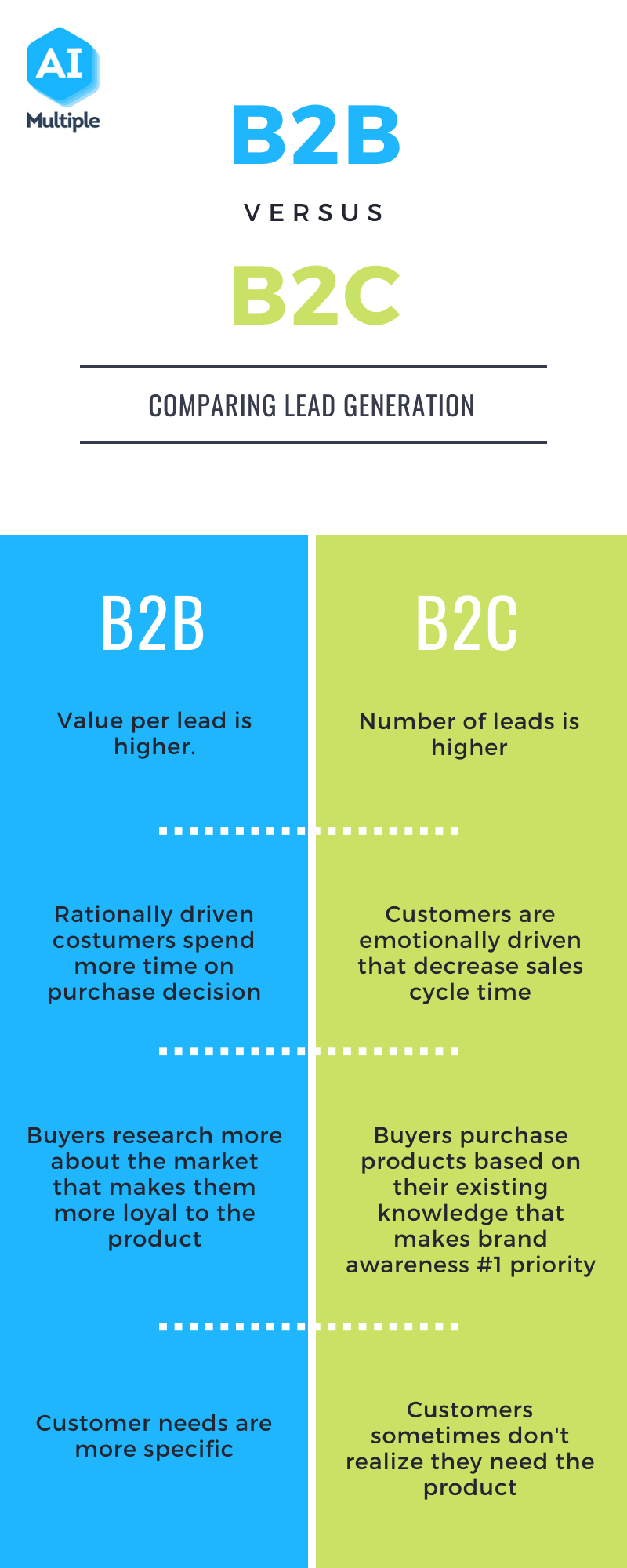 B2B sales differ from B2C due to various reasons:
Sales Value: B2B deals with a higher value per lead.
Sales Cycle Time: Businesses spend more time on purchase decisions than individual costumers.
Buyer Life Cycle: Once a lead converts, it takes effort to integrate a tech solution to a company's systems. Therefore it is harder to switch vendors.
Buyer knowledge: B2B buyers tend to research more about the market that's why they've already known about you and competitors' products.
The scope of the audience: In B2B, customer needs are more specific that's why personalization is more important.
Due to these reasons, B2B marketing and sales teams should choose a more proactive and personalized approach while generating leads. With this approach, they need to create personalized content to build trust and a strong relationship with leads.
In B2B environment, lead generation process involves
Finding companies that need your product based on firmographic, technographic or intent data
Identifying decision-makers in targeted companies
Attracting leads with personalized marketing campaigns
Why is lead generation relevant now?
While traditional marketing involved blasting mass media with advertising, current state of the art lead generation includes using both own and 3rd party channels in a highly targeted manner.
Marketo has a neat visualization of how buying evolved: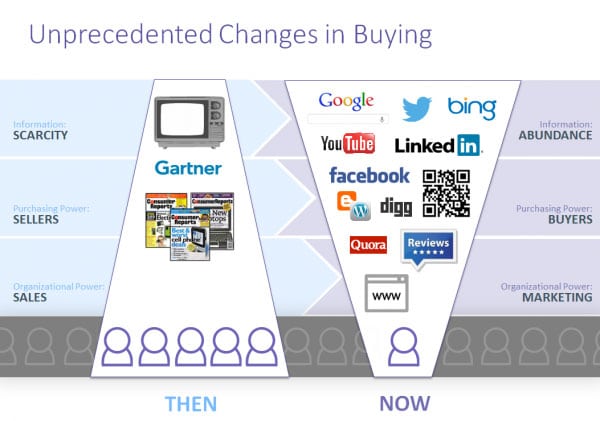 What is the difference between lead generation and appointment setting?
Though these two marketing terms are mostly used by people interchangeably, they have some fundamental differences. Both methods involve identifying the potential client and talking to them but the appointment setting sets a date with the lead while lead generation focuses more on gathering information including contact details about leads.
How do businesses generate leads?
There are primarily 4 methods of lead generation, however, if you want to learn more about how the whole B2B marketing process works, we have a 4-step guide that reveals all important points about B2B marketing.
Offline
The good old world of traditional marketing. Requires going to conferences, making cold calls, speaking in public to get the word out and reach out to potential leads.
For most modern businesses, this can only represents a small share of their leads. While it makes sense to go to the largest conferences in your niche, there are diminishing returns from such activities. Top 2-3 trade generally cover more than 80% of your target customers that attend such events thanks to Pareto rule.
Digital & Organic
Use your own digital assets such as websites and social channels to get customers to contact you or acquire your services.
This is the best long term approach to lead generation however it takes time to build organic traffic unless your business is viral or is a social media darling. Unfortunately, most products are just not viral and are not attractive in social media. Though Elon Musk has been able to make his boring company a social media phenomenon, most entrepreneurs do not have the clout or marketing whiz to pull of such a feat.
Digital & Paid
Use paid advertising to funnel potential customers to your website where they can choose to contact you. You can use search engines, social media and other websites and apps to promote your message.
This is the fastest approach to achieve sales however it is also the most expensive approach. You will be paying up to a few dollars per visitor and only a few percentages will ask to be contacted or make a purchase.
Digital Outreach
Use social media and other 3rd party data sources to identify leads that could be interested in your product and reach out to them via highly personalized ads, messages, emails or calls.
Potentially the most successful approach for an upcoming company with a product that's significantly stronger than its competitors. With this approach, there's no channel to build, no expensive ads to buy and no slow real-life interactions. You can get going immediately as long as you can define your customer in detail and pay for the data.
Who are leading vendors in this field?
Dun & Bradstreet, with 5578 employees and approximately 1.6 billion annual revenue, is the leading company in the lead generation software market. Dun& Bradstreet's Hoovers uses sophisticated analytics to deliver a sales acceleration solution packed with insight using Dun & Bradstreet's powerful D-U-N-S® Numbering System that world's largest commercial database. Integration with CRM systems eliminates manual tasks and give the best predictions for the leads with its real-time business intelligence.
Same as Dun & bradstreet, DiscoverOrg also uses its own data including detail about individuals' job responsibilities, direct reports and direct information generated by its own team including 250+ researchers, updated every 60 days. With the data, their intelligent solutions provide sales reps relevant leads with high opportunity.
What are some features of B2B lead generation tools?
Providing data for targeting
Information on website visitors
Some tools provide you useful information about website visitors so that the sales team can target visitors who are more likely to convert. This marketing approach is called account-based marketing and it is considered as a key driver to increase revenue in B2B sales. Some insights these tools offer are visitors' company, lead scoring that shows which leads are more likely to convert, how often they've visited your site, what products they've viewed, and which CTAs they've clicked.
Information on all companies
Information that can be used in targeting include technographics, firmographics, demographics, intent data. This data is used by the marketing teams to identify leads that are likely to convert.
There are numerous vendors in this category as explained in our article on data providers. For example, WhatRuns is a vendor that provides technographics data so that SaaS and hardware companies can identify potential customers.
Reaching out to target accounts
All digital marketing platforms enable companies to reach out to target accounts with various targeting settings. Major platforms for B2B marketing include search engines (e.g. Google, Bing), social media (Linkedin), review aggregators (e.g. Capterra).
Lead capturing
Unique landing pages
Unique and personalized landing pages can improve conversion rates. When leads come to your website, it's up to your landing page to convince visitors to take the next step. For example, Instapage is a tool that helps marketers create quick relevant post-click landing pages and it also enables organizations to test landing pages to optimize for conversions.
Email marketing
These tools allow users to create email marketing campaigns and automated email drip campaigns. Mailchimp is a cool vendor in this category, though it offers end-to-end lead generation features. With Mailchimp, businesses can send personalized transactional emails.
Chatbots for lead qualification
Chatbots customer services are a valuable tool for marketers since it allows businesses to engage with leads when leads want. Chatbot conversations are also important for marketers because marketers can gain insights about clients thanks to chat history. One of the B2B chatbot platforms is MobileMonkey. MobileMonkey claims that businesses generate more leads thanks to chatbots since people are 3x more likely to engage with chat vs. website forms.
Which KPIs should businesses track to measure lead generation success?
Organizations should track metrics to understand whether they need to change their campaign techniques. Here are some metrics you should follow:
Success metrics
The percentage of leads who become customers: Not every quality leads convert that's why tracking the ratio of customers per lead can help marketers compare their lead generation success with competitors.
Traffic to lead ratio: This metric shows the percentage of web traffic that can be considered as a quality lead.
Time to close: Time to close metric enables marketers to measure sales cycle length.
Value-related metrics
Average lead value: This metric is helpful to understand how much money potential customers can generate for your business.
Cost per lead: This metric measures how cost-effective your marketing campaigns are when it comes to generating new leads for your sales team. A low cost per lead with a high volume of quality indicates that your campaign is doing well.
Customer Acquisition Cost (CAC): Total cost of acquiring a customer including all marketing and sales costs.
Customer lifetime value(CLV): This value is the prediction of the net profit contribution per customer. Its calculation is as follows:

(Annual revenue per customer * Customer relationship in years) – Customer acquisition cost= CLV
Industry averages for some of these metrics and other important insights such as conversion rate for each pipeline are shown below by B2B Sales Benchmark Research infographic:

What are B2B lead generation best practices?
Great content: B2B customers research the market before deciding on a purchase, therefore, marketers should be ready for follow-up questions about their product and provide evidence that their product is the best choice for the lead. To attract this knowledgable audience, providing free case studies, infographics, and white papers are valuable.
Continuous testing: You should always run A/B tests to key pages to optimize your website's funnel in digital marketing.
Quality over quantity: For example, don't be afraid to target long-tail keywords. Purchase intent of visitors can get higher as topics become more specific/niche. After all it is all about sales, a high quality lead can be worth many low quality leads.
Focus: Scoring your leads helps increase sales team close rate because they don't spend time on lower quality leads.
Feel free to check our other articles about marketing:
Content Intelligence: In-Depth Guide
Account Based Marketing: Increase B2B conversions
First Party Data in 2020: The best data source of marketing
The Ultimate Guide to Website Personalization
AI in Marketing: Comprehensive Guide
If you still have questions about B2B lead generation techniques, feel free to contact us:
How can we do better?
Your feedback is valuable. We will do our best to improve our work based on it.