Supply chain management (SCM) is administration of people, organizations, resources, activities, and technologies involved in manufacturing and distributing a product or service to cut down costs and minimize shortages. Since the 1950s,  different trends and technologies have been shaping supply chain managers' strategies. As of today, AI & RPA enable companies to improve operational efficiency, cut down costs and prevent shortages.
Automation of supply chain operations is the top priority of companies. According to a survey of supply chain professionals in retail, manufacturing, and logistics fields, 41% of companies have already acquired or plan to acquire a supply chain automation technology within 12 months. Another study by Deloitte also reveals that warehouse automation(%53) is the top technology invested by top companies followed by predictive analytics (%47), Internet of Things (41%), and Cloud Logistics (40%).
What is supply chain automation?
Supply chain automation is leveraging digital technologies such as artificial intelligence (AI), machine learning (ML), Robotic Process Automation (RPA), Optical Character Recognition (OCR), and robotics to lower the operational cost of delivering a product or service.
What is the difference between supply chain & logistics AI?
Supply chain and logistics are two terms that are often confused with each other. Logistics is a distinct part of the supply chain and is essential to good supply chain performance. Supply chain management is more focused on coordinating multiple parties of the supply chain network (numerous suppliers, the company, the end-user) to achieve the companies' objectives. On the other hand, logistics' focus is on the movement of goods from one place to another, storing those goods, and producing the right information and documents for efficient reporting and processing. Essentially, if goods are being transported or stored, that's a logistics process of SCM.
What activities can be automated in supply chain management?
Automation is about identifying repetitive tasks that are time-consuming or error-prone and discovering ways to automate them. Supply chain networks are rife with repeatable, process-oriented, and error-prone tasks, ranging from manual documentation errors to picking and stocking errors, shipping and receiving errors, and much more. These processes tend to be logistics processes and we've explored how AI can facilitate logistics in detail before. In short, 3 types of automation are possible for the supply chain:
Back-office automation: Supply chain management processes contain various documents such as delivery order, dock receipt, bill of lading (B/L), sea waybill, etc. Employees in the supply chain department continuously store and process these documents for various reasons, yet, this is a time-consuming, manual task that inhibits businesses to reach operational excellence. Using artificial intelligence & OCR, businesses can achieve nearly end-to-end document automation (involving tasks like data capture, understanding information on the document, and sending the document to the relevant person).
Transportation automation: Autonomous Things such as autonomous trucks and drones can also be used to transport supply in the network. Some examples of transportation automation are

Otto, the self-driving truck subsidiary of Uber, shipped a truckload of Budweiser from Fort Collins, Colo. to Colorado Springs in 2016.
Nuro is a startup building autonomous self-driving delivery vehicles. Nuro is designed for last-mile delivery of groceries, food, consumer products, and packages. Their custom-designed R2 vehicles don't have passenger seats; instead, they are optimized for deliveries and safety, which means they're small, narrow, use electric motors, and have pedestrian-protecting features.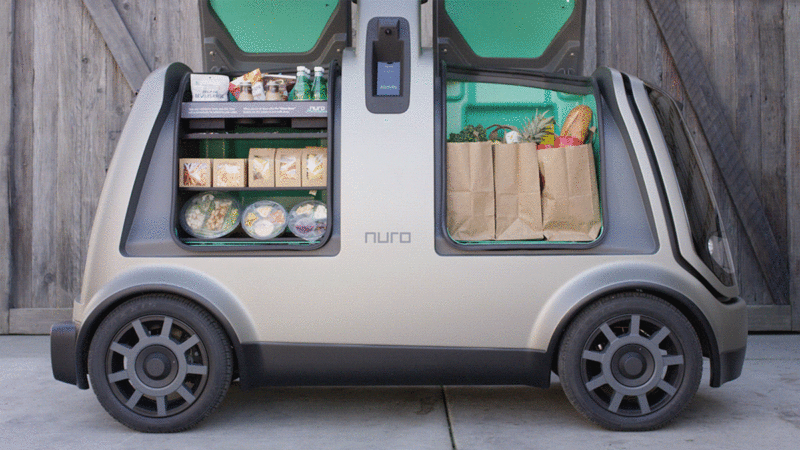 Warehouse automation: There are various aspects of warehouse operations that can be automated via robotics. Some warehouse robotics examples are

Demand/Supply planning & Inventory automation: In 2013, Motorola reports that 41% of warehouse facilities were still reliant on pen-and-paper methods for counting a small subset of inventory, in a specific location, on a scheduled day to identify out-of-stock items or stock-at-hand levels. Though a lot has changed in warehouse technologies, most companies still have not managed to automate inventory operations. New sophisticated technologies like Woodman's badger robots and AI-powered demand forecasting solutions help companies automate their inventory operations to minimize the occasion of out-of-stock or stock-at-hand situations.
Automated guided vehicles (AGVs)/ Autonomous mobile robots (AMR): AGVs have been around since the 1950s. However, AMRs add intelligence, guidance, and sensory awareness to conventional AGVs. This allows them to operate autonomously, but collaboratively, around humans. AMRs address the limitations of traditional AGVs and making them better suited to complex warehouses and collaborative activities. Check out the video below if you want to see how autonomous mobile robots look like in an automated warehouse.
Automation is inevitable in every industry. Feel free to check our automation-related articles:
And if you still have questions on supply chain automation, don't hesitate to contact us:
Let us find the right vendor for your business
How can we do better?
Your feedback is valuable. We will do our best to improve our work based on it.