With the rise of personal computers in the 1980s, companies started going through digital transformations to improve their products/services and reduce costs. However, according to Global McKinsey Survey results, only less than 30 percent of digital transformation processes are success stories. Digital transformation is key to a companies success and can be achieved via company-wide alignment, design thinking and adoption of the leading edge technologies.
What is digital transformation?
Digital transformation is the process of integrating digital technologies into all aspects of a business to meet the market and changing business requirements. It aims to increase the effectiveness of business operations and customer relations. To achieve these goals, organizations need to update their systems, processes, organizations and culture. For more, feel free to read our what is digital transformation article.
Why does it matter now?
Competition is increasing and digital transformation is powerful leverage for companies that aim to stay relevant. However, ~70% of digital transformation projects fail. Survey results below from Harvard Business Review highlighted the fact that only 23% of companies are not dependent on digital products or operations.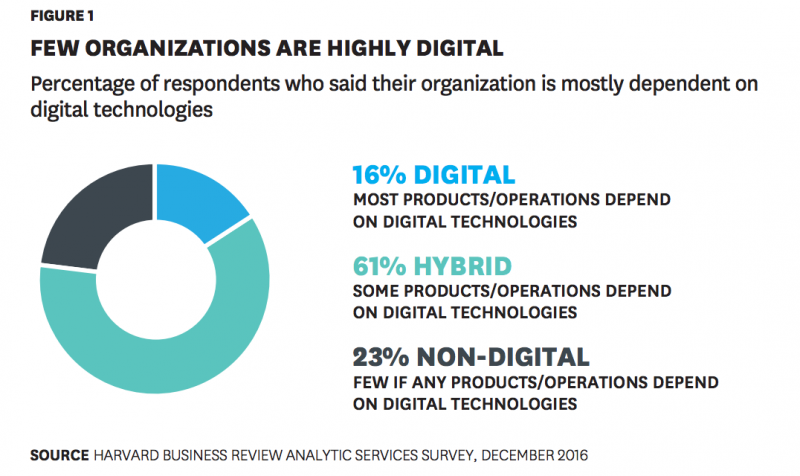 Advances in digitalization such as personal computing, the internet, mobile computing, social media and the recent advances in AI are such important technological innovations that cause slow adapters to fail. For example, the retail apocalypse triggered by the rise of e-commerce forced thousands of companies out of business. Failing to adapt to e-commerce as a retailer meant the end of many companies.
What are the steps to digital transformation?
1-Identify digital transformation objectives: Determine the organization's level of digitization and try to align the current state and long term digital goals. Each organization, with different needs, has a slightly different set of transition targets, but this is a crucial step towards organizational synergy. The figure below is BCG's digital maturity model which may be helpful to identify an organization's level of digitization.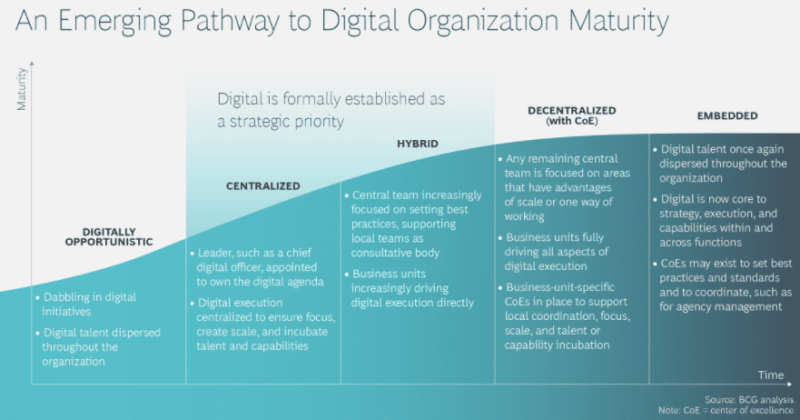 2-Build a digital transformation strategy: Set a clear objective and build a feasible game plan which involves selecting areas of improvement and starting to integrate digital systems from those areas. The organization's objectives should be a step-by-step process and business may fail because of actions taken with haste.
3-Decide on the necessary technologies enablers: Enablers such as IoT, Analytics, Cloud, VR, and AI are a vital driver for a successful digital transformation. Organizations should make researches and decide on which enabler would be the best fit for the organization.
4-Establish competent technology leadership: Without leadership support, change projects tend to be unsuccessful. Having a CIO that is strongly supported by the leadership team and has a business impact of digital transformation as a KPI can be the difference between a successful and unsuccessful transformation.
5-Train the staff and integrate a digital culture among the organization: With the culture and education you provide across the organization, staff adapts to change easier and each process in the firm is operating agile. Without cultural change, the company could miss the next technology revolution and require another significant transformation effort to catch up. These requirements lead to the question: "What kind of cultural attributes the organization needs for a successful digital transformation?". We have seen three major cultural change for the companies that achieved digital transformation:
The organization is better connected and responsive across departments so that employees return quickly to changing customers' needs.
Employees are encouraged to solve problems.
Employees are ready to take risks, and if a risky action causes a breakdown, they are willing to learn from the failure.
What are Digital Transformation Case Studies?
M&A is an opportunity to make drastic changes in an organization and digital transformation is a no-regret move for most companies. M&A also requires companies to harmonize the processes of the new entity to ensure efficient operations. For example, after Nokia finalized its acquisition of Alcatel-Lucent, they experienced misalignment in order-to-cash and purchase-to-pay processes because these two companies had completely different process dynamics. Nokia used QPR ProcessAnalyzer to harmonize these processes. In return, Nokia was able to analyze and improve processes to reduce lead time.
In McKinsey's case study with Anthem, a healthcare company, alignment across the organization and having an effective adoption strategy was highlighted as key success factors. Anil Bhatt, vice president and head of digital solutions and experience for Anthem, focused on building agile structure, creating talent and establishing the right leadership to maximize output from digital transformation.
Dan Nordlander, senior vice president of Western Union Way Operations at Western Union, points out the importance of alignment across departments and having senior managers drive the transformation in digital transformations. He mentions that the manager should understand what is easy about the job and what is not rather than inspecting employees. Managers are able to get a better sense of processes and can make the process easier for employees and better for clients.
Feel free to read our article with >30 of these case studies to learn more.
What are Digital Transformation Best Practices?
Since only less than 30 percent of digital transformation processes are success stories, it is important to understand best practices to ensure the success of digital transformations.
Synchronize Efforts
When organizations plan to implement an agile process, IT and management should be working together on the project. Business first mentality is defined as "At a deeper level by acting as a catalyst or facilitator to get the best out of others and to build a stronger organization for long term success." by Mitch McCrimmon. Business mentality should be prevalent across the organization so that IT and management crews work efficiently to keep the team focused on customer needs and objectives of the project.
Align Staff From Start
As mentioned before, culture change is a must for digital transformation due to avoid failure. To achieve cultural change across the organization, communication about the digital transformation and having initiatives to digitize the culture such as prioritizing design thinking and experimentation are important.
Look Through the Perspective of Customers
Organizations mostly decide to sell a journey or experience rather than a product, once they initiate digital transformation. Organizations should search the answer to which kind of services will the business offer to customers to build a sustainable relationship. Establishing an effortless and computerized interface to interact with them is an essential tool to be a support service during or after the purchasing process.
Leverage the latest technology
Vendors have incentives to sell service costs and try to sell outsourcing services instead of the latest technology which reduces the need for outsourcing. You should ensure that you are getting the optimal technology during the digital transformation.
Invoice processing is such an area where companies need to pay attention:
Best practice solution is:

Having an EDI (Electronic Data Interchange) auto process most of your invoices as you onboard new suppliers into your EDI.
Getting all remaining digital invoices in a single email address so they can easily be managed. Getting physical invoices in a shared service center where they are scanned by high-quality scanners.
Using a deep learning based data extraction/processing technology to automatically process most of the invoices that arrive outside of the EDI. Having a human in the loop in cases where automated extraction confidence level is low

However, a vendor incentivized to sell services could try to sell you an outsourcing service which will be higher cost, slower and less accurate than the above solution. Additionally, more people will need to do the boring job of manually extracting data from documents
What is AI transformation?
While companies still talk about digital transformation, a new transformation is underway: AI transformation. With the rise of deep learning and most major tech companies claiming to be AI-first, it is clear that AI will create major opportunities for business.
Like digitization, AI has the potential to transform a company's both back and front office, making it more efficient and effective. Companies should not pass the opportunity to embed AI into their decision-making systems while completing their digital transformation
How to learn more?
Solution providers and consultants organize numerous digital transformation events so digital transformation professionals from different companies can network and learn from one another's experiences. Feel free to check out our prioritized, sortable, filterable list of digital transformation conferences for business users.
If you want to learn more about how business decision-makers view digital transformation today, please participate in our digital transformation survey and get its results as soon as we publish them.
For more on AI transformation, feel free to read our articles on