With the rise of personal computers in the 1980s, companies started going through digital transformations to improve their products/services and reduce costs. Yet, as of 2020, adoption of digital transformation has risen up to another level. Today, 89% of companies have already adopted a digital-first business strategy or plan to do so and 87% of companies think digital technologies will disrupt their industry. This data shows how executives have already acknowledged the importance of digital transformation and demand for digital technologies will continue increasing.
However, according to Global McKinsey Survey results, only less than 30 percent of digital transformation processes are success stories. Digital transformation is key to companies' success and can be achieved via company-wide alignment, design thinking and adoption of the leading edge technologies.
What is digital transformation?
Let's start with our digital transformation definition:
Digital transformation is the process of integrating digital technologies into all aspects of a business to meet the market and changing business requirements.
It aims to increase the effectiveness of business operations and customer relations. To achieve these goals, organizations need to update their systems, processes, organizations and culture. 
Why does it matter now?
Competition is increasing and digital transformation is powerful leverage for companies that aim to stay relevant. However, ~70% of digital transformation projects fail. Survey results below from Harvard Business Review highlighted that only 23% of companies are not dependent on digital products or operations.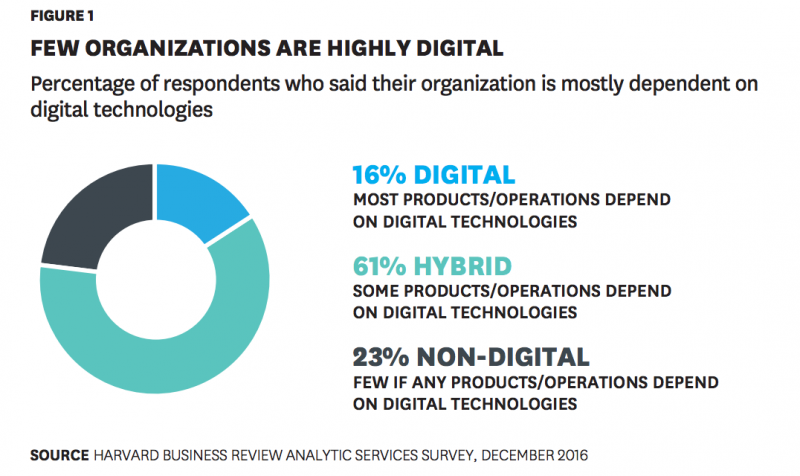 Advances in digitalization such as personal computing, the internet, mobile computing, social media and the recent advances in AI are such important technological innovations that cause slow adapters to fail. For example, the retail apocalypse triggered by the rise of e-commerce forced thousands of companies out of business. Failing to adapt to e-commerce as a retailer meant the end of many companies.
For more statistics on digital transformation, we have an article where we compiled 80+ digital transformations statistics from reputable sources that reveal the importance of digitization.
What are the steps to digital transformation?
Successful digital transformation (DX) requires a well-designed framework that will guide you through your DX journey. This framework is our roadmap to digital transformation success. However, if you want to see more frameworks from different consulting companies, you can check out this article where we explained our framework comprehensively and listed five other frameworks.
#1 Identify digital transformation objectives
Determine the organization's level of digitization and try to align the current state and long term digital goals. Each organization, with different needs, has a slightly different set of transition targets, but this is a crucial step towards organizational synergy. The figure below is BCG's digital maturity model which may be helpful to identify an organization's level of digitization.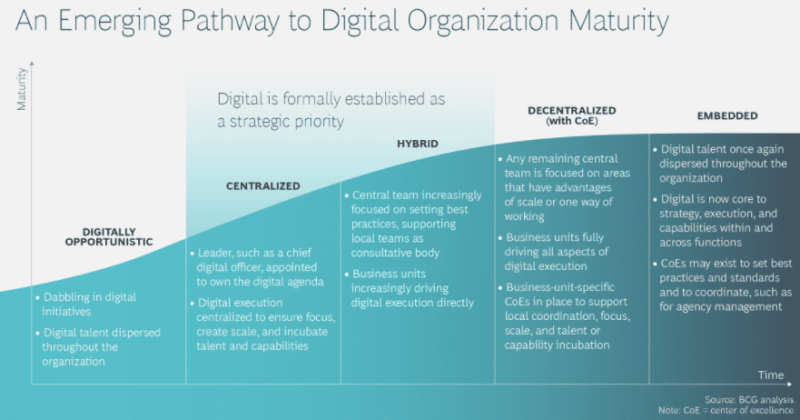 #2 Formulate a digital transformation strategy
Set a clear objective and build a feasible game plan which involves selecting areas of improvement and starting to integrate digital systems from those areas. The organization's objectives should be a step-by-step process and business may fail because of actions taken with haste.
#3 Decide on the necessary technologies enablers
Enablers such as IoT, Analytics, Cloud, VR, and AI are a vital driver for a successful digital transformation. Organizations should make research and decide on which enabler would be the best fit for the organization.
#4 Establish competent technology leadership
Without leadership support, change projects tend to be unsuccessful. Having a CIO that is strongly supported by the leadership team and has a business impact of digital transformation as a KPI can be the difference between a successful and unsuccessful transformation.
#5 Train the staff and integrate a digital culture among the organization
With the culture and education you provide across the organization, staff adapts to change easier and each process in the firm is operating agile. Without cultural change, the company could miss the next technology revolution and require another significant transformation effort to catch up. These requirements lead to the question: "What kind of cultural attributes the organization needs for a successful digital transformation?". We have seen three major cultural change for the companies that achieved digital transformation:
The organization is better connected and responsive across departments so that employees return quickly to changing customers' needs.
Employees are encouraged to solve problems.
Employees are ready to take risks, and if a risky action causes a breakdown, they are willing to learn from the failure.
What are trending technologies in digital transformation?
Robotic Process Automation
According to Gartner, Robotic Process Automation (RPA) was the fastest-growing segment of the global enterprise software market. And as of 2020, the popularity of RPA has not declined and businesses are continuing to adopt RPA software to leverage the power of automation in various use cases.
Some repetitive back-office tasks where businesses can benefit from RPA to achieve improved operational efficiency are:
Data entry

Data updates

Data validation

Invoice processing

Payroll automation

Periodic report preparation
Cloud Technologies (Public, Private and Hybrid Cloud)
Due to the increasing volume of data, Software-as-a-Service (SaaS) and on-premise solutions on the cloud are getting more popular among businesses. Cloud solutions address the need for scalability so that organizations don't need to transfer data between systems as the business grows. 
Along with scalability benefits, cloud technologies can also provide compliance with privacy and security regulations.
IoT and Edge Computing
We've been seeing IoT devices in different use cases, such as predictive maintenance, for a while now. However, advancements in edge computing and analytics are enabling businesses to invest in IoT and edge analytics more. 
Businesses should benefit from these two technologies when
conditions, where data should be collected, are not suitable for human measurement

rapid changes and late responses to the change in the business environment can significantly harm productivity.
Cybersecurity
The objective of the digital transformation is leveraging data and technologies that turn data into insights to deliver better services and operational excellence. Yet, with great power comes great responsibilities. (Yes, I quoted from Spiderman and I don't regret it.) 
As the volume of data businesses must secure increases and we hear different data breach stories that cost companies millions, the demand for cybersecurity technologies will continue to grow. Three types of security solutions are businesses' favorite:
Blockchain and Smart Contracts
Blockchain technology mostly emerges due to a lack of transparency and security provided by legacy systems. In industries such as banking, insurance and healthcare, trust in the system is ensured by central companies. Blockchain technology enables decentralization of trust and enables customers to share their Personally Identifiable Information (PII) and (Personal Health Information PHI) and conduct transactions in a secure, verifiable manner..
Smart contract is one of the most common applications of blockchain (After cryptocurrency) and enables removing intermediaries, increasing efficiencies. The technology has significant potential to eliminate trust issues while engaging with third parties.
Data Privacy
Data privacy regulations such as GDPR in the EU and CCPA in California force organizations to invest in privacy-enhancing technologies (PETs). 
Some PETs such as data masking solutions have been most of the organizations' agendas for a long time. This becomes more important due to use cases such as:
Advances in artificial intelligence increase the appetite for sharing data with third-party analytics vendors to build machine learning models for automating operational decisions

Realistic test data is crucial to a robust quality assurance process.

Test data management (TDM)

solutions enable organizations to use realistic data while securing private information using technologies such as

synthetic data generation

.
Telecommuting
Remote working has changed from a niche to a common form of work due to COVID-19 pandemic. The benefits of working from home is acknowledged by most companies and many plan to continue the shift towards remote work. According to the 2020 Gartner CFO survey, 74 percent of companies will move at least 5% of their previously on-site employees to permanently remote positions post-COVID-19.
As a global team that has years of experience with the remote working approach, we wrote a comprehensive guide about working from home. In this guide, you can find benefits, challenges, best practices and leading solution providers of telecommuting for businesses and employees, feel free to check it out.
Process Mining
Prioritizing bottlenecks to resolve is valuable but has always been a struggle for businesses. There might be anecdotes showing that something is slowing down productivity, but without evidence, it is hard to support these assumptions.
Process mining technology allows companies to mine processes to find those bottlenecks and boost process performance. Some use cases of process mining are process improvements such as:
Identifying drivers that hurt monthly revenue

Identifying root causes of changes to orders leading to rework

Identifying manual processes to automate
Process mining has more than 30 business applications. Feel free to read our related article to learn other process mining applications.
Omnichannel
Omnichannel platforms serve organizations to create a single customer experience across different channels. The omnichannel strategy puts the customer at the core of the business to match the customer-centric objectives of digital transformation projects.
Artificial Intelligence
Artificial intelligence is the technology that can empower most of the technologies we listed above thanks to its capability to process data at scale. However, in the context of digital transformation, deploying AI mostly means deploying one of the following technologies:
For more, please visit our list of 100+ AI use cases.
Must-watch trends:
Quantum Computing
Quantum computing is an effective computing approach for modelling the real world. Its applications mostly focus on: 
Optimization

Material/healthcare research

Cryptography/espionage
Task Mining
Task mining technology monitors user interaction data using technologies like screen capture and helps companies understand how they handle tasks. By combining this technology with process mining, businesses can better understand their processes and take specific actions for process improvement.
What are Digital Transformation Case Studies?
The best way to understand digital transformation is by examining successful case studies. Therefore, we decided to make a list of digital transformation success stories.
During our research, we have observed these types of projects:
Transformation: Changing the way existing business operates,
Innovation: Creating new business lines based on the latest technology,
We've also seen that some organizations preferred to engage with a digital transformation consulting firm while others relied on internal resources. Here are some example case studies from established digital transformation consulting companies:
Nokia
M&A is an opportunity to make drastic changes in an organization and digital transformation is a no-regret move for most companies. M&A also requires companies to harmonize the processes of the new entity to ensure efficient operations. For example, after Nokia finalized its acquisition of Alcatel-Lucent, they experienced misalignment in order-to-cash and purchase-to-pay processes because these two companies had completely different process dynamics. Nokia used QPR ProcessAnalyzer to harmonize these processes. In return, Nokia was able to analyze and improve processes to reduce lead time.
Anthem
In McKinsey's case study with Anthem, a healthcare company, alignment across the organization and having an effective adoption strategy was highlighted as key success factors. Anil Bhatt, vice president and head of digital solutions and experience for Anthem, focused on building agile structure, creating talent and establishing the right leadership to maximize output from digital transformation.
Western Union
Dan Nordlander, senior vice president of Western Union Way Operations at Western Union, points out the importance of alignment across departments and having senior managers drive the transformation in digital transformations. He mentions that the manager should understand what is easy about the job and what is not rather than inspecting employees. Managers are able to get a better sense of processes and can make the process easier for employees and better for clients.
You find many successful digital transformation projects from different industries but we won't go into detail for each case study. Therefore we provide you a sortable list of 31 successful case studies:
Type of project
Company
Initiative
Industry
Business Function
Case Study
Results
Transformation
Apple
CarPlay
Automotive
Customer Service
Partnering with OEMs and apps such as Spotify to integrate an iPhone into vehicles' infotainment system
37 million sales estimation in 2020
Transformation
Audi
Audi City
Automotive
Marketing and Sales
Transforming traditional showrooms into virtual showrooms with multi-touch tables, tablet-user interfaces and powerwalls.
At Audi City London sales went up 60%.
Reducing the cost of having to hold a large volume of stock that often does not match a customer's criteria.
Innovation
BMW
DriveNow
Automotive
Mobility Services
A car sharing service that promotes sustainable mobility with electric cars.
40% of the respondents said that they would have bought a car if DriveNow hadn't been available.
Reduction in CO2 emissions
Innovation
Daimler
Moovel
Automotive
Mobility Services
Bringing together various means of transport, and plans the best route from A to B, enabling customers to choose between a range of different transport options
Moovel has more than 1 million customers.
Transformation
Michellin
EFFIFUEL
Automotive
Customer Service
A comprehensive ecosystem including sophisticated telematics, training in eco-driving techniques and optimized tyre management system.
A reduction in fuel consumption of 2.5 litres per 100km represents annual savings of €3,200 for long-haul transport
Innovation
Tesla
Automotive
Customer Service
Providing automatic over-the-air firmware updates that allow the car to improve safety, performance and infotainment capabilities remotely.
Saving $2.7 billion for manufacturers.
Improving customer experience.
Transformation
Thomas Pink
Fits.me
Retail
Operations
Virtual fitting rooms that collects customer data and uses it to match shoppers to garments that are right for them.
29.6% higher conversion rate
Innovation
Lego
Entertainment
Operations
Focusing on new revenue sources coming from movies, mobile games and mobile applications by leveraging digital technologies.
The first LEGO movie achieved revenues of approximately $468 million with a production budget of only $60 million.
Transformation
General Electric
Digital Windfarm
Energy
Operations
Use of sensors, data networks and analytics create turbines that are customized for peak efficiency.
20% efficiency improvements, which could help generate up to an estimated $50 billion of value for the energy industry.
Transformation
Schneider Electric
Box
Electricity
Operations
Using cloud-based solutions to meet the document sharing requirements of employees without compromising on centralized access or enterprise security standards.
Schneider has been able to offload its on premise file servers, cutting costs by 30%.
Increased time-to-market by decreasing cycle times in sales, vendor order management, legal processes, employee records management and supply chain use cases.
Innovation
Hospitals*
Ginger.io
Healthcare
Operations
Providing a complete, centralized platform to track a health system's equipment across all facilities
Each hospital is saving between $1 – 2 million in the earliest stages, and that total multiplies the longer a hospital uses the system.
Innovation
Cohealo
Healtcare
Operations
Using data from a patient's everyday mobile usage (time spent on calls, text messages sent) and activity (distance travelled, sleep) to map patient behaviour and detect abnormalities by using AI.
Improving clinical outcomes while reducing healthcare costs.
Innovation
Pager
Healthcare
Customer Service
An app and web-based service that uses a location-based service to identify doctors in nearby areas for minor treatments within the home, office or hotel.
Prevents expensive hospital visits.
Doctors can use time and resources more effectively.
Transformation
Airbus
Transportation
Manufacturing
Using 3D printers for manufacturing plane parts
Decreasing the total energy used in production by up to 90%.
Producing aircraft parts which weigh 30-55% less, while reducing raw materials used by 90%.
Transformation
Disney
Disney's Magic Bands
Entertainment
Customer Service
Using smart wrist bands that contain RFID sensors to improve and personalize customer experiences in Disney World resorts.
Improved customer experience.
Over 9 million visitors give positive feedback.
Transformation
Spotify
Entertainment
Customer Service
Using listener data to predict, test, and deliver hit song playlists.
Improved customer experience.
The platform had 157 million active users in 2018.
Transformation
WeChat
Communication
Operations
Transforming a messaging app into a powerful multipurpose platform that focuses on socializing functions.
Improved customer experience
Innovation
Blippar
Technology
Operations
Combining augmented reality and image-recognition technology to bring the physical world to life through smartphones, tablets and wearables.
45% revenue growth.
Transformation
Start-ups*
Bolt.io
Consulting
Operations
Bolt invests and distributes hardware to early stage start-ups to help them transform digitally in areas such as strategy, team building, capital raising, product development, customer development, manufacturing, distribution and marketing.
Shipped over 70 million units of 150+ SKUs of hardware products.
Transformation
Duolingo
Education
Operations
Delivering personalized education through its AI-powered language-learning platform.
Improved customer experience.
More than 100 million users.
Transformation
Accredia
Accreditation
Customer service
Improve brand reputation and trust in the body through a web portal focused on user experience.
Increased web traffic.
Users find the desired information quicker.
Innovation
EdgePetrol
Palladium**
Analytics/Oil
Product development
Developing and implementing a product strategy to develop a product designed to improve Petrol Retailer profit margins.
Agile development of MVP and on boarding of 3 key clients within 12 weeks
Innovation
Mayflex
Palladium**
Security
Operations
Developing digital strategy that includes profiling existing and future customers' digital behaviour and expectations, understanding internal digital capability and identifying gaps and implementing digital tools to facilitate delivery of the pilot products.
The digital innovation pilot created £120+ sales pipeline in just 6 weeks
Innovation
Starbucks
Beverages
Operations
Leveraging data and developing a mobile app to build consumer intimacy.
Improved customer experience
Transformation
Unilever
FMCG
Operations
Building a platform and analytics infrastructure to connect directly with consumers.
Launched 10 new brands in 2018.
Each launch was 40%*50% quicker than traditional methods.
Transformation
Keller Williams
KW Labs
Real Estate
Operations
Using data to empower agents all around the world with several AI-powered apps
Over 20% y-o-y sales volume increase
Innovation
IndusInd Bank
Banking
Operations
Creating digital branches and enabling social media banking transactions
Valued at approx.$1.5 billion and up 46% in value yoy
Transformation
Monsanto
Climate FieldView
Climate/Agriculture
Operations
Using hardware and software intelligence to analyze weather patterns based on data collected through sensors.
Farmers benefit from better yields, lower risks and higher profitability.
Transformation
BBVA
Banking
Customer Service
Providing enhanced customer experience with the help of knowledge-driven personalization and clear communication.
Active digital customers grew from 5 million in December 2011 to more than 13.3 million in mid-2015
Transformation
Nokia
QPR ProcessAnalyzer
Telecommunication
Operations
Nokia uses QPR's process mining tool to harmonize misaligned processes that are created when M&A transactions happened
Shortened lead time due to increased efficiency in running processes
Transformation
Eneco Group (Joulz)
QPR Suite
Energy
Operations
Joulz want to maintain and expand the distribution grid while minimizing the amount of interruption minutes per customer connection, therefore, they implement QPR Suite.
Replacing the existing stack resulted in a structural saving of 75K Euro on software and maintenance every year and resource cost reduction of more than 15M Euro
What are Digital Transformation Best Practices?
Since only less than 30 percent of digital transformation processes are success stories, it is important to understand best practices to ensure the success of digital transformations.
Synchronize Efforts
When organizations plan to implement an agile process, IT and management should be working together on the project. Business first mentality is defined as "At a deeper level by acting as a catalyst or facilitator to get the best out of others and to build a stronger organization for long term success." by Mitch McCrimmon. Business mentality should be prevalent across the organization so that IT and management crews work efficiently to keep the team focused on customer needs and objectives of the project.
Align Staff From Start
As mentioned before, culture change is a must for digital transformation due to avoid failure. To achieve cultural change across the organization, communication about the digital transformation and having initiatives to digitize the culture such as prioritizing design thinking and experimentation are important.
Look Through the Perspective of Customers
Organizations mostly decide to sell a journey or experience rather than a product, once they initiate digital transformation. Organizations should search the answer to which kind of services will the business offer to customers to build a sustainable relationship. Establishing an effortless and computerized interface to interact with them is an essential tool to be a support service during or after the purchasing process.
Leverage the latest technology
 According to Forrester, up to 93% of companies agree that innovative technologies are necessary to reach their digital transformation goals. Vendors have incentives to sell service costs and try to sell outsourcing services instead of the latest technology which reduces the need for outsourcing. You should ensure that you are getting the optimal technology during the digital transformation.
Invoice processing is such an area where companies need to pay attention:
Best practice solution is:

Having an EDI (Electronic Data Interchange) auto process most of your invoices as you onboard new suppliers into your EDI.
Getting all remaining digital invoices in a single email address so they can easily be managed. Getting physical invoices in a shared service center where they are scanned by high-quality scanners.
Using a deep learning based data extraction/processing technology to automatically process most of the invoices that arrive outside of the EDI. Having a human in the loop in cases where automated extraction confidence level is low

However, a vendor incentivized to sell services could try to sell you an outsourcing service which will be higher cost, slower and less accurate than the above solution. Additionally, more people will need to do the boring job of manually extracting data from documents
What is AI transformation?
While companies still talk about digital transformation, a new transformation is underway: AI transformation. With the rise of deep learning and most major tech companies claiming to be AI-first, it is clear that AI will create major opportunities for business.
Like digitization, AI has the potential to transform a company's both back and front office, making it more efficient and effective. Companies should not pass the opportunity to embed AI into their decision-making systems while completing their digital transformation. You can use our AI use cases to find out-of-the-box solutions for your company or look into our guide for building custom AI solutions for your business.
If you want to learn more about custom AI solutions, feel free to read our whitepaper on the topic:
What value does digital transformation propose to industries?
Healthcare
These are the main players in the healthcare industry and digital transformation proposes different benefits to each player:
Healthcare providers/Hospitals:

Digital transformation can lead to improved patient care thanks to digital technologies that assist doctors and while reducing operation costs.

MedTech / healthtech companies:

These companies are technology providers and they enable digital transformation and serve digitally savvy companies. Increased digital transformation increases their addressable market.

Pharma companies:

Digital technologies that enable them to collect and share data for research purposes and facilitate

personalized care.
For more information on digital transformation in the healthcare industry, feel free to check our article.
Retail
Retailers focus on three aspects of transformation:
Customer experience:

Customer experience is the key factor for a business to differentiate from its competitors. 

Enterprise agility

is at its heart, launching Minimum Viable Products (MVPs) with quick decision making and iteration.

Operational cost reduction:

With analytics, businesses can reduce their operational costs such as supply chain.
For more information on digital transformation in retail, feel free to check our related article.
Banking
Digital transformation offers banks automation opportunities and digital banking products that enable secure and frictionless customer journeys.
For more information on digital transformation in banking, feel free to check our article.
Real Estate
Digital technologies are evolving the real estate industry via services such as virtual tours, automated transactions and personalized services that can enhance the home buying experience while automating tedious tasks for real estate agents.
For more information on digital transformation in real estate, feel free to check our article.
Insurance
With digital technologies, insurers can automate tasks such as claim processing and fraud detection so that they can focus on developing customer centric products.
For more information on digital transformation in insurance, feel free to check our article.
Professional Services/ Consulting
Digital transformation has fundamentally changed the consulting landscape. New players such as Accenture that entered the market in the 90s have grown far beyond traditional management consulting companies such as Mckinsey and BCG. 
As a result, traditional consultancies are playing the catchup game, buying digital focused companies, launching digital/AI focused divisions and remarketing themselves as tech/digital consultancy companies. 
For more information on how digital & AI is evolving consulting, you can check out our articles below:
How did pandemic affect digital transformation efforts of companies?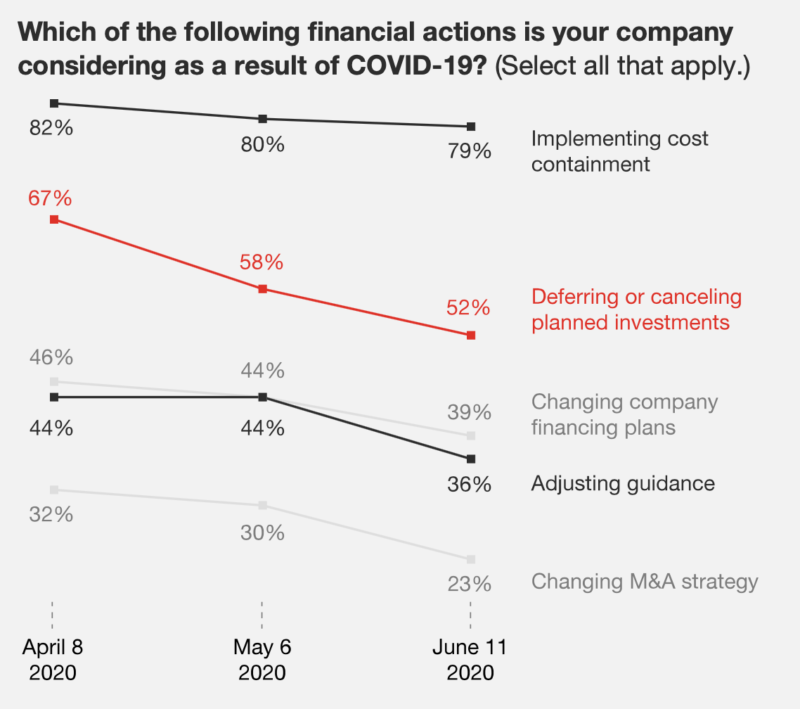 Influence of pandemic on  businesses has been harsh. According to PwC survey, over 50% of companies in US are either deferring or canceling their planned investments due to pandemic. However, IDC study highlights that businesses are not deferring or canceling their digital transformations investments. Despite pandemic, global spending on digital transformation technologies and services was estimated to grow 10% in 2020 to $1.3 trillion.
Google trends data also reveals that the interest in digital transformation has reached its peak during pandemic: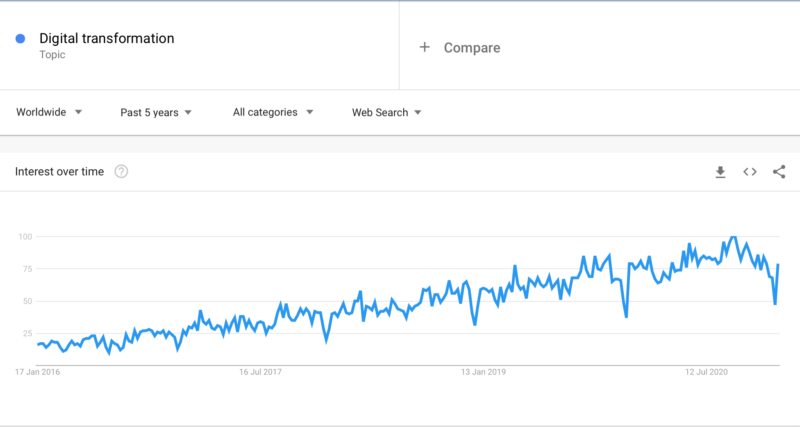 How to learn more?
Solution providers and consultants organize numerous digital transformation events so digital transformation professionals from different companies can network and learn from one another's experiences. Feel free to check out our prioritized, sortable, filterable list of digital transformation conferences for business users.
And if you are ready for what comes after typical digital transformation projects, feel free to read our articles on AI transformation:
How can we do better?
Your feedback is valuable. We will do our best to improve our work based on it.