Unlike industries like healthcare, financial services mostly deal with structured quantitative data which makes it easier to digitize and automate processes. This is a double edged sword: Financial services institutions can have more effective digital transformation initiatives compared to other industries, however, it is also easier for attackers to launch digital native financial institutions.
Given the numerous tech giants and fintech companies encroaching on their business, banks need to ramp up their digital transformation efforts and adopt technologies such as machine learning, automation and blockchain. We have answered all relevant questions on digital transformation in banking. 
What does digital transformation mean for financial services?
We have defined digital transformation before:
Digital transformation is the process of integrating digital technologies into all aspects of a business to meet the market and changing business requirements. It aims to increase the effectiveness of business operations and customer relations. To achieve these goals, organizations need to update their systems, processes, organizations and culture.
Digital transformation in banking requires a shift to online&digital services as well as a change in backend processes to promote digitization and automation. To compete with digital natives, banks should provide an end-to-end digital experience to their customers by integrating necessary technologies.
Why digital transformation is important in financial services?
Banks need to adopt changes in customer experience
With the advancements in technology, customer behaviors and expectations are changing. According to Everfi report, more than half (53%) of consumers of financial institutions have changed the primary financial provider they use and an additional 9% said they are considering it. Banks should provide what customers want if they want to retain their existing customers.
Customers expect you to be where they are. A Deloitte survey including 17000+ banking consumers revealed that: 22% of consumers are using online and mobile app channels 10+ times per month to handle their banking needs. Since digital is the most frequently used channel by consumers, financial institutions should invest more in digital.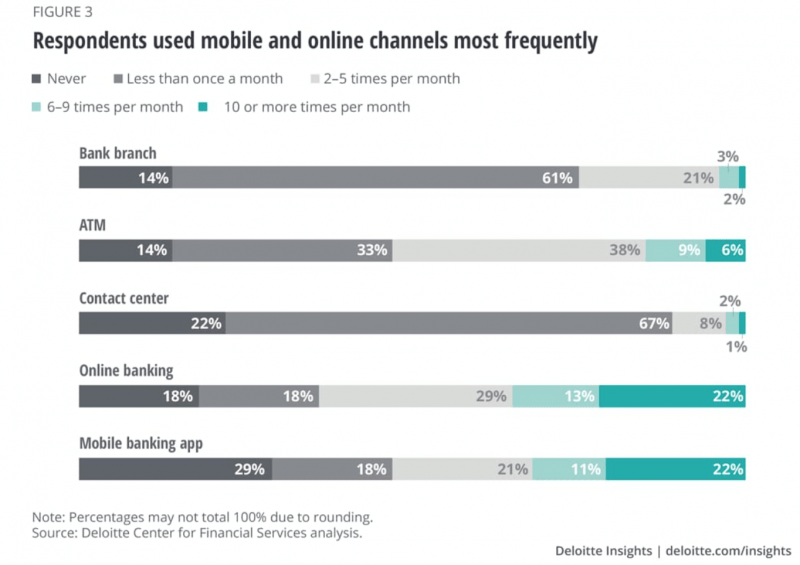 Organizations are aware of they are far from reaching their full potential
Though the importance of digital transformation is acknowledged by bankers, they believe there still is a long way to maximize their digital capabilities. The below image is a survey that is conducted by BCG that also supports this hypothesis. Results are as follows: 
86% of respondents stated digital is the right strategy to invest in to gain a competitive edge,

43% of respondents believe their organization's digital capabilities are far from market leaders,

86% of respondents reported that technology infrastructure is complicated and it may prevent digital interactions with consumers.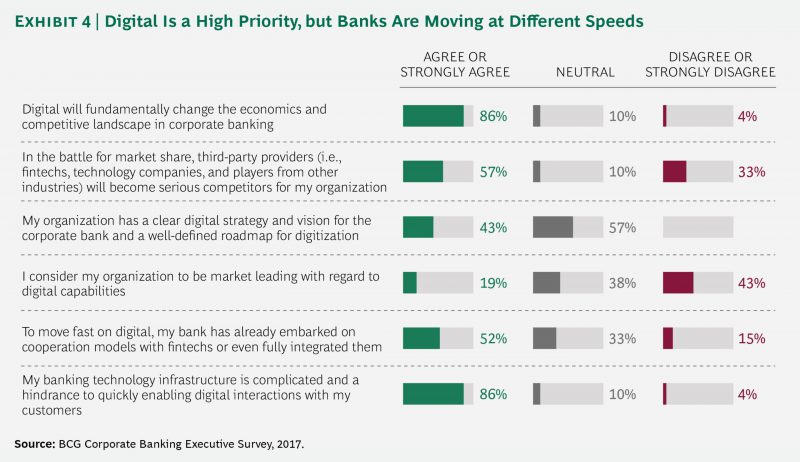 Leading banks like Goldman Sachs are heavily investing in technology. The below graph is a snapshot of their hiring, showing that half of their hires go-to technology functions: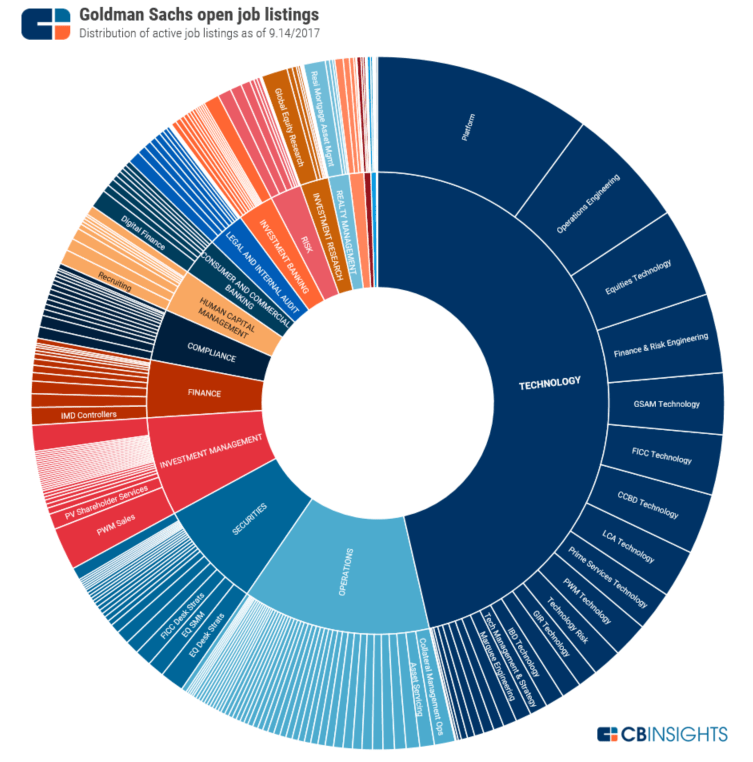 Banks are facing increased competition from digital native attackers and tech giants
There is increased competition in banking just like any other industry, even Tech Giants such as Google and Apple are looking for opportunities to get into the financial service industry. In 2019, Apple launched its credit card and Google is planning to introduce consumer bank accounts. Tech Giants' involvement in banking is threatening for banks because these companies can be considered as an expert about digital transformation and data analytics. They have most of individuals' data and they know how to use it. If Tech Giants keep investing in their financial services offering, it will be hard for banks to gain a competitive edge. Below graph shows the revenue-based attractiveness of banking operation and how well digital giants would fit into. Retail deposits, SME payments, consumer wealth management, corporate deposits and wholesale payments are banking operations they may want to invest.
Currently, there are numerous tech attackers offering almost any service offered by a bank. Below, you can see the website of a bank with all of its digitally native competitors.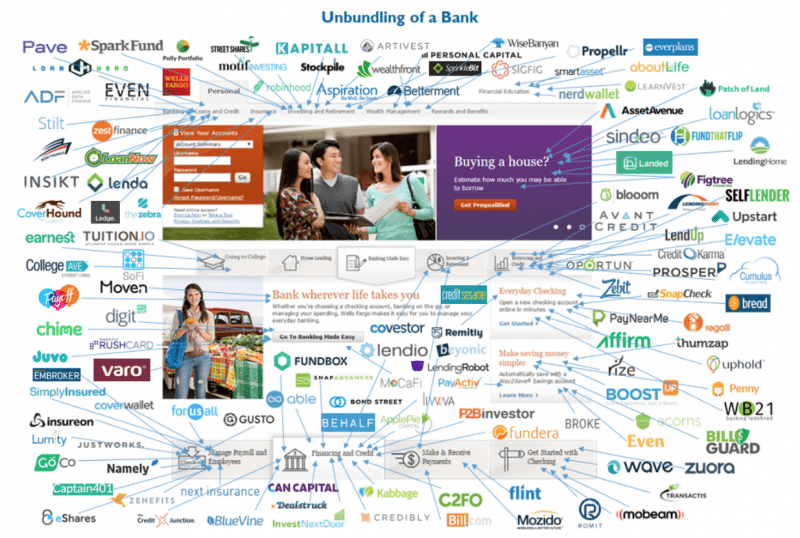 What are the key technologies and trends that enable banking DX?
Digitization
Digital transformation starts with digitization. A company that dominantly relies on branches to serve customers, offers poor mobile and web banking services first needs to fix those. 
As financial services companies digitize, they should use the latest technology rather than using legacy technologies. Though we are quite excited by iterative improvement, it would be unwise not to use the latest mature technology in digital transformation. Of course, the level of tech maturity preferred by the organization will depend on its strategy and how it expects to use the product.
Automation
According to Mckinsey and PwC, ~20% of business activities can be automated using today's technology. Automating repetitive tasks can help organizations:
increase the efficiency of processes because it prevents human mistakes

reduce operational cost by lowering the number of workforces

focus on more important tasks that involve decision making
For example, a JP Morgan digital transformation initiative is called COIN, which is short for Contract Intelligence. With COIN, the bank shortens the time it takes to review documents, automates filling tasks and creates new tools for bankers and clients.
Organizations can use process mining tools to identify opportunities for process improvement which also includes digital transformation and automation initiatives. We have listed numerous such examples in our article on process mining case studies.
Advanced analytics and machine learning
Financial institutions collect transaction data of customers and store them for years due to regulatory and insurance requirements. Performing analysis of data can reveal insights about customer behavior so that organizations can improve the experience they provide for customers. For example, a common analytics application in banking is personalization. Any banking product first needs to be marketed to the right users. By using advanced analytics, financial institutions can reach out to the right customer at the right time with the right message and offer through the right channel. 
Blockchain
Blockchain is applicable to various banking operations such as investment management, cross-border transactions, trade finance, and capital markets. Blockchain is an emerging trend for financial institutions because it helps prevent fraudulent actions, provide transparency, reduce costs and increase the speed of transactions to reduce the number of intermediary banks. Image below shows the estimate of Mckinsey about potential savings in banking with blockchain solutions.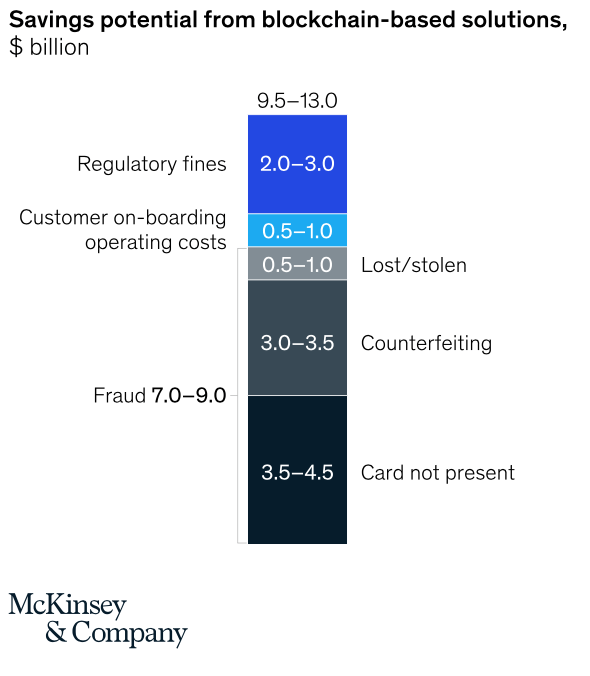 Conversational AI: Digital financial assistants
Just like other industries, chatbots can be very useful for financial institutes in customer service. Implementing simple chatbot solutions will allow banks to respond faster to customer needs. It can also be used as a financial consultant from your customers. For example, recommending investment options based on the savings bank balance and risk profile is an application of financial chatbot.
Which digital strategy goals should financial services prioritize?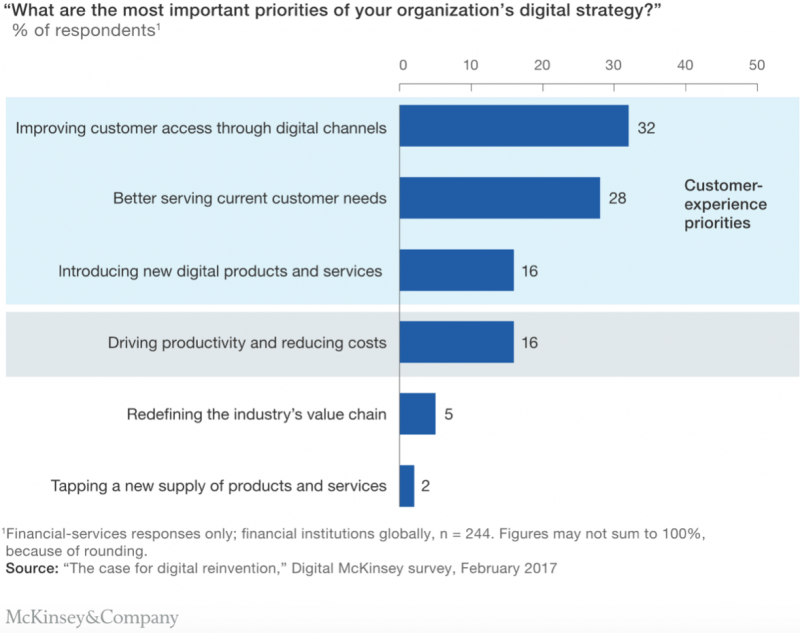 According to the Mckinsey survey, financial service executives across the world believe enhancing customer experience is the top priority for digital transformation projects, 76% of participants value investing in customers while 16% prioritizes productivity and operational cost reduction in digital transformation strategy.
Will digitization and automation reduce employment in financial services?
In the short term no. Eventually yes. Or at least boring jobs will be gone. Employees will still be needed in tasks such as managing workforces, building systems and models, face-to-face customer interactions, resolving inquiries and decision making that can't be handled by bots. To understand what the future holds for employees in financial services, the below graph can be helpful. Automated teller machines (ATMs) were designed to automate the tasks tellers do in the '60s but it appears that it didn't reduce the number of tellers in total. ATMs handle simpler transactions and cash while tellers focus on sales and marketing. Though the number of tellers per branch is reduced, banks were able to open more branches (each has an optimal number of tellers) to provide service to customers.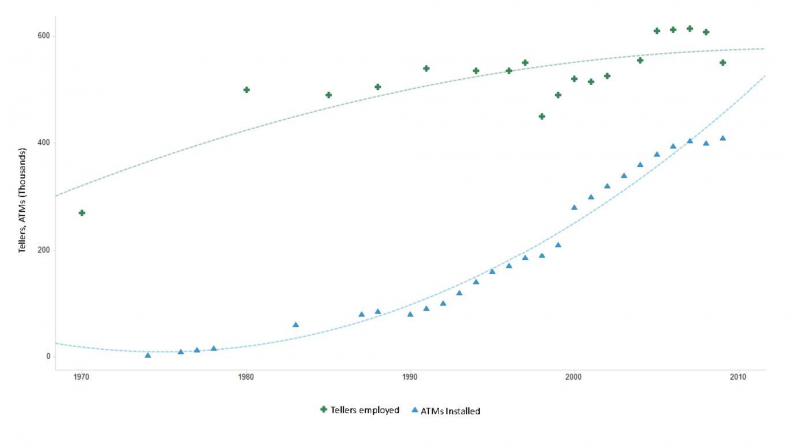 This trend could change in the very long run as more tasks are automated and as machines can replace most human tasks. This can take place thanks to artificial general intelligence which is only expected by 2060s.
Here are our insightful digital transformations articles, if you want to learn more:
Digital Transformation: In-Depth guide for Executives
Digital transformation for retail: Evolve or disappear
Digital Transformation Consulting: In-Depth Guide
If you still have questions about digital transformation in banking, we would like to help:
Let us find the right vendor for your business
How can we do better?
Your feedback is valuable. We will do our best to improve our work based on it.