Retail analytics helps businesses gain critical insights about inventory, sales, supply chain activities, consumer demand, and more. By implementing an analytics-driven retail environment, organizations can make better decisions for procurement, marketing, merchandising, and operations. This, in turn, enables retailers to create a better buying experience and for identifying opportunities for organizational improvement.
What is retail analytics?
Retail analytics is the process of performing analysis on data to understand different perspectives of retail, such as customer behavior, supply chain & inventory management, and target marketing. This leads to insights such as drivers of sales, stock related issues and customer behavior characteristics. These insights helps companies make better marketing and operational decisions.
Why is it important now?
Retail analytics is important now because it is at the intersection of different emerging trends. Trends that have the potential to improve the retail experience via analytics are:
Big Data: The volume of data is increasing and more companies are demonstrating the business value of data with their big data initiatives. Therefore, companies are increasingly motivated to invest in big data initiatives.
Omnichannel: The shift to online since the end of 90s, followed by the shift to mobile in 2010s changed the distribution channels of retailers. Currently, retailers are experimenting with AR and VR technologies. Providing a continuous and effective experience across these channels is a major challenge for retailers and an opportunity to differentiate themselves.
Personalization can drastically improve retail businesses. According to BCG survey, a personalized journey boosts the number of items purchased (110%), the value of an average order, satisfaction level of customers.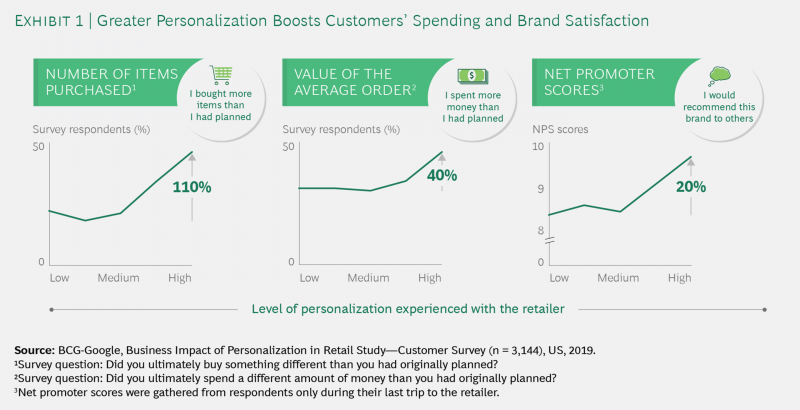 How does retail analytics support omnichannel?
An omnichannel buying experience is one that can be carried out seamlessly across both digital and physical locations; without 'losing' progress between these locations. Customers now expect to be able to use different channels and devices throughout their buyer's journey, from initial prospecting to after-sale support.
Retail analytics is helpful in this effort because it provides the key insights necessary for building and carrying out an omnichannel environment. The key reasons include:
Focused, channel-aware marketing: Retail analytics helps us understand what makes each customer unique, how their different channels can impact each other, and how these characteristics can be used to create personalized promotions and campaigns.
A supply chain that considers all channels: Different channels have different usage patterns. For example, Cyber Monday mostly impacts online sales.  Having access to real-time data to see if promotions are effective and help retailers avoid problems related to stock; both in-store and e-commerce.
Optimal in-store operations: Understanding the 'why' behind a customer's journey within a store can help determine the right strategy for staffing, product placement, and similar.
Staying secure: Cybersecurity is at the forefront of any omnichannel retailer's mind and retail analytics and security analytics applications can help to ensure all networks stay secure and to catch suspicious activities before they become problematic.
What are retail analytics use cases?
Retail analytics touches all aspects of a retail company's operations including marketing, sales and operations. For more, please read our article on retail analytics use cases.
What are the benefits of retail analytics?
Organizations benefit from retail analytics in various ways:
Increased revenues
Better targeting: Analytics solutions can help provide customers in a certain location with the right products for their specific needs. Insights such as the demographic and behavioral breakdown of customers help identify target segments. Businesses target customer segments with the right promotions and product recommendations to increase conversion rates.
Layout optimization: By analyzing customers' heatmaps and interactions, retailers can identify which popular parts of the store and

optimize the store layout. 

This can increase sales and improve customer experience
Improved business performance
Improved demand forecasting:  Organizations' forecasting algorithms improve as insights gained from data.

By closely watching trends such as 

historical sales transactions, l

ocal events and holidays, l

ocal weather, d

emographics

 retailers greatly improve the odds of having the right items in stock at the right times.

This also leads to a reduction in inventory costs with better supply chain network. Feel free to read our demand forecasting article to learn more.
Understanding customers' behavior: If retailers cannot provide what the customer is looking for, customers may abandon before conversion. With retail analytics tools, organizations can see the percentage of abandoning customers and insights about why they abandon.
What are the challenges of retail analytics?
Though the benefits of retail analytics are felt throughout an organization, it is not without its own challenges. Some of the most common challenges include:
When a growing volume of customer data (in-store and online) is stored and analyzed, the need for security only stands to grow. And as this data becomes more personalized and sensitive, the stakes only become higher if something goes wrong. Retailers need to comply with GDRP, protecting data of customers is important for building trust.
The methodology for collecting and using your data must be immaculate, not only for compliance reasons but also for keeping the trust of your users. There is also a need to define limitations about how much data is used and why it is used.

Data utilization
Collecting mountains of data are useless if it's not the right data or isn't used properly. This means not only being able to understand the data that is collected today, but also how it relates to the data collected previously – and what this may mean for the future.

What are the things to pay attention to when choosing a retail analytics tool?
Every day the number of retail analytics tools available on the market grows. The following are a number of features that any potential retail analytics tool should include:
Trend prediction: Being able to identify trends in order to build a better product catalog is both essential and difficult. With the right solution, reports can be built to determine which items are selling the most quickly so the right steps can be taken to adjust in terms of supply chain and merchandising considerations. Over time, as more historical data is collected, this becomes easier to achieve.
Real-time benchmarking with competitors: In a world where the price can make or break a buying decision, staying priced competitively is key. Any tool should be able to automatically keep track of what's happening with your competitor's pricing so that you can be sure to stay close.
Data tracking at scale: Having a larger overall view of an organization is key, but being able to dig deeper into the details is just as important. This means having the capacity to track data from all stages; including supply chain, product assortment, retail pricing, merchandising, and more. 
Recommendations and cross-selling: When your customers are online, a recommendation engine should be making suggestions based on the items and pages they view. This can make a huge difference in up-selling to online buyers.
Automated triggers and alerts: When certain 'events' pop up, the right responses in terms of pricing and similar should be immediately set into action. This is because the modern retail environment is simply too complicated for any single group of employees within an organization to oversee.
Businesses could choose to use these functionality packaged together in an intuitive and easy to use a tool or they could choose to work with multiple vendors.
What are the leading tools for retail analytics?
Alloy
Intelligence Node
Numerator Insights
RQ
SPS Commerce Analytics
SPS is one of the leading vendors with $248M revenue in the retail analytics market. Its commerce analytics solution provides cloud-based supply chain management software to retailers, suppliers, third-party logistics providers and partners.
If you want to learn more about
If you still have questions, don't hesitate to contact us:
How can we do better?
Your feedback is valuable. We will do our best to improve our work based on it.