Big data projects are positioned in the business press as good investments; however, Gartner reveals that 85% of Big Data projects fail. According to a Fortune Knowledge Group survey, these projects fail due to organizational resistance (e.g. executives' reliance on instincts rather than data).
To ensure the success of big data/analytics projects, companies can rely on specialized consultants that bring know-how and experience regarding analytics tools and processes. This can allow companies to avoid typical mistakes; however, consultants bring an additional organizational layer with conflicts of interest. Therefore, it is important to be aware of analytics consulting best practices such as ensuring alignment between the business and consultant and relying on open-source tools to avoid vendor lock-in.
What is analytics consulting?
Analytics consultants help organizations establish a data-driven strategy by transforming data into information to ensure competitive advantage, operational excellence, and explore insights.
Analytics consultants help companies in 3 areas:
Shape their analytics strategy

including analytics organization, processes and tech stack

Deliver analytics projects

that serve the internal organization to improve

their decision making

. This could be the implementation of new technology or an improved model to tackle a specific analytics problem

Deliver analytics capabilities in their products

: Most B2B and some B2C products deliver benefits using analytics to end-users. Consultants can help build the features to deliver such benefits
Which challenges do companies face in analytics?
Organizations are rushing to generate actionable insights to help them make smarter business decisions and differentiate themselves in a crowded marketplace. 
According to a survey conducted by McKinsey Global, challenges companies face during analytics project can be grouped into the 3 top categories regardless of industry:
Strategy, leadership and talent

Organizational structure and processes

IT infrastructure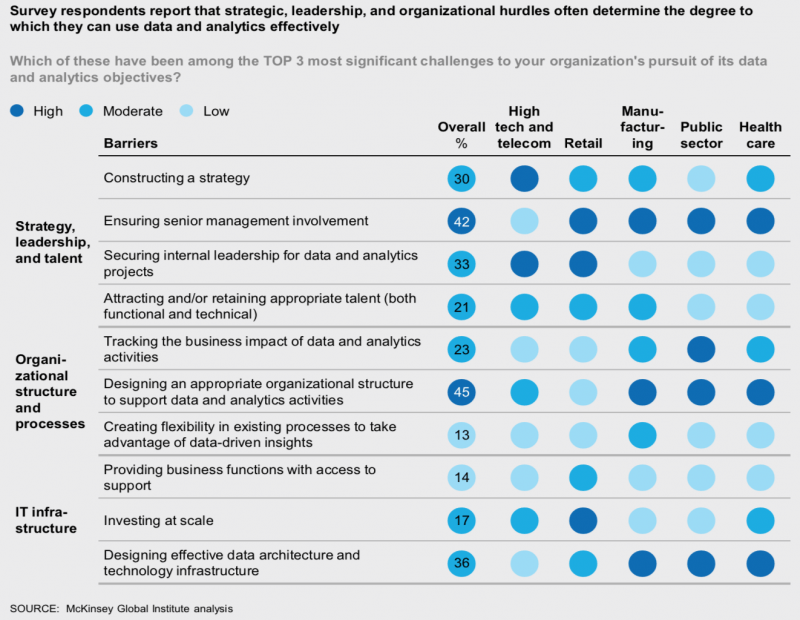 Analytics consultants can support organizations to overcome these difficulties by identifying pain points and implementing useful solutions. 
Why do companies rely on consultants in analytics?
There are 4 factors that increase companies' reliance on consultants: Increasing importance of data-driven decision making, consultants' experience across different industries enabling them to be more effective, limited availability of analytics talent and increasing competition
The amount of data available to organizations is increasing rapidly every day and companies are increasingly striving to be data-driven. 
Consultants have experiences from different companies in various sectors. As a result, they are used to analytics tools and best practices. They come with benchmarks and experience in various analytics scenarios such as customer/market segmentation, price optimization, simulation etc. Consultants can help companies get up to speed quickly in analytics and learn from others' mistakes.
The percentage of organizations falling out of top-three industry positions is rapidly increasing year-by-year potentially due to increased competition. Organizations must focus on insight generation from internal and external data to keep their position but some organizations may not know how to do it. Therefore analytics consulting firms exist.
Analytics consultancy is necessary for businesses because finding the right skills and building internal capabilities for handling big data may be difficult. Most of the analytics tools and methods are comparatively new and analytics talent is limited. According to Bain's analysis below, the average share of employees who have analytics capabilities is no more than 4 percent. Industries such as retail, media, banking and consumer goods are especially lacking in analytics talent. Even in digital-native companies, the share of advanced analytics aligned employees is ~10%. According to another research from Mckinsey in 2018, US organizations experienced a talent gap between 140-190 thousand people which is around a 50-60% gap relative to existing talent supply in 2018.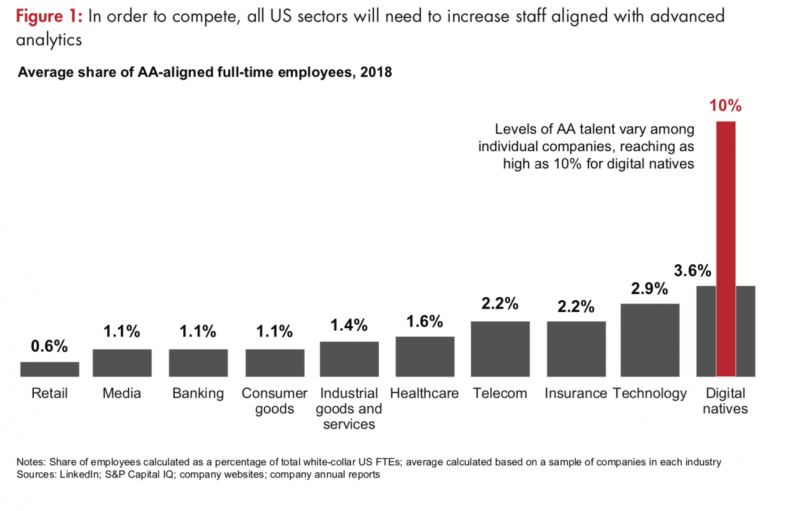 According to another research from Mckinsey in 2018, US organizations experienced a talent gap between 140-190 thousand people which is around 50-60% of the existing talent supply.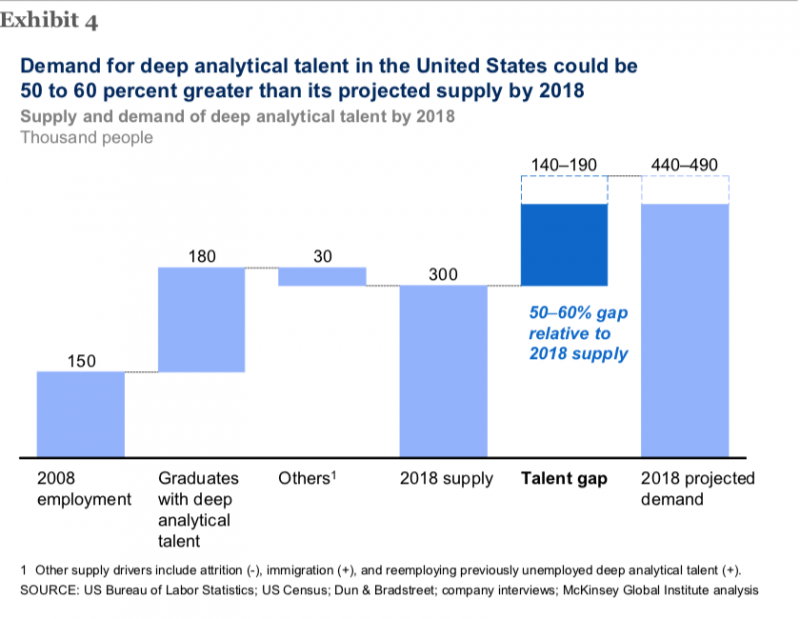 What are the different types of analytics consultants?
Business analytics consultants

transform customer data and analyze processes and design customer-specific solution models. To inform organizations, they prepare reports and custom dashboards that aggregate metrics and key performance indicators (KPIs).

Marketing analytics consultants 

evaluate the success of the organization's marketing actions by using data from social media, blogs. Then fundamental marketing performance metrics such as marketing attribution, ROI, and overall marketing effectiveness are used for identifying areas of improvement. These consultants provide their customers a personalized digital journey for their organizations' strategic goals with the help of digital analytics platforms like Adobe Analytics, Google Analytics, Snowplow, R, and BigQuery.

Data management consultants

help organizations manage their data collection and quality efforts ensuring that their clients generate business value from their data.
What are the best practices for working with analytics consultants in the age of AI?
There are four best practices for working with analytics consultants: 1) helping the consulting team know your organization and its data with orientation sessions, 2) providing a clear communication flow, 3) using open-source software as much as possible and 4) getting your employees to learn from the experience of consultants.
Analytics consultants will not be fully aware of your company's priorities and capabilities when your organization hires them. Businesses should consider starting the project by aligning expectations and coordinate an orientation session to show the dynamics of your work benefits the firm to succeed in the project. 
Establish clear communication so that consultants know the distribution of roles in the organization. Organizing regular meetings is another way of preventing miscommunication.
Encouraging them to use open-source software gives your team the flexibility to use other consultants or take over the project themselves.
Make sure consultants train your employees during the project so that you can handle analytics tasks with an in-house team in upcoming projects.
What are the pitfalls to avoid when working with analytics consultants?
Sometimes the analytics consulting partner and the executives may not be on the same page. To avoid this type of situation, it is better to invite the consulting partner in a meeting where stakeholders and executives are involved and agree upon a feasible solution.

Heavy reliance on consulting may prevent a company's personnel to not get into the details of their company's data and analytics practices. Ensuring that consultants hand over their project findings to your staff and train them in the use of analytics tools can solve this issue.
Feel free to check out our comprehensive articles about analytics:
If you still have questions about analytics solutions, don't hesitate to contact us:
How can we do better?
Your feedback is valuable. We will do our best to improve our work based on it.