Digital touchpoints are increasing with the development of wearable devices, natural language based UI as well as AR and VR. Organizations need to satisfy customer demand in every touchpoint relevant for their businesses in a cost effective manner.
Multiexperience development platforms help businesses trade-off between ease of development vs scalability and custom functionality. These platforms simplify creating apps that work on various touchpoints and devices, allowing companies to test and improve their user experience on a new platform with limited investment. Once the requirements of the app for this new platform reaches a certain level of complexity, companies can decide to build custom, platform specific apps.
What is multiexperience development?
Multiexperience development (MXDP) aims to improve our digital experiences in different devices or touchpoints. As technological advancements continue, modes of human-machine interaction increases. Besides typing, touching and chatting, users can also use their voices voice or gestures in 3D or virtual environments.
Gartner defines the term multiexperience as:
Multiexperience refers to the various permutations of modalities (e.g., touch, voice and gesture), devices and apps that users interact with on their digital journey across the various touchpoints.
With multiexperience development platforms, citizen developers (i.e. business users without an in-depth knowledge of computer science) can quickly build fit-for-purpose apps that connect with users across various digital touchpoints such as web, mobile, wearables, chatbots, augmented reality (AR) and virtual reality (VR).
Why is it important now?
As new digital touchpoints start to become widely available, customers start to demand experiences in new digital touchpoints. This leads enterprises to invest in platforms that enable them to develop for these digital touchpoints with ease.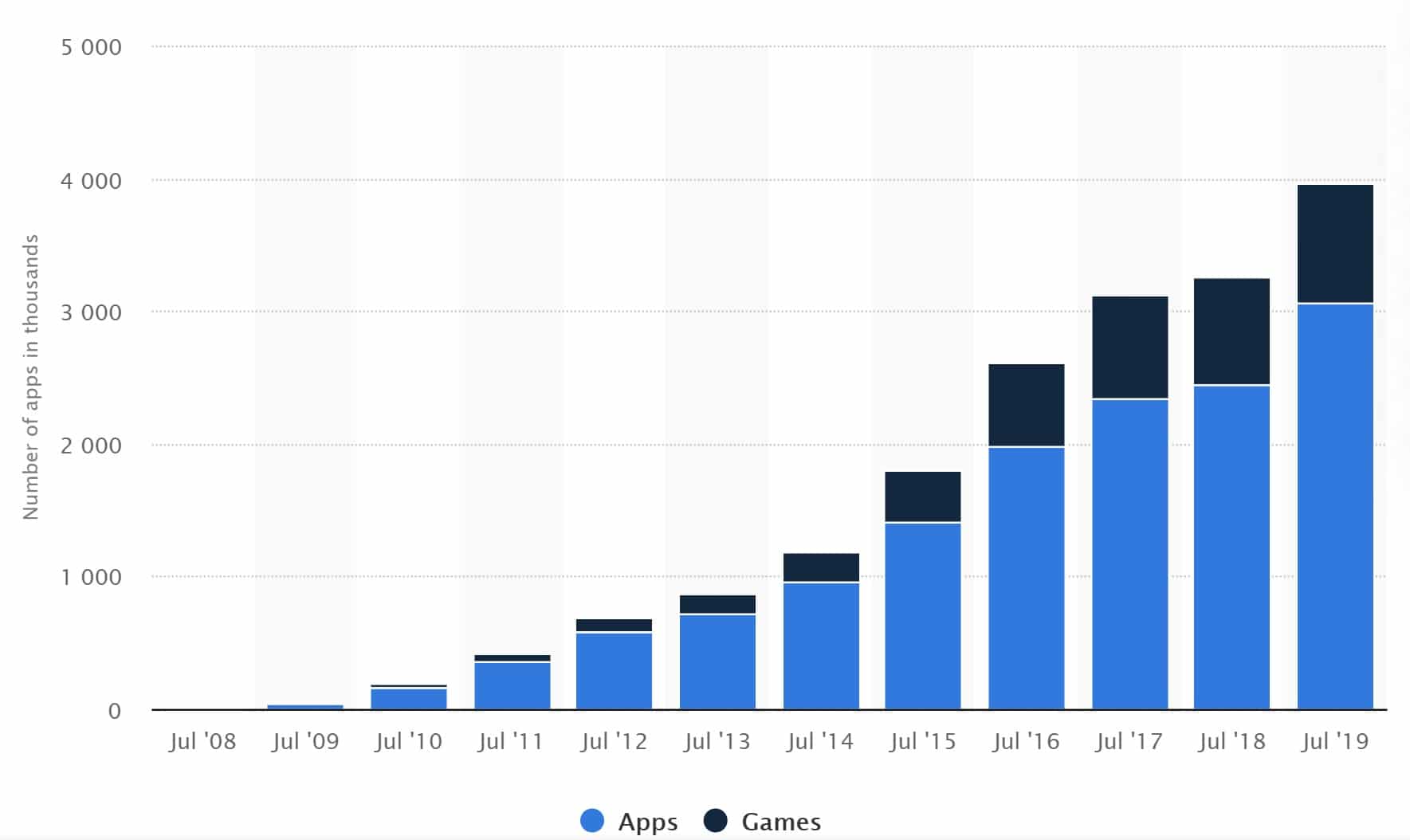 Rise of mobile apps in the late 2000s which is still continuing led enterprises to search for development platforms to facilitate building mobile apps. This led to the rise of mobile application development platforms (MADP). With the increasing importance of new devices such as wearables or new interfaces such as natural language, there is a similar demand for MXDPs.
The need for multiexperience platforms will only increase as the number of apps, devices and modes of interaction increases. As customers own devices with new modes of interactions, demand for such services increases. And the use of wearable, conversational and immersive devices and apps is definitely increasing according to various sources:
Connected wearable devices worldwide: 526 million
Expected number of VR and AR devices is going to be sold in 2021: 52 million
Multiexperience development is one of the key drivers in digital transformation. Businesses invest in multiexperience platforms to build multi-channel apps cost-effectively to continue their digital transformation journey. By 2021, at least one-third of enterprises will have deployed a multiexperience development platform according to Gartner.
What are the technologies used in multiexperience development platforms (MXDP)?
Visual & touch interfaces are already quite established and are necessary for most B2C applications. The ones below are newer platforms and developers need to consider whether to leverage them in their new applications since not all of these technologies are relevant for all applications.
Chatbots (Conversational UI): Software that enables people to get information from machines in a natural, conversational way using text and voice. For example, automotive companies use chatbots like Kia's Kian, which can answer customers questions and increase conversion rates.
Augmented reality: AR devices enhance the view of the real-world environment with computer-generated data. For example, Qwake Technologies has created a smoke diving helmet for firefighters so that firefighters get in and out of dangerous situations faster with a clear vision.
Virtual reality: VR is a simulated visual environment that is generated by computer technology. In this reality, a person can interact with objects and perform a sequence of actions. For example, Playstation VR is a virtual reality headset that allows users to have an interactive role in a game environment.
Wearable: Wearables are smart electronic devices build to be worn on the user's body where they can interact with a smartphone app. Includes bluetooth headsets and smartwatches.
What are the benefits of MXDP?
These platforms can enhance collaboration among IT and business teams in the process of building, designing and managing apps and customer experiences.

Companies can quickly develop applications for new digital touchpoints and platforms

As developers' productivity increases across multiple touchpoints due to high-productivity tooling and common development languages, businesses' app delivery time decreases.

The platform provides continuous improvement and shorter release cycles by optimizing DevOps practices and tooling.

Core back-end services are portable and reusable, which decreases the cost of developing an app in any touchpoint.
What are the risks of MXDP?
Due to the reliance on the platform to support multiple touchpoints, there is vendor lock-in risk.

Tech team may need to modify existing development tooling and DevOps practices to be able to fully take advantage of an MXDP and develop multiexperience applications with limited investment
What are the leading multiexperience development platforms?
Some MXDPs include:
Appian
GeneXus
IBM
Kony
Mendix
Microsoft
Oracle
Outsystems
Pega
Progress
Salesforce
SAP
ServiceNow
If you want to learn more about chatbots which is also another touchpoint in multiexperience development, we recommend our in-depth conversional bots guide.
If you want to learn more about low-code development that is also a feature of multiexperience development platforms, here is our article about it.
If you have questions about how multiexperience development platforms can help your business, we can help:
How can we do better?
Your feedback is valuable. We will do our best to improve our work based on it.