Digital transformation (DX) is imperative for businesses, especially in customer service, since digitization in customer service leads to both cost savings as well as revenue increase as it improves customer experience (CX) and reduces churn.
According to Mckinsey, customer-centric digital transformation initiatives can generate a 20-30% increase in customer satisfaction and economic gains of 20-50%. Therefore, organizations are striving to embed new technologies into their products & services while avoiding the pitfalls that cause digital transformation projects to fail.
Why should organizations prioritize customer experience in digital transformation projects?
Increasingly. companies are prioritizing customer experience and this is also backed by findings that show how important customer experience is to the success of a business.
The customer experience is increasingly the key factor for a business to differentiate from its competitors. The importance of customer experience is acknowledged by marketers and according to Gartner 2017 CX survey, 81% of marketers expect to be competing mostly or completely on the basis of CX with their competitors in two years. 
Other surveys also provide similar findings like the one below that shows that most companies see customer service as one of the most important factors for their future success.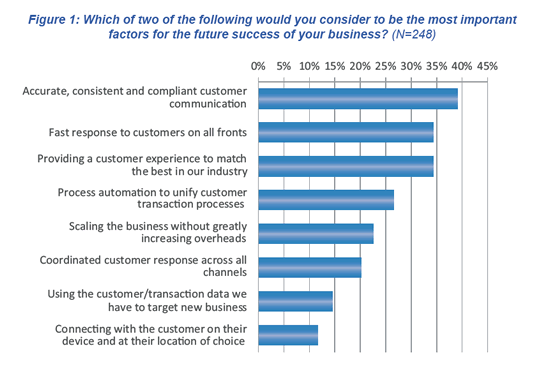 We agree with this survey's results because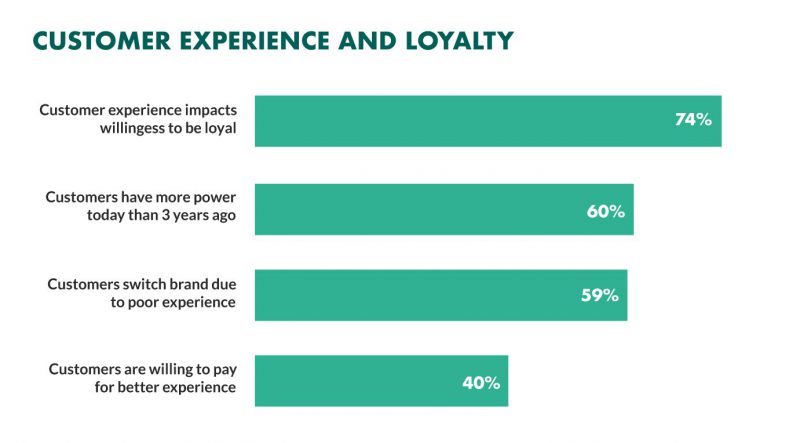 How can organizations improve customer experience?
A successful digital transformation involves improving the customer journey from beginning to end. There are common ways to create a great customer experience strategy to help businesses improve customer satisfaction.
Understanding customers
Great customer experience requires getting to know your customers so well that you can anticipate their needs and exceed their expectations. 
On a high level, all customers want transactions to be easy, the vendor to be available 24/7 and their personal data to be secure. With today's increasing amount of data and analytics tools, organizations can dive deeper into customer behavior data and use analytics to understand in detail how customers think. These tools help organizations deliver a unique experience to each customer.
Emotionally engaging with customers
Emotional engagement is a must if organizations are willing to enhance the customer experience they deliver. How well customers are emotionally engaged with the company determines many of their decisions. Organizations attract customers with products & services that
are personal

are authentic

demonstrate social consciousness
Facilitating customer interactions
Customers expect to interact with organizations whenever they want that's why implementing technologies such as customer service chatbot or omnichannel infrastructure aid businesses to deliver help when customers need it.
Capturing feedback from customers
Customer feedback is a guiding resource for the growth of the business. Customers care how much organizations try to understand themselves. By capturing feedback, organizations make customers feel like the business value its customers so that the organization can increase customer loyalty. Customer feedback is also a great way to track customer experience after every conversion
What are the successful examples of customer experience delivery?
Starbucks
Starbucks' customers generate 90 million transactions a week in almost 25,000 stores worldwide. Starbucks leveraged data and developed a mobile app. The app includes mobile payments, a loyalty program and some additional features like store locator and music recommendations. These support Starbucks' Digital Flywheel strategy which aims to help customers in 4 different layers: rewards, personalization, payment, and order.
BBVA
BBVA built a technological platform that underpins its ability to capture, store and process data. The platform enhanced customer experience with the help of personalization and clear communication. The platform is one of the factors that led to BBVA to be ranked number one in customer satisfaction in Spain both in mobile and online banking. Their active digital customers also grew significantly.
We have a comprehensive list of digital transformation case studies, feel free to check it out.
Which technologies support customer experience during digital transformation process?
Understanding processes and customer needs
It is first essential to identify what needs to be done. There are various easy-to-integrate tools to help organizations quickly plan their customer service digital transformation.
Process Mining
With process mining, businesses can understand what their "as-is" processes look like and how it differs from desired processes. By analyzing your customer-facing processes, you will increase the visibility of your touchpoints and improve the areas that are underperforming. For example, process mining companies draw data from a business' CRM and customer service related systems to visualize and analyze process flows across the organization. This can help reveal the root causes of problems in customer processes so that the organization can improve pain points.
Analytics
Analytics can be key to understanding customer experience and to identify areas of improvement. Modern analytics tools can deal with both text and structured data, enabling companies to automatically analyze customer feedback and other data for insights.
Implementing solutions to address those needs
Once the most urgent needs of the business are identified, there are various tools to enable rapid digital transformation in those areas:
Personalization
Personalization can drastically improve the results of digital transformation. According to BCG survey, a personalized journey raises the number of items purchased (110%), the value of an average order, satisfaction level of customers. Software such as personalization engines, recommendation engines and ABM software can help businesses deliver personalized content to the audiences.
Multiexperience development to enable an omnichannel presence
As the number of available channels that customers can interact with the organization increases, organizations understand they should provide consistent CX and UX across all channels. However, it is costly to create mature applications for new digital platforms. 
Multiexperience platforms simplify creating apps that work on various touchpoints and devices such as web, mobile, wearables, chatbots, augmented reality (AR) and virtual reality (VR), allowing companies to test and improve their user experience on a new platform with limited investment. 
Chatbots enable customers to get information from machines in a natural, conversational way using text and voice. For example, chatbots like Kia's Kian can answer customers' questions 24/7 and pull out key insights from conversations with chatbot analytics. Results show that conversions through Kian are triple times higher than conversions through Kia.com
Companies did not have sophisticated methods of matching call center agents to customers in the past and the process was random. However, today companies like Afiniti are using public data including social media to better match customers to customer service agents, improving customer outcomes.
We've written quite a few articles about digital transformation, feel free to check them out. 
If you still have questions about digital transformation, we would like to help:
Let us find the right vendor for your business
Featured Image: The Silicon Review
How can we do better?
Your feedback is valuable. We will do our best to improve our work based on it.