Management consulting is one of the largest industries in the world with the industry leader McKinsey estimated to be making >$10 billion. McKinsey has survived numerous disruptions since its founding in 1926.
We look into the reasons why the advancement of technology and AI can be the beginning of a contraction for the management consulting industry. With access to affordable ex-consultants, advanced analytics capabilities supplied by tech giants at their fingertips and the rise of a new breed of niche consultancies like Palantir, management consulting will have a harder time to grow.
Why you don't hear about disruption of management consulting?
Because management consultants don't like to get talked about.
Companies like McKinsey avoid the limelight: They rarely talk to the press, every article published goes through multiple rounds of reviews with the participation of global compliance staff, they avoid being included in Fortune 500, their clients are not allowed to mention their name.
This is for good reason. Every company that matters to them already knows them and a significant share works with them. Increased limelight brings scrutiny and any company working with 1000s of companies will inevitably work with failed companies. This happened in cases like the Enron scandal which did not help McKinsey's reputation. Especially coupled with their previous global managing director being jailed for insider trading, it raised questions about the rationality and ethics of the top tier at McKinsey.
However, industry watchers are pessimistic:
An Harvard Business Review article claims that in near future even the elite consultants face the risk of getting replaced by artificial intelligence.
The Economist analyzed the possible effects of AI on consulting in the near future. They estimate that tech giants will take a larger share of AI transformation projects compared to management consultancies. They estimate that tech giants will be able to expand their hold on the cloud market into the AI services provided over the cloud, they already offer a significant number of basic AI services like image recognition to enterprises. Management consultancies have less experience in dealing with big data sets and building AI models.
What are the USPs of management consultants?
Unique selling points and how they will be impacted by a certain change is a  is a good method to estimate the impact of change on an industry. Management consultants USPs are:
People: If you get asked why you want to join a certain consultancy, just say "people" even if you know nobody there. They will nod knowingly and assume that you are in on the fact that they have great people. Management consultancies make revenues on selling billable hours. Their people have to be great to be justifying hundreds of thousands in fees for a few weeks of work of a team of a few people.
Information: Their global reach allows you to learn from the experiences of your competitors or companies facing similar problems.
Know-how: Not all information is captured in databases or powerpoint slides. Things like convincing an organization are more art than science and management consulting partners have extensive experience doing the same things in different companies.
Reputation / reliability: "No one got fired for hiring McKinsey" gets mentioned frequently. Management consultants have built a reputation over the years. This is partially based on commitment and consistency principle coined by Cialdini. When you pay millions on a consulting project, it is hard to say that you wasted the money. You will do your best to make the consultants' output look good.
How will these USPs change?
People
It will be hard to retain this USP in the future when the most ambitious graduates are attracted by tech companies or VCs who throw them millions to build their companies.
Tech companies
It is true that before the rise of tech giants in 2010s, management consultancies were one of the most attractive employers. They allowed you the chance to work at the world's largest companies like Chevron and join those companies at a managerial level without settling down near their HQ as a fresh grad. But the rise of FAAMG gave ambitious graduates a way to work in attractive locations while advancing their career at one of the largest and coolest companies in the world.
VCs
If they want more independence, they can also go after building their own business. Compared to pre-2010 levels, there is significantly more money chasing new startups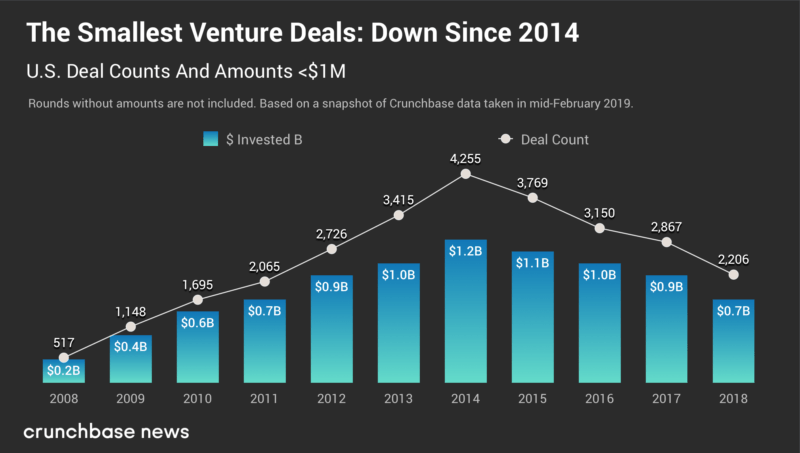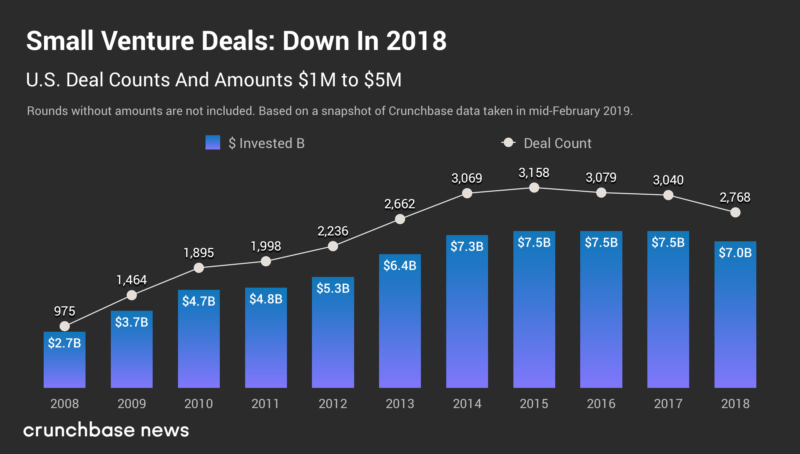 Information
The information USP is at risk since companies share granular data with AI vendors who use them to build better models that benefit entire industries or departments.
Consultants can not share granular data from other clients but they can share high level insights or help your company engage in benchmarking which helps compare your company at a more detailed level with other companies. While these insights are useful for humans, they are too high level for machine decision makers which can crunch more granular data to arrive at better decisions. As machines take over decision making, the value of high level data is reduced.
AI companies are stepping in to enable companies to use more granular data in their decision making. For example, XANT (previously called insidesales.com) claims to rely on billions of interactions and millions of buyer profiles to help sales people close deals. When companies share data to be used anonymously to improve machine learning models, the resulting models are stronger than anything decision making model that can be communicated via high level insights.
Know-how
This is less at risk compared to other USPs.
General (including soft) skills like communication
However, a wealth of ex-consultants provide consultancy services that are much cheaper than MBB since they are fully compensated for their work without needing to channel profits to the global partners of the firm. On-demand hiring companies take limited commissions compared to MBB resulting in projects which are significantly cheaper.
Hard Skills
As Roy Bahat of Bloomberg Beta shares "Consultancies are built for two-by-two matrices. AI's matrices are a million by a million." The new complex world of analytics favors data scientists and tech companies vs management consultancies. However, consultancies are making big investments in this area to close the gap.
McKinsey's acquisition of QuantumBlack and BCG setting up Gamma are viewed as an attempt to take their share out of the growing AI consulting market. Large companies are also acquiring some AI startups to create their in-house AI units. Still, since it is an emerging field, AI vendors can capture a significant market share by establishing their presence early in the market.
Management consultancies are also embracing modern technology in their traditional work like lean operations: An emerging technology that leverages machine learning is process mining. It helps companies better understand their actual processes. Consulting firms like EY have already started to leverage this technology by offering better services and optimize their processes. A process mining vendor claims that EY can currently analyze business processes in less than one week. Process mining can accelerate auditing and consulting processes and help businesses identify the best processes to automate.
Reputation / Reliability
This is probably the most enduring advantage of established management consultancies. Though they are marred by scandals, they have close connections with their alumni and customers who hold positions of power in almost all companies that matter to them. McKinsey is regularly called a CEO factory with 70 past and present CEOs of Fortune 500 hailing from McKinsey in 2010s.
What does the future hold for management consultants?
As my consultant friends like to say: "It depends". They are rich enough to buy their way out of some of the challenges listed above but their buying capacity is also limited. As partnerships distributing profits over the years, they are not sitting on top of massive cash piles like Apple which they can use to buy their way out of any problem.
Interest in these companies is not a great way to measure their influence or revenues but it still gives an idea about their trajectory. The buzz around Palantir's IPO will be gone soon but it seems that management consultancies are on a declining trajectory and this can be attributed to the factors harming their USPs: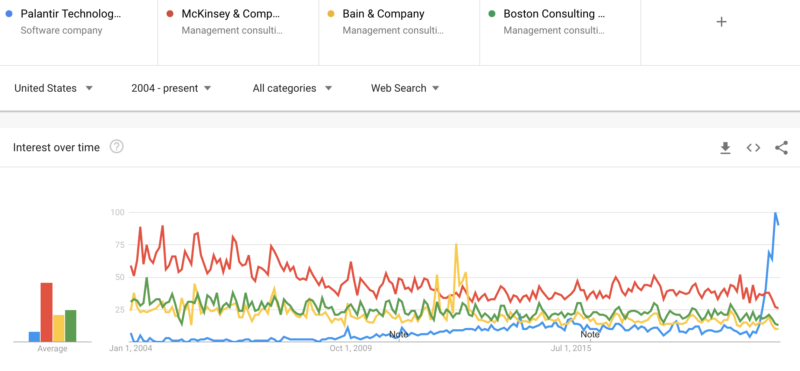 To identify companies to lead your AI transformation or alternatives to consulting, feel free to reach out to us:
How can we do better?
Your feedback is valuable. We will do our best to improve our work based on it.