We frequently get the question: "What's the best RPA software?". We are not a big fan of this question as the best software for your company depends on your company's automation needs. So it is impossible to answer this one objectively but we will answer a few similar/more objective questions below.
Please note that we are not updating this real-time. You can see an up-to-date chart that is based on these criteria along with a list of RPA vendors and their relevant information on our main website.
Which is the best funded RPA software provider?
Currently, UiPath. This is a good proxy for success as investors are looking carefully at the RPA ecosystem and are betting on companies' success with their money. So the best funded vendor should be the one that stands to profit most in the long run.
So we looked at the RPA software providers with top funding:
UiPath: $180M with $153M raised in Mar/2018
WorkFusion: $170M as confirmed by the CFO with $50M raised in May/2018
BluePrism: $155M with $55M from previous investors and $100M from their post-IPO placing.
AutomationAnywhere is another major player but we have not reached their financing information.
Disclaimers: This is a very high level exercise with shortcomings:
We should ideally be looking at valuation because by giving away more of your company, you can raise more than your competitors even when markets favor your competitors. However, since most RPA vendors are private companies, valuation data is not public so we looked at funding amounts assuming all these major companies gave away similar percentages of ownership.
This exercise favors older companies as they had more time to raise and burn funding. Except WorkFusion, these companies are of similar age so should not be a major issue.
Which vendor is more popular (searched more on Google)?
One way to measure popularity is to look for Google queries including the RPA company's name.
Awareness share of RPA companies (global)
We track number of Google queries that include names of RPA companies. We calculate each company's awareness share as number of Google queries with company's name divided by total queries for all RPA companies.
| Vendor | Dec/2018 |
| --- | --- |
| UiPath | 36.0% |
| Blueprism | 24.1% |
| Automation Anywhere | 16.1% |
| Arago | 5.9% |
| WorkFusion | 4.8% |
| Nissho Electronics Bizrobo! Basic | 2.6% |
| AntWorks | 2.1% |
| Jacada | 1.0% |
| Softomotive | 1.0% |
| Kryon Systems | 0.8% |
| Thoughtonomy | 0.8% |
| Kofax Kapow | 0.6% |
| NICE Systems | 0.6% |
| Symphony Ventures | 0.6% |
| VisualCron | 0.6% |
| Another Monday | 0.4% |
| Contextor | 0.4% |
| Pega | 0.4% |
| Redwood Software | 0.4% |
| AutomationEdge | 0.2% |
| Enable Soft | 0.1% |
| Infosys EdgeVerve Systems Assistedge | 0.1% |
| Jidoka | 0.1% |
| Onvisource | 0.1% |
| Perpetuuiti | 0.1% |
| Verint | 0.1% |
| Cicero | 0.0% |
| Epiance Epigenie RPA | 0.0% |
| Exilant Fusion | 0.0% |
| GridOne AutomateOne | 0.0% |
| Ikarus | 0.0% |
| NTT-AT WinActor | 0.0% |
| OpenConnect | 0.0% |
| Option3 | 0.0% |
| Atos Syntel SyntBots | 0.0% |
This comparison comes with caveats. There are a few factors that distort results:
Our aim is to measure interest from corporations however RPA tools with free editions attract attention from developers and make companies with free editions seem more popular. Interest from developers is important however interest from corporations is more important as they are the final users of these solutions. Companies like WorkFusion and UiPath get more interest from developers since they have community editions. For example, it's worth noting that UiPath's rise starts especially after the launch of community edition in 2016.
Some companies have names that are used in different contexts such as Ikarus. For those companies we rely on queries like "company name RPA"
Some companies like Kofax are active in many markets, not just RPA. For those companies, we use queries that involve their RPA sub-brand
Emerging companies can have strong momentum that is not visible here. Since this looks at the current state of the market, without considering the past, it can't be used. Check out our future of RPA article for some of the leading edge areas of RPA.
Historical results for leading RPA companies
There were no clear winners before 2017: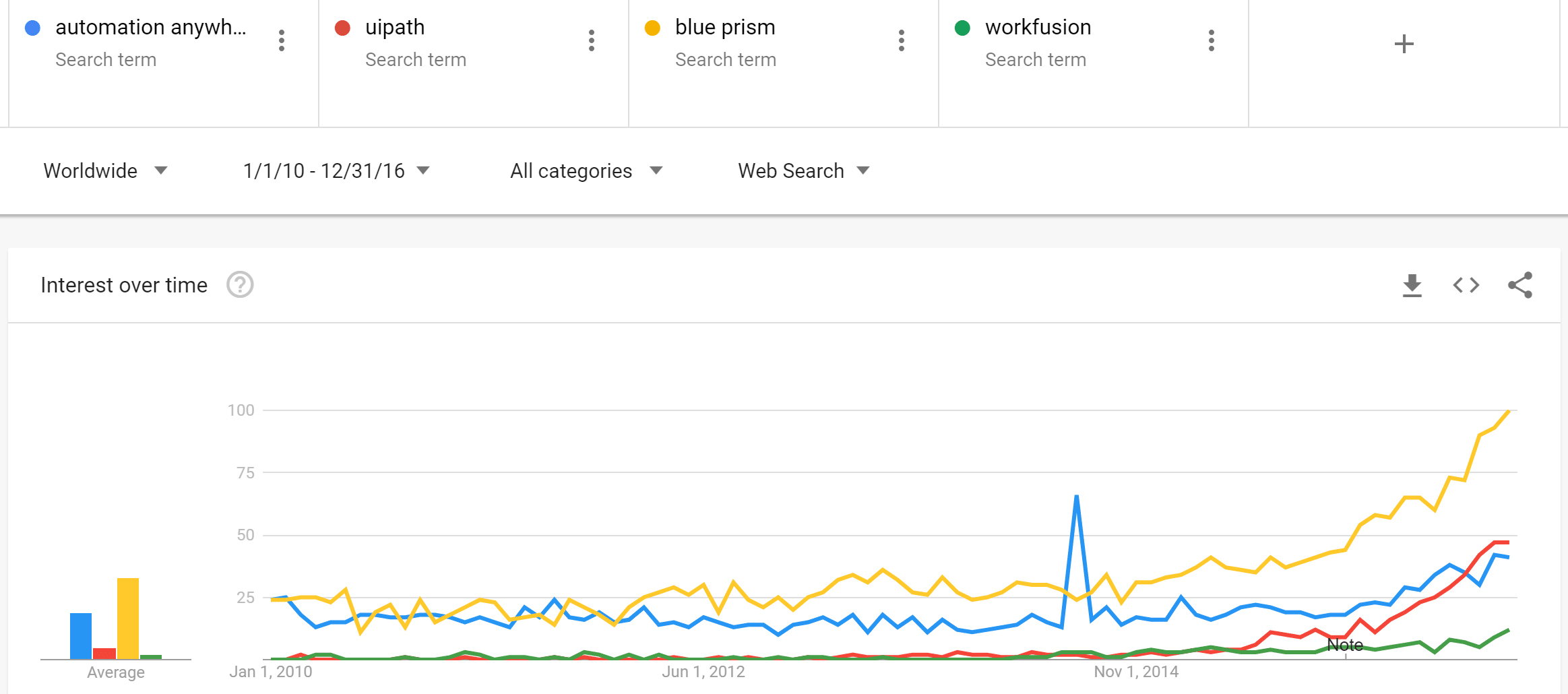 However, UiPath takes off after 2017: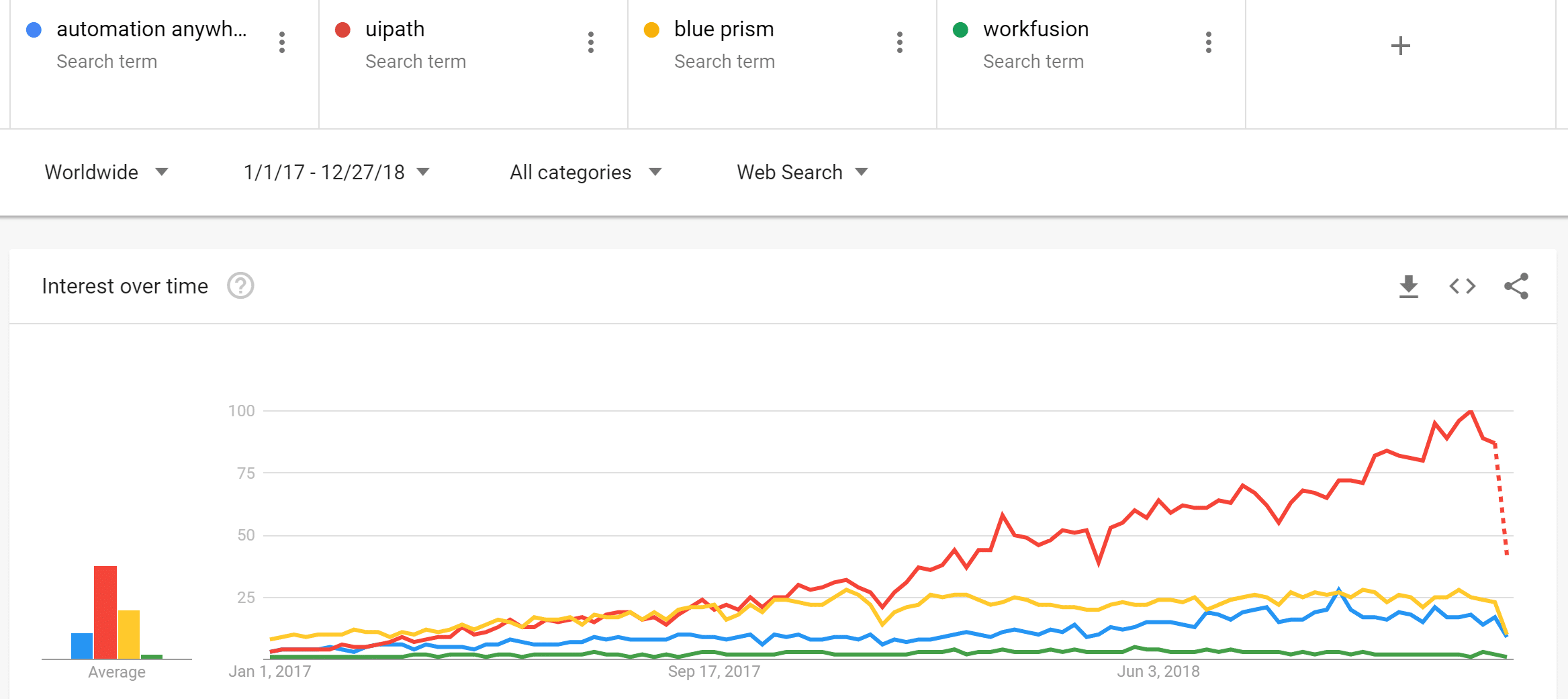 Source: Google Trends
So which company leads the pack?
UiPath leads the pack in terms of funding and awareness. UiPath is also one of the late entrants into the market so we can say that it has the greatest momentum currently. However, RPA is an emerging market and market dynamics can change quickly.
For more on RPA, feel free to read our in-depth articles on:
How can we do better?
Your feedback is valuable. We will do our best to improve our work based on it.