Businesses can leverage automation technologies for their IT operations, like handling service requests, performance management and IT security. For example, IT departments are responsible for routine checks of systems and IT teams spend a portion of their time on this task instead of more advanced cases. IT process automation tools can handle these checks and allow developers to work on more higher-value adding activities. Like RPA, ITPA also provides clear advantages like cost savings, increased productivity, and reduced errors, allowing smaller teams to effectively manage routine IT operations tasks.
As ITPA tools have a wide range of use cases and significant benefits in IT operations, the interest in this technology is expected to increase.
What is IT Process Automation (ITPA)?
IT process automation (ITPA) solutions aim to automate and improve IT operations like application monitoring, service desk, and infrastructure management. To do that, ITPA tools monitor applications and IT workflows. They provide insights to align IT processes across multiple functions. Wikipedia defines IT process automation as follows:
IT process automation (ITPA) facilitates the orchestration and integration of tools, people, and processes through automated workflows.
How does IT process automation work? 
IT process automation tools work as an action-reaction system. For that, IT departments need to plan predefined events that will trigger ITPA tools while setting them up. These events can be:
Routine events

 like daily checks and upgrade controls

Frequent technical issues

 like bugs and system errors

Specific workflows

 like forwarding several issues to service desks
After defining triggers, IT departments would be ready to use their ITPA software. Here is a step by step explanation of how ITPA solutions work:
Monitoring:

 ITPA tools track business applications and monitor system performance metrics. This is the default part of the working procedure of ITPA tools. They continue this step until a predefined trigger is detected.

Trigger:

 As monitoring continues, some predefined events can occur. ITPA tools detect these events and start an automated workflow. These triggers might be technical issues in the system or basic IT tasks that can easily be automated.

Reaction:

According to the predefined event that triggers ITPA tools, the software automatically performs the related task as a reaction to the predefined event. The reaction might be pre-defined actions to restore system performance, automated spreadsheet operations, or directing workflows to the service desk.
Lack of coding knowledge doesn't have to keep businesses away from IT process automation. With no-code or low-code solutions, developers can rapidly create automated workflows and focus on more advanced cases.
What are the differences between ITPA and RPA?
Businesses interchangeably use the terms IT process automation (ITPA) and robotic process automation (RPA). Although they form a set of automation technologies and can share several use cases, their focus in businesses a bit different.
RPA solution takes its name from "robots" and their ability to handle repetitive tasks without rest. Thus, this technology mostly focuses on mimicking humans and perform their low-skill tasks without any errors. This opens a wide range of use cases for RPA technologies, and these use cases mainly consist of daily tasks that can be performed by any employee in the company. Because of that, the user interface also plays a key role in RPA solutions. RPA can automate a wide range of business functions and the users don't necessarily need to have advanced programming knowledge. RPA companies put significant effort to ensure that their software is user friendly. 
On the other hand, ITPA solutions are used to streamline IT operations, and these solutions are mostly used by technically savy IT teams that work on complex problems. Thus, ITPA tools focus on providing advanced functionality to create complex automation solutions. Therefore, unlike RPA use cases, ITPA solutions are used for more complex tasks rather than daily processes.
Since ITPA use cases are more complex processes and require a higher level of skills to deploy solutions, the user interface has less significance in these solutions. IT teams already have the necessary knowledge to program these technologies, and therefore the UI is less critical. However, user friendliness is still an important factor for this software and vendors strive to make their solutions easier to use.
How is the interest in IT process automation?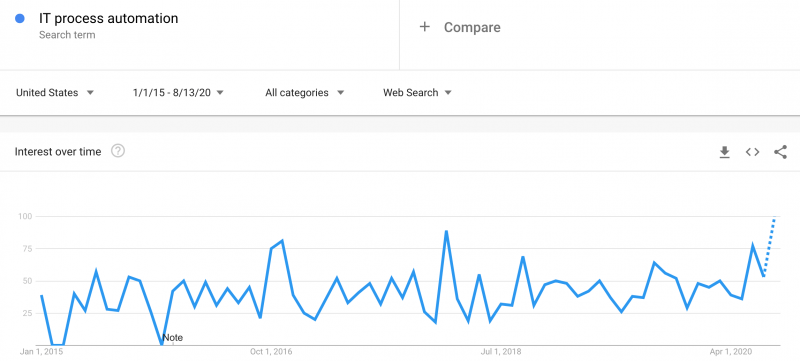 After 2015, we observe a slightly increasing interest in IT process automation. Google Trends predicts that interest will increase further in the second half of this year. A reason for the modest interest in the topic is that there are similar terms such as Business Process Automation (BPA) and Robotic Process Automation (RPA) that may also be used by IT professionals looking for automation solutions.
What are the main IT process automation use cases?
IT process automation tools can handle a wide range of IT operations automatically and accelerate IT processes with fewer errors. Here are some of the IT process automation use cases:
Managing service requests automatically
Automating routine IT tasks
Automating asset management
Automating IT-related onboarding and offboarding tasks
Managing IT security and compliance
Digitizing process and supporting digital transformation
Feel free to read our IT process automation use cases article to learn more about these use cases and discover more ITPA applications.
What are the main benefits of IT process automation?
The main benefits of IT process automation include:
Cost savings

Increased productivity

Reduced errors

Faster response to system problems

Improved and simplified user experience

Compliance benefits
Which are the leading IT process automation vendors?
An IT process automation solution needs to:
Improve the operational efficiency of IT operations

Coordinate IT workflows in businesses
The vendors listed below are mostly startups, but Microsoft is also one of the leading vendors in the market. Here are some of the leading vendors that provide ITPA solutions for businesses:
ActiveBatch Workload Automation

AutomationEdge

BMC TrueSight Orchestration

Microsoft System Center

OpCon

Resolve

ServiceNow Orchestration

Vmware
If this article interests you, feel free to read our related articles below:
Here are some RPA-related articles, if you want to learn more about automation:
If you have questions about how IT process automation tools (ITPA) can help your business, we can help:
Let us find the right vendor for your business
How can we do better?
Your feedback is valuable. We will do our best to improve our work based on it.