Today's procurement teams are under pressure to purchase products and services faster to satisfy companies' desire to operate with more speed and flexibility. Advances in automation can significantly accelerate the source-to-pay processes. In 2018, BCG estimated that new digital solutions could reduce the end-to-end time for this process by as much as 80% for simple items like office supplies and 40% for complex items like capital projects. This might result in a 1-3% increase in total savings on spend and reduce S2P operation costs significantly.
What is a source-to-pay (S2P) process?
Source-to-pay (S2P) is the process from selecting a supplier to completing all their payments. The process begins with specific sourcing strategies to gather the optimal products and services for the company. Then, companies proceed with:
identification of relevant suppliers

running demos or PoCs with relevant suppliers
evaluating suppliers

contracting suppliers

placing orders

monitoring of the supply of required products and services

authorization and release of payment
In addition to these critical tasks, the overall value stream also includes the activities required to support the end-to-end operation, such as vendor and master data management. Below you can find what an S2P process looks like step by step.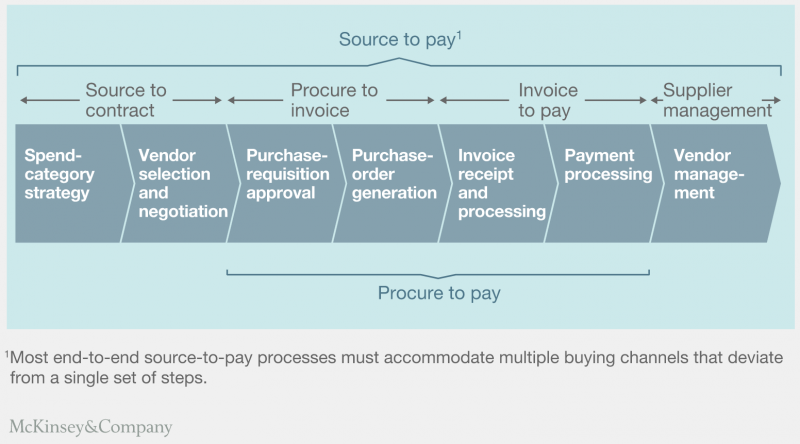 What are the main challenges?
The S2P processes are essential to keep things running smoothly in many industries. Procurement quality is the responsibility of the procurement division. The department must find the right supplier, negotiate contracts, reduce spending, and find ways to simplify the buying process.
Unifying Systems and Processes
Large departments within companies have their procurement processes and resources, making data consolidation challenging and inconvenient. Sourcing and accounts payable are all handled by a separate department, and departments usually tailor the process for their particular purpose.
Besides, companies usually use more than one ERP program, making it impossible for vendors and business data to provide a consistent and standardized source of reliable data. They mostly produce slow, error-prone, and manual procedures, such as working with paper invoices, which end up causing extra labor costs.
Lack of Governance and Compliance
Regulation and implementation in procurement systems tend to be inflexible. The main idea of pre-approval spending can also be seen as needless bureaucracy, which results in non-contracted spending and ad-hoc purchases.
Management Apathy
Management teams in businesses often see procurement processes as non-critical to company operations, which means that technological improvements and process enhancement are usually of low importance. As such, inefficiencies frequently show up as a result of the long-term use of old technologies.
Lack of Adoption
Users want easy and intuitive experience in their business environment, and many procurement processes do not meet these standards. Since procurement software is usually developed by purchasing specialists who are more familiar with complexities, applications are often full of features and lack the correct emphasis on usability.
Change Management
Procurement involves both the procurement department and the units making purchases to sustain their business activities. Both of these units have constantly changing processes which makes it hard to produce a set of stable requirements for company's needs from a procurement system.
How to automate S2P processes?
Advances in technology have significantly increased both the number of operations that can be automated and the degree of automation that is feasible. Below you can find the technologies that can help S2P processes to work more efficiently.
Robotic Process Automation (RPA)
Most RPA software use basic rules to simulate repeatable activities that would otherwise be performed by human-machine users. A significant benefit of RPA is that, unlike conventional system integration methods requiring access to the underlying code of each particular software program, bots performing different tasks need access to other software in the same way as human users might, through the user interface. As a result, RPA bots are easy to integrate to processes.
However, most repetitive activities in S2P can not be automated by simple rules. For example, modern invoice extraction requires deep learning as we explained in our in-depth article on the topic. Therefore, RPA software typically only automate a minor part of the S2P process, the data transfer between different systems.
However, RPA can be combined with invoice automation solutions to reach higher levels of automation. McKinsey indicates that a large basic material company found that by adding scanning bots and coding invoices directly to its ERP program, it could eliminate invoice processing costs by 80%.
Feel free to read our in-depth guide about RPA to learn more.
Machine Learning (ML) Algorithms
ML algorithms can handle tasks that include complex rules and require some form of pattern recognition to be correctly executed. Thus, ML is sufficient for tasks that historically require a certain degree of human judgment, such as the assigning of transactions to categories and subcategories of formal expenditure— a critical first step in processing invoices and creating accounting records.
Vendors that launched after the rise of deep learning in 2010s such as Hypatos leverage machine learning and deep learning to automate complex tasks in S2P. For example, their invoice extractor demo allows users to upload invoices and observe their data extraction technology.
Smart Workflow Technologies
Smart workflow technologies can connect tasks performed by various people and machines to a cohesive process with well-defined tasks— even if the combination of tasks varies dramatically from case to case, as in risk management processes for supplier certification.
As an example, a business-service company is piloting a smart workflow approach that dynamically works between procurement and financial systems, depending on the risk-management rationale of the supply contract. The program then assigns tasks to all participants in the on-board, risk management, and supplier certification activities.
Conversational AI
Cognitive agents can be deployed if a broad knowledge base needs to be searched quickly to decide the appropriate course of action. Chatbots used by a variety of financial-service organizations to assist contact-center workers may respond to a wide range of customer questions by selecting appropriate responses from a previously recorded collection of answers.
In S2P processes, vendor and business-procurement support desks frequently include similar forms of interaction, leading to a similar solution.
What are the main benefits?
By automating S2P processes, companies can achieve the following benefits:
Reduced expenses, like invoice processing costs and back-office costs
Faster process, as digital agents can work continuously
Fewer errors due to less human intervention
Greater visibility and transparency for better decision-making
Reduced complexity as different S2P processes can be unified and standardized
Enables the finance operations team to focus on higher value-added activities
Which are the leading vendors?
S2P automation vendors help businesses streamline procurement processes and increase performance by using a single system instead of separate solutions. Procurement practitioners often use these tools, but the software can also be used by accountants to track invoices and payments. Below are some of the leading S2P automation vendors:
Basware Purchase to Pay

BuyerQuest

Coupa

Hypatos

Oracle EPM Cloud

Precoro

SAP Fieldglass

Tradeshift Pay
For tasks like invoice processing, businesses can leverage document capture tools, as well. You can find our full list of document capture vendors on our website.
You might also want to take a look at our other articles on this field to learn more.
If you have questions about how S2P tools can help your business, don't hesitate to contact us:
Let us find the right vendor for your business
How can we do better?
Your feedback is valuable. We will do our best to improve our work based on it.