FinOps (finance operations), a business management methodology and analytics software designed to calculate the cost of public cloud infrastructure, is critical when businesses move for more fundamental computing functions from fixed-cost data centers to flexible, usage-based clouds. According to Gartner, the market for public cloud services will grow at a compound annual growth rate of 16.6% by 2022 when it tops $360 billion. Businesses are increasingly interested in FinOps to better plan, budget, and predict their expenditure requirements for cloud usage.
What is FinOps?
Siloed procurement departments no longer identify costs and sign off on them. Instead, FinOps teams adopt a comprehensive range of procurement best practices, allowing them to combine IT and finance functions to optimize cloud management, pricing, and discounting. FinOps is the practice of bringing financial accountability to the variable cloud spending model, allowing collaborative teams to make trade-offs between speed, cost, and quality.
With FinOps, each operational team can access real-time data to track its spending and make accurate decisions for achieving efficient cloud costs balanced against the performance and availability of services.
Here is the definition from the FinOps Foundation:
FinOps is the operating model for the cloud. FinOps enables a shift — a combination of systems, best practices, and culture — to increase an organization's ability to understand cloud costs and make tradeoffs.
Finance operations contain a broader set of business processes, but we won't refer to all those operations in this article. Instead, this article will focus on cloud cost management, including resource allocation, pricing, discounting, and bringing financial accountability.
Why is it important now?
Cloud costs have become significant
The increasing popularity of clouding enables businesses to increase their spendings on this technology. Although cloud systems offer businesses scalable services that optimize their resources, they are mostly unaware of how much they overspend. According to Gartner, through 2022 in any given month, over 30% of the growing expenditure on software and cloud services will be unused. Thus, companies can cut their overall costs significantly by optimizing their cloud costs.
Cloud availability needs to be monitored in real-time
Today's businesses leverage cloud services more to manage their databases. However, if the cloud system becomes unavailable, it might cause severe damages to businesses. They may be unable to work at that time and lose potential customers. This deficiency might be due to insufficient cloud capacity, unoptimized allocation of resources, or technical hardware problems. FinOps tools can help companies allocate their spendings accurately and have adequate cloud capacity at any time.
How do FinOps processes work?
The FinOps Foundation advises for an iterative approach to managing cloud costs. This iterative approach of FinOps implementation involves three main steps: Inform, Optimize, and Operate. Any business can be at more than one stage at any point, depending on the team.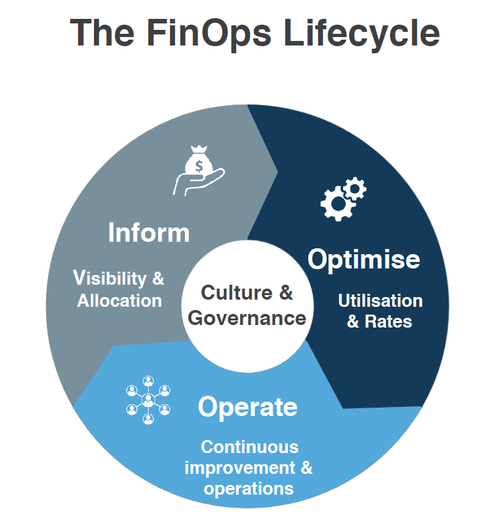 Inform
The first step of FinOps involves informing businesses and teams with visibility, allocation, benchmarking, budgeting, and forecasting. The on-demand and unstable nature of the cloud technology necessitates reliable and on-time decision-making. Business and financial partners also want to be sure that they increase ROI while remaining in the budget and correctly predicting expenses. For example, Apptio shares that it provides visual predictions of how today's decisions impact the future, forecasts cloud finances and monitors cloud systems if IT spend and IT costs are aligning with business priorities.
This step can be challenging for siloed enterprises because management may not even be aware of the systems operated by different business units. Transparency and integration are important to managing cloud costs. 
Optimize
As companies and teams are informed, they now need to optimize their cloud footprint. While on-demand cloud capacity is generally the most expensive option, cloud providers often provide different options for optimization. To facilitate in-advance reservations and increase commitment, they offer discounts for these cases, which may require complex calculations. Businesses can take advantage of these options by rightsizing capacity and eliminating unnecessary spending.
Operate
Now, businesses need to continuously assess performance metrics to understand if they are achieving their goals. For that, they measure the speed, quality, and cost of their cloud capacities and ensure that they satisfy predefined governance and controls for cloud usage.
What are the fundamental capabilities of FinOps?
Managing cloud costs is simple; businesses should just spend what they use. However, the problem is to foresee what companies will use. For example, your brand launched a new advertisement. You won't know how many people will search for your website and how many of them will buy your product. You spent money on the ad without knowing how much you will get back. What you can do is to make use of your previous data and predictions.  
This is how FinOps services help your business. Based on previous data, they can pre-allocate your resources and estimate your cost. If you can schedule your future resource usage, you can reserve to ensure its availability, and you can seek for discounts. Amazon has revealed that FinOps services bring 10-40% efficiency gains for businesses.
By integrating financial accountability with cloud systems, FinOps systems aim to optimize cloud efficiency and reduce costs. Here are the fundamentals of FinOps services:
Cost Analysis:

 Businesses can understand where their costs come from.

Real-time decision making:

 With real-time data and insights generated by FinOps services, businesses can make accurate predictions and make fast decisions when needed.

Planning resources:

 By utilizing historical data usage, FinOps services can forecast future required resources and help businesses to make their plans accordingly.
What are the essential factors in cloud cost management?
When businesses investigate their cloud costs, they will discover that on-demand services cause them to spend much more than they should. Thus, they need to learn to handle their cloud systems concerning cost, capacity planning, security, and other conditions. According to Dennis Smith, a Garnet analyst, 80% of enterprises will require four to six cloud management tools to maintain their hybrid and multi-cloud strategies.
For efficient cloud cost management, here are some important factors that businesses should focus on.
Transparency and Optimization
Businesses need to monitor and align their cloud resources usage with how much they spend for that specific period. As this is a difficult task, it is also one of the main reasons why Microsoft agreed to acquire Cloudyn. This deal would help Microsoft to track its usage, allow transparency, and forecast future cloud spending.
Capacity and Resource Planning
To achieve more effective operational use of cloud computing, businesses should be careful while allocating their capacity and resources. They have to identify how much resources they need and when to use them.
Security and Identity
In the cloud environment, many security-related functionalities, including risk management, segregation of duties, single sign-on, and key management, should be handled by businesses to get protected against fraudulent actions.
Governance and Policy
Like on-premises technologies, businesses need to implement policies that determine who should access what properties in the cloud, how much, and when.
What are the best practices for managing cloud spending?
To manage cloud spending, here are some best practices that businesses can make use of:
Process/organizational initiatives:
Determine who is spending on what:

 Businesses should identify which applications use what resources. This is especially critical for bigger businesses in which thousands of people are accessing hundreds of applications.

Only use and spend what you need: 

You can cut off your cloud costs by eliminating unnecessary spending.

Benefit from reserved instances:

 It helps your business to buy computational capacity that it needs at a cheaper rate than on-demand procurement.
Technical initiatives:
Follow instance marketplace listings: Some companies like Amazon Web Services provides a service called instance marketplace where people sell their reserved instances. It can help your businesses reduce your high cloud spendings
Leverage autoscaling: As autoscaling helps businesses adjust computational resources based on active services, it reduces cloud spendings and electricity costs. It provides higher uptime and more availability in cases where workloads are unpredictable

Build applications that are compatible with cloud systems:

 This enables your business to add or subtract resources as needed.
Procurement best practices:
Avoid vendor lock-in by working with or having the flexibility to easily start working with more than 1 vendor.
Take advantage of volume discounts: Concentrate spending to one or two vendors for volume discounts.
Maintain a single contract per vendor for your company
Which are the leading vendors?
As FinOps systems mostly deal with optimizing cloud costs, most vendors provide cloud management services. Here is a shortlist of leading vendors:
Cloud service providers / Data providers for FinOps
AliBaba Cloud

Amazon Web Services EC2

Dell Cloud Manager
Google Cloud

Microsoft Azure
Cloud management services
Apptio
BMC Software
Cloudyn
Commvault
CPM Tools

IBM Bluemix OpenWhisk

New Relic
Skeddly
Spreadsheets
If you have questions about how FinOps systems can help your business, feel free to ask us: 
Let us find the right vendor for your business
How can we do better?
Your feedback is valuable. We will do our best to improve our work based on it.