The growing popularity of RPA also increases the demand for RPA developers. Thus, RPA training courses play a critical role in providing the necessary knowledge to raise new RPA developers and satisfying the demand. Today, RPA software companies and online education providers have various RPA training courses for you to become a successful RPA developer. 
What is an RPA developer?
An RPA developer is mainly responsible for strategically improving the process before implementation and automating a business process by building and designing workflow diagrams. These two tasks can be separated but it is beneficial for RPA developers to understand process efficiency and suggest improvements as necessary.
In businesses, they work closely with business operations and business analysts to create and optimize workflow processes. They can be responsible for all or some of these tasks: the coding, debugging, and testing for RPA initiatives.
You can read our in-depth RPA developer guide to learn more about being an RPA developer.
What skills are required along with RPA courses?
As there are good RPA training courses provided by both RPA vendors and online teaching platforms, they give fundamental knowledge for those who want to become RPA developers. While these courses offer a full understanding of how to deploy new RPA projects for companies, RPA developers also need specific skills to perform successful RPA projects. An RPA developer should also have the following set of skills:
Strategic Planning Skills:

Mapping an effective workflow and setting correct project goals will make RPA implementation easier.

Strong Analytical Skills:

An RPA developer should be able to analyze a process and make improvement recommendations to enhance the process workflow.

Debugging Skills:

RPA projects may include errors and not work smoothly for the first time. A successful RPA developer should be responsible for testing and bug fixes. The ability to debug a robot will save time and stress, as any error that comes along can be handled.

Understanding of Programming Languages:

Although there are also low-code / no-code RPA training courses, experience, and knowledge in programming languages like C/C++, Python and Java will be an advantage. 
Why is RPA training relevant now?
The increasing popularity of RPA technology leads companies to implement RPA initiatives in their business processes. As seen in the below image, the popularity of RPA has risen significantly in the last few years, and this situation increases the demand for RPA developers. Forrester estimates that by 2021, the RPA market will reach $2.9 billion, and Deloitte shares that 78% of companies have already implemented RPA expect to increase investment in RPA over the next three years significantly.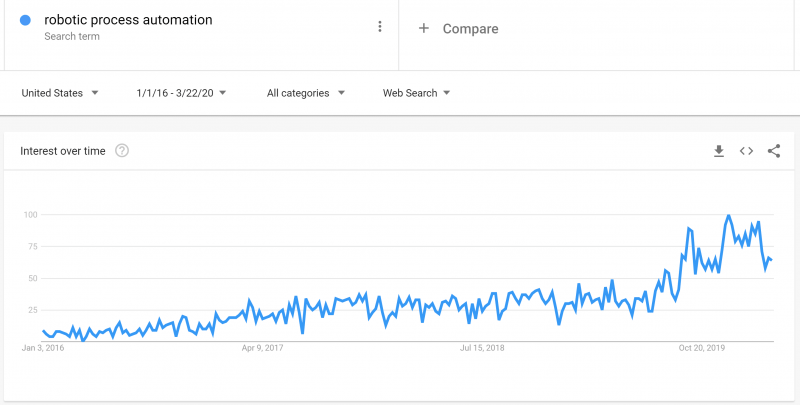 RPA training courses play a significant role in teaching people for RPA development and provide them the necessary knowledge to satisfy the demand for RPA initiatives. With the certification given by these RPA training courses, you can successfully find an RPA-related job and implement RPA projects in your business.
RPA Training Courses
We get a lot of questions from those who want to learn to be RPA programmers. There is  a few good trainings we have noticed and categorized:
Below, you can find links to a few of the selected specific courses and learn more about the RPA training providers:
RPA software companies
Argos Labs
Argos Labs recently released a free trial version of their no code RPA tool along with video tutorials, sample projects and a wiki.
Automation Anywhere
Though Automation Anywhere is not freely available, Automation Anywhere University offers online trainings. It offers both free and paid classes delivered in class and online. Its partners includes leading RPA training providers. At the end of each program, students are evaluated and rewarded with certificates if they pass the evaluation.
Blue Prism
Blue Prism University delivers self-paced, instructor-led training via classrooms and virtually to teach Blue Prism interface. It provides a moderated forum for learners to support them further. In the end, Blue Prism University provides proctored exams to reward specialized certifications depending on the types of courses.
EdgeVerve AssistEdge
EdgeVerve provides video training and tutorials to support developers working with the community edition of their tool.
UiPath
UiPath's Community Edition is one of the top free RPA solutions and they have an extensive training package to build UiPath developer community
RPA training programs normally focus on RPA developers. Recently UiPath launched RPA training programs for RPA related roles beyond RPA developers. Program covers education for these roles & capabilities:
RPA Solution Architect
RPA Infrastructure Engineer
RPA Business Analyst
RPA Implementation Methodology
RPA Awareness
WorkFusion
WorkFusion Express is a relative newcomer as a free RPA solution but already has a vibrant community of developers and a digital training academy: WorkFusion Automation Academy
Online education providers
Udemy
Udemy is one of the top online learning platforms. Udemy RPA courses include:
Face to face RPA training providers
We have covered every category except face to face courses. There's a cottage industry of RPA training providers that provide face-to-face classes. Since there are numerous training providers in every major city, we decided not to cover this category in detail. If you have some insights into which trainings are valuable, feel free to give us a shout in the comments below.
There are a few best practices to follow while assessing face to face trainings. You can check reviews of previous customers, understand their policy of refunds, examine the experience of the trainers and ideally talk to a former student.
To learn more about RPA, you can read:
If you have questions about RPA training courses, don't hesitate to contact us:
Let us find the right vendor for your business
How can we do better?
Your feedback is valuable. We will do our best to improve our work based on it.