Insurance is heavily regulated and its processes include numerous documents. Documents are harder to automate than machine readable data. However, especially auto, property, and workers' compensation include more standardized processes where insurance automation tools like RPA can lead to high levels of automation.
What does RPA mean for insurance companies?
Robotic Process Automation technology offers a wide range of benefits to insurance companies, from shifting the workforce to more valuable tasks to reducing manual errors in claims processing/ fraud detection processes. According to Mckinsey, the insurance industry has the potential to automate 25% of the process by 2025, and most of its automation potential comes from operational processes where RPA can help. Another study from Mckinsey also reveals that auto insurance,  property & casualty (P&C) insurance, and employees' computers are areas where insurers can benefit most from automation due to the high standardization of processes.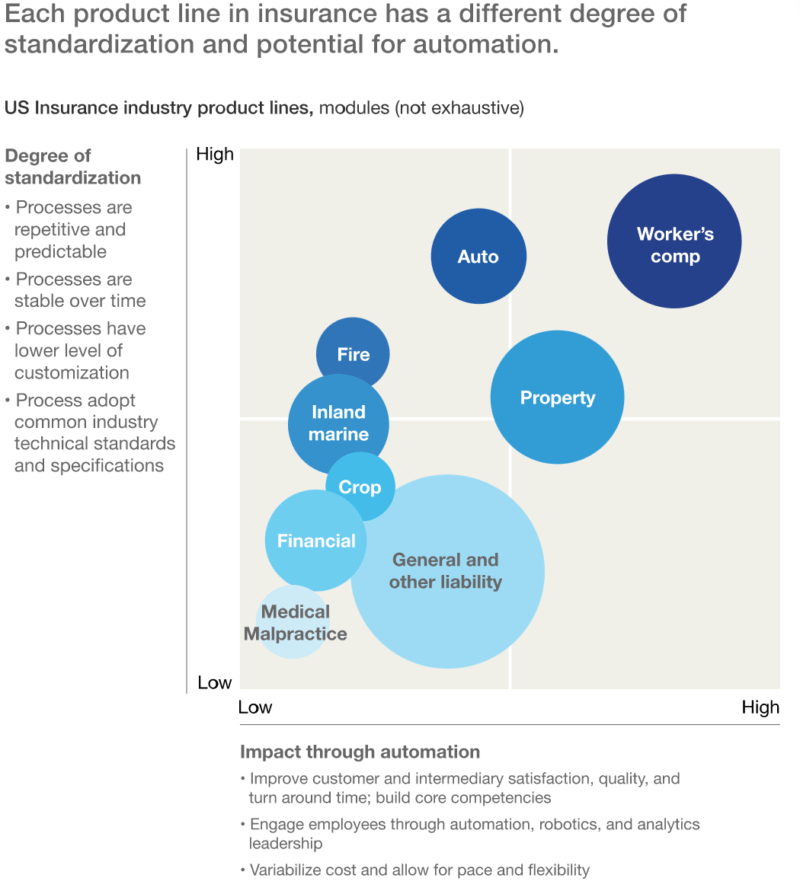 Regardless of where your business uses RPA, the technology reduces the time spent on repetitive tasks. UiPath estimates that current RPA technology can save insurers:
19% of the time where human expertise is currently required
34% of employee time in the data processing
23% of stakeholder interaction time
What are RPA use cases in insurance?
Claims Registration & Processing & Fraud Detection
Claims processing is a labor-intensive process where insurers need to collect information from multiple sources. Some example sources where insurers spent time on gathering and checking information are:
Auto insurance: Police reports of accidents, driver's licenses, and photos of damaged vehicles
Travel insurance: Photos of damaged luggage and boarding pass
Life insurance: Historical medical records
Processing these data sources manually makes the process dull, time-consuming and prone to errors. According to Workfusion, automated claims processing reduces manual workload by 80% and the time necessary for the process by 50% Insurance companies can leverage RPA bots to automate the following steps of claims processing:
Extraction of information
Integration of claim related sources
Inputting data into the systems
Identification & verification of fraudulent claims
Underwriting & Pricing
Insurance underwriters evaluate and analyze the risks involved in insuring people and assets. Then, they set pricing for identified risks. The underwriting process involves collecting information regarding the background of insurable people or assets. When RPA is combined with AI and analytics, bots can
collect data from external and internal sites
fill required data fields in internal systems
assess loss runs
analyze the history of customers' claims and provide pricing options based on previous results
Policy Administration & Servicing
Policy processes include rating, quoting, binding, issuing, endorsing, and renewing.  A conventional policy administration software may be expensive, require high-maintenance, and not be scalable enough to meet the growing number of customers. RPA can automate transactional and administrative areas of policy activities such as accounting, settlements, risk capture, credit control, tax, and regulatory compliances.
Regulatory Compliance
The insurance industry is regulated by strict laws that aim to standardize documentation and audit trails. Manual control of compliance contains the risks of errors and regulatory breaches. RPA automates those processes and ensures that data is accurate, and maintains a complete log of changes. Log files enable insurers to monitor regulatory compliance regularly through internal reviews. Some compliance processes RPA can automate are
Name screening
Compliance checking
Client research & validation of customer information
Data security operations
Generation of compliance reports
Responding to Queries
Most industries involve the process of responding to customer and employee queries. RPA bots can interpret incoming emails, resolve simple inquiries, and when they detect complex queries, they can pass them to humans.
Is RPA enough to automate insurance processes?
No. Most insurance processes rely on document processing which requires document understanding. However, RPA bots come pre-equipped with relatively simple OCR tools. Insurers can work with machine learning/deep learning companies to augment the capabilities of RPA bots by adding additional modules to them from RPA marketplaces. Feel free to read our article on document automation or insurance AI to learn more.
What are real-world case studies of RPA in insurance?
Here, we listed 10 case studies from insurance companies. If you want to see a more comprehensive list of RPA case studies, feel free to check our related article.
Company
RPA Partner
Business Function
Case Study
Results
A health insurance company
Automation Anywhere
Operations
Member enrollment process
Commercial claims testing audit
Reduced effort
Reduced errors
A life and financial services company
Automation Anywhere
HR Operations
HR record processing
Physician statement orders
$200k savings p.a.
A shared service provider, part of a insurance group
UiPath
Operations
Streamlining processes that involves involved tracking Excel spreadsheets and consistent communication to and from all the parties involved in handling processes & reconciliation
56% reduction in incoming email resolution time
38% reduction in incoming phone call volumes, despite an increase in transaction volumes in the same time frame
Bajaj Allianz General Insurance
UiPath
Operations
Streamlining 22 processes such as procurement of proposals, approvals & issuance. Mostly focuses on processes of policy issuance.
Cut down redundant tasks Improved efficiency
Higher customer satisfaction
American Fidelity
UiPath
Customer Service
Customer facing processes such as managing customer emails
Increased productivity Improved accuracy
Freed employees to focus on customer service.
Hollard Group
UiPath
Customer Service
Streamlining broker communications through email automation
Saved 2,000 hours per month of processing time
Fully automated 98% of the process
Reduced execution time by 600%
Cut cost per transaction by 91%
EXL
Automation Anywhere
Operations
End-to-end claims processing
Reduced processing time
Reduced audit
Improved accuracy
Private sector insurance company
AutomationEdge
Customer Service
Processing queries from SMEs via email, direct branch request, phone, agents and third party resellers are automated
Reduction in quote generation time
Reduced policy booking time
Increased conversion rate
Reduced errors
Life insurance company
AutomationEdge
Policy Admin System
Proposal form processing
Improved customer satisfaction
Error Reduction
Improved SLA compliance
Reduction in cost of service
An insurance company
AutomationEdge
Customer Service
Automatic processing of quotes and payouts
10 FTEs cost saving
Reduced quote generation time
If you still have questions on RPA applications in the insurance industry, don't hesitate to contact us:
Let us find the right vendor for your business
How can we do better?
Your feedback is valuable. We will do our best to improve our work based on it.