With today's increasing number of transactions, handling order management processes has become a more significant challenge for businesses. From receiving the order to the delivery, companies need to operate without errors and satisfy their customers with on-time deliveries. As the number of orders and customer expectations are getting higher, companies need to automate these processes with order management systems.
What is order management?
Order management, also called order-to-cash, O2C, quote-to-cash or q2C, is the process of monitoring and satisfying sales orders in a business. This requires a continuum of people, systems, and suppliers to create positive customer service. The process begins when the customer places an order and continues as businesses keep track of the order until it is completed. 
Wikipedia defines an order management system as follows:
An order management system, or OMS, is a computer software system used in a number of industries for order entry and processing.
How does order management automation work?
The order management process consists of several steps:
Offer preparation
The process begins with a customer showing interest in the product or service. While this is the scope of marketing & sales processes, offer preparation can be considered as the first step in order management because the data in the final offer to the customer is also repeated in the order.
Order Placement
The customer submits the order. There are several channels for this with different levels of automation:
Fully automated: Self service via the website or app
Manual with automation opportunities thanks to advances in AI

In-store: Customer explains the order to the sales rep who fills in the relevant details in the order management system
Phone: Contact centers in B2C or directly calling the B2B sales rep
Email: Email to sales rep or a general sales address including a sales form or free text explaining the order
The way to automate each of these channels are listed below:
In-store: Physical customer service bots or touch screens help customers order automatically from stores. However, they require both hardware and software investment
Phone: Smart IVR systems and voice bots can automate order collection via phone
Email: Forms or email can be auto processed by deep learning to extract data. We prepared a comprehensive, sortable list of vendors in this space.
Automation rates can be improved using offer data since the latest offer to a customer includes the relevant details of the order. Customer details, date and ordered items can be used to identify the relevant offer.
Order Information Recording
Data from the order needs to be recorded in the order management system to track the progress of the order and ensure its delivery.
Order Fulfillment and Delivery
Order fulfillment is a complex, company specific process that involves the company and its suppliers. It may involve:
Ordering additional products or services from suppliers to fulfill the order
Manufacturing the products or supplying the services
Necessary logistics for order fulfillment in case of orders involving physical items
Order Entry
All orders that are up for payment 

are reported as cash or accounts receivable in the company's ERP or accounting software. 

The sale is logged in the ledger. Using machine learning and previous records of revenues, relevant accounting entries for the sale can be automatically generated.

Invoice is generated and sent to the customer.

The payment is also registered when collected.
What are the main challenges with order management?
Filling orders promptly is the primary concern that enforcement operations managers are dealing with today, especially in B2C. With increased adoption of e-commerce, omnichannel and social media, companies can see sudden spikes in the popularity of their products, making timely deliveries challenging. Processing a higher number of smaller orders (e.g., individual item versus pallet) rapidly and precisely has become a significant challenge today.
To tackle this problem, companies are reassessing their order fulfillment processes. In addition to timely and accurate fulfillment, you can see the main challenges in order management according to recent research by IBM: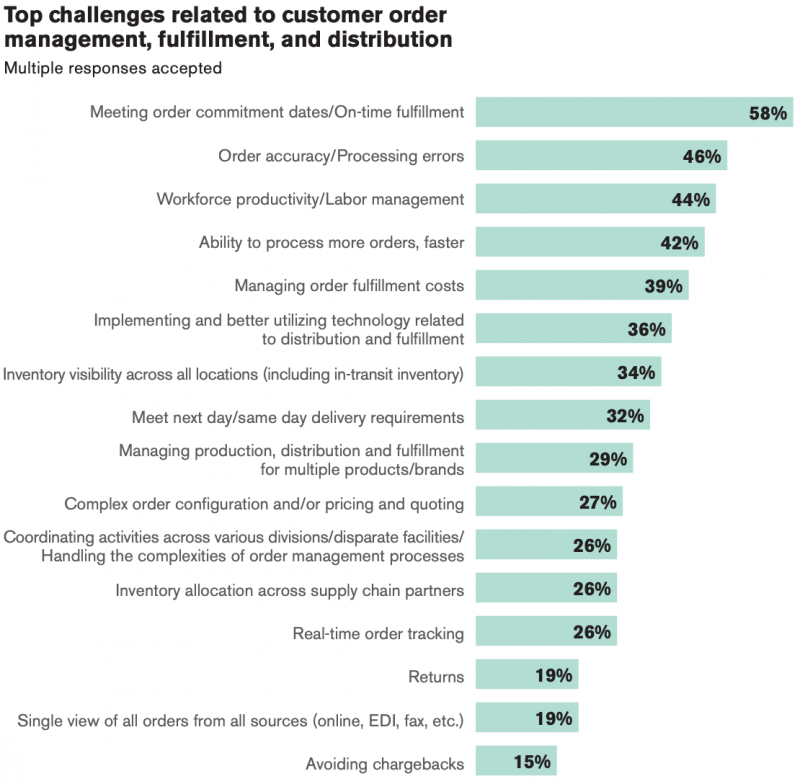 Why should businesses automate their order management processes?
An automated order management system allows businesses to take advantage of the reduction in manual effort and time that is taken to process the order for achieving lower costs and higher productivity levels. Below you can find the main reasons why businesses need to upgrade to automated order management systems.
Reduced Errors
Accurate Order Delivery
By tracking orders in real-time and keeping details in the system, order management tools significantly reduce wrong order deliveries.
Reduced Errors in Data Collection
Manual order data collection is prone to human errors and can delay order processes significantly. Automated order management tools either prevent (in case of self-service) or reduce (in case of document data extraction) mistyping and duplication errors during data collection processes. 
Faster Processes
Automated order management systems provide faster processes and enable companies to handle more tasks in the same amount of time. In a case study by Infosys, Oracle has reduced its sales cycle time by 67% in 9 months.
Automated Data Capturing
With automated order management tools, businesses can automatically collect order data from all channels like email, phone, or online. It makes order fulfillment quicker and increases performance.
Handling Repetitive Processes Continuously
As manual order processing is a repetitive and low-skill task, automated systems can handle it without any breaks. Order management tools can enter order information and operate distribution processes continuously.
Customer Information Retrieval
Businesses can respond to their customers faster and more accurately by automatically extracting their details based on previous experiences. The order management tools can extract customer details like customer habits, purchasing trends, sales, and complaints without needing to go back and extend a service request.
Improved Customer Satisfaction
From order to delivery, customer satisfaction plays a critical role in businesses. With intelligent order management systems, they can improve their customer satisfaction, which can also increase revenue and customer loyalty. With Cognizant's order management system, an international food and beverage company upgraded to proactive delivery monitoring and increased its revenue per order by 31.75%.
On-Time Delivery
Businesses need to deliver correct orders on time (or even better, in advance), in tidy packaging to satisfy their customers. On the other hand, a single wrong order might cause customer loss. By tracking orders in real-time and keeping details in the system, order management tools provide successful customer experience by delivering orders on time.
Automated Payment Notifications
The ordering process can be smoothed by storing and automatically retrieving payment data. Besides, notifying the customer in advance of details such as card expiry would be a better step than contacting them after the card has been rejected. With manual handling, bad debts and unpaid orders are harder to track.
Scalable Order Management
As companies grow, consumer numbers, orders, and data are growing. Automated order management tools are designed to accommodate this rise, making the transition more manageable for businesses.
If you have questions about how order management tools can help your business, don't hesitate to contact us:
Let us find the right vendor for your business
How can we do better?
Your feedback is valuable. We will do our best to improve our work based on it.