As businesses have more documents to process, they need to find a solution to handle them all. Document generation and processing become a more significant challenge with the increasing number of transactions. By adopting automation technologies, companies can dramatically reduce manual document processing. Thus, they can reduce costs and errors while increasing compliance and employee satisfaction.
What is document automation?
There are 2 aspects of document automation:
Automating processing of received documents: Also referred to as document process automation, this  refers to automatically collecting required data from different types of documents, approving its validity, and make use of the extracted data adding relevant features and increasing its value.
Automated generation of documents: Enables businesses to create new documents like invoices, contracts, and order forms from the data extracted in the previous stage.
Wikipedia's definition focuses on automated document creation:
Document automation (also known as document assembly) is the design of systems and workflows that assist in the creation of electronic documents. These include logic-based systems that use segments of pre-existing text and/or data to assemble a new document.
How does document processing automation work?
Extraction
Extracting data from documents depend on the type of document involved:
Structured documents:

Documents like excel spreadsheets include all necessary information in an organized way. Surveys and questionnaires are also similar however they can be submitted as images. In that case, document processing tools need to recognize relevant data with OCR technology and directly extract essential information.

Semi-structured documents

: Semi-structured documents like order forms and invoices are not bound to specified data fields. With OCR, all required information can be converted to text and using deep learning text can be transformed into structured data.

Unstructured documents:

Unstructured documents don't have preset templates and can be in any form. Contracts, letters, and articles are some examples.

These documents are harder to convert to structured data as there are only a few commonly agreed structured data fields in these documents. They include the signing parties, date, purpose of the document and whether certain clauses exist in the document.

Using domain knowledge, 

OCR and deep learning algorithms companies can auto process these documents focusing on aspects of the document valued by the company.
You can also read more about data extraction from our in-depth guide.
Validation
After extracting data from documents, document processing tools check the validity and quality of source data using both companies internal policies, business rules and public data
Validation using internal policies
For example, in the below image, a specific date is extracted from the invoice. The document processing software checks if the date is valid and takes further action accordingly.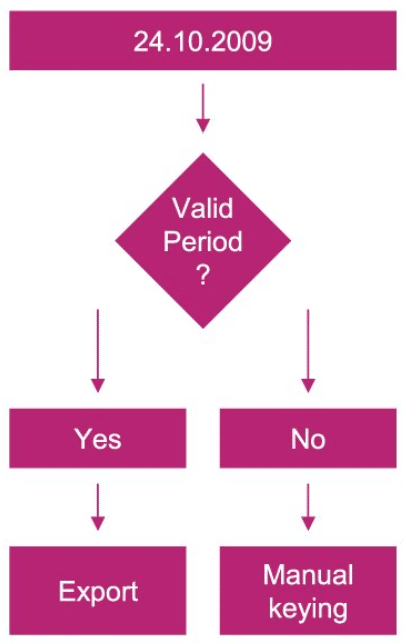 Validation using business rules
Most companies do not want to process duplicate documents. For example, duplicate invoices can cause redundant payments. Document automation vendors such as Hypatos can identify duplicate documents.
Validation using external data
In some cases such as invoices, there are public guidelines on documents. For example, Hypatos can conduct automated VAT compliance checks on invoices, allowing businesses to recognize compliance risks during document processing without additional effort.
Enrichment
Enrichment refers to increasing the value of internally held data by adding related attributes from external sources. For example in the case of invoices, a manual and expensive step is to create accounting entries for the individual items in invoices. These entries can not be auto created as different companies use different general ledger accounts while creating book keeping entries for similar spending. Hypatos uses machine learning on a company's historical documents and their general ledger entries to identify how spending is mapped to general ledger accounts. This machine learning solution automates a manual activity that is in-housed at numerous large companies.
If you are interested in document processing automation, you can also read our articles about:
How does automated document generation work?
Companies can generate their documents with automated tools, collecting required data, and transforming them into desired document types. As handling this process manually might be open to errors and take a long time, these tools can generate a higher number of documents in shorter periods and without any mistakes. Here is how automated document generation tools work:
Capture input data
Businesses need to determine data for documents to be generated. As an example, they need to capture order quantity, price, and customer details automatically from order management or CRM systems.
Choose output format
After collecting input data, companies need to choose which documents to automate. These documents can be legal contracts for legal services; invoices for retail or logistics companies or businesses even might want to generate different document types at the same time. They also determine specific templates for each document type.
Transform data for the desired format
Document automation tools place input data to the determined document templates. This process may require transforming input data format to a different format. For example, input data can be in image format and be transformed into text. In the end, input data will be put into predetermined spaces in the template. Here is an example for the template: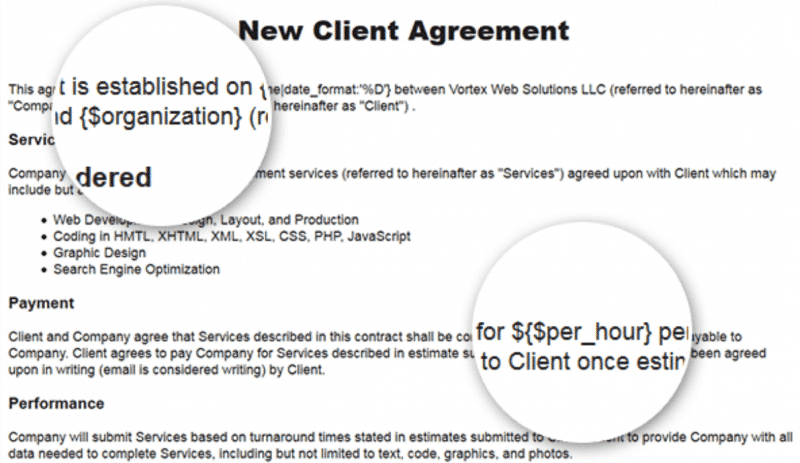 Arrange the content
Document automation tools check if there are any irregularities in the output. For example, address details might be too long and can't fit in the invoice. As a solution, font size can be diminished, or the software can cut the address details after reaching the character limit.
Generate output documents
The documents are generated in the desired format(s) and automatically sent to related departments/customers.
Which documents to automate?
Finance operations
Invoices
Invoice automation is critical for fundamental business processes, including accounts payable, accounting, and VAT compliance. With the help of automation tools, companies can reduce their invoicing costs and errors and handle related business functions in a shorter time. For more details of invoice automation, you can read our in-depth guide.
Bill of lading
According to Wikipedia, "A bill of lading (sometimes abbreviated as B/L or BOL) is a document issued by a carrier (or their agent) to acknowledge receipt of cargo for shipment.".  Bill of lading is an important document for companies that deal with cross-border supply chains.
Offers
Offers clarify the terms of an offer to a potential customer. If the customer approves the offer, it can be included in their purchase order as well.
Order forms / purchase orders /POs
Sales, order management, supply chain management, and logistics teams can benefit from automated order form processing and generation.
HR operations
Receipts
HR units are responsible for paying for employees' business related spending. Automated receipt processing simplifies a company's travel & expenses management process.
Pay slips
HR units need to prepare pay slips for their employees. Automated pay slip processing and generation can also be integrated into loan application processes in the banking and finance industries.
Healthcare
Medical records
They are used for communication between different healthcare providers, by insurance companies in claims processing and offer preparation and by legal service providers in lawsuits related to claims.
Prescriptions
Healthcare and pharmacy businesses can automate prescriptions to provide faster services. With prescription automation, doctors can provide standardized prescriptions rapidly, and patients wait less for their prescriptions to be taken and filled, which improves customer satisfaction.
In addition, both generation and processing of bank statements, medical records, annual reports and numerous government documents can be automated.
Financial Services
Bank statements
Automated bank statement creation is important for banks. Extracting such data is also important in cases of legal disputes.
What are the main use cases?
Finance
Purchase to pay and order to cash processes involve automatically processing orders and invoices received from customers.
Legal Services
Automation technology can be used for generating legal documents, such as employment contracts and estate planning documents.

In large law firms, document automation systems are usually used in tasks like term sheet creation and first-draft generation of credit agreements. These firms also start to provide legal document services on the internet.

In lawsuits, legal services may need to process documents such as medical records, bank statements, invoices etc.
Insurance
Document creation
Insurance policy documents usually consist of hundreds of pages and include specific information on the insured. In the past, these documents were created by one of the following:
Typing out free-form letters

Adding pre-printed brochures

Editing templates

Customizing graphics with the required information
While these manual actions consume time and prone to errors, document automation can generate policy statements without mistakes.
Document processing
Insurance companies need to various documents in their claims processing such as:
medical records
invoices for real estate or vehicle related expenses
Logistics
Logistics teams use a variety of documents to perform their tasks. While they need to handle these documents, automating them will help them to reduce their errors, speed up documentation processes, and keep all historical transactions in digital systems. Using document automation also helps these teams to standardize different documents in a company. Here is a shortlist of documents that logistics teams use:
Invoice

Packing list

Content list

Pick tickets

Arrival forms

Delivery forms

Bill of lading

Customer contracts
What are the benefits of document automation?
Reduced cost
By automating document generation and processing, businesses reduce their expenses as documents will be digitized. As a result, these funds can be used for more essential parts of companies. Considering Fortune 500 processes a few millions of documents manually per year, adopting the latest automation technologies might result in savings of tens of millions of dollars per year.
Document automation also provides faster document generation and processing. As the number of transactions expands every year, businesses can save a significant amount of time with integrating automation tools. This enables companies to save time to handle these processes.
Reduced errors
Manual document generation processes are prone to human errors, which might cause delays and increase workload in businesses. Document automation reduces these errors and notifies employees if there is missing required information.
Standardized templates
With manual processes, humans can generate varying styles of documents confusing suppliers and customers. Document automation can provide standardized templates and structures for documents without the need of further in the layouts and formatting.
Increased productivity
Document generation is a repetitive and low-skill task for employees. Document automation allows employees to focus on their primary responsibilities and improve their productivity levels.
Improved privacy and security
Document automation also protects your documents from unintended parties. Businesses can add passwords in confidential documents to ensure data security and prevent leaks.
If you have questions on document automation, feel free to contact us:
Let us find the right vendor for your business
How can we do better?
Your feedback is valuable. We will do our best to improve our work based on it.