Humans are naturally visual creatures, so it is no surprise that we search for better ways to portray and understand what data is telling us. Data visualization is one of the most effective ways to achieve this because it enables us to take data or ideas that are abstract and difficult to understand as written, and turn them into something easily understood in a more graphical or visual format.
What is data visualization?
We've defined data visualization before:
Data visualization is the use of algorithms to create images (graphical and pictorial) from data so that humans can more effectively understand and respond to that data.
However, for any data visualization to be effective, it requires the right tool – which in many cases can mean a multifunctional tool that includes capacity for both visualization and analysis.
How is it different than infographics for businesses?
Data visualization is a presentation of a selected data set to deliver valuable insights to businesses. On the other hand, an infographic is a large collection of visual data representations that are mostly used to engage customers' attention.
How to choose the right data visualization tool for your business?
When organizations run into challenges related to meaningful communication, the right data visualization tool can make all the difference. It can solve issues of miscommunication, 'undercommunication', or just simply bad communication. 
Data visualization tools demonstrate the importance of not only having data, but having data that can be understood. Subsequently, choosing the right data visualization tool for your business is a process that should include stakeholders from both business and IT in order to ensure that all needs are met.
There is a wide range of factors that come into choosing the right data visualization tool. It is helpful to start by identifying the requirements of your business so that you can later compare these with the different capabilities of tools available in the market. Once these elements have been established, choosing the right solution for your organization can proceed more efficiently.
After completing an initial assessment of your goals, it can be helpful to consider the needs of your organization in the following categories:
Data requirements of your organization
Big data and analytics projects are mostly end-to-end projects that require different data tools to be successful. Some questions you can ask to help determine your data requirements include:
Data quality and scalability related questions
What is the quality of this data?
How much transformation will the data need?
How many sources of data do you have?
How large are your datasets?
If your enterprise needs to access the quality of their data and learn how to improve it, we recommend you to read our data cleaning guide.
Integration and compatibility related questions
How will data be imported into the visualization tool?
Are there any built-in connectors available?
To learn more about data integration and data integration tools, feel free to read our articles.
Storage Questions
Do all of these sources need to be available in a single location?
Will it be imported raw or need to be aggregated first?
Where will the data live?
Check out data virtualization research to learn about data storage solutions.
Communication
Data visualizations are only useful if they can reach the right people at the right time. A few questions to help find your communication requirements are:
How will visualizations be shared?
How often will they be updated and will sharing of these updates be automated?
Will there be a need to export data from the visualization separately?
Who will be the final audience for the visualizations?
Visualization capabilities
Being able to effectively and efficiently create a visualization is key. Some questions include:
Tool capability related questions
What information will be displayed?
Should statistical features be included?
What features will be included? Some features include:

dynamic data,
visual querying,
linked multidimensional visualization,
animation,
personalization,
actionable alerts
Talent level related questions
Who will be creating the visualizations? What is their skill level?
How much interaction and filtering is needed?
By thoroughly assessing your needs based upon the above criteria, you can help to improve the odds of acquiring the right data visualization tool for your business. Cost, of course, is an important factor to consider as part of any decision making process.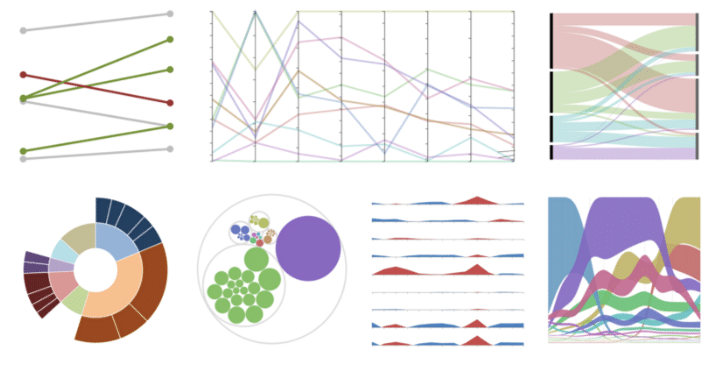 What are the common features of data visualization tools?
Common functionalities found in many general data visualization software include:
View multiple datasets and reports within a single location
Real-time access and mobility
Display data from multiple sources within a single, customizable dashboard
Data transformation tasks such as: joining, pivoting, custom calculations

Location intelligence
Generate customizable dashboards
Embedding visual reports into other applications
Data mining to identify patterns and trends in datasets
What are the leading data visualization vendors?
Visualization focus
There are a number of tools dedicated to data visualization alone or to a certain topic or industry. Though the volume of vendors is increasing rapidly and vendor landscape is shifting to AI-powered tools, Tableau is a leading vendor. Features such as data blending and real-time team collaboration make Tableau data visualization tool unique. A few vendors on the market today are:
| Name | Founded | Status | Number of Employees |
| --- | --- | --- | --- |
| Google Charts | 1998 | Public | 10,001+ |
| Google Data Studio | 2016 | Public | 10,001+ |
| Geckoboard | 2010 | Private | 11-50 |
| FusionCharts | 2002 | Private | 51-200 |
| Datawrapper | 2011 | Private | 2-10 |
| Highsoft Highcharts | 2006 | Private | 11-50 |
| Plotly | 2012 | Private | 11-50 |
| iDashboards | 2004 | Private | 51-200 |
| Zoho Reports | 1996 | Private | 1,001-5,000 |
| Tableau | 2003 | Public | 1,001-5,000 |
| GoodData | 2007 | Private | 201-500 |
| Birst | 2004 | Private | 201-500 |
BI & visualization focus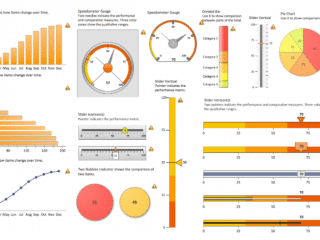 Business intelligence (BI) and data visualization have a close relationship because they both ultimately aim to help users in making more informed decisions. Subsequently, it is not uncommon to have a BI solution that includes visualization capacity. Some other reasons why data visualization and BI support each other are:
Improved communication of data

A faster and better way to identify patterns, correlations, trends
Leading to improved chances of early identification of new opportunities
Some BI tools with data visualization capabilities are:
| Name | Founded | Status | Number of Employees |
| --- | --- | --- | --- |
| QlikView | 1993 | Private | 1,001-5,000 |
| Klipfolio | 2001 | Private | 51-200 |
| Microsoft Power BI | 1975 | Public | 10,001+ |
| Google Data Studio | 1998 | Public | 10,001+ |
| Domo | 2010 | Private | 501-1,000 |
| YellowFin | 2003 | Private | 51-200 |
| BOARD | 1994 | Private | 201-500 |
| Dundas BI | 1992 | Private | 51-200 |
| InetSoft | 1996 | Private | 51-200 |
| Looker | 2012 | Private | 201-500 |
| SAS | 1976 | Public | 10,001+ |
| Zebra BI | 2013 | Private | 2-10 |
| Sisense | 2004 | Private | 201-500 |
| Oracle Visual Analyzer | 1911 | Public | 10,000+ |
| Zoomdata | 2012 | Private | 51-200 |
Self-service reporting
Self-service reporting tools are a component of self-service analytics that enables business users to generate real-time reports and dashboards from data via easy-to-use graphical user interfaces (GUIs) without relying on technical skills.
For companies that are not willing to spare the budget for data scientists and prefer to rely on citizen data scientists, self-service reporting tools help gain insights from data.
Some self-service reporting tools include:
| Name | Status | Number of Employees |
| --- | --- | --- |
| Apache PredictionIO | Private | 1,001-5,000 |
| Ayasdi | Private | 51-200 |
| Einstein Analytics by Salesforce | Public | 10,000+ |
| IBM Cognos | Public | 10,000+ |
| Infosys nia | Public | 10,001+ |
| Iperceptions | Private | 51-100 |
| Microsoft Power BI | Public | 10,000+ |
| MicroStrategy Inc | Public | 1,001-5,000 |
| Oracle Analytics Clous | Public | 10,000+ |
| PurePredictive | Private | 21-50 |
| Qlik Sense | Private | 1,001-5,000 |
| SAP Analytics Cloud | Public | 10,000+ |
| Sisense Inc | Private | 501-1,000 |
| Statistica | Private | 10,001+ |
| Tableau | Public | 1,001-5,000 |
| Tellius | Private | 11-50 |
| ThoughtSpot | Private | 201-500 |
| TIBCO Software Inc | Private | 1,001-5,000 |
Are you interested in exploring more articles on data, AI, and the technologies that are shaping our businesses and organizations? Be sure to check out our blog