Due to the rise of interest in customer experience, patients expect to receive personalized healthcare services whenever they need it. Since there are 3.5 billion people (almost half of the total population) in the world using smartphones, mobile healthcare is an initial priority of digital transformation projects.
What does digital transformation mean for the healthcare ecosystem?
Digital transformation in the healthcare industry means digitizing processes and products to deliver better healthcare services along with improved customer experience. There are various different players in the healthcare ecosystem and digital transformation has a unique value proposition for each player.
Health insurance companies
Health insurers can also benefit from digital techs such as healthcare analytics tools. With the help of analytics tools, insurers can assess risk scores for each patient based on lab testing, biometric data, claims data, patient-generated health data. Therefore insurance companies can ask for a price that is dependent on the risk score of the patient. Image below is a joint model of Bain and Google which highlights that an average insurer can reduce the cost of insurance by 15-20% with digitization. To learn more about what digital transformation means for insurance companies, we have an in-depth guide, feel free to check it out.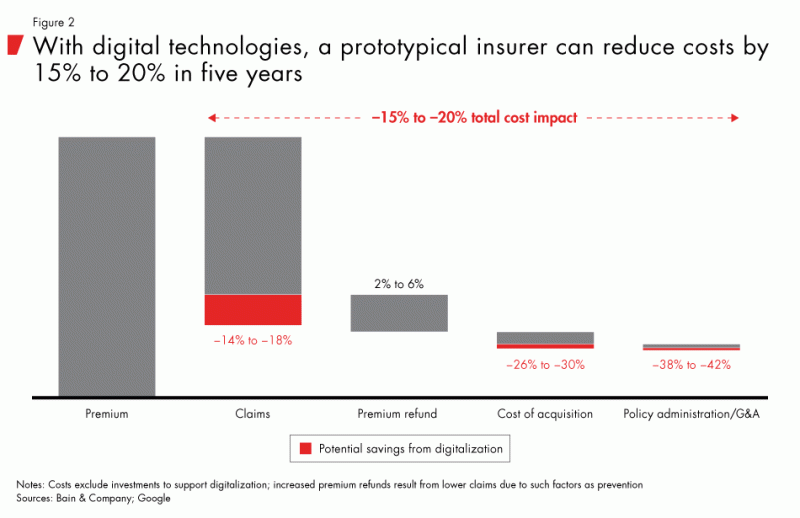 Hospitals & Healthcare providers
For healthcare providers implementing digital technologies into processes aim to help healthcare professionals by:
assisting professionals in daily medical processes (e.g. surgeries)
reducing the administrative cost of hospitals
optimizing supply chain cost
improving patient care
MedTech companies
MedTech companies are enablers of digital transformation. They provide necessary tools to healthcare professionals so that patients receive better services. Digital transformation of the healthcare ecosystem presents an opportunity for MedTech companies since more healthcare service providers demand technology solutions from these companies.
Pharma companies
Improving the research process: Thanks to the ease of clinical data sharing, pharmaceutical companies can improve their drug discovery methods by analyzing a larger amount of electronic health records (EHR).
Personalized patient care: With the involvement of analytics, organizations can develop personalized patient care solutions by understanding how a person's unique molecular and genetic profile makes them sensitive to certain diseases.
Lower administrative costs: As in healthcare providers, pharma companies run large operations including thousands of employees. They can rely on digital transformation to reduce costs.
Why is digital transformation in healthcare important now?
COVID-19 has accelerated digital transformation in the healthcare industry.  Numerous people and governments around the world are funding vaccine and medicine discovery programs to win the fight against COVID-19. Even before the COVID outbreak, the healthcare industry was in the process of rapid digital transformation as highlighted by the graph from Bain below. Reasons for healthcare industry's focus on digital transformation include:
Healthcare expenditures of countries are high  (For US, 18% of GDP)
Healthcare providers are still relying on inefficient processes like poorly-managed patient flow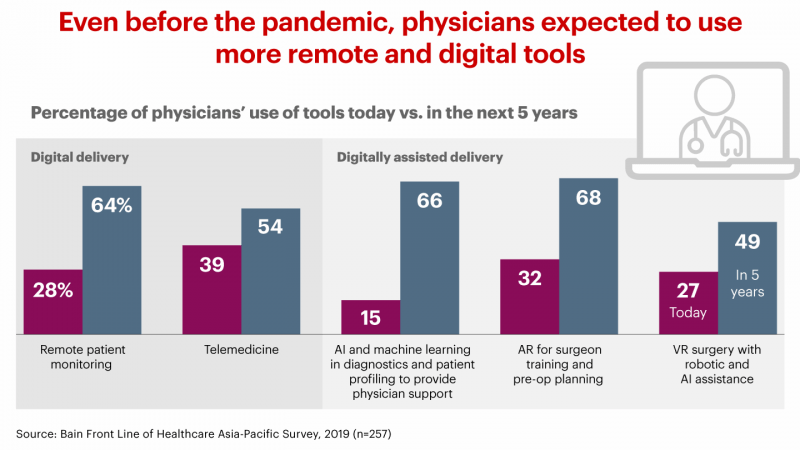 Yet the world learned important lessons COVID-19 and is now putting even more emphasis in digital solutions in healthcare. For instance, as seen in the Mckinsey study below, the interest in telehealth applications has increased for consumers, providers and regulators after COVID-19. Same study estimates that up to $250 billion of current US healthcare expenditure (20% of total expenditure) is available for virtualization.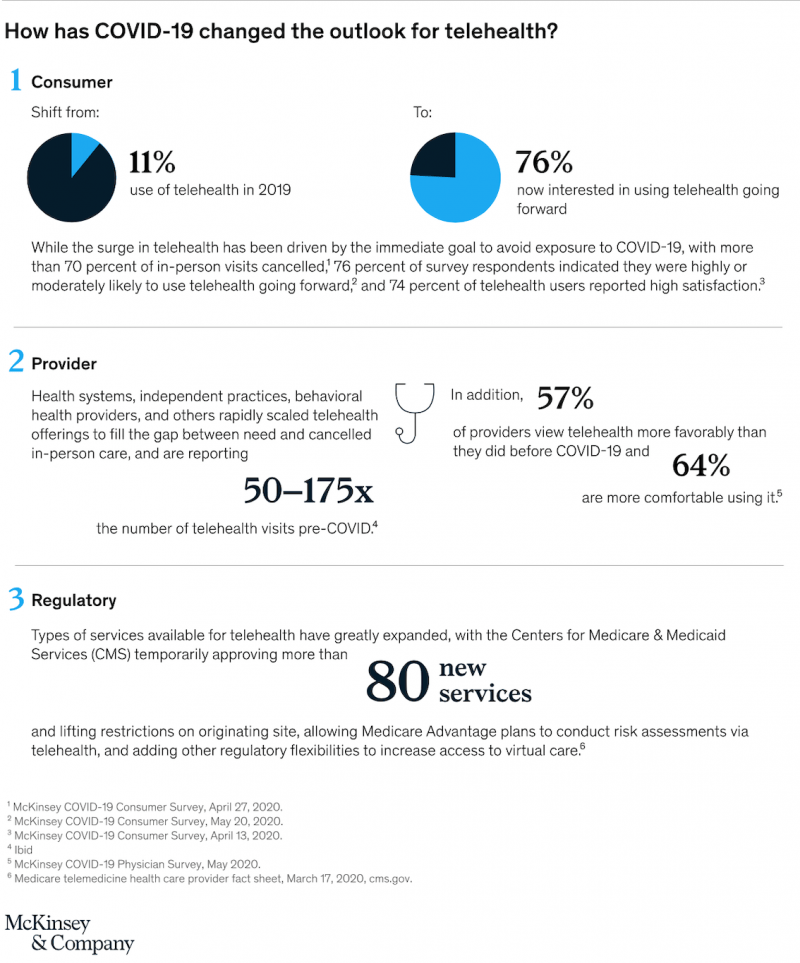 Which technologies enable digital transformation in healthcare?
Artificial Intelligence
Healthcare industry can benefit from AI-powered technologies to deliver different use cases. According to forecasts, total revenue opportunity for the healthcare AI market will exceed $34 billion by 2025. Most common technologies in healthcare AI market are:
Analytics
Analytics helps healthcare providers analyze various data types such as clinical data, research and development data and cost and claims data to improve healthcare services. For example, AWS Comprehend Medical extracts data such as medical condition, medication,  doctors' notes, clinical trial reports, and patient health records. With the help of machine learning techniques, organizations gather and analyze extracted data to diagnose patients, suggest treatments and check prescriptions for potential errors.
According to a survey conducted by Bain, Big data and analytics is the key technology in healthcare digital transformation. To learn about healthcare analytics vendors, feel free to read our article.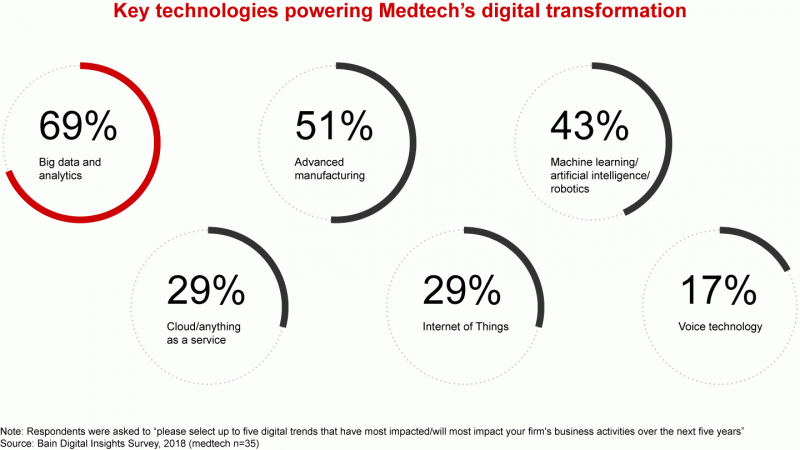 Chatbots/ Conversational AI
Chatbots are revolutionizing customer experience and internal processes across different industries and healthcare is one of them.
Digital twins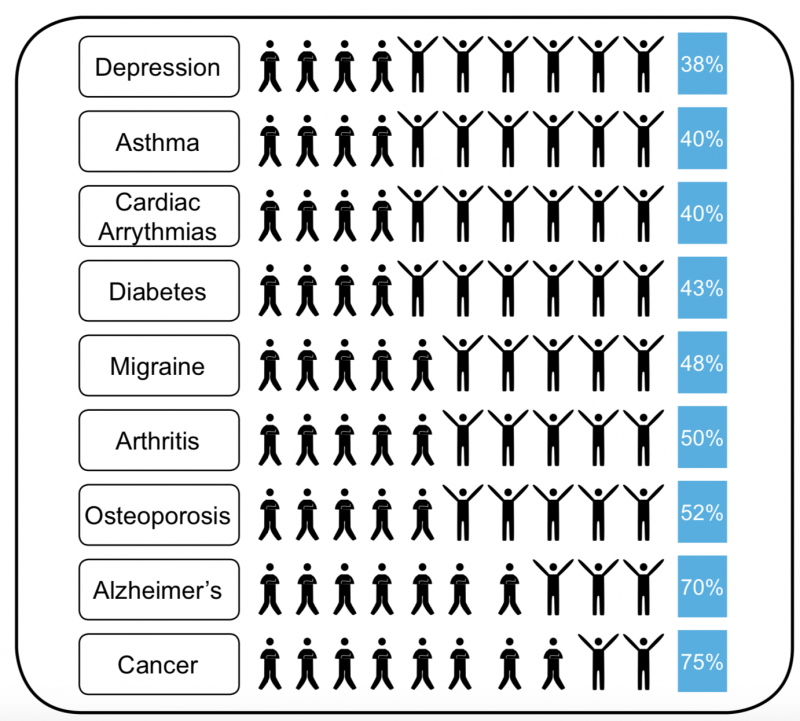 In some diseases,  drugs are frequently ineffective due to the genome code of every individual. Digital twins are virtual replications of physical items. In healthcare cases, a digital twin is generating a patient's substitute genetic data before a procedure, so providers can personalize their patient care.
Image processing
Healthcare providers use image processing and machine learning techniques to deliver accurate and accessible disease screenings to doctors by capturing abnormalities.
Robotics
Robotics is an exciting technology for healthcare services. After social distancing requirements of COVID-19 pandemic, robots that help remote physical examination and surgery can be an important digital transformation project for hospitals.
Blockchain
With the adoption of Digital IDs, healthcare providers need to worry less about securing patients' stored information. Blockchain technology can facilitate data sharing for drug discovery clinical trials. It is also good for healthcare consumers since blockchain will ease the process of taking a second opinion from different doctors.
IoT Devices
With the increasing number of wearables and other devices on edge, organizations can collect real-time data to help the healthcare ecosystem. We've written an in-depth guide explaining 30 IoT applications that contain 5 healthcare examples.
3D Printing
In cases such as COVID-19, there is an emergence of fast production for health products such as ventilators and face masks. For pandemic or similar demand rises, providers can fill the supply chain shortage with 3D printing.
Process Mining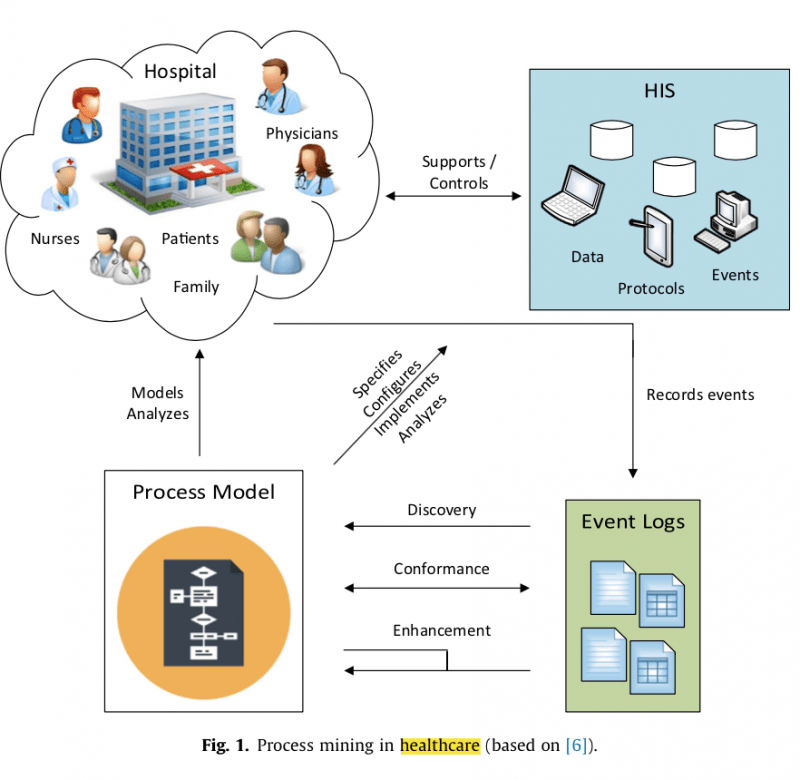 Process mining can help healthcare providers identify bottlenecks, inefficiencies, or gaps in their processes by analyzing data and events generated from the healthcare ecosystem. Healthcare providers need to manage a high number of processes which is hard to do with manual analysis and process mining can help improve such processes at scale.
What are the healthcare applications/ use cases powered by digital technologies?
We categorized applications by the type of companies that benefit from those applications
Healthcare service providers
Internal applications to improve healthcare service delivery
Electronic health records (EHR): EHRs are real-time, patient-centered records that make information available instantly and securely to authorized users.  Since 2009, US government has been incentivizing this and EHR adoption in the US is higher than Europe
AI-powered medical imaging: Thanks to image processing and machine learning techniques, medical imaging tools can detect cardiovascular abnormalities and cancer, predict Alzheimer's disease, and provide surgical planing.
Surgical robots: SARAS is a surgical robotic system that will enable a single surgeon to execute operations. The smart autonomous robotic assistant understands the actual state of the surgical procedure with its cognitive supervisor system and acts according to the surgeon's needs.
Customer-facing personalized care applications
Personalized healthcare applications provide personalized care and treatment according to individuals' clinical history, risk factors and physical attributes.
Health Assistants: Chatbots can act as a health assistant for online medical consultation. Babylon chatbot aims to analyzes data you provide to the chatbot and combines it with common medical knowledge to inform patients about their health status.
Fitness apps: These apps collect data from wearables to track individuals' health-related goals such as losing weight and personalizes the healthcare experience. For example, Google Fit is one of those apps that track your workouts from your wrist and monitor your progress according to your daily goals.
Telehealth: There are numerous mobile applications and websites that allow long-distance patient care. For example, iCliniq is a telehealth website that enables patients to consult a real doctor anytime they need.
Pharma companies
Drug Discovery: Pharmaceutical companies can increase the efficiency of drug discovery with digital transformation initiatives such as digital twins. To learn more about the drug discovery landscape, we recommend our article.
Insurance companies
Insurance pricing: Health data collected from wearables can be a good indicator to more accurately rate a patient's risk for illness.
There are other applications we have covered in detail in our insurance digital transformation article such as automation, risk prediction, omnichannel and smart contracts.
Manufacturers in the healthcare ecosystem
Smart manufacturing: With 3d printing healthcare providers can create anatomical replicas, surgical tools and prosthetics.
Predictive maintenance: IoT sensors enable organizations to predict when machines are likely to fail. This is relevant both

for hospitals that are operating increasingly complex medical devices
for manufacturers that provide various equipment used by healthcare providers
For more on digital transformation,
If you still have questions about digital transformation, we would like to help:
How can we do better?
Your feedback is valuable. We will do our best to improve our work based on it.