Digitization has been a difficult process for the insurance industry since it contains manual processes, difficult-to-digitize workflows and strict government regulations. However, insurance companies started to leverage data and digital technologies thanks to investments in insurtech companies and we believe that all these digital transformation efforts will result in the evolution of the insurance industry.
What does digital transformation mean for insurers?
Given the increasing demands of customers and competitive landscape, insurance companies need to be able to leverage digital technologies to stay ahead of competitors. With the implementation of digital technologies, insurance companies expect to improve customer experience and increase operational efficiency.
Why is digital transformation important in the insurance industry?
Though market participants claim that the insurance industry is not an early adopter of digital transformation, new players, business models and demanding customers are forcing the industry to adopt digital technologies.
Insurtech: Both enables and forces traditional insurers to adopt digital applications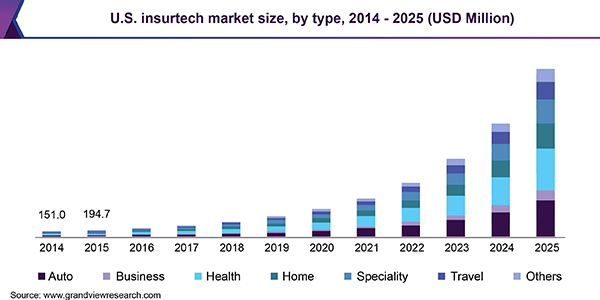 The number of insurtech companies is increasing and they drive change in insurers in 2 ways:
Some insurtech companies are building solutions for insurance companies that target traditional insurers' pain points such as inefficiencies in auto, P&C, health/travel, life and home insurance fields with a costumer-centric approach. These new players can help traditional insurers improve those inefficiencies to gain a competitive edge.
Other insurtech companies, like Lemonade from the Netherlands, follows a direct to consumer approach, aiming to upend existing players. They force traditional insurers to adopt digital technologies and launch easy-to-use products.
Rapidly transforming business environment: Increasing importance of being agile at scale
As competitors rapidly deploy new solutions, insurers are expected to rapidly launch pilots and roll them out in their organizations when the pilots are successful. To do this, insurers need to leverage the latest in digital to have agility in their data management and other systems.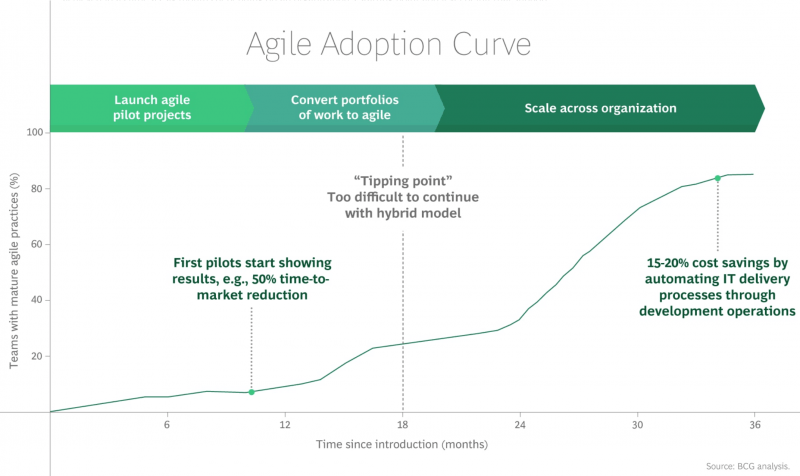 Demanding customers: Personalized products&services
The customer experience is increasingly the key factor for a business to differentiate from its competitors. Customers want to handle policy quotes, bill payments, and communication fast. According to 2019 TechSee survey,
39% of US citizens who canceled a contract with a company in the past 24 months canceled it due to customer experience and 11% of them were canceling insurance policies.
18% of them canceled after a one-time crisis
What are digital transformation use cases in insurance?
Automation
According to Mckinsey study, 25% of the insurance industry will be automated in 2025 thanks to AI and machine learning techniques, since the industry is full of bottlenecks and manual processes such as claims processing, underwriting, policy administration and customer service.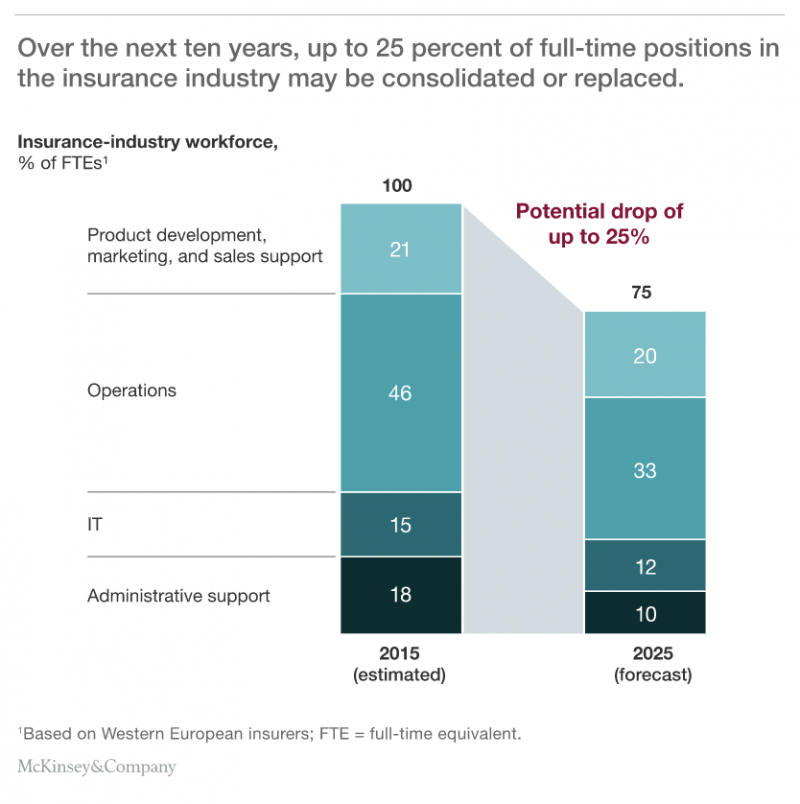 Process mining tools are beneficial for insurers who wish to identify processes that can be handled autonomously. Some tangible automation use cases include:
Claims processing
Claims processing has multiple layers such as review, investigation, adjustment, remittance or denial of the claim. For each layer, insurers need to process a large volume of documents that can be automated by document automation tools. With document automation, insurers can automatically extract data from documents, identify fraudulent claims and validate claims that are in line with policies.
For example, Tractable uses AI to interpret auto accident images and estimates repair costs in real-time. So claims can be settled faster, and insurers respond to accidents up to 10 times faster.
Claim fraud detection
Insurers feed predictive analytics tools with data captured from the claimant's story and use text analytics to detect fraudulent claims based on business rules.

Risk Prediction
Insurers can collect data about individuals' historical health records to assess a risk point for each individual based on lab testing, biometric data, claims data, patient-generated health data and then they ask for the price according to the risk score.
Omnichannel
Designing a self-service portal where customers and insurers can access to find answers to questions, conduct business (transactions, orders, make a claim, pay bills, etc), check on status, submit support tickets and download resources is an effective approach to increase customer experience
Smart Contracts
Blockchain-based InsurTech companies create better risk-sharing models while giving people more custom and affordable insurance options. For example, Nexus Mutual aims to replace existing insurance models with smart contract-driven mutual markets. By enabling people to share risk across larger populations, their purpose is to lower insurance costs and replace the need for bigger insurance companies.
What are the leading InsurTech companies?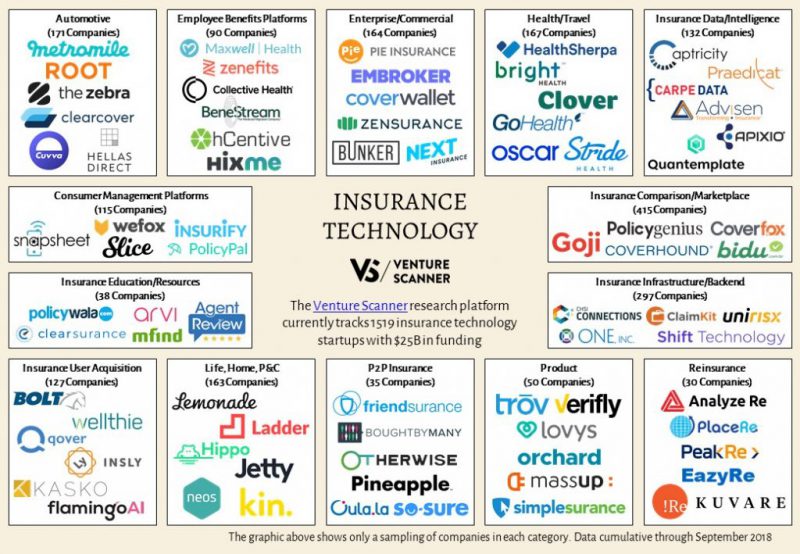 Insurtech landscape is crowded and split into different categories such as auto, reinsurance, life, home and P&C, etc. Some cool vendors are:
If you want to start your digital transformation journey but don't know what to do, you probably will need a digital transformation consultant.
We hope you liked our content. If you want to support our research efforts and join our survey about post-COVID digital transformation trends, we would appreciate your participation and you will be the first to know about results as soon as we publish them.
If you still have questions about digital transformation initiatives, we would like to help:
How can we do better?
Your feedback is valuable. We will do our best to improve our work based on it.